Happiest Season - A Hulu Movie Review
'Happiest Season' enforces a positive message about the LGBTQ community.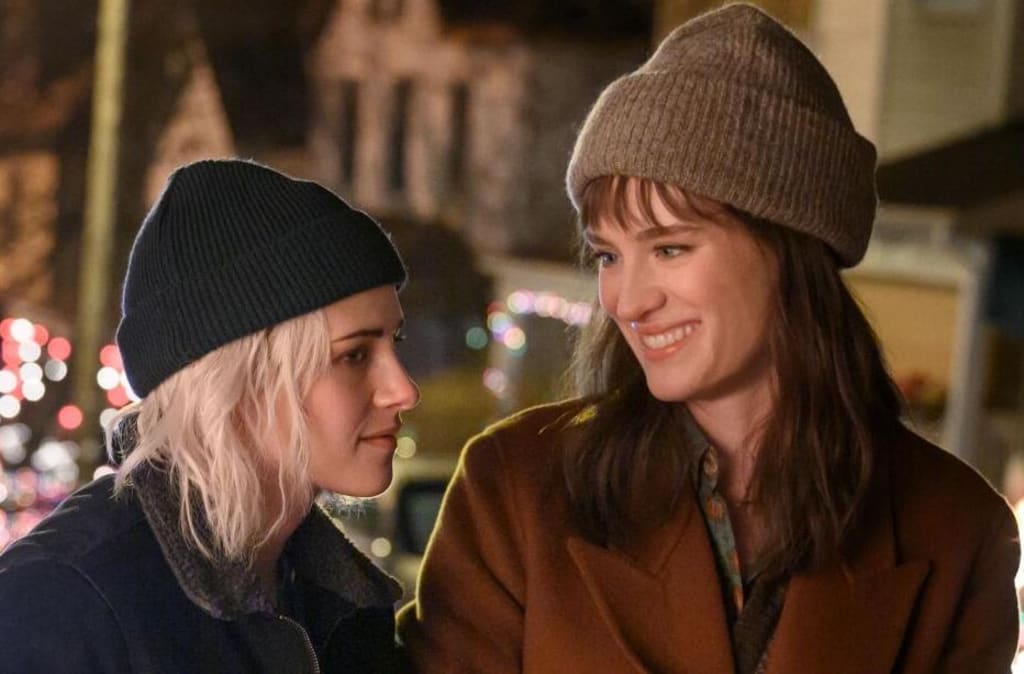 It's for five days. How bad could the holiday season be?
Happiest Season is a 2020 Hulu film. Abby and Harper are happily in a relationship. Upon Harper's request to join her at her parent's for the holidays, Abby learns that Harper has not yet come out to her parents. The family dramas ensue during the craziest holiday ever.
As soon as I heard of Happiest Season, and noticed that it was getting good reviews, I sat down to watch it. The film is enjoyable. Happiest Season enforces a positive message about the LGBTQ community. However, the relationship between the main couple has soured audiences.
Kristen Stewart has come a long way in her career as an actress. Stewart does a wonderful job connecting to her emotions. Trying her hardest to go along with everything, I feel bad for Abby. I wanted to give her a hug. She puts up with Harper's wishes only to be brushed off.
Let's talk about Harper (Mackenzie Davis). Boy, do viewers have a lot to say about her. Having grown up in a conservative family where everything has to be perfect, Harper is afraid to come out. But who is she afraid for? Her parents or what it will do to her status?
While Harper and Abby share sweet moments, I disliked how Harper leaves Abby out of events. Their relationship was toxic. Harper ignores Abby, even becoming annoyed at the most simple questions. I was appalled at what she did to cover herself. She showed no remorse for her lies, trying to cover it up with a sugar-coated story.
Dan Levy earns the best friend award. As Abby's best friend, John is always there to give her the best advice. He is hilarious. Levy delivers a purely emotional monologue that comes right from the heart. He is coming into his own in the acting world. I think he deserves a nomination for best-supporting actor.
Every character has depth. The performances are top-notch. That's what I like most about the ensemble of this film. Mary Steenburgen, Victor Garber, Allison Brie, and Mary Holland did a superb job with their family dynamic. Aubrey Plaza was a standout. Her character deserved more attention. Mary Holland (Jane) deserved to have a bigger subplot.
Every family is hiding something. Nobody is perfect. We have to acquire to accept our differences and learn to make adjustments. By the way, If you are wondering, yes, there is a hilarious family brawl where secrets are revealed. You don't want to miss that.
Clea Duvall's impeccable attention brought her own story to the screen. I could tell that the cast had a fun time working on this film. Luckily filming wrapped right before the pandemic shut everything down.
The film's LGBTQ theme is the strongest. Although not all audiences are open to the subject, it's nice that more films are showcasing realistic same-sex couples. In Levy's commemorating monologue he beautifully notes that everybody's story is different.
One of my favorite aspects of this film is that audiences can relate to this story one way or another. We all have a trait about ourselves that we're comfortable about. Don't live your life the way society or through family morals. Changes take time.
My only comment is that I wish the relationship between Abby and Harper could have been better. Harper's behavior was not acceptable. She should have been more aware of the way she treated Abby. Their relationship needed a better outcome.
Happiest Season is a film that you need to check out. The film made me think, it was heartwarming and entertaining.
review
About the author
Writing has been my passion since I was 11 years old. I love creating stories from fiction, poetry, fanfiction. I enjoy writing movie reviews. I would love to become a creative writing teacher and leave the world inspiring minds.
Reader insights
Be the first to share your insights about this piece.
Add your insights