'Hairspray Live!': Hits and Misses
Since 2013's The Sound Of Music Live!, musical fans have been looking forward to seeing more live musicals made for TV.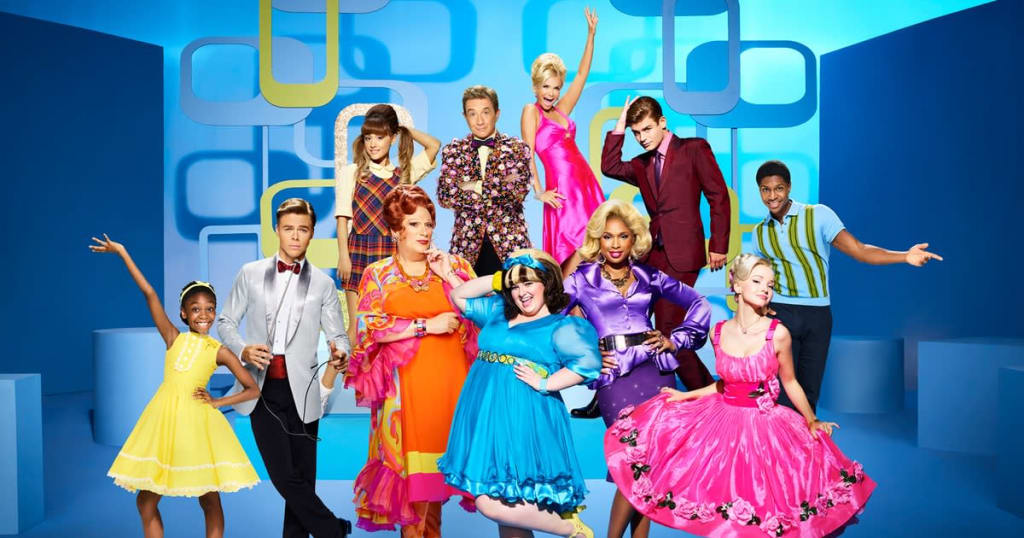 Since 2013's The Sound Of Music Live!, musical fans have been looking forward to seeing more live musicals made for TV on, er, TV. OK, Peter Pan and The Wiz didn't exactly set any hearts on fire, but Grease was quite fun. And this week, Hairspray Live! came upon us. It was not flawless, but it did not disappoint either.
Broadcast direct from Universal Studios' massive back lot and sound stages in California, the almost 3-hour-long NBC live musical special scored big time - despite some minor glitches - with exhilarating performances from the star-studded cast, an infectious '60s-influenced music soundtrack, sizzling choreography and its message of inclusivity and race equality.
Hairspray started as a 1988 John Waters' cult classic, introducing Ricki Lake and Divine to the world. In 2002, it became a multiple Tony Award-winning Broadway musical with Marissa Jaret Winokur and Harvey Fernstein in the leading roles. A hit movie adaptation of the musical in 2007 featured Nikki Blonsky, Zac Efron and John Travolta.
Based on the stage musical and set in 1962 Baltimore, Hairspray Live! tells the story of chubby teenager Tracy Turnblad (played by newcomer Maddie Baillio) who dreams of appearing on a popular local TV dance program. When she gets her break, she meets a string of colorful characters which builds her resolve to campaign against segregation on TV dance shows, even if it means jeopardizing her chances of achieving stardom. Supporting her every move is her mummy dearest Edna (played by the ever flamboyant Fernstein, reprising his Tony Award-winning role) who takes the opportunity to rediscover herself.
Here are the hits and misses:
Hit: A Fake TV Show with a Real Live Audience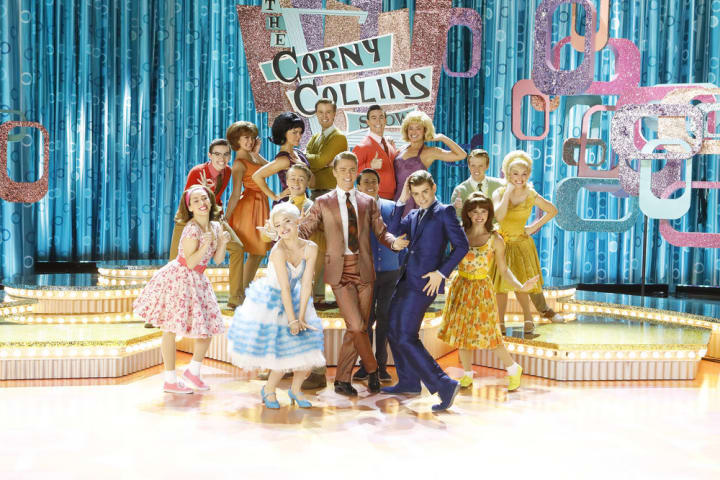 Some of the show's best moments were The Corny Collins Show segments that were recorded on a sound stage in front of a real live audience. From "The Nicest Kids in Town" to "It's (Hairspray)", the truly upbeat song-and-dance sequences were enhanced by the effervescence of the real live audience playing the TV audience of The Corny Collins Show. A real live audience in a "fake" live TV show which was being broadcast live, awesome.
Miss: Audience not always where the Action is
Bar The Corny Collins Show segments however, the show's live audience seem to be seated far away for most of the other scenes, especially the big street numbers, as applause and laughter was hardly audible for most parts of the show. A real pity for a musical filled with great dance numbers and funny lines. Still, kudos to the producers and directors for their ambitious attempt to make Hairspray Live! totally unlike a typical live musical you'd ever watch on television.
Hit: Outstanding Choreography and Costumes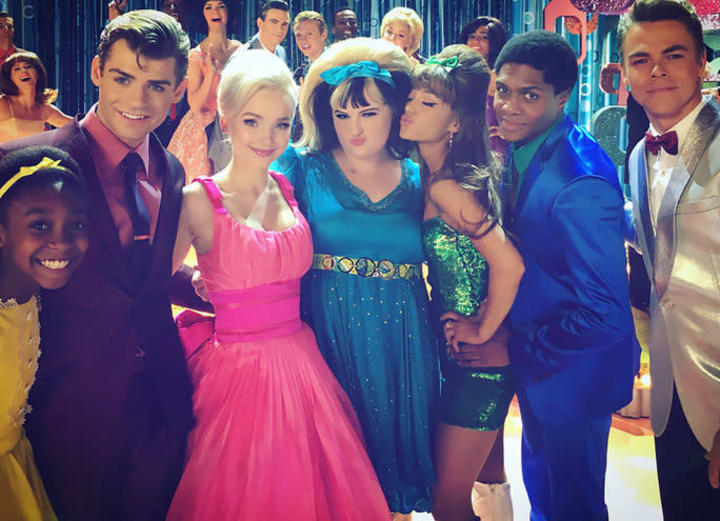 The magnificent, high-energy choreography throughout the show was absolutely spot-on. Jerry Mitchell, the Tony Award-winning choreographer of the original Broadway production, is said to have kept some of the original stage choreography, while re-designing some for television. Whatever, every move worked brilliantly in every camera angle. A shout-out to the vibrant costumes by Emmy-nominated costume designer Mary E. Vogt too - not a single eyesore among them.
Hit: A Powerhouse Named Jennifer Hudson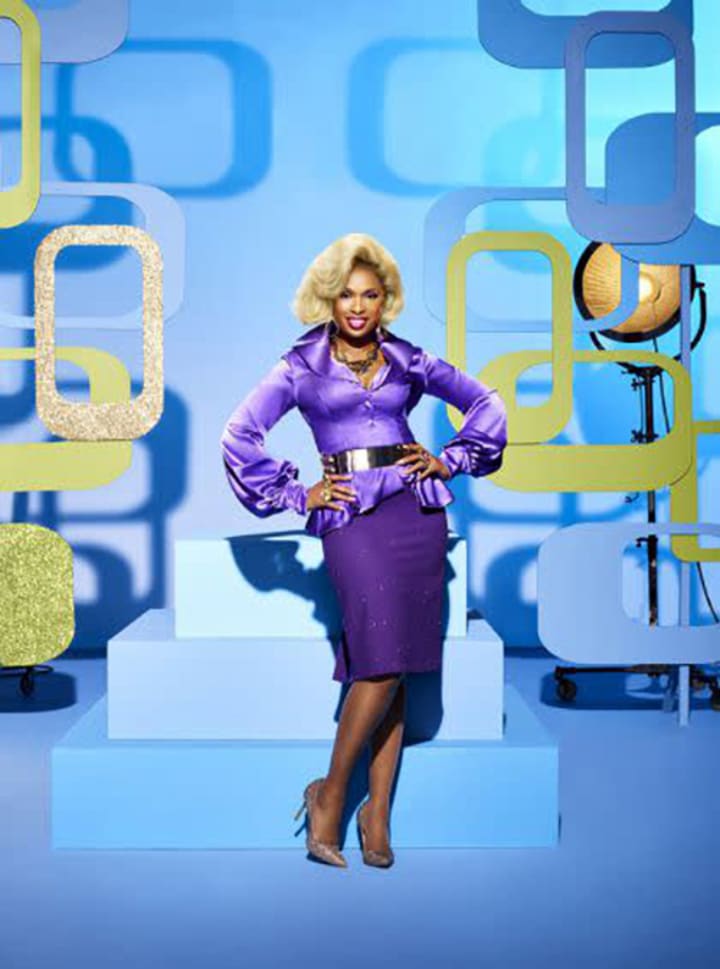 JHud is the ultimate proof that the best contestant doesn't necessary win the competition (whether it's music or beauty). Just like in Dream Girls, the former American Idol stole the show as Motormouth Maybelle with her two sassy siren songs, "Big, Blonde and Beautiful" and especially with "I Know Where I've Been". If only they gave her a better wig to wear.
Hit: Kristin Chenoweth is Wicked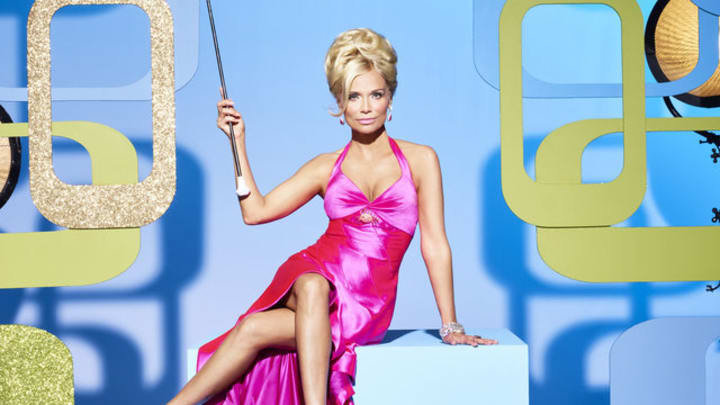 In Hairspray Live!, you can easily tell the seasoned pros from the wannabes (Sorry, Adriana Grande and Garrett Clayton). Whenever she's on, Broadway veteran Kristin Chenoweth owns the stage as the nasty Velma Von Tussle, from her sarcastic one-liners to her high-note delivery.
Hit: Derek Hough Dances Up a Storm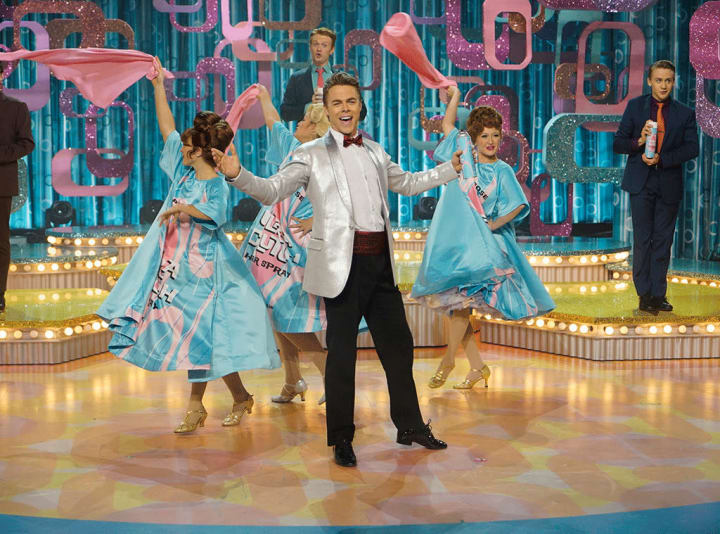 Better known for his stint on Dancing with the Stars, Derek Hough - brother of Julianne Hough who played Sandy in Grease Live! - shines as Corny Collins, the host of the TV dance program that Tracy wants to be on. So smooth a dancer is he that the producers got him to perform "Ladies' Choice", an energetic number actually sang by dancing dreamboat Link (played by Zac Efron) in the 2007 film.
Miss: Casting of Ariana Grande and Garrett Clayton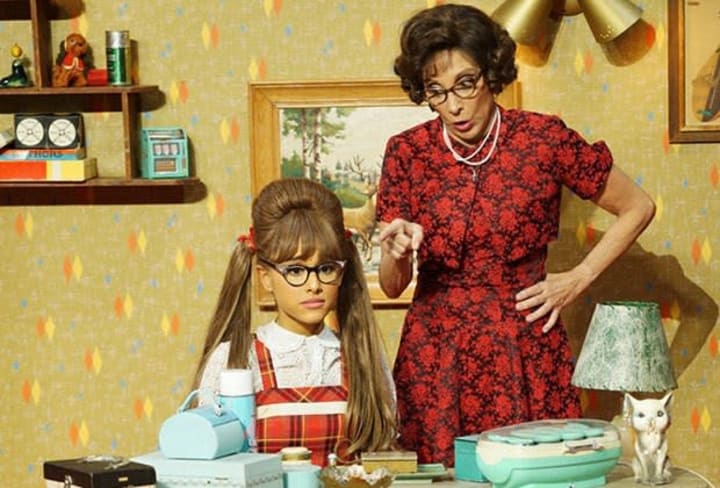 She's sweet and all that, but it was tough watching Ariana Grande trying hard to look and act like a drab squid at the early part of the show. She may be sensational on the concert circuit but she has far to go in musical theatre. She sings well, there's no doubt about it, but her acting needs work and as Tracy's best pal Penny, who is supposed to transform from a wallflower to a scene-stealer, she doesn't quite deliver. That goes for Disney hottie Garrett Clayton too who plays Tracy's dream guy, Link. He can dance but alas, he can't act. It may be unfair to compare him to Zac Efron but then again, Zac was Link.
Hit: Stars in the Making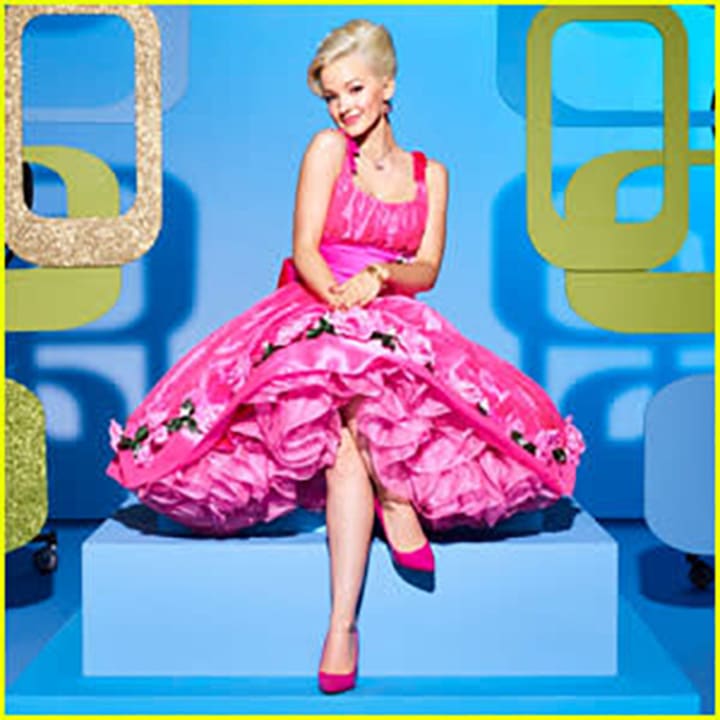 Among the young performers, the ones who showed the most potential is Disney alum Dove Cameron who was splendid both in the singing and emoting departments as spoiled brat Amber, while nine-year-old Shahadi Wright Joseph was a bundle of sunshine as Seaweed's younger sister, Little Inez. And of course, not forgetting bubbly Maddie Baillio as Tracy, even though she sounded quite breathless at times, possibly due to having to rush from one set to another.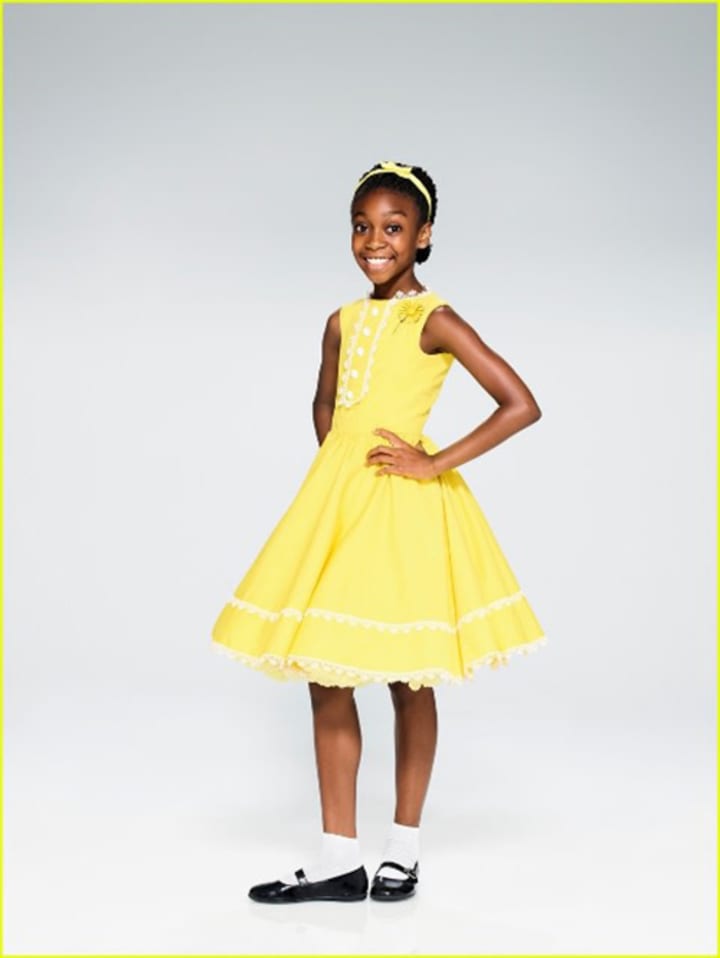 Miss: Darren Criss' Interval Pop-ups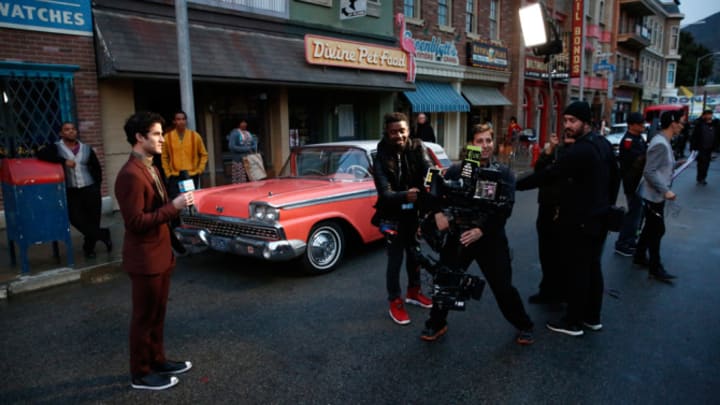 When he first appeared on screen during the telecast of Hairspray Live!, I thought, "Yea! Darren Criss is going to be in it!" How wrong I was. As host, the Glee star had the thankless task of popping up during every interval - and there were many - yelling into his mike, reminding us viewers that we are watching a live musical and even showing us how the actors are dashing from set to set. OK, a musical should be shown in its entirety - or at least with just one break - without such annoying interruptions and showing the actors "behind the scenes" in the midst of a show. It was seriously jarring. They could simply just cut to dancers dancing in main street or play music over the Hairspray Logo with a super to say "We'll be right back!" Why wasn't Criss cast in the show instead? he would make a better Link really...
Hit: The Absolutely Sensational "You Can't Stop The Beat" Finale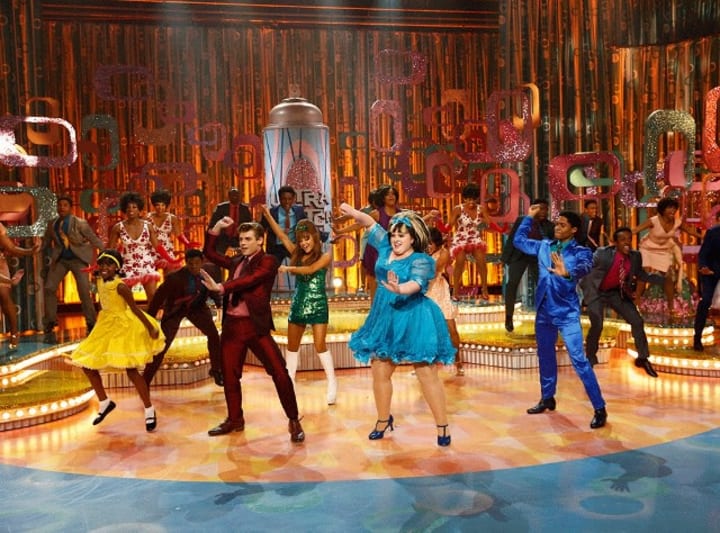 A stage musical is only as good as its showstopper theme song and Hairspray - The Musical has one of the best showstopper tunes of all time in "You Can't Stop The Beat". Featuring almost the entire cast, dressed in scintillating costumes and moving to the beat in total sync, it was a total joy to behold, absolutely sensational with hardly a foot wrong. Not forgetting the live audience totally immersing themselves into the show themselves, it was a great way to end a musical spectacular.
Despite the flaws, Hairspray Live! is a refreshing TV event and everyone involved with the production should be applauded. Next up it seems will be Bye Bye Birdie with Jennifer Lopez. If NBC could consider re-making Fame or Jersey Boys, that would be great!
About the Creator
A freelance writer who loves God, movies, music and TV; esp Star Wars, Animation/Anime, Games of Thrones, K-Dramas, and anything that's entertaining! Twitter/Instagram: @marfield49
Reader insights
Be the first to share your insights about this piece.
Add your insights