H'ween Horrorthon: 'The Howling' (1981)
One of the better of three werewolf films from 1981 from the maker of 'Gremlins' and the star of 'E.T.'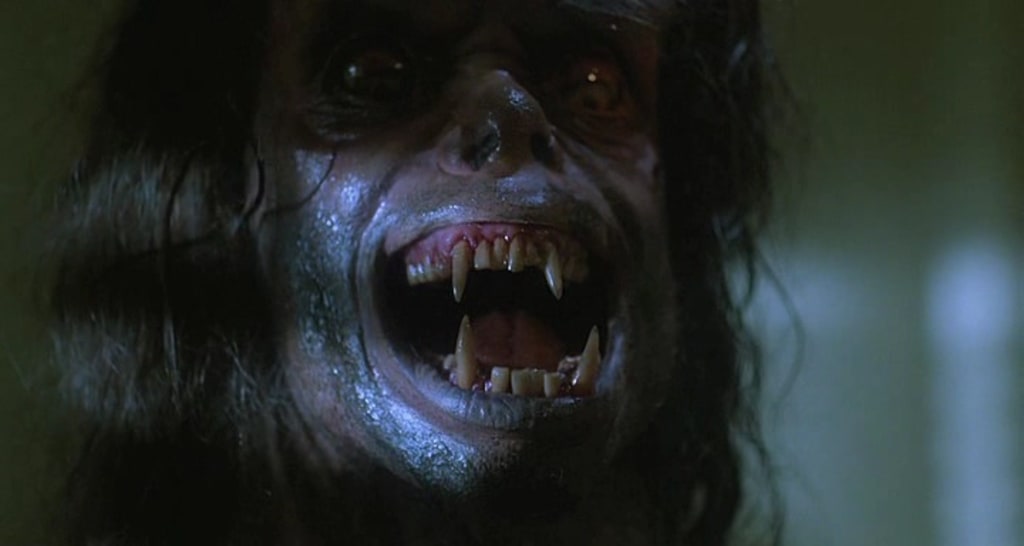 Courtesy of Avco Embassy Pictures.
"You can't tame what's meant to be wild, doc. It just ain't natural."
John Carradine as Erie Kenton
Hello and welcome.
1981 was certainly a banner year for horror movies. I recall at least more than 30 movie posters advertising horror films at cineplexes and drive-ins all across America. Titles as diverse as Friday the 13th, Part 2, My Bloody Valentine, Blood Beach, Fade to Black, The Funhouse, Happy Birthday to Me, The Fan, The Burning, Scanners, Hell Night, and Blow Out were just but a few movies rushed to theaters that year. A rebirth of sorts also happened; the return of the "Werewolf" movie. Not since 1957 when Michael Landon starred in I Was a Teenage Werewolf had we seen a werewolf picture in over three decades; then, there was not one, but three in 1981. An American Werewolf In London and Wolfen were the other two. But, for me, Joe Dante's The Howling was the best of the three. Another added plus was the knowledge that it would be the springboard for two Steven Spielberg film projects: E.T. The Extra-Terrestrial (1982) and Gremlins (1984).
What makes The Howling an effective creeper is that it manages to tell a credible story with a damsel-in-distress angle. This one being Dee Wallace, who you may remember as being the mother in Spielberg's iconic classic E.T. The Extra-Terrestrial. She plays LA news reporter Karen White who, while trying to entrap a serial killer/rapist (Robert Picardo, a perennial veteran of Joe Dante films) at a sleazy, rundown XXX-movie theater, herself becomes the victim of a sexual assault. Her husband (the late Christopher Stone, who was Wallace's real-life husband) decides that a little R&R would be good for her. Under the advice of a New Age guru (Patrick Macnee of The Avengers fame; not the Marvel comics franchise). She and her husband are shipped off to a place called The Colony.
The 1981 Movie Poster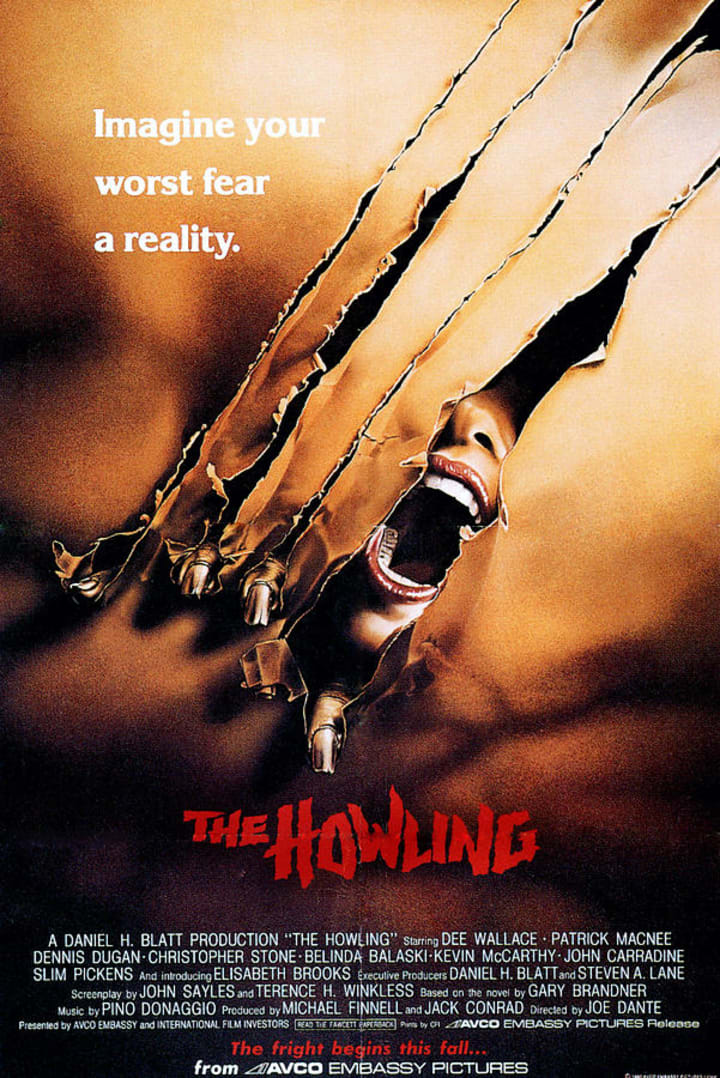 It all seems like a place to get back on the mend, but a sexy addition to The Colony (Elisabeth Brooks) begins to complicate matters; most especially to Karen's husband. She comes across very lupine and very sexually forward. Karen is herself finding that the Colony's bizarre residents are all exhibiting animalistic traits as well as hearty meat appetites. It's not long before she uncovers a horrifying connection between the man who assaulted her and the Colony. As it turns out, it's a haven for werewolves and Karen is now forced to fight or flee — but not before she herself gets bit by one...leading to one of the more bizarre on-air revelations at the end of the film.
I'll leave it right here. The reason I picked The Howling is that it's literally a smorgasbord of ideas and concepts manically thrown in but the kitchen sink, yet, it never misses a beat. On the one hand, it's a razor-sharp comic horror movie loaded with wit and satire and some of the best werewolf transformation sequences to rival the John Landis horror cult hit that was also the basis for the Michael Jackson music video parody "Thriller" (reviewed recently by me for this 'Thon). But, it's also crammed with plenty of social commentary ranging from infidelity, the validity of the news media, sexual inhibition vs. sexual violence, and the possible ineffectiveness of organized religion or cults. Take your pick; but it's all there.
Joe Dante was one of my favorite directors growing up. His films ranging from this one to Piranha, Twilight Zone: The Movie, Gremlins, Explorers, Innerspace, The 'burbs, Gremlins 2: The New Batch, Matinee, and Looney Tunes: Back In Action have all had the indelible stamp of a creative filmmaker who could seamlessly meld black/light comedy with dark horror and science-fiction. It's easy to see why Steven Spielberg took interest in him and they would collaborate at least four times together. One of the best segments of Twilight Zone: The Movie is the next to last where a young boy traps his whole "family" in a house with his dark, perverse imagination. Dante was a man in control of his craft and often smartly through in-joke references that many film buffs could easily recognize. Even through the advent of CGI, his films played with all sorts of narrative styles: stop-motion animation, make-up effects, and very sharp lighting and mood.
There's also the Dee Wallace performance who clearly captivates us from start to finish. It's easy to see why Spielberg chose her to play the mother in his classic film E.T. The Extra-Terrestrial and would continue to successfully play mother roles, such as Cujo, and would also appear in a Gremlins-like clone called Critters in 1984. She makes us care enough for what happens to her, and that's indeed a rarity for the horror genre. In closing, The Howling is a fun addition to mine and any other Horrorthon out there. In fact, a triple-feature of this, An American Werewolf In London and Wolfen wouldn't be a bad idea for my 2018 Horrorthon.
Fun Little Fact: Co-scripter John Sayles (a successful independent writer/filmmaker in his own right) was the original scripter for Steven Spielberg's seminal alien film, originally entitled The Night Skies. But, several drafts later, it would be the late Melissa Mathieson's screenplay that would become the film we know and love whilst Sayles' draft would be re-written by Spielberg for Poltergeist. It would be Sayles' remaining script that would be the basis for his underground cult 1984 sci-fi drama The Brother From Another Planet with Joe Morton as an alien being stranded in Harlem.
Next Up: the immortal horror classic that spun our heads and made us look at pea soup differently!
review
A passionate writer and graphic artist looking to break into the BIG TIME! Short stories, scripts and graphic art are my forte! Brooklyn N.Y. born and raised. Living in Manchester, Connecticut! Working on two novels now!
Receive stories by Carlos Gonzalez in

your feed