H'ween Horrorthon: 'Flatliners' (1990)
Credible mix of sci-fi and horror raises potent questions about our own afterlife.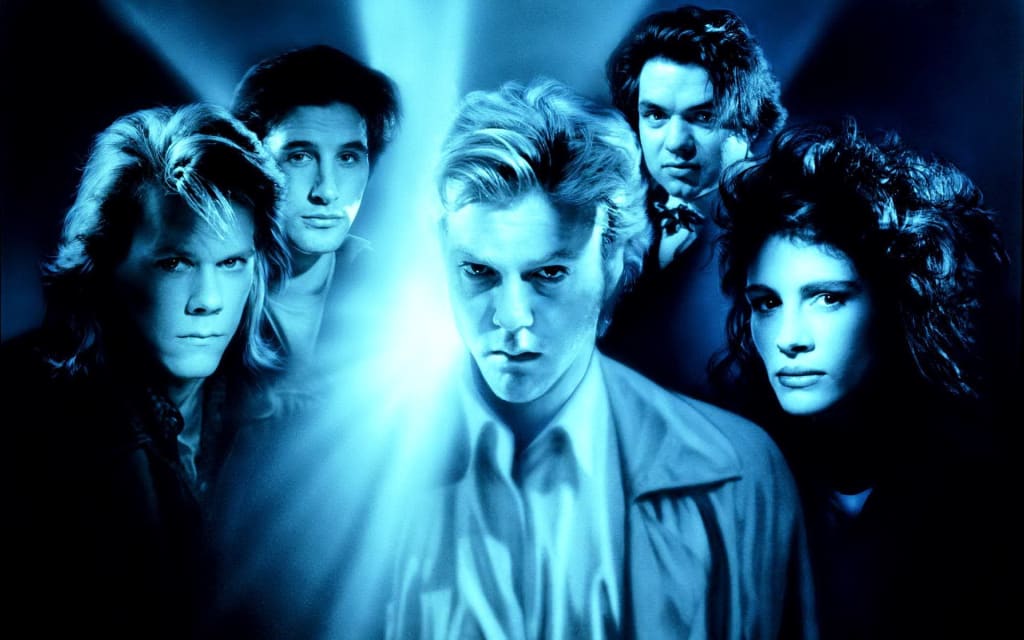 Courtesy of Sony/Columbia Pictures.
"Death is beautiful? What a bunch of crap!"—Julia Roberts as Rachel Manus
Hello one and all.
2017 seems to be the year for the film industry's desperate dumping of what I love to call "The Belated Sequel" on us. Admittedly, one movie has indeed piqued my interest as it has many others. Denis Villeneuve's 35th year sequel event Blade Runner 2049 is indeed a film that I intend to see and even review (yes, that's a blatant in-your-face plug). But, it's safe to say (yes, I offer no regrets saying it) that the Niel Arden Oplev 27-year belated Flatliners "sequel" is by no means on my Must-See list. Nope. I prefer to stick with Joel Schumacher's 1990 groundbreaking thriller that starred Kiefer Sutherland, who leads a group of sharp-minded medical students (Julia Roberts, William Baldwin, Kevin Bacon, and Oliver Platt) into the ultimate experiment: briefly induce clinical brain death in order to explore life after.
Released the same year as Ghost, a far less scary film about the afterlife, this film was at least willing to subject us, the audience, into a harrowing journey into the world beyond death. I will not philosophize, nor do I intend to convince you (the reader) any truths about the subject. As a proud atheist having been (unfortunately) raised as a Fundamentalist Christian, I'll keep my opinions about that to myself. Still, the 1990 Flatliners offered an intriguing, if superficial, look as to what might be the possibility if we close our eyes forever. As pure entertainment, it works. As a much deeper look into life after death, it does about as much as it can to effectively convey the philosophical and spiritual ramifications of what the experiment does to those who attempt to cross over... via medically induced suicide.
I will admit Peter Filardi's screenplay could've gone any number of ways in delineating what happens if we willfully step on this alleged God's domain, but this being a mainstream piece of entertainment, I think it would've been more controversial for its own good. Nope, the same guy who directed this was also responsible for such mainstream fare such as D.C. Cab, The Incredible Shrinking Woman, St. Elmo's Fire, The Lost Boys (of which Sutherland also starred in), would direct two John Grisham adaptations, The Client and A Time to Kill, and give us the two worst Batman films ever, Batman Forever and Batman & Robin. His style can be best described as frenetic, overly-stylish and, very much, audience-pleasing. I personally thought this was one of his better films, along with The Lost Boys, Falling Down, and 8mm (don't ask). The performances are all good and the clever use of fast-editing, crisp cinematography (color/grainy black & white), and overall mood and lighting are all worthy of mentioning. It is, however, the Filardi script that descends into some very hackneyed dialogue and some melodramatic stretches that occasionally stops the film dead in its tracks.
Here's the plot. Med student, Dr. Nelson Wright (Sutherland exuding easy charisma), is convincing all his fellow classmate friends to stop his heart clinically, inducing brain death and to gradually electrocute his heart into resuscitation for exploration of life-after-death; and to get him on 60 Minutes. All have various degrees of suspicion and even skepticism (that is, except Julia Roberts' Rachel Manus, who has a more legitimate stake in the experiment), but all but Randy Steckle (Platt) go forward with the reckless experiment. The only thing they didn't count on? Bringing back apparitions or guilty memories that physically manifest themselves and haunt them in their present lives. The most original of these is Bacon (the atheist character; you go!) who is forced to relive his school day years when he bullied a young girl at his Catholic elementary school. This was the one subplot that had been handled correctly and realistically in my opinion. The rest? Well, Baldwin's character being haunted by all the women he screwed on camera? Uhh, he should be pleased as Hawaiian Punch! What are you, effing kidding?!
Okay, my rant's over. In conclusion, I enjoyed Flatliners and still do, and it was the first time ever being viewed as a 'Thon entry. This is my one hybrid of horror and science fiction movie pick and it may be the last time I view it around this time. It feels more like a summer film than an October flick (even though Halloween is, point-in-fact, incorporated into the plot). As for the 2017 version, which also incorporates Kiefer Sutherland's 1990 character, I will happily skip unless I am strapped to a gurney, undergo my heart stopping, and have an out-of-body experience before bringing me back to life. Something tells me that if I did see it, that's EXACTLY what would've happened to me anyway! Scratch that! I would've gone straight to Hell!
Fun little fact: Actor Michael Douglas produced this fun little gem!
PS: I love you, Diego Luna and Ellen Page!
Next Up: A Steven Spielberg horror classic—without the shark!
movie
A passionate writer and graphic artist looking to break into the BIG TIME! Short stories, scripts and graphic art are my forte! Brooklyn N.Y. born and raised. Living in Manchester, Connecticut! Working on two novels now!
Receive stories by Carlos Gonzalez in

your feed