Graphic Novels You Must Read: Daredevil The Man Without Fear
A subliminal cut of comic book heaven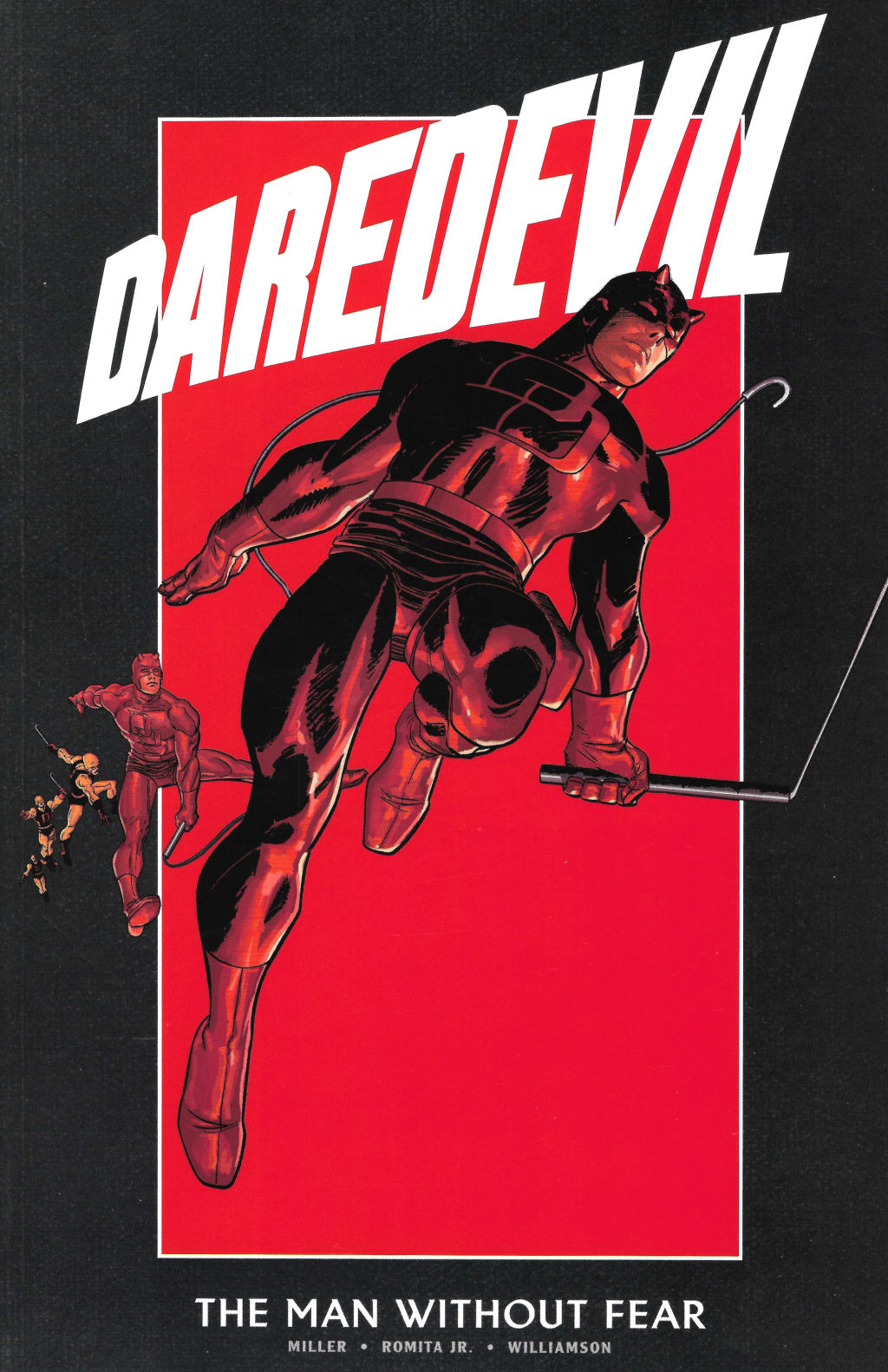 When people hear the word Daredevil, they probably think of someone willing to put themselves in harms way. Someone willing to risk life and limb to achieve something no one else ever has, doing what seems impossible to the average person. That's what this article is about. To a degree, but more directly towards one of Marvel comics lesser-known properties, and the graphic novel which epitomises him. A character who dresses in a red leather-looking costume with red eyes and little horns on his head. Who fights small street crime instead of the cosmic villains with universe ending powers, but wouldn't shy away from that fight either. DAREDEVIL: THE MAN WITHOUT FEAR is a must read, and to give you a flavour I've included pieces from the graphic novel itself here for you to enjoy.
The depth of character development the 2003 movie showed….
You may recall the 2003 movie starring Ben Affleck in the lead role, with Colin Farrell as the classic villain Bullseye, and Jennifer Garner as Elektra. The movie itself was panned by both fans of the comics and critics – so much so it caused Ben Affleck to state he would never play a superhero again (must have forgot this quote when he got called about the Batman job). So realistically the less said about it the better, and if you have that notion of Daredevil in your head, erase it.
A great example of a hall fight scene from season 2, DD vs Biker Gang!
A more recent and accurate portrayal of the character is the Netflix series of the same name. Running from 2015-2018 and starring British actor Charlie Cox (Stardust, Boardwalk Empire) in the lead role, it ran for 3 seasons with 39 episodes. Its impact was so strong that when the show was cancelled, the fan community launched a change.org petition to bring the show back, which to date has over 425k signatures. Worth watching if you haven't, it shows a grounded, gritty (I know that's so Batman, but it works here perfectly) take on the character weaving together characters and storylines from the comics into its own narrative. Cox doesn't entirely look like Matt Murdock (Daredevils secret identity) from the comics but acts it perfectly and gives Daredevil (and Matt) real depth. Showing a range of emotions that help take you on a journey of the duality of the character. The fight scenes are perfectly choregraphed, showing a rough brawler fighting style that recall the movie, The Raid, are a real treat for the eyes (no pun intended).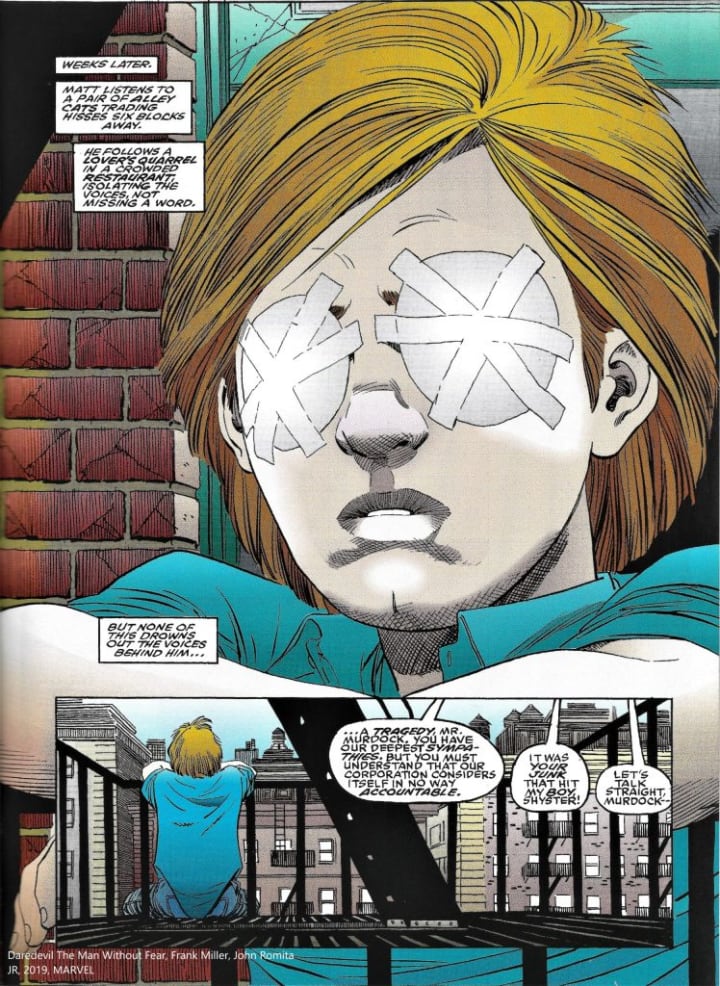 Daredevil's story is that of Matt Murdock, son of boxer Battlin' Jack Murdock. A single parent who moonlights as a low-level enforcer for the mob, and a devout catholic who grew up in the tough working-class neighbourhood of Hell's Kitchen, New York. One day Matt saves the life of a pedestrian from an out-of-control truck (so far, so cliched), pushing the man to safety. The truck swerves and a container of radioactive waste spills in Matt's eyes. He awakens in hospital no longer able to see but finding the rest of his sense's heightened to superhuman levels.Years later after the passing of his father and graduating from university in law Matt decides to put his abilities to good use protecting the innocents of Hell's Kitchen. By day as a defence lawyer, but by night as the costumed crimefighter Daredevil (a name taunted to him by schoolkids due to his ability to take a beating). First from low-level crime from the mob and small-time criminals, then ultimately Wilson Fisk, The Kingpin of crime. Over the years he would also gain his own rogue's gallery of villains such as Bullseye, Purple Man, The Owl and Mysterio, as well as a long running feud with a Japanese occultist group called The Hand.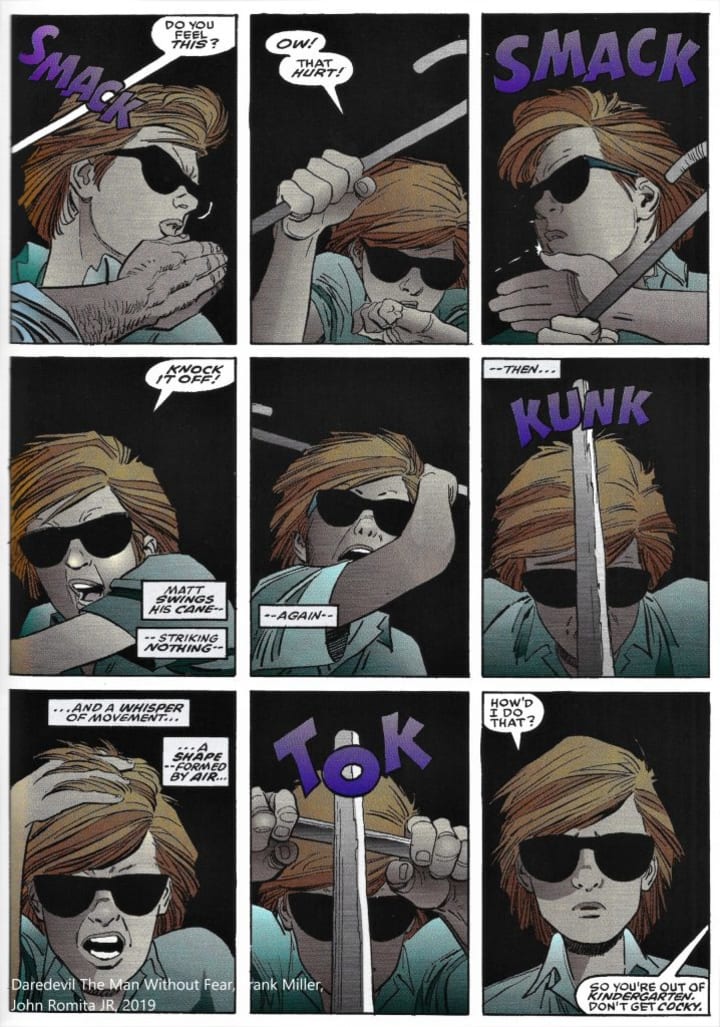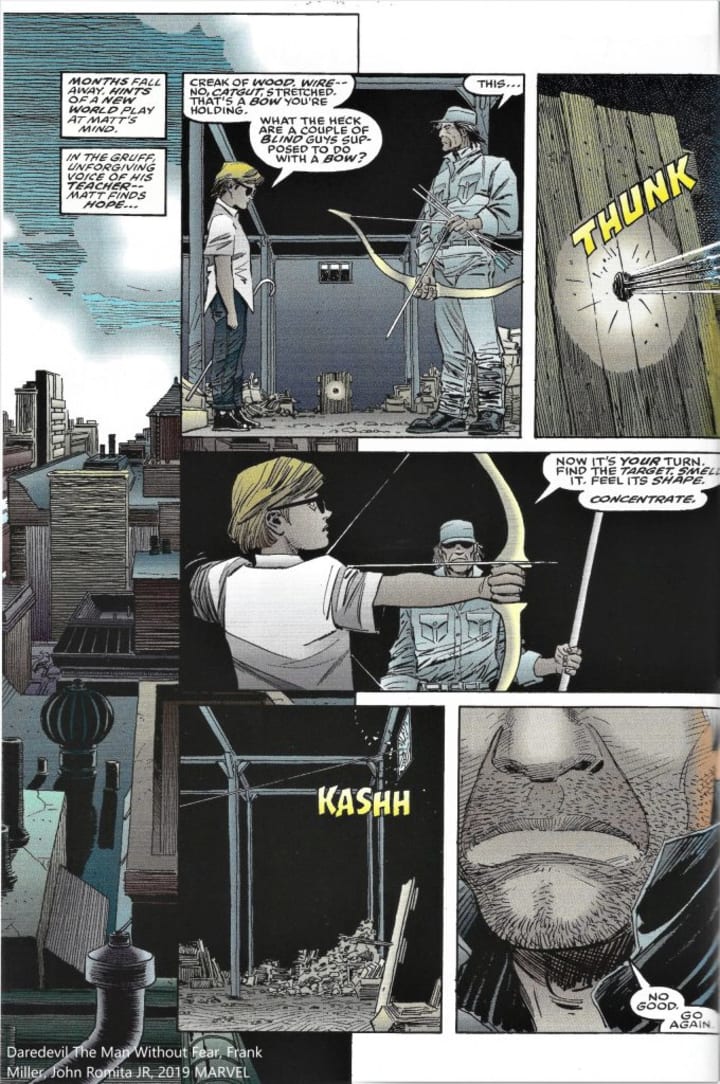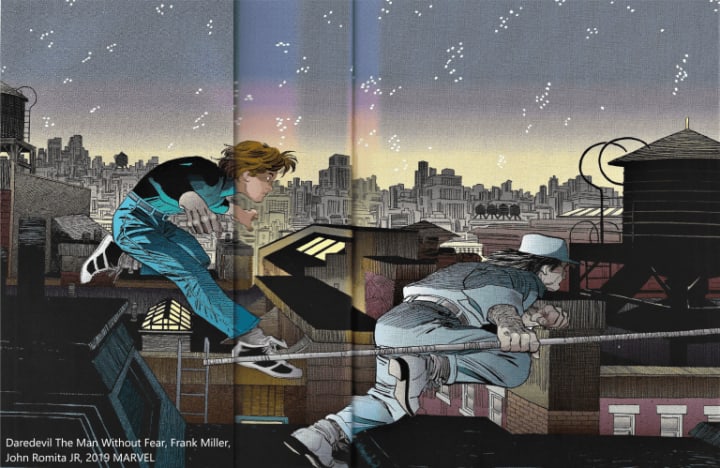 The graphic novel in question, written by Frank Miller and illustrated by John Romita JR was initially a 5-part mini-series released in 1993. It told the story of Matt from his accident, up until the point he becomes the fully fledged crime-fighter we know as Daredevil. So in short, a fleshed-out origin story, told over several pages and issues, instead of a handful of comic book panels. The act of becoming Daredevil (*SPOILER ALERT*) doesn't happen until the final pages of the book, so the story deals more with the journey of becoming Daredevil and to fill in the gaps of his life until that point. We see the difficult relationship him and his father have, that although loving, is a strained mans-man style of love. Jack Murdock himself a tragic figure, who secretly compromises his own morals to make ends meet, while hoping to make Matt proud of him. Matt is later lifted out of boredom and obscurity by the mysterious Stick, similarly blind but immensely talented, who trains Matt in harnessing his powers hoping to make him realise his potential. While at college, we see Matt form his own relationships through choice instead of circumstance. The first being Franklin 'Foggy' Nelson a bully victim of sorts that he takes under his wing and the 2 become close life-long friends. The 2nd presents itself in the form of Elektra Natchios a dark-haired mysterious woman, who Matt finds incredibly attractive but equally frightening (remember he's not the man without fear yet) in equal measure who becomes a love interest. Much later Matt befriends a young orphan girl, and mentors her in a similar fashion as Stick did with him. Matt becomes the overly protective father figure, and experiences first-hand the parent-child relationship, and the lengths people go to, to protect. Resulting in his first brush with serious organised crime, and a figure who will loom large The Kingpin creating a relationship based on conflict.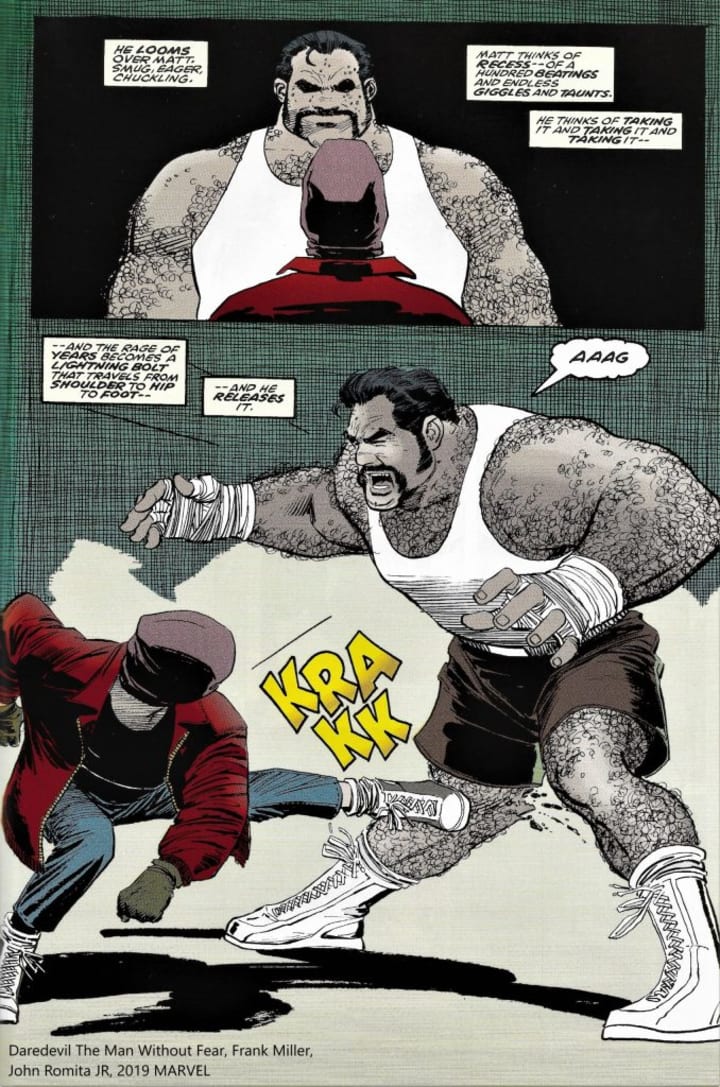 Prior to The Man Without Fear, Frank Miller had been writing on and off for both DC and Marvel since the start of the 80s. At DC he would create 2 mini-series for DC, The Dark Knight Returns, and Batman: Year One. Both of which reinvented Batman as the dark, brooding and sometimes violent character we all know today. At Marvel he'd been writing on Daredevil for close to 7 years, in which time he'd cemented a lot of the detail and mythos behind the character as we know him today. Giving readers some of the most shocking moments in Daredevils life that still rank as some of the most iconic comic book moments of any superhero.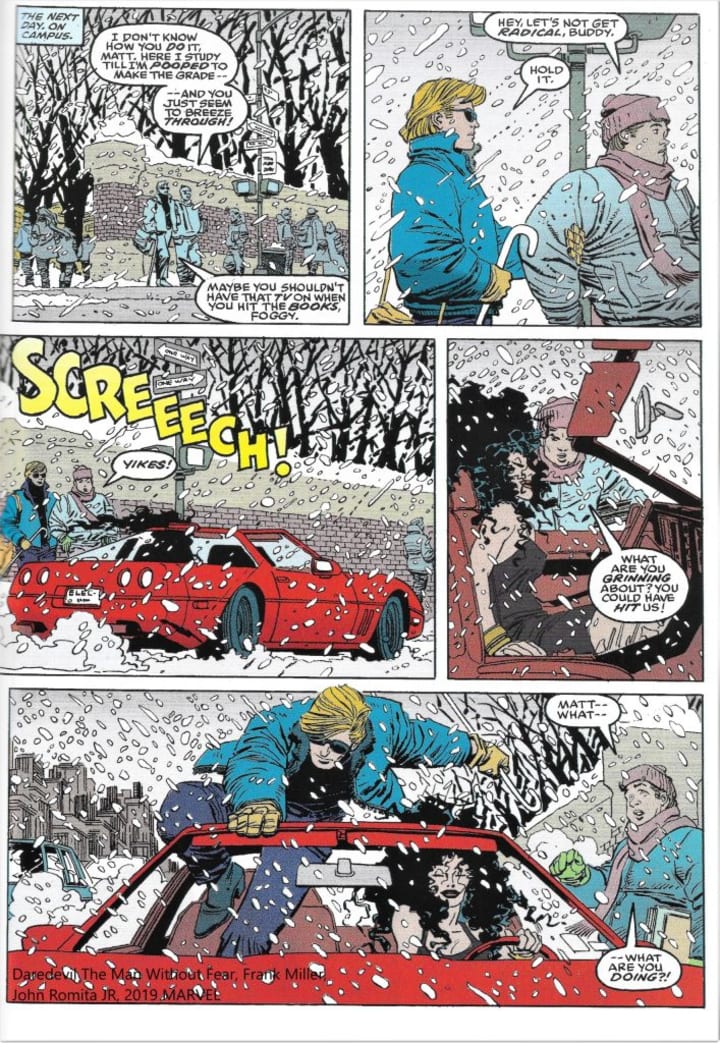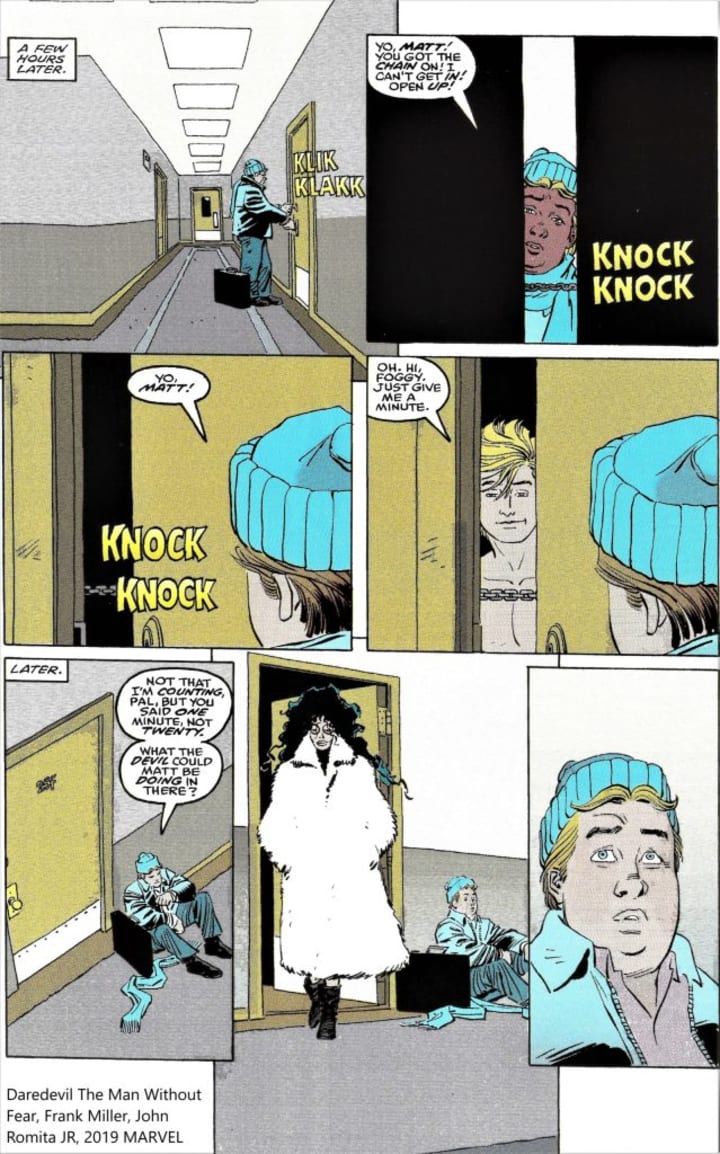 John Romita JR had been working with Marvel since 1969 at the age of 13, his father John Romita Sr (an iconic Spider-man artist since the mid-60's) being instrumental in him joining the company. Up until his work on the Daredevil The Man Without Fear mini-series, he'd illustrated work on Iron Man, X-Men and Spider-man, as well as created characters such as Hobgoblin, Forge and Typhoid Mary to name a few. Further in the late 80's he would go on to do a stint on Daredevil in which as well as pencilling he worked closely with the writer, Ann Nocenti, and was part of creating and adding to the character's story.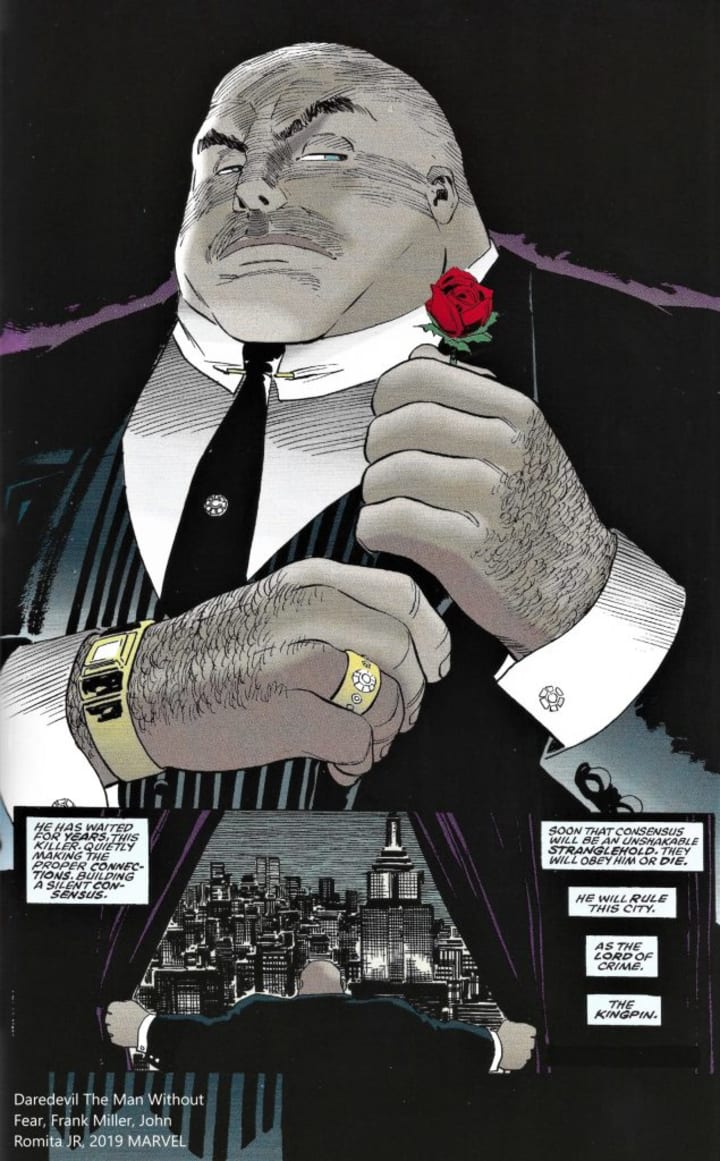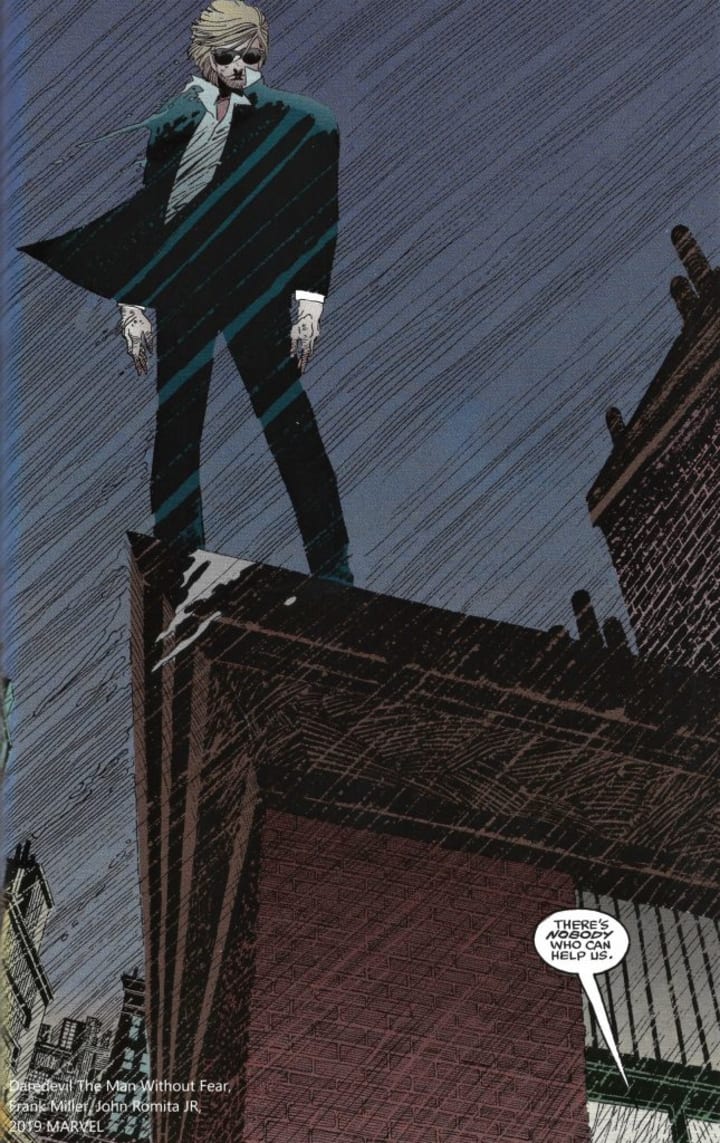 The combination of both these men on Daredevil The Man Without Fear is incredible, and that's putting it mildly. I read this story when I was around 10 years of age, and parts of it I can still see in my mind clear as day all these years later. The art jumps off the page, every panel is drawn exquisitely with sometimes the dialogue of the writing not needed to understand what's happening. That's not to downplay the writing – it's intense. At times informing us of what's being internalised in characters thoughts and feelings. Other time's it's vicarial and rough, showing the darker side to Matt's world, giving it in a warts and all manner. Showing himself and those around him are not people to be on the wrong side of.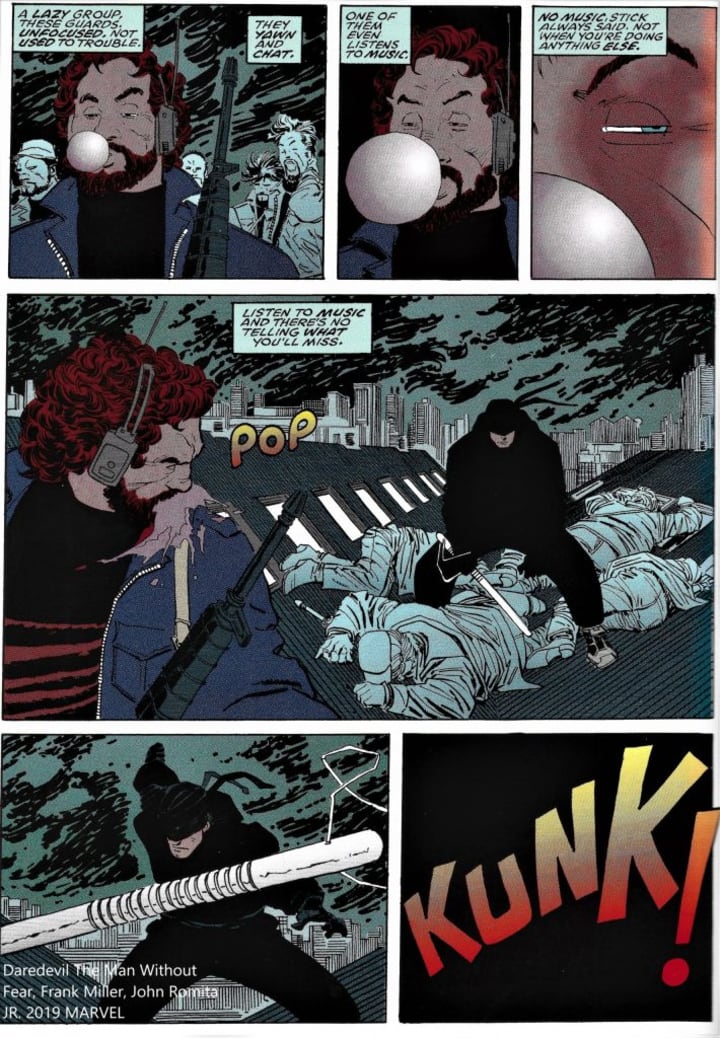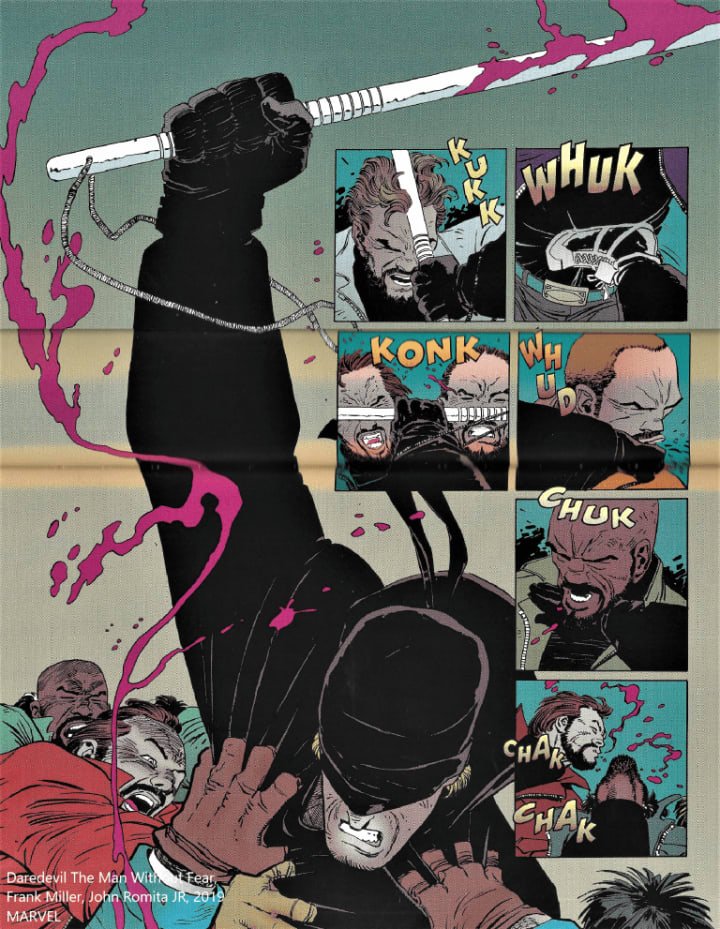 The finished work by Miller and Romita really makes the graphic more than the sum of its parts. Like the perfect 1-2 in football between players before a goal, the new jacket that fits perfectly, the thing that happens that makes you know. When you know, you know. The complimenting of 2 separate things to make something special, that's what these 2 men did, but in the medium of comic books. They took a character they both loved and cared for, albeit a slightly 2nd stringer Marvel character, and decided they wanted to do him justice. To show yeah maybe he doesn't jump buildings in a single bound, stick to walls, or fly around in a suit of iron. However he's way more interesting than them, once you (ironically) peel away the costume, and tell the story of why he got into it. As origin stories go, this is one of the classics, and it really is deserving of your time, so if you ever see it, or read things digitally, I beg you please don't pass it by. You'll be hooked after a few pages and come to realise why Daredevil is a cult favourite, and why ultimately even in the comic book universe why he's a real superheroes' hero.
***ALL OF THE ABOVE IMAGES ARE SCANS OF THE GRAPHIC NOVEL I OWN. I HAVE CREDITED EACH IMAGE WITH ITS ORIGINAL PRINT DETAIL***