Goodbye to the Voice(s) of Our American Childhood
June Foray died on Wednesday, at the age of 99. She was more a part of your world, and our time, than you think.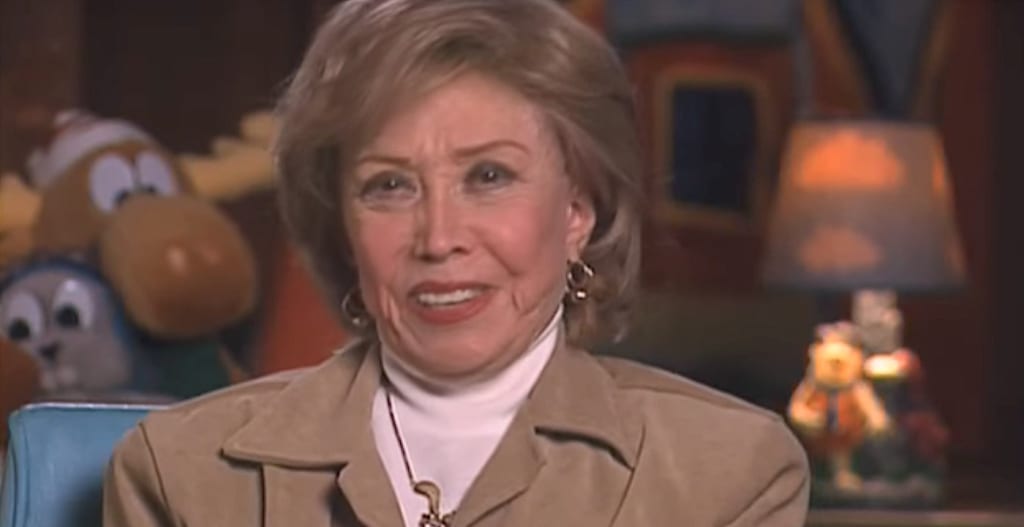 If you're of a certain age today in America, and even if you're not, you lost something special on July 26. It was some of that part of yourself that, over time, you may have tricked or reasoned your way out of believing in. Your childhood.
June Lucille Forer died that day at a hospital in Los Angeles, at the age of 99, 54 days before her 100th birthday. The world never really knew her by that name. You could say the world knew her by her professional name, June Foray, but that's not even right.
The world really better knew her as Rocket J. Squirrel and Natasha Fatale, as Nell Fenwick and Witch Hazel, as Mother Magoo and Cindy-Lou Who, as Grandmother Fa and Jokey Smurf, as a talking Mattel doll and two of the boys in the water in a Steven Spielberg movie. Hers was the voice of a hundred faces, the animated faces and identities of our collective American childhood.
◊ ◊ ◊
When she was born, on Sept. 18, 1917, World War I was still raging and would for almost another two months. In 1929, Foray made her first leap into pop culture on radio, the medium of the era, portraying an old woman on WBZA Radio in Boston ... at the age of 12. From there Foray went on to find work as a voice actress for other radio programs throughout the 1930's and 1940's, and later recording children's albums for Capitol Records (she was the on-record voice of Little Toot, a happy harbor tugboat, a character produced by Walt Disney in 1948).
But bigger things were yet to come. In 1950, Foray played the voice of Lucifer the Cat in Disney's Cinderella, she voiced characters in Disney's Peter Pan, in 1953; she was the voices of Splinter and Knothead in Woody Woodpecker cartoons; and her voice would star in dozens of animated shorts for Warner Brothers, Disney, and MGM.
But it was all leading to a chance encounter with a moose and squirrel, one that would cement her place in entertainment history, beginning the decades of her life as a one-woman menagerie in not-so-suspended animation.
◊ ◊ ◊
Foray frequently recounted meeting animators Jay Ward and Bill Scott at Tail o' the Cock, a venerated boîte in Beverly Hills, to discuss an idea for an animated show. She was specific in a 2000 interview:
"I got a call from my agent ... and he said, 'do you know a fellow named Jay Ward? ... he said he wants to take you to lunch.' I met him and Bill at Tail o' the Cock, on La Cienega Boulevard. And they were having martinis, and they said, 'have a martini,' and I said I don't drink at lunch. And they said 'come on, we're having a drink!' So I said OK. On the first drink they told me they had an idea [for a show] about a moose and a squirrel, and I thought, 'that's a real cockeyed idea.' After the second martini, I thought it was great.'
From that tipsy beginning came Rocky and His Friends, an animated show that charted the exploits of Rocket J. Squirrel and Bullwinkle J. Moose, residents of Frostbite Falls, Minnesota. Foray was the voice of Rocky, a character portrayed as an all-American kid with an attitude. Over five years (November 1959 to June 1964), the cartoon duo pursued a variety of misadventures shadowed by the spies Boris Badenov and his sidekick, Natasha Fatale (also voiced by Foray).
◊ ◊ ◊
The success of moose and squirrel opened the floodgates for Foray, who was even more in demand. She was the voice of Betty Rubble in The Flintstones (but only for the pilot episode; Bea Benaderet won the early permanent role). She was Mother Magoo in the Mister Magoo cartoon series; she voiced Granny and Witch Hazel for The Bugs Bunny Show.
Foray vocally portrayed Cindy-Lou Who in Dr. Seuss' How the Grinch Stole Christmas, and Ursula in George of the Jungle. Hers were the squawking, bleating, over-the-top, under-the-radar voices of various characters in The Flintstones, The Road Runner Show, Lost in Space, The Pink Panther Show, Scooby-Doo Where Are You? and numerous TV specials in the 60's and 70's.
She dubbed the voices of the Brody brothers, two characters floating in the dangerous water off New England in Steven Spielberg's 1975 classic Jaws. She was Jokey Smurf in two successive Smurfs movies, and played two characters in the 1988 film Who Framed Roger Rabbit? Foray reprised two of her Warner cartoon characters in Space Jam (1996) and — coming full circle — brought back the voice of Rocky in The Adventures of Rocky and Bullwinkle, a 2000 film that combined live action and CGI effects, and for a short film released in 2014.
◊ ◊ ◊
Foray worked well into the current century. She voiced Grandmother Fa in Mulan II, reprising her role in the 1998 original. And her voice was included in video games featuring Warner Brothers and Disney characters. Foray won her first Emmy in 2012 for a role in The Garfield Show, a win that made her the oldest nominee for and recipient of an Emmy Award. But the breadth of her achievements in radio, movies, television, and toys — she was even the voice of Chatty Cathy, a popular talking doll marketed by Mattel starting in 1959 — made that Emmy win a tardy recognition of what the industry had long known.
June Foray was a force, a quiet disrupter, decade after decade proving herself not just versatile but creatively the equal to the male talents that dominated her field. She held her own with William Conrad, Daws Butler, Bill Scott, and Stan Freberg, just some of her celebrated contemporaries.
Chuck Jones, the veteran animator of Bugs Bunny and the Warner Bros. cartoon pantheon, probably said it best. Reacting to a comparison between Foray and the famed cartoon-voice chameleon Mel Blanc, Jones observed:
"June Foray is not the female Mel Blanc, Mel Blanc was the male June Foray."
Her body of work is a tribute to the irrepressible spirit of the artist. In a 2013 interview with Variety, Foray spoke to the power of youth not as a physical attribute but as a state of mind: "I'm still going," she said. "It keeps you thinking young. My body is old, but I think the same as I did when I was 20 years old."
The title of her autobiography, published in 2009, put her immense role in the history of modern entertainment in the context of an innocent question: "Did You Grow Up With Me, Too?" The answer, of course, couldn't be simpler:
Yes, June Foray. Whether we know it or not ... we all did.