Good Time Review
The 2017 Safdie Brothers movie is a masterpiece!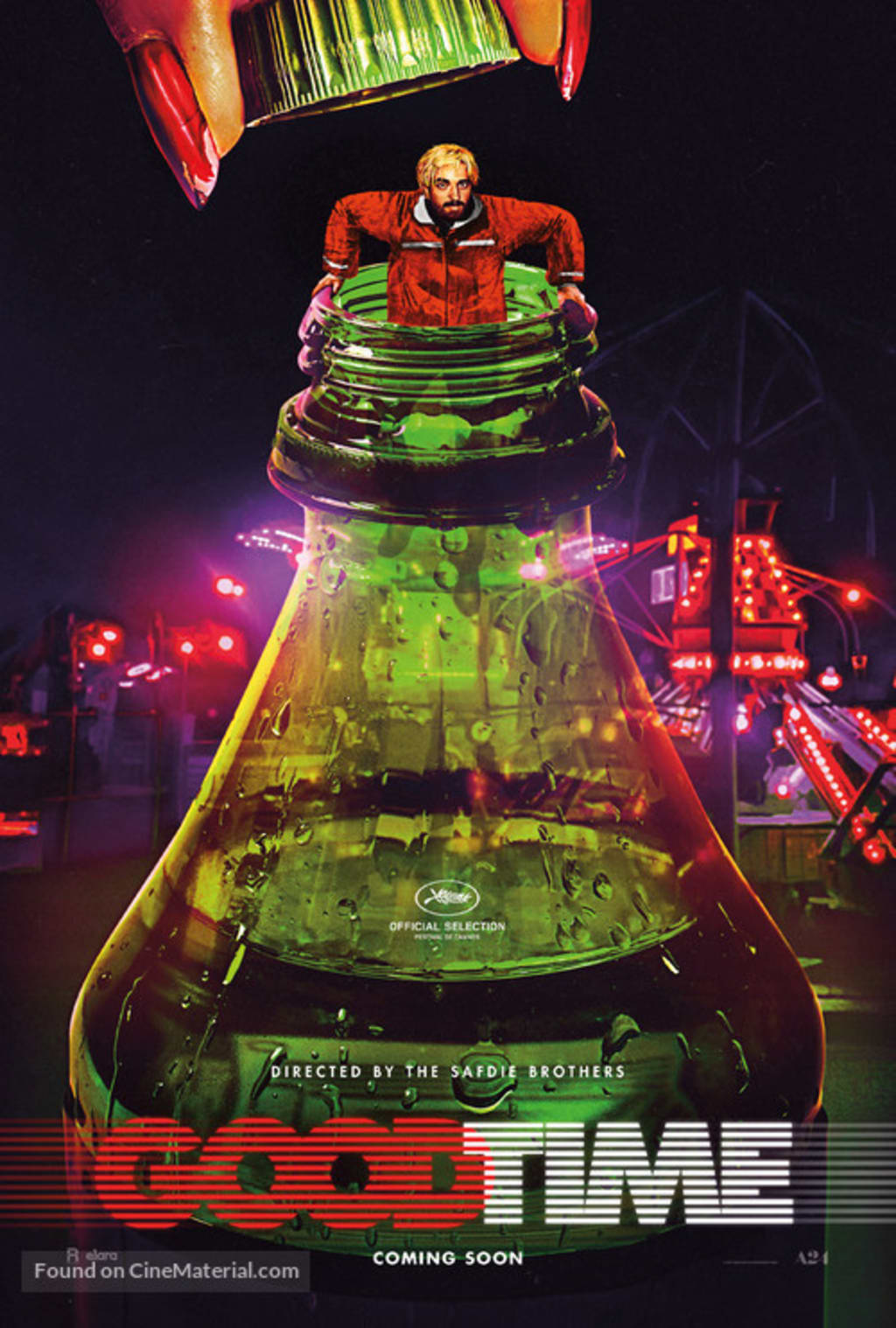 When you pop in a movie into the blu ray player or dim the lights and take the first bite of popcorn you expect every time to be an experience that you remember. Some movies provide this and others do not. That is just the nature of the game. Good Time is one of those movies that grips you right from the opening frame and does not let up for one second until the end credits roll.
Josh and Benny Safdie (Who always stars as Nick) create a frantic pace that just oozes tension and high stakes drama. You immediately feel that one bad decision after another is about to take place and you just stare at the screen in bewilderment as it transpires before you. Very few films elicit that reaction but Good Time is just one of those real world movies where bad decisions have real time consequences for the characters. It does not have to be crazy visuals to get your attention. What Good Time does and very effectively is that it relies on the story it needs to tell and it really does not bog itself down with the rest.
It is sleek and very trimmed down to just the essential necessary characters to tell the story and that allows Robert Pattinson to deliver a fine tuned performance unlike very few that have come before him and something prior to this he had done previously (He has since gone on and done it again in The Batman). Pattinson's Connie does not take a moment to breathe and he allows each chaotic and irrational decision to shape the rest of his life. We see that all unfold for him over the cross of what amounts to probably 12-14 hours of real time in the film. It starts with a bank robbery and ends with Connie uncertain of what happens next but with enough context that there is no margin for error on what would truly happen to him in the real world. You don't need to see it to know. You need to have lived in the real world to know. People will try to convince you that films like this are not realistic and this stuff does not happen in the real world. To them I say, you truly have not experienced a bad night. While by no means have I made the foolish decisions that Connie did, that experience of thinking you are doing the right thing but you arent is definitely relatable.
While the film is not all balls to wall with insane sequences as mentioned before there is always that feeling of dread drizzled over this film's gritty aesthetic. Nothing happens that does not move Connie's fateful night forward. While most modern films feel the need to splash crazy colorful scenes of heightened effects, Good Time just tells a linear story that hooks you. Hollywood is romanticized by explosions and car chases but this film relies squarely on the believability of the actors and each and every actor plays their role to perfection. The Safdie brothers are two of the premiere film makers working on old school drama in the game. It is clear they love and respect the art of telling a street level story that relies on realism to add to the pressure these characters are facing.
Good Time is one of those movies that I recommend you give a shot. I understand the arguments that some people don't want to relate to these kinds of stories and feel fully immersed by all facets of the world. However to me it is essential that these types of films be viewed and discussed. So many people make poor decisions on a daily basis and I am not saying that this movie has the power to change lives but it does have the power to offer a perspective from a fictional aspect that reminds people just how quickly things can take a turn. This is a movie that I strongly wish that I had seen sooner and I am very thankful that I finally took the time to watch. It truly is that good of a movie and one to me that does everything right that a masterpiece should do.
review
About the author
All things pop culture. Movies, TV, Music,Comics as well as some dabbling into the Sports world. If you can record it, watch it and play it back. I have an opinion.
Reader insights
Be the first to share your insights about this piece.
Add your insights