'Good Omens'
May include spoilers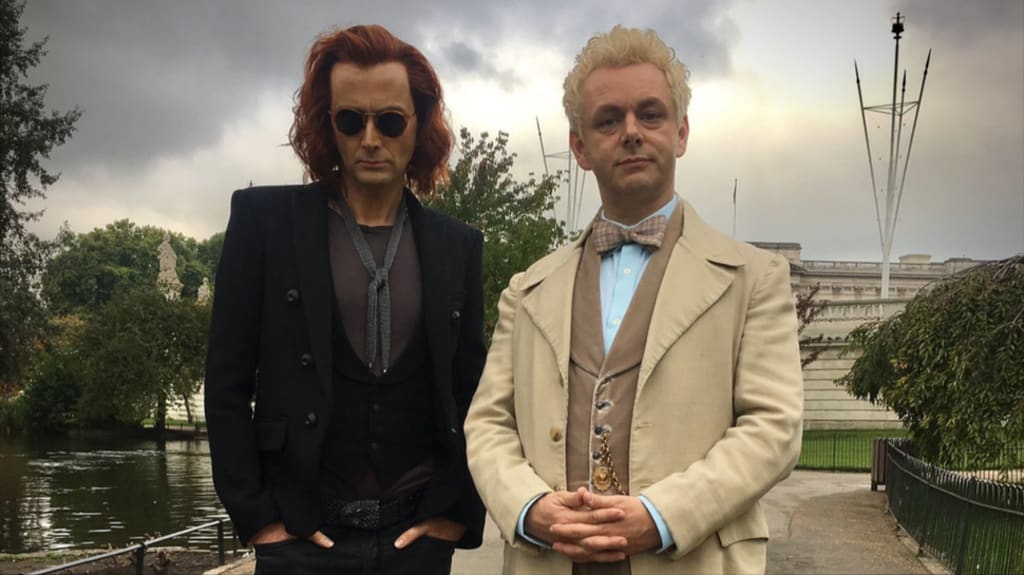 This has recently been let loose on amazon prime in a six episode telling of the book of the same name. If I said it's a Terry Pratchett and Neil Gaimon book, and Neil is involved heavily in the show, then you may guess what it's like already. A Doctor Who director doesn't do any harm either.
I went into this having not read the book, but by being tempted by the cast and the preview clips. With streaming services it's easy to come and go, watch when you like, or go mad and watch it all at once. Ricky Gervais Afterlife was the first box set I watched in one go, and this was nearly the second. I ran out of time and energy having watched five episodes, and had to watch the finale the next day.
I had heard good things quickly, so I decided it was worth the risk. Amazon prime has a lot to offer both good and bad; this is definitely a good one. The budget and the actors that can be attracted to their work does obviously help.
The voice over gave me memories of Hitch Hiker's Guide to the Galaxy at first, and this isn't a bad thing at all. It doesn't take itself too seriously as presumably suits the source material. The pairing of Michael Sheen and David Tennant is a master stroke, though Tennant seems to be using his inner Bill Nighy throughout.
As often seems to happen, there is a cast of many well-known actors among the not so well known. Though sometimes only through voice work, or via heavy makeup. So just as you realise where you know the voice from, they tend to die, or just never be seen again.
The story is basically a master plan by heaven and hell to have a war on Earth to see who wins. Neither side wants the war avoided, and has their respective armies ready and waiting for the off. The Earth is simply the stage, and the human race an unfortunate obstacle in the way. Two angels, one regular, and one fallen, work together to keep the earth safe. Their relationship starts at the beginning of time, and carries on till the end. There's also an eleven-year-old boy who is Satan's son, a very accurate predictor of the future, and some witches, and some witch finders.
It's great fun, occasionally quite silly, and maybe has a message hidden in there if you look close enough. You can be a bit good, and still have evil traits, you can be a bit evil, and have good traits. The person to listen to the most for the wise words though is Satan junior, who has many of the best lines. I don't know if there is another book to adapt, but I would think that there might be more—I certainly hope so. Great cast, Queen music interspersed in a David Arnold soundtrack. You also discover how Shakespeare became successful, and other historical things you didn't know before.
Of course, the only drawback of a binge watch is you can't look forward to the next episode after you have watched them all. I suggest be an angel and spread out, whatever the devil on your shoulder says.
It's very good, but not perfect, though I don't know if it's the book's fault or the adaptation. As I said, I haven't read the book, so I can't tell for sure. It's possible though that the simple ending is meant to be that way to show a complicated problem can be easily solved. There is scope for a sequel, things said, and actions shown allow there to be more.
review
About the author
England based carer, live with girlfriend. will write for all areas but especially mental health and disability. though as stuff for filthy seems popular will try there too
Reader insights
Be the first to share your insights about this piece.
Add your insights