From Medieval Warfare to Robot Dinosaurs: These 10 Upcoming 2016 Video Games Need To Be On Your Radar
Here it goes, these are 10 games that you should definitely be aware of this year.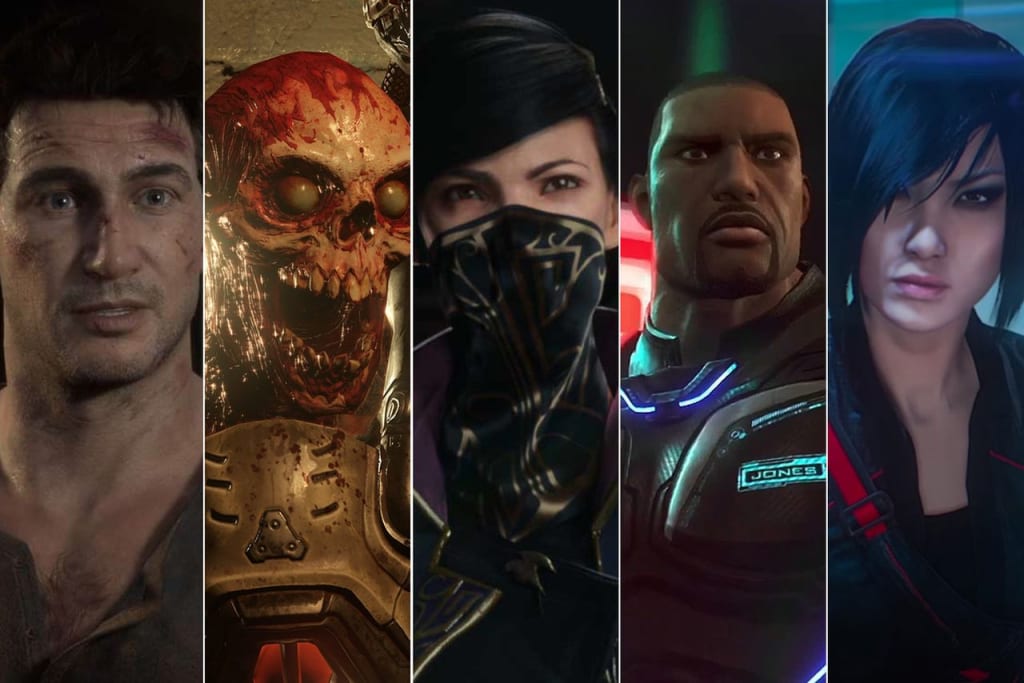 Gaming is honestly a HUGE world, and it's pretty easy to get lost in the variety and depth of so many games. 2015 was a year of great releases across the board, and 2016 is looking to be even better. This list may change over the coming months, considering the volatile development environment. This list also doesn't take into account what's coming for the Nintendo NX as nothing is definitive yet. But here goes, these are 10 games that you should definitely be aware of this year;
As one of the last remaining humans on a planet controlled by robotic foes bent on your destruction, you must forge friendships with a courageous group of robot companions, each with unique abilities and powers.
ReCore looks to be the return of one of the greatest game creators. The game contains an ever-changing landscape which adds to the uniqueness of this game as new dungeons are being revealed and hidden within the shifting sandstorms.
Players can explore the once-familiar streets and landmarks of the Big Apple, now decimated by looting and overrun by clans that will do anything to survive. Discover a persistent, online, open-world New York where exploration, combat, and RPG player-progression are essential.
Welcome to a new world, thanks to Tom Clancy. As a part of "The Division", a classified unit of self-supported tactical agent, it's your job to explore the post-apocalyptic, open-world New York and prevent the total fall of society.
The Art of Battle, For Honor's innovative control system, puts the player in total control of your heroes, each with distinct skills and weapons, as you fight for land, glory, and honor. As a skilled warrior on an intense, believable battleground, you annihilate all soldiers, archers, and opposing heroes who stand in your way.
Knights vs Samurais vs Vikings. Thats really all that needs to be said, but it looks like Ubisoft is bringing us something we've never seen before. As you face off in 4x4 battles, you're also tasked with fighting your enemy's army as well. There is single player combat, magic, multiplayer modes and so much more. Color me intrigued for sure!
Tom Clancy's Ghost Recon Wildlands is the very first military shooter in a massive, dangerous, and responsive open world that you can play entirely solo or in four-player co-op. Facing an almighty enemy in a massive and hostile environment, the Ghosts will need to make critical moral choices and engage in tough battles to complete their mission -- their grittiest and most dangerous operation to date.
Another installment from Tom Clancy, and it looks to continue in the style that The Division brought but on a much larger scale. The game is set in modern times, and the open world will feature a wide variety of environments (which means the map itself is likely HUGE!)
Deus Ex: Mankind Divided is the next-generation evolution of the futuristic stealth action-RPG series. This is the first game in the Deus Ex: Universe multimedia project, an endeavor to create multiple productions (including games, minigames, books, graphic novels and more) set in this bleak cyberpunk world.
2 years after Human revolution, Adam Jensen returns with new tech and augmentation to face the truth buried in the Illuminati's motives. Expect to fulfill your desire to craft Adam to suit your own unique playstyle, just as you could in the first game.
Whether a distant mountain or a planet hanging low on the horizon, you can go there. You can fly seamlessly from the surface of a planet to another, and every star in the sky is a sun that you can visit. Where you'll go and how fast you'll make your way through this universe is up to you. It's yours for the taking. In No Man's Sky, every victory and every defeat has lasting consequences.
No Man's Sky looks like an incredible romp into an ever growing first-person adventure. I honestly don't know a whole lot about the game, but if I get a PS4 before June, this game will surely be tops on my list of games to own.
Final Fantasy XV (formerly Final Fantasy Versus) is the story of a young king sworn to defend the last crystal in the world from the "hectic order" outside of his kingdom. It's a fight between ancient and modern techonology, and the struggle of one king to protect the old ways.
The proverbial game that never seems to disappear. Final Fantasy has been around since the late 80's (Japan) and early 90's (USA). Final Fantasy XV looks to continue the legacy of games and brings us into a world similar to modern-day earth. The lands are divided into various nations and as they wage war for power you must discover how to defeat a phenomenon that threatens to plunge the world into eternal darkness.
Players join a highly stylized team-based shooter set on a near-future earth. Every match is an intense multiplayer showdown pitting a diverse cast of heroes, mercenaries, scientists, adventurers, and oddities against each other in an epic, globe-spanning conflict.
The first new property from Blizzard Entertainment since 1997, Overwatch looks primed to change the landscape of the stylized-arena shooter. Carrying similarities to Battleborn/Borderlands won't bring this game down, as it's truly unique thanks to it's heavy MOBA influences with characters and combat. I will own this game!
Players join an exhilarating action rpg as Aloy, a skilled hunter. We start to explore a vibrant and lush world inhabited by mysterious mechanized creatures. Embark on a compelling, emotional journey that will determine the fate of this planet, and of life itself.
With the rise of the female hero, Horizon: Zero Dawn looks to continue the trend with its female protagonist, and it looks truly breathtaking. In a distant future where mankind has been taken over by machines, we get to experience a beautifully designed landscape of mystery and discovery to uncover the past and potentially change the future.
So many games. So many possibilities, and there are honestly several games that didn't make the list, which just makes 2016 an even more exciting looking year for gamers around the world.
About the Creator
Husband. Father. Gamer. Cinema Lover. Mix it all together, and there I am. I love all things pop-culture and coffee; but coffee is the best.
Reader insights
Be the first to share your insights about this piece.
Add your insights