Friday Night Lights
Netflix/Amazon gets deep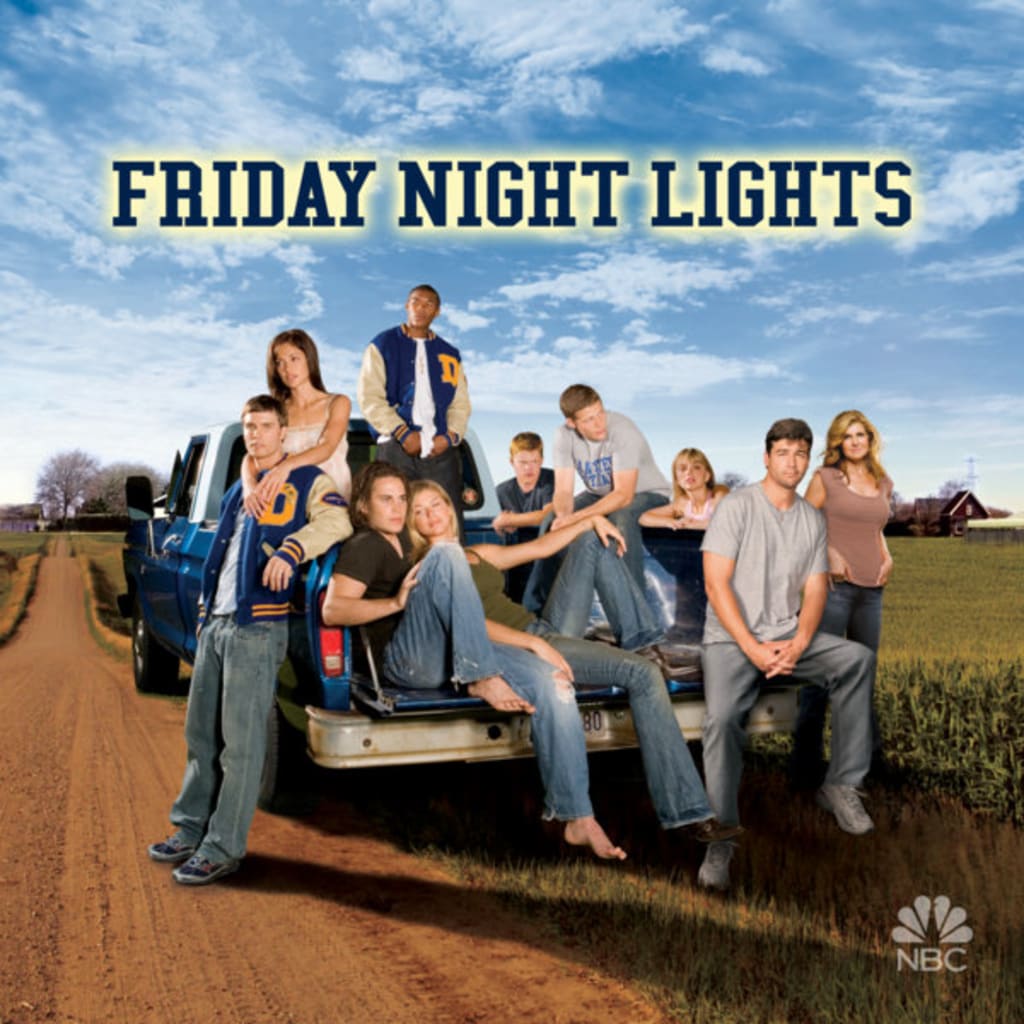 Please note this article contains some "sensitive" information. This is just my opinion.
All I did this weekend was binge watch TV shows and clean my apartment. I did not leave the comfort of my apartment, except to take my dog on walks. While I was scrolling through Amazon Prime, I came across the series, Friday Night Lights. This used to be on Netflix, but I am unsure if it is still available.
Friday Night Lights is about a high school football team and their daily lives. I thought it was going to be boring, but I was wrong. From the first episode, I was hooked and thought that it something I look for in TV shows and movies.
I thought Friday Night Lights was going to be comedic and light-hearted. There are some funny moments within each episode. However, Friday Night Lights also deals with real issues such as racism, sexual assault, dating, religion, mental illness, and more.
The show first premiered in 2006. It was a time when all those issues were relevant, but they were not really discussed in public. To this day, those issues are not talked about publicly, and as a society ,we tend to push them under the rug.
Without spoiling the show, one of the characters said a racist comment about a player on the football team. While the comment was taken out of context by the press, it caused a huge uproar among the kids and the town. To this day, some people believe that racism does not exist. While Friday Night Lights portrayed racism between White and African Americans, we face a different kind of racism today. While that can still be prevalent, racism today exists between white and "immigrants." However, I would like to point out that we are all immigrants...
Friday Night Lights also showed sexual assault. While most victims know their attacker, the individual in the show was a stranger. However, it depicts how scared the victim was, and debating whether or not to get help. When help was available, the show alluded to that it was the victim's fault. This is relevant in today's society. While more people have been educated about sexual assault, many victims are still afraid to get help because they think it was their fault. Society needs to change that view.
Throughout the series, there is an underlying theme of faith. One of the main character gets baptized and wants to share her faith with others. While the concept is not bad and should not be condemned within TV shows and movies, the portrayal was not done correctly. It could have been poor acting, but it appeared the girl who was recently "reborn" wanted to shove her religion down peoples' throats. It seemed she became more stuck up after her transformation, which is not how it should be.
Society has an interesting opinion on religion. Some people think it is great and some people cannot stand the idea. While I believe in practicing what you preach, that does not mean be hypocritical. That was the issue I had with the show. The main character did not take responsibility for her past, and used religion as a way to make it okay.
There is a character in the show who is diagnosed with bipolar disorder. The show depicts the myths about bipolar disorder and how people are "scared of crazy." The character who has the disorder confides in her boyfriend about the disorder, and he looks absolutely mortified. This is exactly how society acts when they hear "mental illness" or "mental health issues." Throughout the episode, he gets "accustomed" to her illness and is more understanding of her behavior. Society needs to learn that these people are usually not violent. Despite what shows like Criminal Minds and SVU depict, people with mental illness are not all psychopaths and violent.
In my opinion, the first two seasons of the show are the best, and it just goes downhill after that.