Free Shakespeare Festival: Together Under The Stars
Every summer, the Independent Shakespeare Company puts on lively, whimsical performances, which give people a chance to escape the bustle of the city and more importantly, come together as a community.
It's early August. The heat of the summer gives way to a cool, responsible breeze — one that stirs the air just right, without raising too much of a ruckus. The grass is wet, sticky. When I put my gray, polyester blanket down, it clings to the ground almost immediately. My neighbor Lauren and I kick our shoes off and clumsily plop down.
As I settle into place, my eyes gloss over the hundreds of blankets covering the gently sloping hill, like patches of quilt that haven't been sewn together yet. It's infrequent, if not rare, to see a crowd so large and wide, spanning across all ages — teenagers hunkered down next to the elderly, with tots weaving in between. Everyone's noshing and chattering. The mingling of unnumbered conversations is broken up with the pop of plastic lids, the crinkle of chip bags and the short little hiss that escapes soda cans when they're cracked open.
We've gathered around an empty stage as though we're about to celebrate a holiday — in anticipation for something and with vague curiosity. For what, I'm not sure. This is my first time attending the Free Shakespeare Festival, but I know thousands of Angelinos make pilgrimages to Griffith Park for the event every summer. I don't know what to expect, but already, I feel the lovely, nostalgic lilt of this moment.
Then, the lights dim. "Noble patricians, patrons of my right!" A deep, expansive voice blooms in the air. It pings off the walls of the old LA Zoo's abandoned animal enclosures, which sit at the top of the hill, before making its way back to us. I watch, intoxicated, as Saturninus marches through the audience. All of the sudden, despite the crowd going abruptly silent, the atmosphere is charged with something undoubtedly special.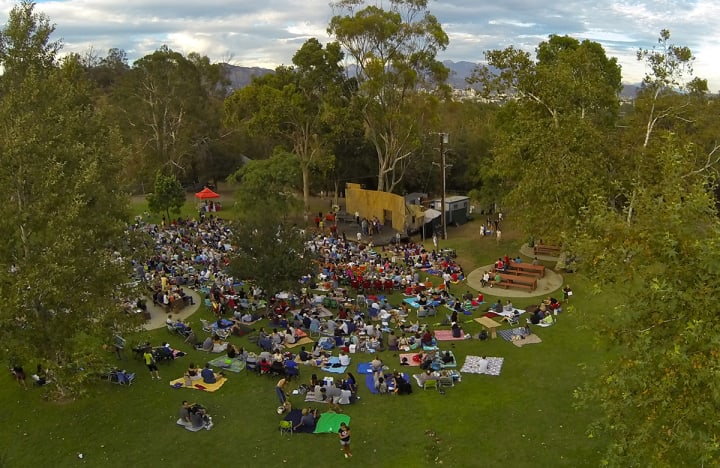 * * *
Sometimes things happen by chance. When you least expect it, the right idea kicks its foot impulsively against the underside of the table and jerks you into action. That's what happened to David Melville on a hot and blistering New York summer afternoon in 1998. That day, David matched his shorts with a pair of black socks, an outfit choice that made him look like the Englishman he was, and also — like a tourist, especially in Chinatown. For someone hired by an investigative agency to inconspicuously stake out a doorway, he wasn't doing a particularly good job blending in.
In fact, his detective skills should've been put under question, too. In the four hours that he sat on a stoop on Canal Street, he devoted a significant amount of time to reading. Because once he flipped open his copy of The Village Voice — the only source of entertainment he'd brought with him — he couldn't really stop. Although he devoured it cover to cover, there was a particular story that caught his eye — a piece about Aaron Beall, who founded an Off-Off-Broadway venue dubbed "Todo Con Nada." It was a tiny theater with a ceiling no higher than nine feet, but Aaron had decided to produce the complete works of Shakespeare in that cramped space.
It never occurred to David just how much of theater is about convincing people to put their imagination to work. He became enamoured with the thought — and started toying with the idea of starting a theater company with his wife, Melissa Chalsma, an American actress he'd met on broadway in 1995. (They fell in love and married shortly after).
"We had to come up with a name for the theater company so we thought 'Independent Shakespeare Company' sounded good because it sounded like something you should've probably heard of but hadn't," he tells me over the phone, "like it's been around for a while already."
So, they assembled a small cast and put on their first show at 10 p.m. on a Tuesday night, a horribly inconvenient time slot only worsened by the fact that it followed a production of "Pigoletto." (Which was a questionable version of Verdi's opera Rigoletto, only starring a man in a pig suit). "We had limited costume, and we didn't do lighting cues," says Melissa, who now directs ISC's plays. "But what we discovered is that we really enjoy producing plays that way. Now, we obviously do much more production elements, but I think that central question has really been the thing that still drives us: how do you really engage the audience's imagination?"
A few years later, unable to find an affordable apartment in the city — and with a baby on the way — the couple decided to move into Melissa's sister's house in Los Angeles. They weren't particularly planning on continuing acting. In fact, they weren't entirely sure they even had a plan at all. But it wasn't long before Melissa found herself with a script in hand, rehearsing around the living room, with a baby strapped to her chest.
So, in 2003, the ISC was brought back to life, and more specifically, to Franklin Canyon Park, which sits near the center of Los Angeles between the San Fernando Valley and Beverly Hills. David and Macduff (or more precisely, the guy playing Macduff) built the lighting stands out of wood. Melissa sewed the costumes and dreamed up the props. There was a stage manager, too, but that was it. The company was entirely run by the very same people audiences saw on stage.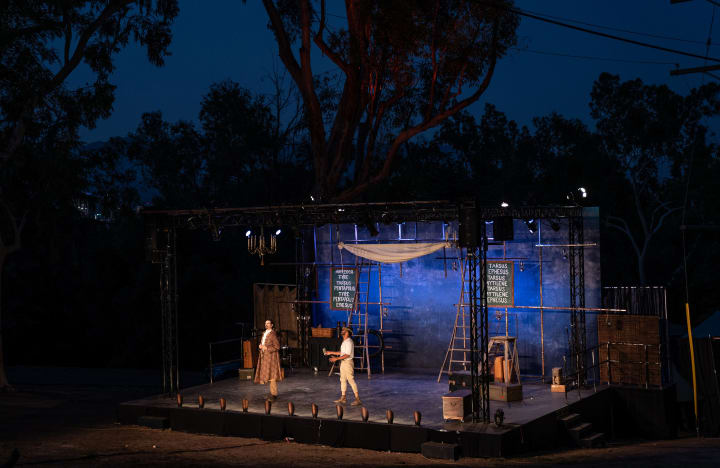 A year later, Melissa and David partnered up with the Department of Cultural Affairs to put on plays in Barnsdall Park. The ISC set up a 16-by-16 foot stage and performed The Two Gentlemen of Verona. 14 people — and a dog — showed up for that first performance, but play by play, the audience kept growing. The couple bought a home in Chatsworth and held rehearsals in their bedroom. A red velvet curtain hung over their garage door. The inside was packed to the brim with a constellation of odd things — Yorick's skull, Bottom's donkey ears, the lion's head, Mephistopheles' cloak and a "very out-of-tune spinet." There were a handful of spears always threatening to fall over, swords jutting out of bags, random bits of armor, goblets, fake fruit, and of course, racks and racks of costumes.
Once you'd slashed your way through the jungle of oddities, somewhere in the back, you'd find a desk, a computer and a phone. That was David and Melissa's office for the longest time. After every season, they'd move everything into a storage unit. Whatever didn't fit there would end up in the backyard or under the house. "I think the people who are in the house right now...if they took a look under our crawl space, they'd find all sorts of things," David laughs.
As much as the ISC loved calling Barnsdall Park home, it ultimately became unsustainable. The audience was ballooning, and the space needed to mirror that need. "It was pretty scary, moving," Melissa says. "We got this thing going in Barnsdall Park, and we'd been there for six years. People had clearly loved it."
Breaking routines by moving is always nerve-wracking, especially in Los Angeles. The city's blessing is also its curse. Its sprawling size makes people really attached to the places they frequent. Audience members who made the drive or took a Metro ride to Barnsdall Park couldn't envision it being anywhere else. The festival, for a lot of regulars, became an indispensable summertime tradition. Would they move with the ISC or give up on the pastime? Melissa wasn't sure.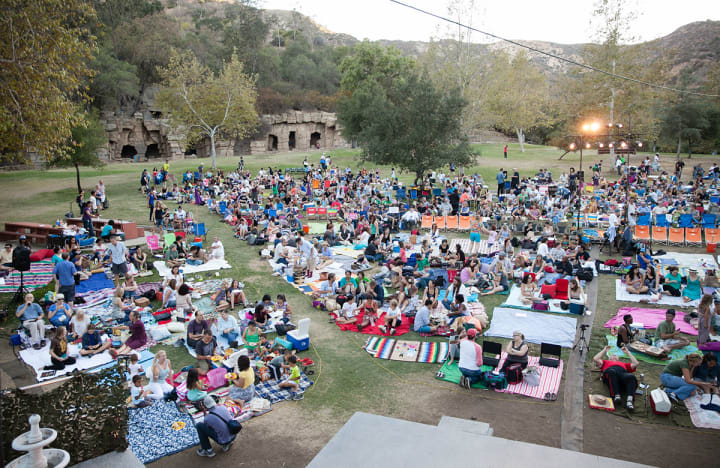 Despite initial doubts and hesitation, Griffith Park proved to be a welcoming new home. Nestled in the heart of Los Angeles, this lush green space feels a bit like an oasis. It's a place where you can tune out the bustle of the city, or on a much deeper level, your own thoughts. If you're an Angelino with even the slightest bit of affection for trees and fresh air, you'll likely enjoy what Griffith Park has to offer.
Now, more than 40,000 people visit the Free Shakespeare Festival every year. There are so many stories, and Melissa knows a lot of them by heart. When asked, she'll tell you about the school teacher whose students loved the play so much they started their own Shakespeare club at school. There's another story of a 9-year-old who, at the end of a show, stuck his hand in his pocket and handed David all the change he had as a donation. Melissa and David still think of that kid.
"[It's about] bringing people together because Shakespeare's work is imbued with such a great sense of humanity and humanism," David says. "When you see people walking out, for a moment they've had some of that cynical world we live in lifted off their shoulders."
Later, Melissa accentuates that point. "There is something spiritual, honestly, about sitting in a crowd of people who are — such a variety of people," she says. "I love that our audience is like a slice of Los Angeles. To have all of those people, let's say, laughing at the same joke, is really powerful. Then, I think, how many centuries of human beings have been laughing at that joke? How many centuries down the road will people be laughing at that joke? That, to me, is how the past and the present and our whole community comes together."
* * *
Here's the thing to know about Shakespeare. Even now, over 400 years after his death, he's still often misunderstood. Although we've accepted his work as one of the most treasured human inheritances, for a lot of people, Shakespeare is still too inaccessible. Too highbrow. Too philosophically probing. There's too much parsing involved.
But the reason I kept coming back to see the ISC, and why droves of people flock to the park every year, has less to do with Shakespeare's work, and more with how David and Melissa present it to the world. The ISC has a knack for massaging Shakespeare's work into something that's not just accessible, but unpretentious — friendly, even.
"I think we start with the premise that it was written to be entertaining to a lot of people. If we make it captivating for all sorts of people, then, we're doing our jobs," Melissa says. "When I'm directing, probably 80 percent of my attention is on: is this moment clear? Is it understandable? I never assume that something's going to be understandable, and I never assume that anything's more important than that."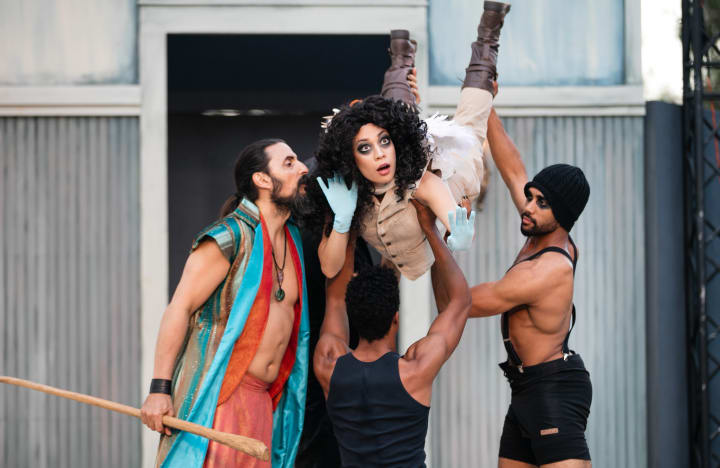 Because of its success, in 2011, the ISC took another major step and moved into an indoor, year-round venue in the Atwater Crossing Complex in Atwater Village. Now, the Independent Studio hosts classes for all sorts of people, whether you're a professional actor, or you know, just curious. The studio also doubles as a place where the ISC can experiment with new plays and bring the community together, outside Griffith Park.
This was all in the past, though. Or what feels like a starkly distant reality. This year, as the company readied itself to open its production of Macbeth, the world went head-to-head with an impending disaster it was blissfully unaware of and unprepared for. With shelter-in-place orders taking effect in California, the coming together of people in an outdoor setting became the very thing the country is collectively shaking its head at. A few weeks were enough to throw everything out of alignment. Cancelled performances, cancelled classes, cancelled in-person everything. The sweet, strong certainty of such a treasured summer tradition is lost for so many.
For the ISC — and most arts organizations that rely heavily on human interaction — this also poses another challenge. How can the company remain viable? What about all the actors who can't do their jobs? Will the show go on — online, perhaps? And will it ever be the same? I ask David and Melissa those questions. They're still brainstorming, still figuring it out, as is the rest of the world.
But there's one thing she does know. I remind her of something she'd written in a 2014 article, where she claimed optimism as a job requirement for actors. "I think that at the end of this, theater in particular is going to be this great source of celebration and healing and bring the community back together," Melissa says. "We're going to need these kinds of events. We have to work hard to create a future where these organizations are healthy and able to fulfill those needs."
entertainment
Hi, there! This is Mari. I'm a journalist based in Los Angeles. I'm a lover of all things design, fashion and food, and I can never pass up anything topped with shredded mozz and a scattering of basil.
Receive stories by Mariam Makatsaria in

your feed