Footloose (1984) - A Movie Review
'Footloose' is a powerful film about how to stand up for your rights.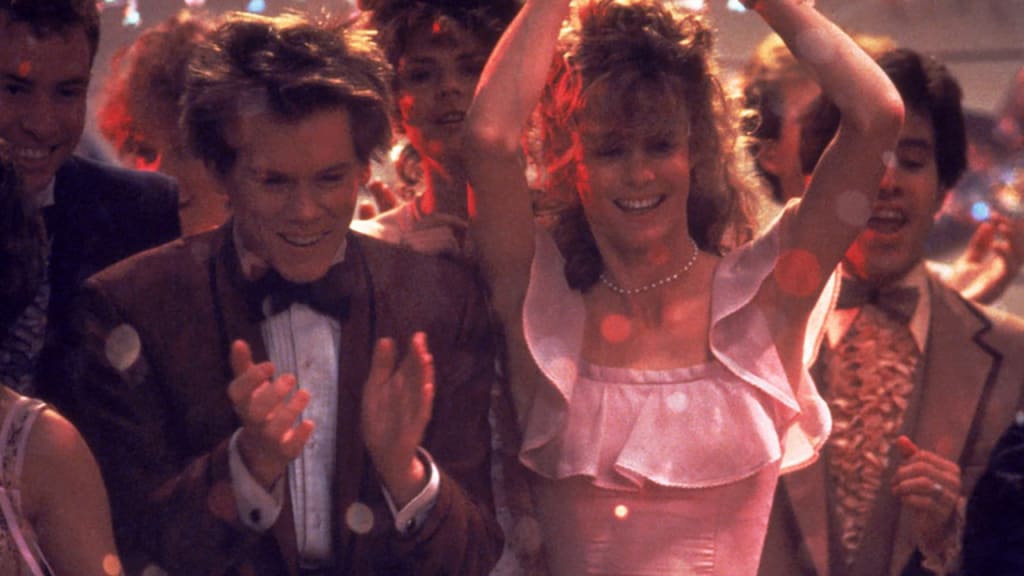 Don't ever stop the music. Don't ever stop dancing.
Footloose danced its way into theaters in 1984. Ren McCormack and his mother move to Bomont, Texas a small conservative town. Dancing is banned. Fighting to bring spirits back up in this broken town, Ren's rebellious attitude makes townfolk open up and think.
Footloose is a classic. I was in a version of the play when I was in high school. It's a fun film to get up and dance around. Nobody should ever be silenced from what they love to do. Footloose is a powerful film about how to stand up for your rights.
In his star-making role, Kevin Bacon was stupendous as Ren. Nobody else could have played the part as he did. He made a deep connection with the character. Overcoming the discrimination of being a newcomer, Ren refuses to yield to others' judgment. His motivation encourages audiences to fight for what they love. His uplifting speeches are the best and well-acted moments.
Grief can do a lot of things to our minds. For Ariel, she acts like a rebel, but on the inside, she is screaming to run away. Lori Singer unveiled a riveting performance. Ariel has layers. She is misunderstood. Singer unearthed a marvelous interpretation of a young woman fighting for her father to listen to her.
The late Chris Penn was my favorite as Willard. I adore the friendship between Ren and Willard. Just like his character, Penn could not dance in real life. You'll get a kick out of the segments where Ren is teaching him to dance. Footloose showcases the power of friendship.
Ren showed up at the right time. He influences several characters. Including Reverend Shaw Moore. John Lithgow's bold achievement as a struggling reverend is a performance to remember. Believing that music confuses the mind, the reverend shuts off the world. It just goes to show that no matter the age, we learn every day.
Other credits to include in Footloose are Dianne Wiest, Sarah Jessica Parker, John Laughlin, Elizabeth Gorcey, Frances Lee McCain, Jim Youngs, Lynne Marta, Arthur Rosenburg, and many more. Everybody had a character. Those in the ensemble who did not have a line were still very meaningful because of their expressions.
Something that I liked most about Footloose that I never noticed before was the short scenes. In movies now, they tend to drag out scenes. Scenes like Ren and Willard or Ariel talking with Rusty are short and meaningful. They get right to the point, creating an impact.
Don't tell me that you don't have the urge to dance whenever you watch Footloose. All the songs are upbeat. Credit goes to all the talented actors who showed off their incredible dancing abilities. Don't ever fear that you'll look silly. The point is to have fun.
The late Herbert Ross directed a memorial film that has impacted all audiences. His attention to character, the tone of the film, and the message are unforgettable. He created Footloose as a way to help anybody who is trying to make their voice heard.
Never lose hope. Tragedies happen. It is okay to grieve the loss of someone you love, but no matter what we can never forget about the past. You never know who will make an impact on you. Footloose reaches out to audiences making them feel emotions they don't realize they're bottling up.
Footloose is forever a classic. It is one of my favorite films to get up and dance to. For those who have not yet seen this film, I recommend that you find it, watch it, and have a dance party.