Five Behind-The-Scene Things You Should Know About 'Killing Eve'
The tales behind BBC America's acclaimed cat-and-mouse thriller series about a jaded M16 agent's obsession with a sociopathic assassin are just as fascinating as its on-screen events.
Killer Glam: Jodie Comer is the highly-skilled assassin Villanelle in 'Killing Eve' [Credit: BBC America]
Just like a good book that is unputdownable, Killing Eve is an engrossing spy series that grabs you from the very first episode and tangles a string of intriguing events that hooks you into wanting to know what happens next immediately. With just eight episodes in its inaugural season, the BBC America series is hence a binge-watch delight.
Based on the Codename Villanelle novellas by Luke Jennings and created by Phoebe Waller-Bridge (Fleabag, Solo: A Star Wars Story), Killing Eve focuses on two women - jaded British desk-turned-field M16 agent Eve Polastri (Grey Anatomy's Sandra Oh) who is obsessed with a merciless, globe-trotting Russian assassin codenamed Villanelle (The White Princess' Jodie Comer).
Besides the compelling cat-and-mouse chase between the two captivating female protagonists, what makes the show addictive is the creatively executed murders, exotic European locations, and most of all, the sharp-witted dialogue with wry doses of humor injected amid tense moments.
Since it premiered in April 2018, Killing Eve has earned critical acclaim and built a strong word-of-mouth. It earned two Emmy nominations - one for Waller-Bridge, for outstanding writing for a drama series, and the other for Oh, for best lead actress in a drama series. A Canadian born to Korean parents, the Grey's Anatomy star - who garnered five best supporting actress nods for the hit medical drama series - made Emmy history by being the first woman of Asian descent to be nominated in the lead actress category.
(Warning: SPOILERS for Killing Eve Season 1 ahead.)
If you haven't been watching Killing Eve, you should as the series is truly killer (pun intended). If you have already seen it or in the midst of doing so, here's five fascinating behind-the-scene things to know about Killing Eve before Season 2 comes along.
1. Jodie Comer Ate A Whole Pie At Her Audition
Truth be told, Comer deserves an Emmy nomination as well for her enthralling performance as the seductive hitwoman. The English actress had to fly to Los Angeles for her audition with Oh, who was already cast. According to Vanity Fair, in order for Comer to have material to work on during the audition, Waller-Bridge churned out a raw nine-page script of the pivotal first meeting between Eve and Villanelle where they share a shepherd's pie in Eve's kitchen (which eventually takes place in Episode 5).
With only two days to memorize the complex script, Comer revealed in a SAG-AFTRA Foundation Q&A session for Killing Evethat Oh made her feel at ease at the audition by providing props such as utensils and a blueberry pie which the younger actress wolfed down every bit for real. Her commitment to be as authentic as possible probably won her the juicy role of Villanelle. For the actual scene, Comer too ate an entire shepherd's pie, albeit with a corn-based substitute for the beef. Such dedication.
2. Sandra Oh Fought For Her Favorite Scene To Be Kept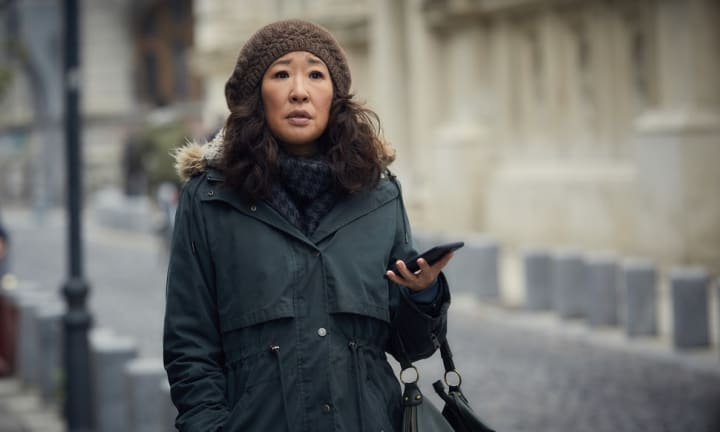 In an interview with The New York Times, Sandra Oh revealed that her favorite things to play in Killing Eve were "Eve's private moments because she is not too aware of herself." One such scene is in Episode 5 where a visibly shaken Eve is at a bus stop, sees a crack in a window and proceeds to smash it. It is a powerful scene but the production team initially pulled it out which had the actress fighting for it to be retained. Oh, who also has an executive producer credit in Killing Eve, insisted, "No, you have to put that scene back in, because she is about to come face to face with Villanelle." The scene comes just before Eve meets the assassin for the first time. Oh explained, "(Eve) needs to break through something. That was one of my favorite scenes to play."
3. Phoebe Waller-Bridge Is Unaware How Much Sausages There Were in 'Killing Eve'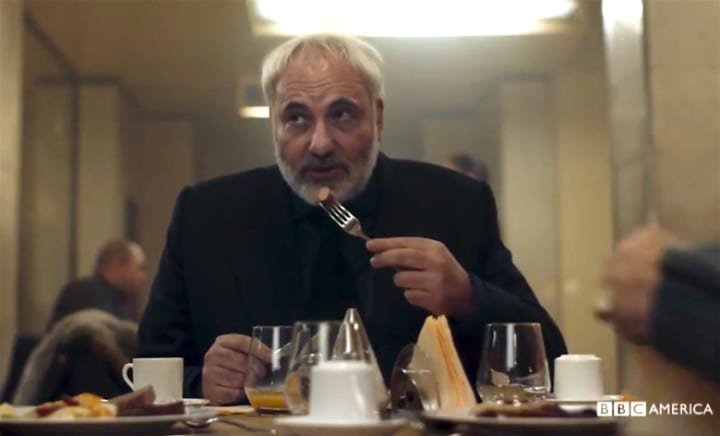 There are quite a number of scenes that involved food in Killing Eve. However, if you have never ever dined in Europe, you'd have thought that the only thing people eat in those parts are sausages, judging by the number of times they appear in the thriller series. As IndieWire keenly observed, the meat product is mentioned or appears in at least four of the eight episodes, beginning with Episode 4 when Eve and her M16 boss Carolyn Martens (a magnificent Fiona Shaw) meet in a butcher's shop in London where the former remarks upon seeing the meat counter, "Wow, that's a lot of sausages." Whether the setting is in Paris or Moscow, sausages will pop up in one way or another, even as a pet name for Villanelle's handler Konstantin's (Kim Bodnia) daughter.Killing Eve showrunner and writer Phoebe Waller-Bridge insisted that sausages do not carry any deeper meaning in the show, nor are they phallic symbols. "No, the honest answer is that with things like that, I'm not always completely aware until people tell me. I didn't realize how many sausages [there were]," she confessed to IndieWire, adding:
Sausages are just funny. I don't know why. I can't explain it. It's a good example of another thing you can't explain, but you can just feel: Sausages are funny.
4. Sandra Oh Is Fiona Shaw's Biggest Fan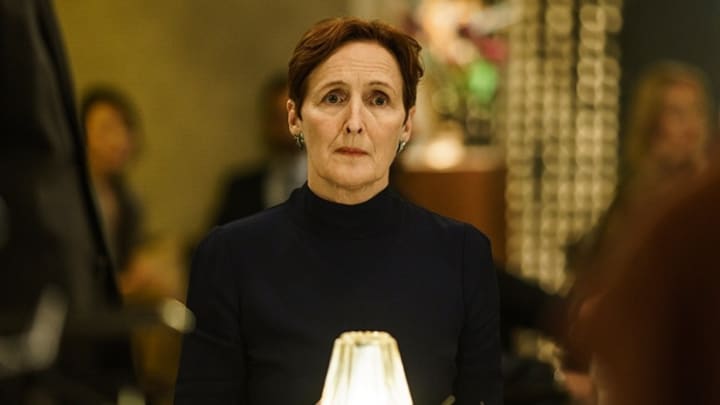 Besides Eve and Villanelle, another standout female character in Killing Eve is Carolyn Martens, Eve's enigmatic M16 boss brilliantly played by Irish actress Fiona Shaw (My Left Foot, the Harry Potter film series). At the SAG-AFTRA Foundation session, Oh told the audience of how she geeked out when she met Shaw for the first time. The Killing Eve star was blown away in 2002 by the veteran actress' "fantastic" performance in Medea on Broadway. Upon meeting Shaw, Oh revealed that she gushed, "I love your show, I saw you on Broadway!", before proceeding to perform Shaw's last beat (of the play) as "I remembered it so well!" Needless to say, Oh was absolutely thrilled when Shaw joined the cast of Killing Eve.
5. Unlike Multi-Lingual Villanelle, Jodie Comer Only Knows English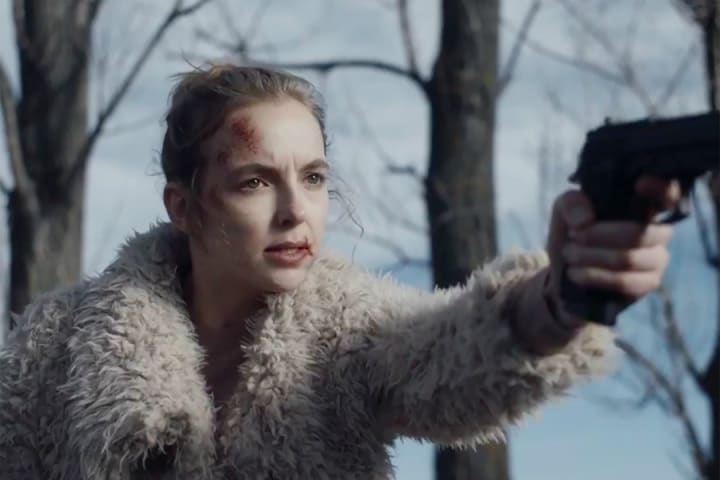 As a highly-skilled assassin who kills people across Europe for work, Villanelle is fluent in a number of languages including French and Italian. However, that is not the case with the actress who plays her. Comer, who hails from Liverpool and has a thick local accent, knows only English and gets by with the help of a voice coach.
"That was a huge challenge. The way I learned for myself was I kind of rewrote the words how they sounded to me; that seemed the best way," Comer told The New York Post. "When we filmed in Tuscany, I had a whole Italian crew there to help me. I said, 'Guys, if I say anything that doesn't sound right, or if I'm pronouncing it wrong, let me know,' and they did."
She added, "I'd be lying if I said there weren't a million outtakes of me getting the languages wrong. They did a brilliant job with the editing."
Well, she even pronounced the Chinese words "putonghua" convincingly, so we are certainly not going to hold it against her!
Killing Eve Season 1 can be binge-watched on BBC America on Demand. Season 2 is expected to roll out in 2019.
About the Creator
A freelance writer who loves God, movies, music and TV; esp Star Wars, Animation/Anime, Games of Thrones, K-Dramas, and anything that's entertaining! Twitter/Instagram: @marfield49
Reader insights
Be the first to share your insights about this piece.
Add your insights