Firefly Lane Season 2 (Part 2) Netflix Review
'Firefly Lane' ended perfectly, signifying a genuine telling of friendship and a battle with cancer.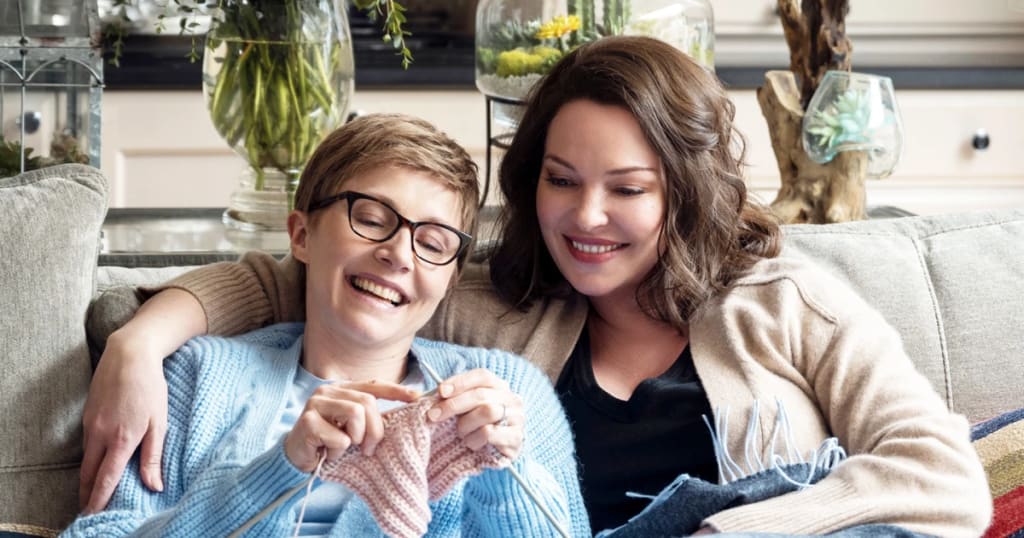 Firefly Lane girls forever!
The final season of Firefly Lane was released on Netflix in 2023. Kate is diagnosed with a rare breast cancer. Reconnecting after a year-long fight, Kate and Tully navigate new challenges as Kate prepares for her second marriage to Johnny. The series explores friendship, love, and the trials of life.
I have not cried at a TV show in a long time - though it was more of a happy cry at the genuine portrayals showcased in Firefly Lane. The finale of Firefly Lane was cemented with every heart-crushing moment to make you laugh, cry, and appreciate life. Firefly Lane ended perfectly, signifying a genuine telling of friendship and a battle with cancer.
Katherine Heigl and Sarah Chalke magnified outstanding performances. Heigl shines as the fiercely ambitious and complex Tully, while Chalke portrays Kate's vulnerability and strength with equal grace. I am so proud of these women for exhibiting a genuine depiction of friendship. Kate and Tully's friendship is an excellent example of how to overcome rocks in the road.
Immense credit also goes to Ali Skovbye and Roan Curtis as the teenage counterparts of Kate and Tully. Watching their growth throughout the series with humbling. Curtis is noteworthy in her scenes, becoming a leader to any teenager who doesn't feel seen. The development and maturity of these characters throughout the series is truly remarkable.
The cast of Firefly Lane is fantastic. The character development in this season is particularly noteworthy. Ben Lawson is great as Johnny. He's unsure about his role in life but molds into a responsible man. Lawson exhibited deep emotions.
I will forever complain about how Beau Garrett's old-age makeup is overdone. Nevertheless, Garrett is remarkable in her character's growth. Cloud has never been a perfect person, but she is the definition that change is possible. I liked how she reassured Mara or Marge (Chelah Horsal) during crucial matters.
One of my favorite scenes involved Kate, Tully, Cloud, and Marge sitting out on the patio one night and getting high. Though a sad situation, they have found closure from their once-challenging relationships.
The editing for Firefly Lane is crazy. Editing three different stories together, each episode constantly switches from Tully and Kate's teen years to their 20s and the present story. The only way to tell the different periods was by the character's hairstyles and clothes. Firefly Lane took a bit to find its ground in the first season, but it underwent a beautiful evolution.
Get the tissues out because you're going to need them. While the season maintains its signature heartfelt tone, it tackles darker and more challenging subject matter. Nothing about the cancer storyline is overdramatized. As demonstrated in the series, cancer never affects one person.
It was hard watching Kate's chemotherapy sessions or when she was sick to her stomach. My aunt died from cancer so seeing Kate's battle brought back memories. Surprisingly, I found the series therapeutic. Firefly Lane is a relatable series to anyone who has undergone cancer treatment.
The last two episodes are the best and saddest of the series. Despite how heartbreaking they were, I'd watch these episodes again. Viewing this series gave me a new respect for life. Firefly Lane is a beautiful depiction of friendship. If this series taught me anything, it's to cherish friendship and never take advantage of the best gift you'll ever get.
The ending of Firefly Lane is a sad conclusion but it's filled with tender moments and a thoughtful moral. Binge Firefly Lane on Netflix with your best friends and share a laugh and tears.
About the Creator
Writing has been my passion since I was 11 years old. I love creating stories from fiction, poetry, fanfiction. I enjoy writing movie reviews. I would love to become a creative writing teacher and leave the world inspiring minds.
Reader insights
Be the first to share your insights about this piece.
Add your insights