Firefly Lane - Netflix Season 2 Review
Season 2 of 'Firefly Lane' was a compelling and tear-jerking drama.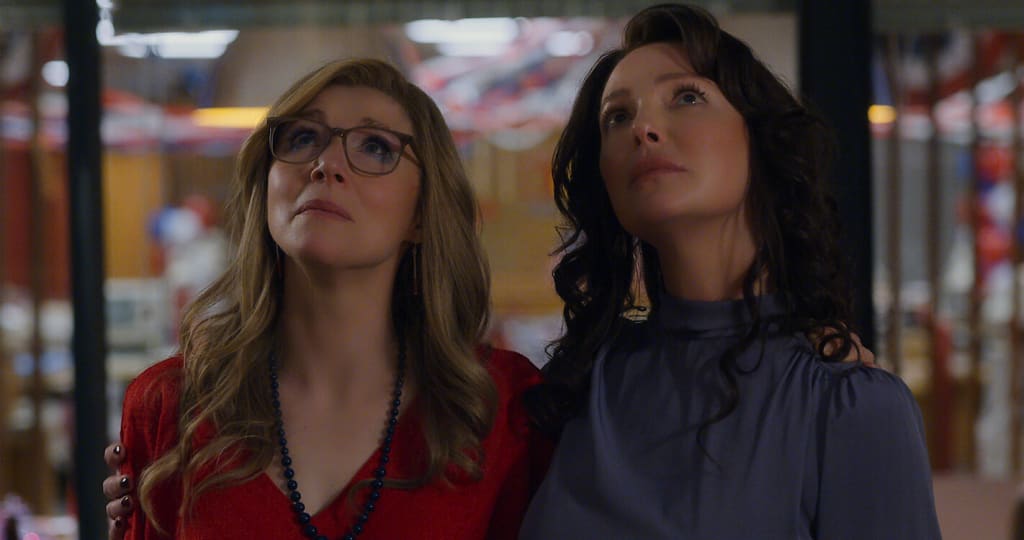 Surround yourself with people who care.
Season 2 of Firefly Lane aired on Netflix in 2022. Based on the novel written by Kristin Hannah, season 2 of Firefly Lane continues the story of Tully and Kate's friendship. Challenged by love and family dramas, their friendship is tested following a horrific event.
I was crying when the final episode of Firefly Lane concluded. Season 2 of Firefly Lane was more compelling than its predecessor season. The series explores several topics. Some topics include friendship, growth, and learning how to communicate problems.
Katherine Heigl and Sarah Chalke are the highlights in their performances and in creating a genuine friendship. Digging deep into emotional performances, Heigl and Chalke have come a long way in these roles.
The same goes for Ali Skovbye and Roan Curtis, portraying the teenage versions of Tully and Kate. Achieving excellent dramatic moments, Skovbye and Curtis had a better chance to explore their characters. In one scene, Curtis belted out this impressive rant.
Differing in personalities and lifestyles makes Tully and Kate's dynamic so fun. I love watching them interact, like when they joke around and reminisce about old stories. Who says you have to be similar to make a friendship work? The girls' friendship has always been tested by their parents, friends, or decisions.
Firefly Lane has a worthy ensemble including talents like Ben Lawson, Beau Garrett, Yael Yurman, Ignacio Serrichio, and more. Several storylines are incorporated into the series. Instead of letting Tully and Kate have all the focus, each character has a chance in the limelight.
As much as I like Cloud's character growth, the old makeup on Beau Garrett is not convincing. In real-life, Heigl is older than Garrett who plays her on-screen mother! The makeup department needed a more effective appearance for Garrett in the present scenes.
Heigl and Beau did an excellent job in all their scenes. Tully and Cloud still have work to mend their relationship. At least they addressed the shadows of the past instead of ignoring them.
Change is possible. That's the series' central theme. Relationships may not work out but with time, a relationship develops into something more worthwhile. That was an impactful part of Kate and Jonny's (Ben Lawson) segment. I never thought their relationship would work since they're two different people.
Kate and Jonny's relationship is the best example that growth helps relationships. Their relationship evolves into something more. Their relationship is portrayed realistically and not conveyed as an easy said-or-done we made a mistake scenario.
The series flashes between three different periods. It was hard to get used to in the first season. I'm used to it now but pay close attention. Scenes changed without notice. The only technique we had to tell between the difference in time was the hairstyles. Hairstyles are evident when there's a time change, but sometimes it didn't do the trick.
Maggie Friedman did well with the pacing, particularly in the final episodes. Season 2 is different, stepping away from season 1's comical tone to approach a more dramatic mood. Emotions, character studies, and storylines took a deeper approach. The final two episodes were my favorite.
One scene at the end of the series was so moving that it made me stop to think about how much I appreciate my friendships. Never take advantage of this wonderful gift.
I never expected to tear up during the final two episodes. Part 2 of Season 2 of Firefly Lane returns in April. I highly recommend you binge this Netflix show.
About the Creator
Writing has been my passion since I was 11 years old. I love creating stories from fiction, poetry, fanfiction. I enjoy writing movie reviews. I would love to become a creative writing teacher and leave the world inspiring minds.
Reader insights
Be the first to share your insights about this piece.
Add your insights