A Filmmaker's Review: 'Get On Up' (2013)
5/5 - Thrilling Story, Incredible Soundtrack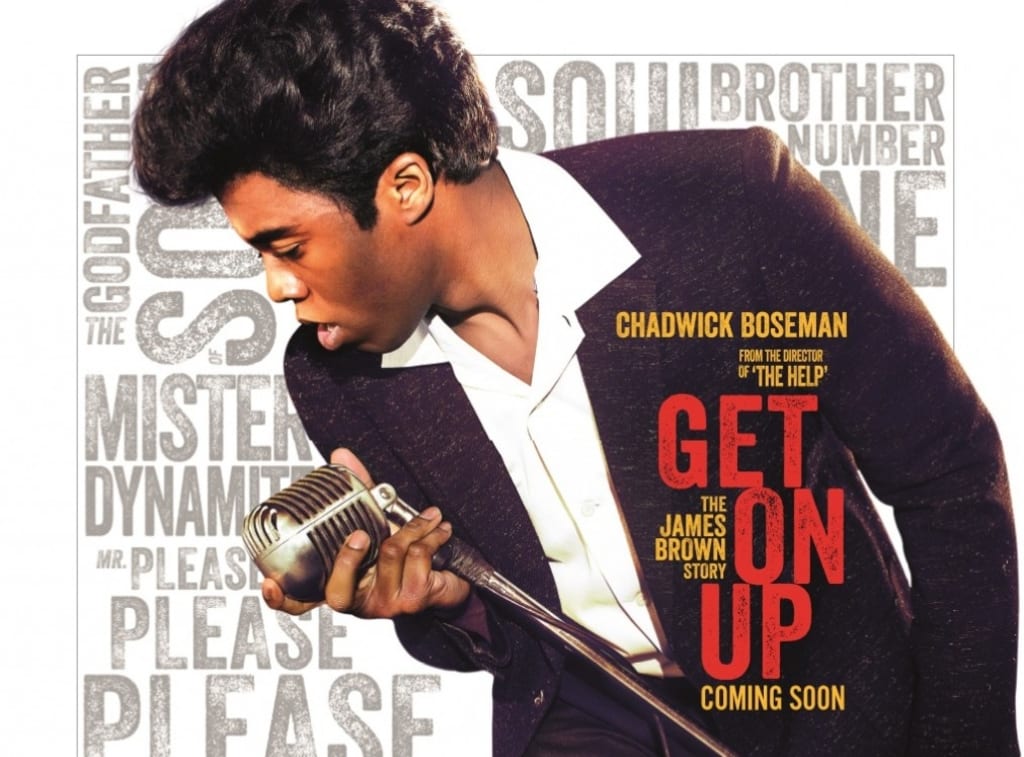 Get On Up (2013) is the story of the Godfather of Soul, James Brown. Starring Chadwick Boseman and directed by The Help director Tate Taylor — this film makes the Godfather of Soul look just as he was, a man of many complexities. The fact that is is written by the same guy who wrote The Last Legion and then, after Get On Up he wrote: Edge of Tomorrow, Black Mass and Ford V. Ferrari shows that the writer(s) on the project obviously know a thing or two about history and biopic film. The film is very well put together and has an incredible storyline — being about James Brown, what do you expect? It is a thrilling story with an amazing score and, most of all, it is a very entertaining viewing experience.
I first heard about this movie shortly before it came out, but I paid little attention to it as there were many other movies coming out I wanted to watch. There was even a massive poster on the back of a magazine I remember buying of the movie Get On Up (2013). I ignored it somewhat, but not enough to not remember it was there. After a while, I became more and more curious and so, I tried watching the film. At two and a bit hours, I only made it halfway through the film before falling asleep. But with that, I knew I would have to wait. At 17, I just couldn't appreciate the film as much as I thought I should — despite being a James Brown fan.
I recently watched it again, this time I made it all the way through and thoroughly enjoyed it. The film is made in a strange style with various sections including James Brown talking to the camera and sometimes, even walking straight into scene whilst doing a monologue to the audience. This, I thought was very clever because it really connected us to the main character. There was something quite captivating about watching that as well, it allows the audience to really get into the scene on a personal level and, with all that is going on in the scene, this is often helpful for understanding.
There were no real plot holes, the characters were brilliantly written, amazingly acted and the dialogue was pretty believable. The music score was incredible, obviously, being the music of James Brown it was going to be awesome. I loved listening to the score and even downloaded the soundtrack to the film on my phone. The soundtrack is one of the reasons you watch the film and this, though it is not often the case in many films, is a brilliant reason to enjoy the movie. You are therefore in with the audience that are watching James Brown perform — the only difference is that they are on a screen and you are sitting in your bed, on your sofa or around you dining room table.
The filmmaking skill was incredible. I have to say that because of these side monologues and soliloquy moments to the audience, it must have made the film more difficult to make as well as write. The filmmaker therefore, had an extra job to do and, with all those tracking shots (and that long one at the end where he's dressed in red) it became an absolutely magical experience. The tracking shots, the close-ups and even the slow-motion action shots made the movie what it was: a brilliant viewing experience.
When it comes down to it, there are many reasons that this film would get a 5/5 in my eyes, but just in case you didn't want to read the whole review, here is what it is summed up:
- 5/5 for characterisation
- 5/5 for captivating the audience
- 5/5 for dialogue and acting
- 5/5 for filmmaking, soundtrack and style of film
- 5/5 for innovation
The film overall was an experience if you want to learn about filmmaking in biopics. There's something not just different about it, but there's something wickedly clever about the film as well. It is a brilliant example of the way in which the film itself can represent the persona of a man who is really larger than life.