Fever Pitch - A Movie Review
'Fever Pitch' is all about baseball, Red Sox, and passion.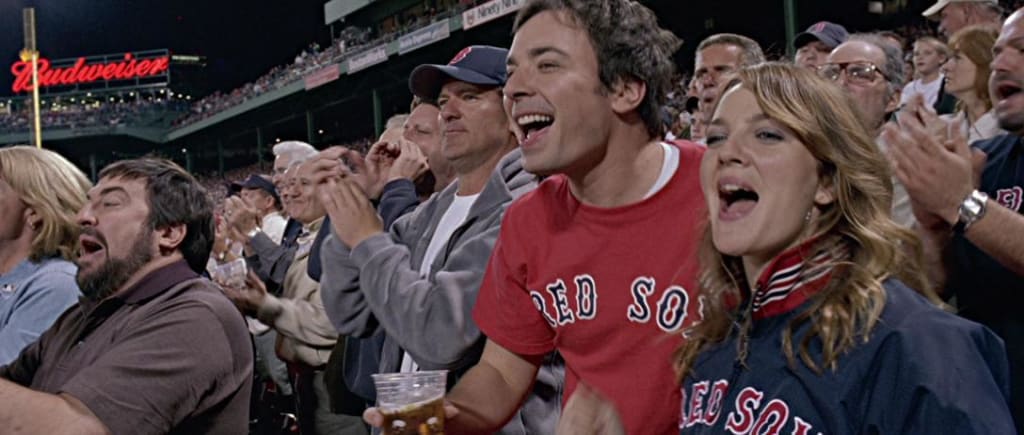 When you said you were a Red Sox fan, I didn't realize how serious you were.
Released to the ballparks in 2005, Fever Pitch is a romantic film about a couple trying to make the best of their relationship. Lindsay learns that Ben is a Red Sox fan. A MAJOR Red Sox fan. As the months go along, their relationship strains, forcing Ben to make a difficult choice.
I remember watching Fever Pitch a long time ago. It's funny how much you forget, and yet you remember little scenes. Fever Pitch is a romantic story for all couples. The film dons a key message to couples. In order to make a relationship work, you have to make an effort to understand the others passions and lifestyles.
Ben has an extreme passion for the Red Sox. So extreme that his entire bedroom is wallpapered with Red Sox souvenirs. Jimmy Fallon's charisma, energy, and funny sense of humor were the best parts of his performance. Along with his delivery on some of the best lines that I could ever hear.
It is so easy to fall in love with Fallon's character. Ben is a sincere person with a big heart. That is his best trait, and the film does everything to show that.
Lindsay's role has a vital message to all viewers. Not sure how to act upon learning of Ben's obsession, she learns to just go with it. The journey that Lindsay experiences opens up her mind. Drew Barrymore was fantastic. I commend her for the best run ever in the climax.
I adored Ben and Lindsay's relationship. Barrymore and Fallon did a great job creating their connection. The film covered every aspect of a relationship realistically. They have the first (awkward) date, sweet moments, and they have arguments. Many arguments.
It's okay to include arguments for relationships or friendships in media because everyone goes through them. They're not fun, but we learn.
A multitude of characters are present in Fever Pitch. Whether they are Ben's friend's who share the same manic obsession, or Lindsay's friends who are constantly giving her relationship advice, the ensemble for Fever Pitch added layers to what the film is all about.
Credits to include are James Sikking, JoBeth Williams, Jason Spevack, Siobhan Fallon Hogan, KaDee Strickland, Marissa Jaret Winokur, Andrew Wilson, and even a brief cameo by a famous horror author. A number of Red Sox fans had the opportunity to appear as extras for scenes that took place in the ecstatic stadium.
Taking place in good old Fenway Park I never realized how much I missed going to ball games. Throughout the pandemic, I have reminisced on what I am thankful for. Going to ballgames was an exciting experience. Other than watching the game it's a chance to be with family and friends. Memories last forever.
Bobby Farrelly and Peter Farrelly created an exciting film that is a meaningful representation for all couples. It's not your typical romance film, and that's what I liked about it. Character development was an essential part, expanding roles and the moral.
Everyone can relate to Fever Pitch on some level. We all obsess over something. And that is not a bad thing. Passions make us who we are. I have a passion for movies, and I am proud of that. Don't ever let anything or anyone make you change. Having a passion is what life is all about.
Fever Pitch may not be everyone's cup of tea, but I enjoyed it. For anyone who misses going to Fenway Park, this movie makes you feel at home. I recommend Fever Pitch to all audiences.