Eight Disney Movies to Watch on a Bad Day
Top picks for a little pick-me-up when times are rough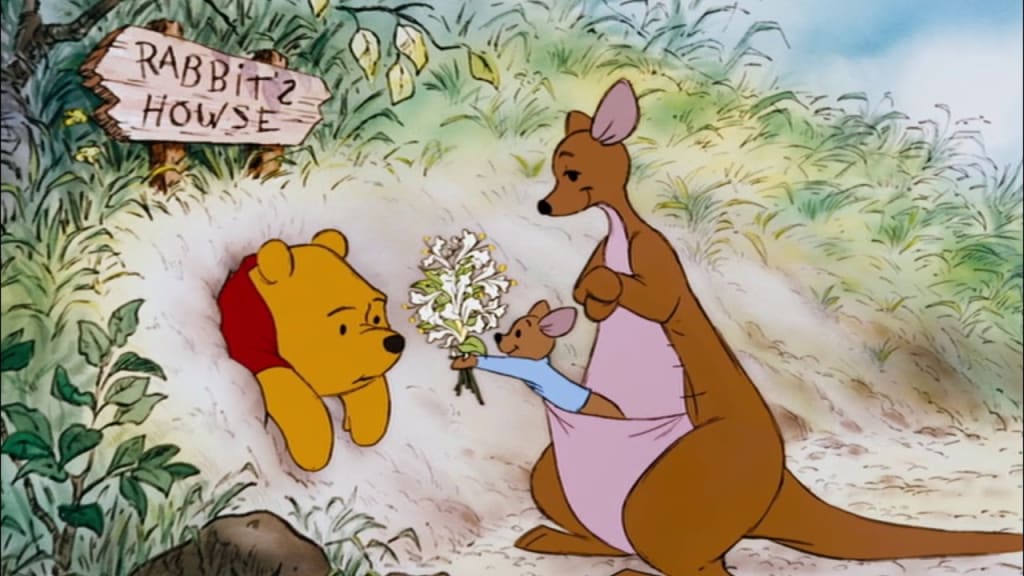 From The Many Adventures of Winnie the Pooh
We all experience bad days or have times where we just feel sad, and it seems nothing can cheer us up. My best solution for turning the frown upside down is to pop on a Disney movie and sit back and enjoy. These are eight of my top escapes to a happy place.
The Many Adventures of Winnie The Pooh (1977)
Or any Winnie The Pooh movie in general. They are all so wholesome, and will fill your heart with happiness. Pooh and the bunch approach their challenges in different ways, always finding a way through, thanks to their persistence and helping hands from friends. The cute drawing style, variation of characters, sweet tunes and funny storylines make for a perfect watch on a day where you need a boost.
The Lion King 1½ (2004)
Which Disney characters are good at throwing their worries away, and even have a motto about it? That's right, Timon and Pumbaa. A movie where they have the main roles is just what you need on a bad day. Here we get the story of The Lion King from their perspective, as the movie is pretty much all about them. This includes lots of funny moments and even more of their quirky personalities. It's funny how different the happenings look from their perspective, and how they don't understand the significance of them. I'm so glad these guys got their own movie, as they make a great addition to this list.
Monster's Inc (2001)
Nothing's like escaping your bad day by taking the trip into a whole different world. In Monstropolis, the monsters Mike and Sully work to collect screams from children to power up their city, when a little girl ends up on the wrong side of the door, and they are stuck with an illegal and allegedly dangerous creature. Their mission to get her back to the human world turns out to be the biggest challenge of their lives, and it's pretty hilarious to watch.
Zootropolis (2016)
This movie is amazing for many reasons, one of which being how it tackles discrimination and stereotypes. Another is how good the characters are, all having traits as a result from their backstory, making them the person they are today. Judy Hopps is a bunny from a family of farmers, stepping out of their tradition by training to become a police officer, something she gets a lot of grief for. Proving anyone can be who they want to be takes a lot of strength and work from her, but she is undeterred. This kind of motivation sure helps when you're not feeling your best.
Kronk's New Groove (2005)
This movie is just so silly that it will cheer anyone up. All the random quotes, silly things that happen and hilarious characters are bound to make your day at least a tiny bit better. Kronk is one of the funniest Disney characters, and surprisingly went from villain sidekick to protagonist of his own movie. After The Emperor's New Groove, Kronk settles down to run the restaurant. This fulfils him, until one day he gets news that his father's coming to visit. Worried about not impressing him, Kronk starts a highly unethical business with Yzma and makes tons of money, in ways he isn't proud of. This movie teaches us that you can find happiness in unexpected places, and you're not living your life to impress someone else.
Ralph Breaks the Internet (2018)
Only released a couple of years ago, Wreck-It Ralph's sequel's an amazing creation with all the elements needed for a fun time. When Ralph and Vanellope travel into the Internet, they find more than they ever imagined to see. We have Disney princesses, dangerous racing, badass characters, lots of funny references and a heart-warming friendship. This movie is great entertainment, and incredibly relatable for our generation.
Inside Out (2015)
This is a movie that shows that we are allowed to have emotions. We follow the five emotions in Riley's head: Joy, Anger, Sadness, Disgust and Fear. Keeping a person going and avoiding bad situations is a constant challenge for the five, especially as Riley's going through the big change of moving across the country. The movie also highlights that everyone has bad days or goes through hard times. It's okay to not be happy 100% of the time, and you're allowed to feel sad.
One Hundred and One Dalmatians (1961)
This movie is a perfect mix of family love, comedy and thrill. The jazzy vibe of the movie combined with the beautiful animation style makes it a pleasure to watch, as well as taking your mind off whatever made your day bad. The silly comments from the puppies and rather dumb ones from the baduns are funny enough, but Cruella de Vil's craziness really makes this movie. She's one of the whackiest Disney villains and stops at nothing to get her dog-skin coats, and watching her insane journey of desperation is pretty darn entertaining.
Those were eight movies that I hope can help brighten up your day, so get that Disney+ going and start watching!
movie
Hi there! I am a Norwegian writer living in London. I like to write about love, Disney and finding happiness.
SPOILER ALERT AHEAD. You've been warned. Content Warning: Mentions of pedophilia, grooming, conditioning, family conflicts, and depressions.

Chaplin became the world's highest-paid film actor after signing a $ 670,000-a-year contract with a joint film company. This tramp, created at Essanay Studios in 1915 and directed by Chaplin, was his most outstanding creation and began to transform ordinary characters that the public already knew. The Lost film also starred Chaplin and Mabel Normand, with some of the directors.

The films of the Marvel Cinematic Universe, despite their varied tones and styles, are known for their action set pieces. Irrespective of which director is at the helm, the MCU's mostly formulaic approach means its films usually open with one big fight sequence followed by a teaser fight in the middle and a climactic smash in the final act. While there may be criticisms of this style, there's plenty of excitement and anticipation for audiences.

Green Arrow 80th Anniversary Special DC Comics 2021 By Various Creators CELEBRATING THE EMERALD ARCHER'S 80TH ANNIVERSARY! For the last eight decades Green Arrow has been one of the premier (and loudest) characters in the DCU, always at the forefront of where the superhero genre is headed. This oversized anniversary issue follows in those footsteps, as an all-star lineup of Green Arrow creators, alongside some of the gifted creators of the modern era who have been inspired by Oliver Queen, unite to pay tribute to the Battling Bowman. See what the past, present and future have in store for Oliver Queen, Black Canary, Connor Hawke, Arsenal, Red Arrow, Speedy, and more in this epic special!

When creating all of the magical Harry Potter creatures, J.K. Rowling drew inspiration from folklore and mythology. Most writers constructing a fictional universe (from J.R.R. Tolkien to George R.R. Martin) draw from reality. So, of course, Rowling had to base the Wizarding World on the real world – or, at least, the belief systems of the real world.