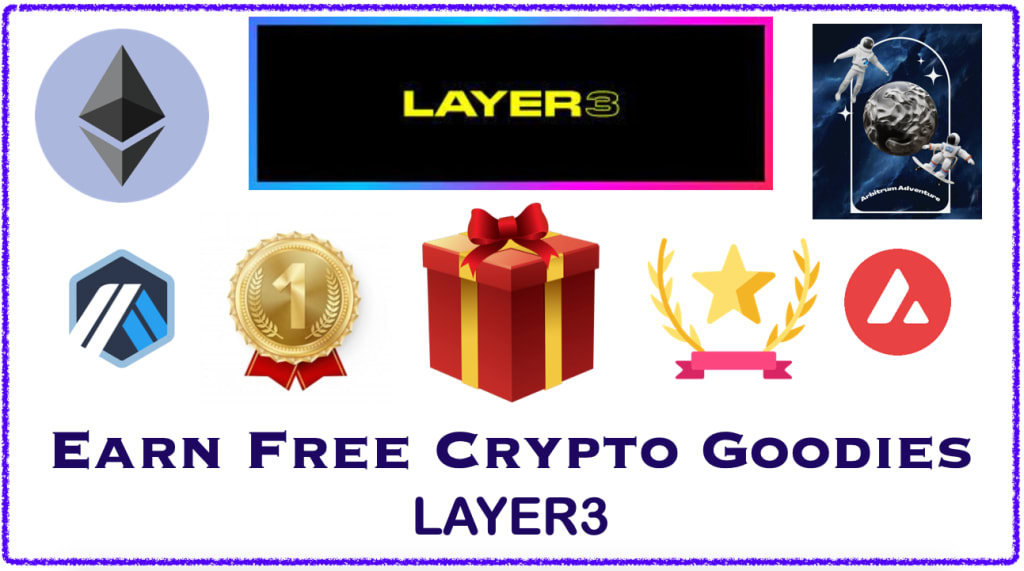 In this article I will be covering what is the Layer3 projects and why I strongly believe that every crypto enthusiast should be a part of this community.
What Exactly is Layer3?
Layer3 in a nutshell is a portal where you are offered bounties where you need to perform a set of tasks in a particular project or platform like Uniswap, Arbitrum, Optimism, ENS etc. For performing these tasks you will be rewarded points which help you advance your level and higher your level the more bounties you will be eligible to participate in. The best bounties with biggest rewards will need a higher level to be able to participate.
Improve your Chances for Future Airdrops
I think the biggest benefit of joining Layer3 is that they offer bounties for most of the upcoming projects and to complete the tasks you need to carry out a set of transactions on the platform. Once you perform these transactions you will automatically become eligible for any airdrop that project will do in the future.
If you always felt about missing out on those big airdrops after joining Layer3 you can be assured of being included in majority of the airdrops that will be coming up in the future.
Get to Understand the latest Platforms
I always used to wonder what was all the fuss about Arbitrum, why people kept talking about Optimism or what was so special about Avalanche. When you perform the bounties on Layer3 you will understand step by step how to operate on these new platforms and also get to know the different projects which are operating on these platforms. You will be familiarised with the different staking, swapping, compounding, bridging features that are offered by these projects.
Be Rewarded with Free NFTs
This is my favourite part of Layer3. While you keep earning points and advancing in levels with each bounty you complete some of the special tasks or seasonal bounties will give you free NFTs.
In some tasks you will get free NFTs from Layer3 and for some tasks you will be rewarded the NFTs by the project whose tasks you complete.
For example Optimism offers its own chain of NFTs for completing bounties related to their platform.
In case you are wondering what is the use or utility of these free NFTs then you can see that there is already a high trading volume for these. It is basically driven by the condition that some of these task linked bounties are a pre-requisite for participating in future bounties with higher rewards. So people who missed the previous bounty will try to purchase these NFTs from secondary market so they can participate in the next set of bounties of that project.
I feel that in future Layer3 might introduce additional benefits for holders of these NFTs. I am holding on to all the free NFTs I have received till now.
Layer3 had also launched a contest section where they will collaborate with projects to launch content creation contests where the best blog or video will be rewarded in the native tokens of the projects. At the moment the contest section has been withdrawn but I think it will be reintroduced in the future.
Overall I think Layer3 is a great opportunity to stock up on free NFTs and be part of potential airdrops. Do let me know in the comments section if you are aware of any other platforms that are similar to Layer3.
In the current bear market I am in the constant lookout for such platforms where I can engage without making any big investments and still keep earning rewards.
If you want to check out the latest bounties on Layer3 you can use this link- https://beta.layer3.xyz/bounties
Cheers,
SamBTC
About the Creator
I am a crypto enthusiast so my articles will be focused mainly on blockchain and crypto related topics.
Reader insights
Be the first to share your insights about this piece.
Add your insights