Doctor Who: Why 'Flux' Could Save The Whittaker Era
A chance at redemption for the Thirteenth Doctor.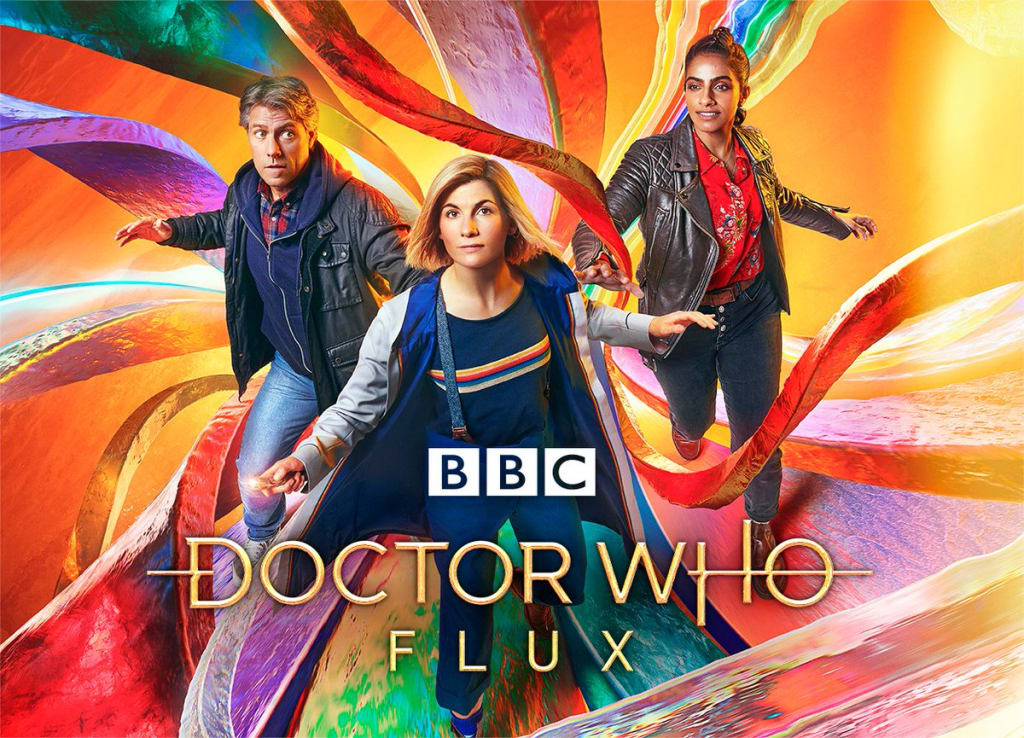 Credit: BBC
After another long break, Doctor Who is set to return on October 31 with Doctor Who: Flux, a special six-part story featuring multiple popular villains from both Classic and NuWho. The mini-series will likely be the first step towards actress Jodie Whittaker's official departure from the role of The Doctor late next year.
For the most part, despite the teething problems that came with being the first woman to take on the iconic role, Whittaker's Thirteenth Doctor has been well-received. It is the work of Chris Chibnall and his writing team that leaves something to be desired, with many fans claiming that, apart from a few special exceptions, the Thirteenth Doctor's stories are lacklustre and packed with continuity errors.
However, some fans believe that Flux could save the Whittaker era, or at the very least, allow it to end on a high. Here's a few reasons why.
Good Marketing
If you're a fan of Doctor Who, a trailer for a new series is always something worth getting excited about, as it means new content is on the way. That being said, the trailers released for series 11 and 12 were not anything groundbreaking. Unfortunately, lacklustre episodes make for lacklustre advertising material.
This doesn't seem to be the case with Doctor Who: Flux, which has so far utilised a unique advertising campaign. For a few days, Doctor Who's social media accounts entirely disappeared. When they returned, the clip above was posted: The Doctor warning that something called 'The Flux' is coming, bringing with it a host of classic Doctor Who villains, including Sontarans and Weeping Angels. Posters around the U.K urged fans to call a special phone number to report alien sightings. When the number is called, fans are treated to a recording of the Thirteenth Doctor asking what they saw, and urging them to stay safe. A few days after this teaser, the first full trailer was released.
While good marketing in no way guarantees a good product, it definitely helps build excitement. There is currently more hype surrounding Flux than anything else in the Whittaker era, except perhaps her first episode.
The Return of Classic Monsters
In Whittaker's first series, showrunner Chris Chibnall intentionally steered clear of established villains, instead creating a slew of new monsters, possibly in the hope of creating a classic of his own. Unlike previous showrunner Steven Moffat, who created the creepy Silence during his tenure, this didn't quite work out. Series 12, apart from the appearance of The Master and a Cyberman story arc, was also relatively light on existing villains.
This, again, seems not to be the case for Flux. The story will feature Cybermen, Weeping Angels, a very Classic Who-esque Sontaran, and even an Ood, on top of a few new creatures. The only fear is that the story could be a little too stuffed. Hopefully, the monsters are there for reasons beyond simple fanservice.
Classic Story Structure
As longtime Whovians will know, Classic Who was made in a rather different format to NuWho. While NuWho has mostly consisted of one-off episodes with a few two-parters thrown in, all leading to the resolution of a series-long story arc, Classic Who was made up of serialised stories that averaged four parts, sometimes more.
Flux is being described as a single story, told over six chapters. This format is prompting comparisons to Classic Who, which has some fans excited.
A Few Less Characters To Keep Track Of
At the beginning of Jodie Whittaker's tenure as The Doctor, she was 'blessed' with three permanent companions, Graham, Ryan, and Yaz, giving her the largest Tardis crew of NuWho so far. Unfortunately, more is not always better. One of the biggest complaints from the Whittaker era was that there was simply not enough time in each episode to give all three companions the character development they deserved, and we never truly got to know any of them.
At the end of this year's New Year's special, 'Revolution of the Daleks', Graham and Ryan departed the Tardis, leaving only Yaz. Flux will likely open with just The Doctor and Yaz, before the introduction of new companion Dan Lewis. Two companions should be much easier to handle than three, with more time to give each the screentime and development they deserve. Other major characters in Flux, such as Vinder, played by Game of Thrones star Jacob Anderson, will appear in a recurring capacity across the six episodes.
If Doctor Who: Flux achieves the story/character balance that Chibnall's work as show runner has lacked so far, it could lift the Whittaker era from the sci-fi scrap heap.
The mini-series hits screens on October 31.
Reader insights
Be the first to share your insights about this piece.
Add your insights