Doctor Who: The Wrong Doctors Review
Two Sixth Doctors and two Melanie Bush's crash together in a time-twisting extravaganza!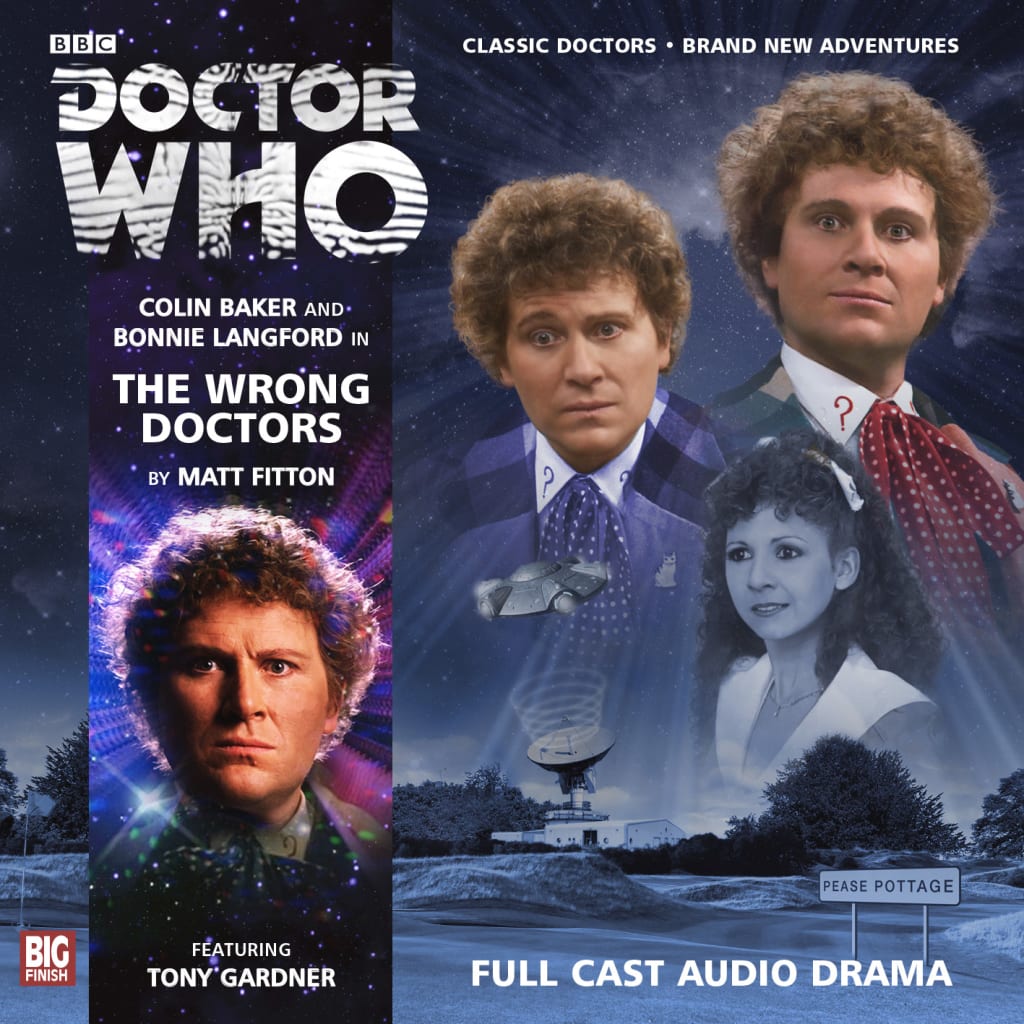 The CD cover for "The Wrong Doctors", designed by Mark Plastow.
One of the greatest innovations Big Finish have made to Doctor Who has been the rehabilitation of Colin Baker's Sixth Doctor. When Big Finish began back in 1999, Baker was a lot of people's least favourite Doctor: his era wasn't well regarded by many fans, and the abrasive nature of Colin's Doctor didn't earn him many fans. However, when Big Finish started working with Colin, things rapidly changed. Gone was the combative, brash, arrogant Sixth Doctor: he was replaced with a more mellow and likeable character. He still had the same level of fierce intelligence and an ability to get off on the wrong foot with people, but he was now much more tactful and much less arrogant. As such, he very quickly became one of the most popular audio Doctors, with his stories often gaining critical acclaim for being some of the best Doctor Who around. So, it was perhaps only natural that, in time, Big Finish would want to bring together the two different versions of the Sixth Doctor into one story; one that would compare and contrast the two in a way that had never been attempted before in Doctor Who history. After all, we'd had multi Doctor stories before, but very rarely does the show ever do a multi Doctor story with two versions of the same Doctor. It's still quite a novel concept, and I think "The Wrong Doctors" might be the best execution of it. As well as comparing and contrasting the two Doctors, it's a great story that pays tribute as well to Bonnie Langford's Mel, and one of the most notable audio Sixth Doctor companions, Evelyn Smythe. In many ways, it works as a tribute to a whole era of Doctor Who, as well as being a great story in its own right.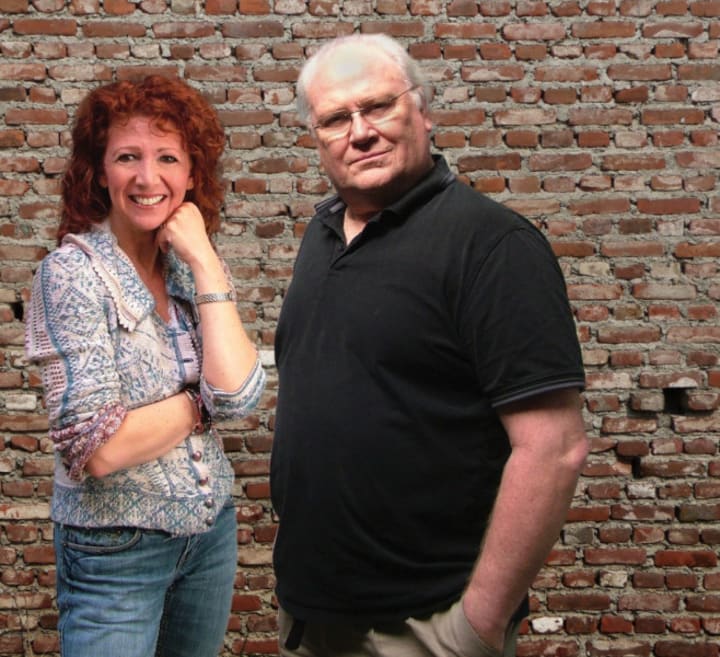 The story opens with the Big Finish version of the Sixth Doctor, who, having left Evelyn on Vilag, has now decided it is time to meet Melanie Bush. However, another Doctor is also on his way to Pease Pottage: a Doctor immediately post-trial, with a future version of Mel onboard. Something has gone very wrong with time, and soon two versions of the Doctor and Mel are running around. They're all caught in a trap... a trap from which there may be no escape. With essentially four lead characters running about the place, it could be fairly hard to keep track where everyone is: especially considering that two are being played by the same actor. However, writer Matt Fitton never lets you forget which one is which, which is a skill that you really cannot teach. The differences between the two Doctors are drawn into sharp focus, and the plot very much revolves around their similarities and differences, despite being the same incarnation. I love how the two Doctors bicker, despite being the same person: it just goes to show quite how far the Sixth Doctor has developed at Big Finish, and just how far the producers have pushed his Doctor. While the plot may be fairly paper-thin, this story does a good job of providing a suitable menace for the Doctor's to face, and it's ultimately the threat to time caused by the two Doctors meeting that provides the main dramatic thrust of the story. This is timey-wimey in the best sense: lots of things happen out of order, but the story takes pains to keep its listeners in the loop as to what is going on. It's the kind of story that rewards multiple listens, as each time you will unpick some new detail that will provide some new angle on the story. The different times and places the story covers are well-realised, but always filtered through the prism of 1980s rural England. It's amazing, in many ways, that we've never had a Doctor Who story set in Pease Pottage, because, as well as being Mel's home town, it's such a quintessential Doctor Who location. Old English villages feel like perfect settings for Doctor Who stories, and "The Wrong Doctors" is absolutely no exception to the rule.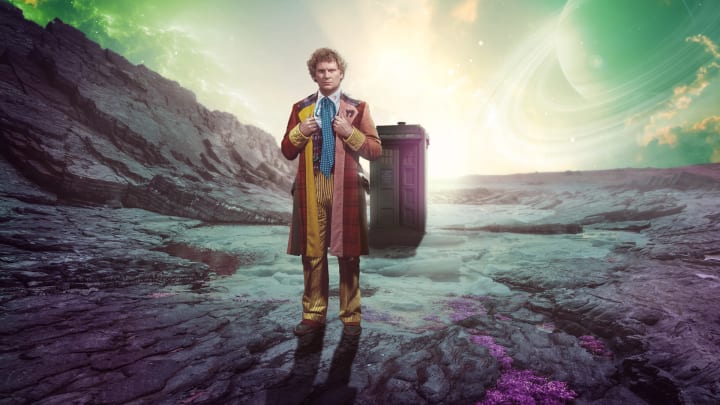 While this story does feature a lot of plot, it is in the character work where this story is at its strongest. Matt Fitton fundamentally understands both the Sixth Doctor and Mel, and is able to really dig deep into the pair as characters. Of course, with two versions of each running around, it's a lot easier to compare and contrast the two: the characters are well defined, and two great performances from Colin Baker and Bonnie Langford help seal the deal. Baker, especially, is able to bring to life the two different versions of the Sixth Doctor with a clear difference so you are never confused as to which is which. The bold and brash Sixth Doctor of the 1980s has the roughness you would expect from the Doctor post-"Trial of a Time Lord", while the mellower, post-Evelyn Sixth Doctor is much calmer and collected. Speaking of Evelyn, while she doesn't appear in this story, "The Wrong Doctors" does act as the most wonderful tribute to her character, and her influence on the Doctor. Bonnie Langford is also celebrated here, and this story I feel should definitely conclude the discussions around whether Mel was a good companion or not. Because Bonnie is fantastic here, and brings so much energy and good humour to the script. While the rest of the guest cast consequently don't get as much to do as perhaps they should, there are still some fantastic performances to be offered from them. Tony Gardner makes a suitably compelling villain as Petherbridge, turning his hand to both menace and camp perfectly. In keeping with the era, Gardener delivers a pitch perfect performance, and a prime example of how to do camp, without going too over the top. Patricia Leventon and James Joyce might seem like they're playing little more than clichés, but they give incredibly nuanced performances with a lot of character depth that bring their characters to life. Director Nicholas Briggs also helps to add depth to the characters as well, by focusing heavily on the performers and their dynamics. Despite the very technical script, it is the performances that have to carry the material, and Briggs makes sure these are front and centre. Finally, the sound design and music from Simon Robinson bring this complicated story to life with skill. His 80s inspired score is a particular highlight, and he is able to differentiate the two Doctors and two Mels in the sound field enough, so that you know which one is which. It is yet another example of beautifully strong sound design from Big Finish.
In conclusion, then, "The Wrong Doctors" is a strong Doctor Who story that brings together the Sixth Doctor of the 1980s and the Sixth Doctor of Big Finish, and contrast the two different versions of the same character, as well as celebrating the legacy of Bonnie Langford's Mel Bush. While the story itself may be a complicated labyrinth of tangled storytelling possibilities, the character drama remains front and centre, and writer Matt Fitton has cleverly weaved the two together to make them intrinsically connected. Perfect for fans of the Sixth Doctor era, even those who are pretty lukewarm on this era of the show's history will find much to enjoy in this story. Simply wonderful from start to finish, this stands as one of the best Big Finish releases in modern years, and a fine tribute to one of the most unfairly maligned eras of Doctor Who.
You can purchase "The Wrong Doctors" as a digital download from the Big Finish website (see below). Just type "Wrong Doctors" into the search bar at the top of the page.
All pictures copyright to Big Finish Productions/the BBC. Thank you very much for reading.
About the Creator
25. Fan of Doctor Who, Blake's 7, The Prisoner and more old-fashioned TV. Reviewer, wannabe writer and general twit.
Reader insights
Be the first to share your insights about this piece.
Add your insights