'Doctor Who': "The Woman Who Fell To Earth" Review
It's a chance for the BBC series to start again with Jodie Whittaker's debut as the Doctor number 13.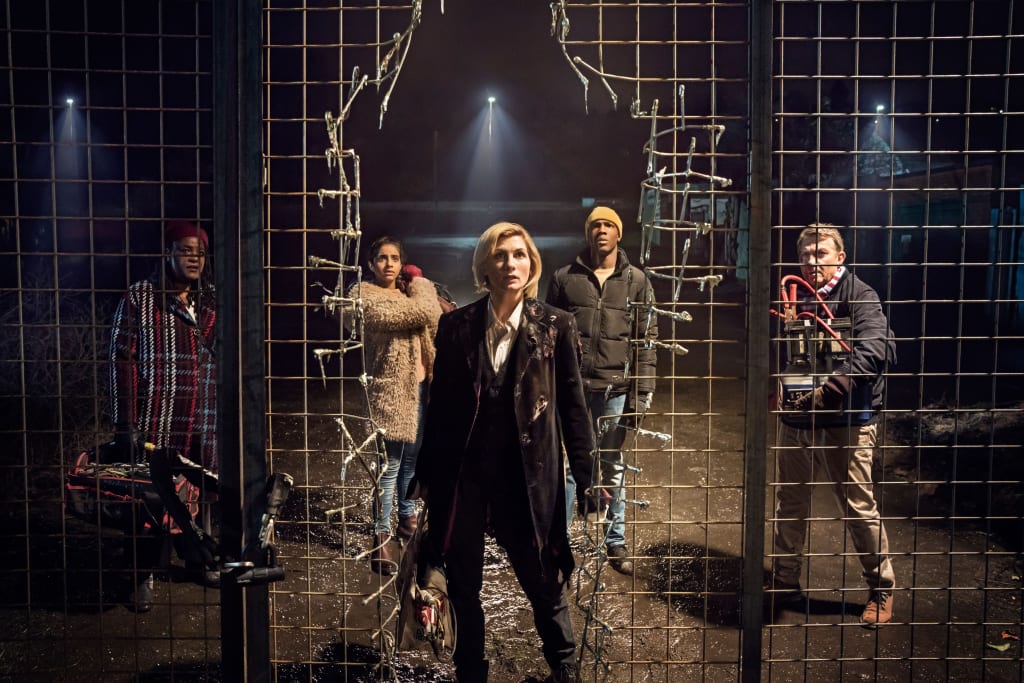 Warning: Potential spoilers for the episode below.
It has been the topic of debate and conversation in Doctor Who circles for a year now. The announcement of Jodie Whittaker as the new Doctor sent shockwaves through the fan community not seen since the long-running BBC program returned to screens in 2005. Was it to be the death knell of the program's 21st-century incarnation after a perceived decline during recent years (something this writer will happily dispute) or would it be something to reinvigorate it? With "The Woman Who Fell To Earth," viewers would have the chance to find out.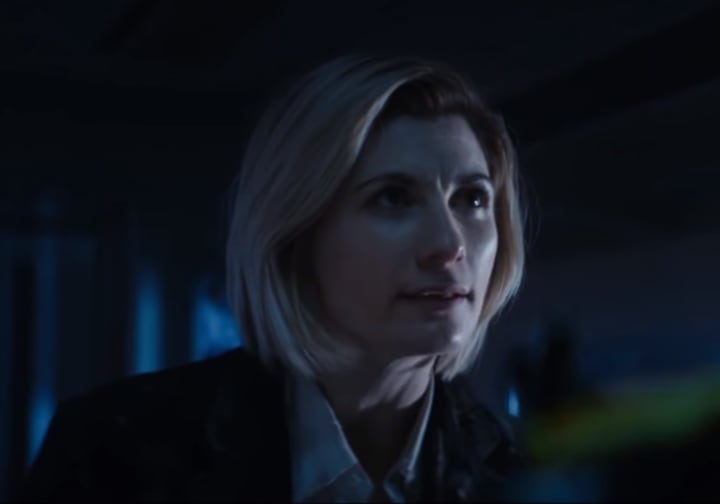 The majority of attention placed on the episode had to do with its leading lady and whether this first canonical female Doctor (following a long series of non-canonical ones) would live up to expectations. For this viewer at least, she certainly did. Whittaker proved to have the right amount of spunk, humor, and gravitas to play the role of the two millennia old Time Lord from the planet Gallifrey. From her first scene, there is a sense of genuine fun to her Doctor with her bright eyes and a broad smile that feels natural rather than maniacal. Whether she's making a sonic screwdriver or facing down the episode's big bad, Whittaker never fails to convince viewers or to be the center of attention. There's also, as we can see with some hindsight about Peter Capaldi's debut in 2014's "Deep Breath," any attempt to either apologize for the unorthodox casting choice or explain it in a way that undermines the show's lead. Instead, Whittaker makes a solid debut that establishes her Doctor firmly and successfully.
The new Doctor isn't the only one with an introduction here. There's a new set of companions as well, in fact, they get introduced before the new Doctor does. Tosin Cole's Ryan Sinclair is the first of these, a young man suffering from dyspraxic whose frustrations with his condition helps set the stage for the events that are to follow, coming across as both apologetic for his role in starting things while also relishing the chance to make something of himself. Mandip Gill's Yasmin Khan is a young trainee police officer and Ryan's former classmate who is bored by what her uninspiring supervisor keeps giving her who finds herself drawn into the strange events first unwittingly and then with a sense of relish worthy of any companion. Rounding out the trio is Bradley Walsh as Graham, Ryan's step-grandfather, who tries to be a voice of reason among the new group while also not afraid to get involved when needed. Together, the three of them bring back memories of the TARDIS crews from Doctor Who's earliest years. Importantly, however, unlike when the idea was tried again in the early 1980s, each gets something to contribute with no one made to feel like a spare part in proceedings.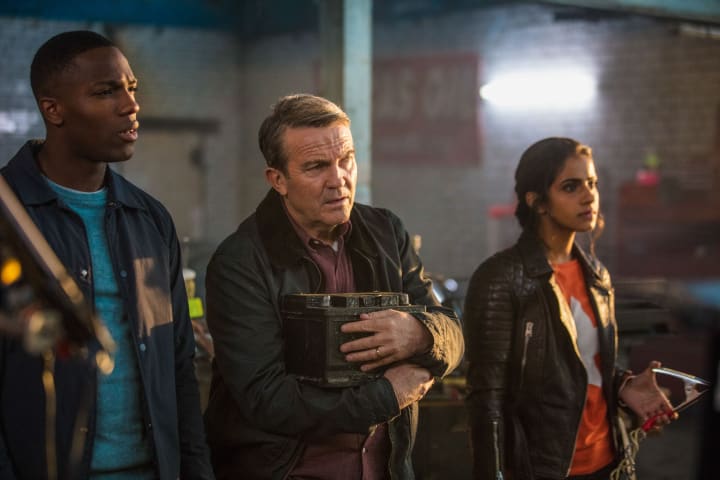 The other thing likely to get attention is that this is also the first Doctor Who script in six years from Chris Chibnall, the man who has also become the new showrunner. Chibnall's previous Who scripts ranging from 2007's "42" for David Tennant's Doctor to "The Hungry Earth"/"Cold Blood" for Matt Smith's debut series, did little to inspire confidence in this writer given how derivative they were of stories from Doctor Who's original run. His scripts for spin-off series Torchwood (where he was the showrunner for two seasons) also did little to inspire much confidence. Thankfully, "The Woman Who Fell To Earth" avoided many of the pitfalls that Chibnall fell into in his earlier Who scripts. The story is in some respects a straightforward sci-fi thriller, a neat inversion of the familiar tropes of alien invasion any viewer of Who will be aware of that takes away the TARDIS and sonic screwdriver and makes the new Doctor think on her feet while assembling a new team around her. It finds a delicate balance between introducing characters while keeping the plot moving and never once falls off the highwire it sets for itself. The result is unquestionably Chibnall's best Doctor Who script to date in part because it has the job of re-setting the show all over again.
Indeed, the episode is all change. There's a new, more cinematic look to Doctor Who, one that goes above even the efforts made during recent years as the show began to have episodes shown in cinemas with more regularity. Murray Gold, the resident composer since the program came back, has been replaced by Segun Akinola who brings a fresh approach to scoring the long-running series. And in a further step in the direction of the cinematic, the show's titles and indeed theme music only appear at the very end of the program. There is a genuine freshness to Doctor Who that it hasn't had since 2010, the last change of showrunners, and if you are one of those feeling like the program needed a kick in the pants than you'll be happy to read it has unquestionably received one.
At the end of its hour, "The Woman Who Fell To Earth" has done what it needed to do. It's firmly installed a new Doctor, a new set of companions, and firmly established a new sense of style for the new fifty-five year old program. That it does so while also telling a compelling story is to the credit of its new showrunner and all involved. So I'll conclude by saying this:
Welcome aboard, Doctor. I hope you'll be with us for a while yet...
About the Creator
Matthew Kresal was born and raised in North Alabama though he never developed a Southern accent. His essays have been featured in numerous books and his first novel Our Man on the Hill was published by Sea Lion Press in 2021.
Reader insights
Be the first to share your insights about this piece.
Add your insights