Doctor Who: Recorded Time and Other Stories Review
To celebrate 150 Monthly Adventures, the Sixth Doctor teams up with Peri for four exciting adventures in space and time...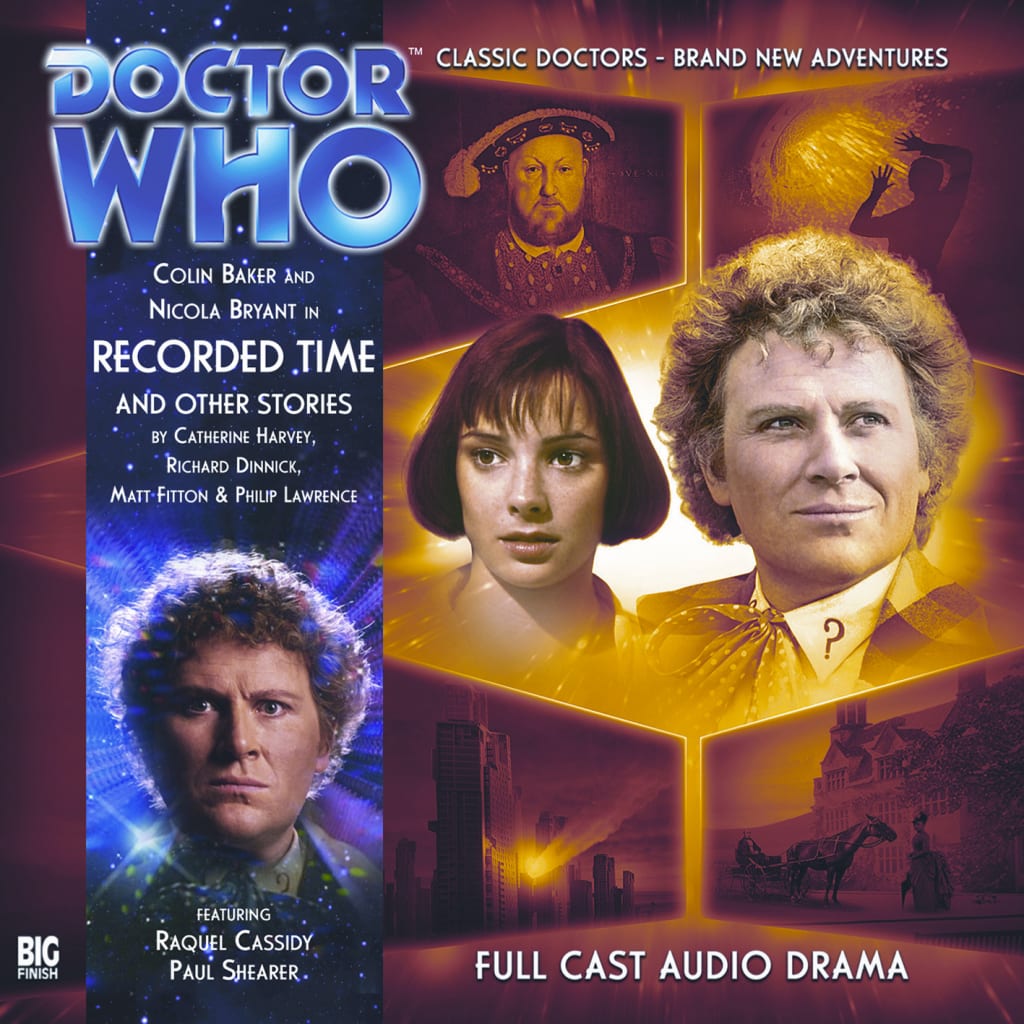 The CD cover for "Recorded Time and Other Stories", designed by Anthony Lamb.
When the Monthly Adventures reached 150 releases in August 2011, it was an occasion Big Finish couldn't resist celebrating. As such - "Recorded Time and Other Stories" was born: four 1-part stories, taking the Sixth Doctor and Peri to a wide variety of times and places, and into a wide array of stories, that all showcase the flexibility of the Doctor Who format. Unlike the four-part stories that normally make up the Monthly Adventures, these 25-minute long stories cover a lot of ground much faster - and can tackle ideas and concepts that a longer story would struggle with. As such, this release has some truly ground-breaking concepts, and each story works as a fun, punchy instalment of Doctor Who that pushes the boundaries of the types of stories you can tell in the format.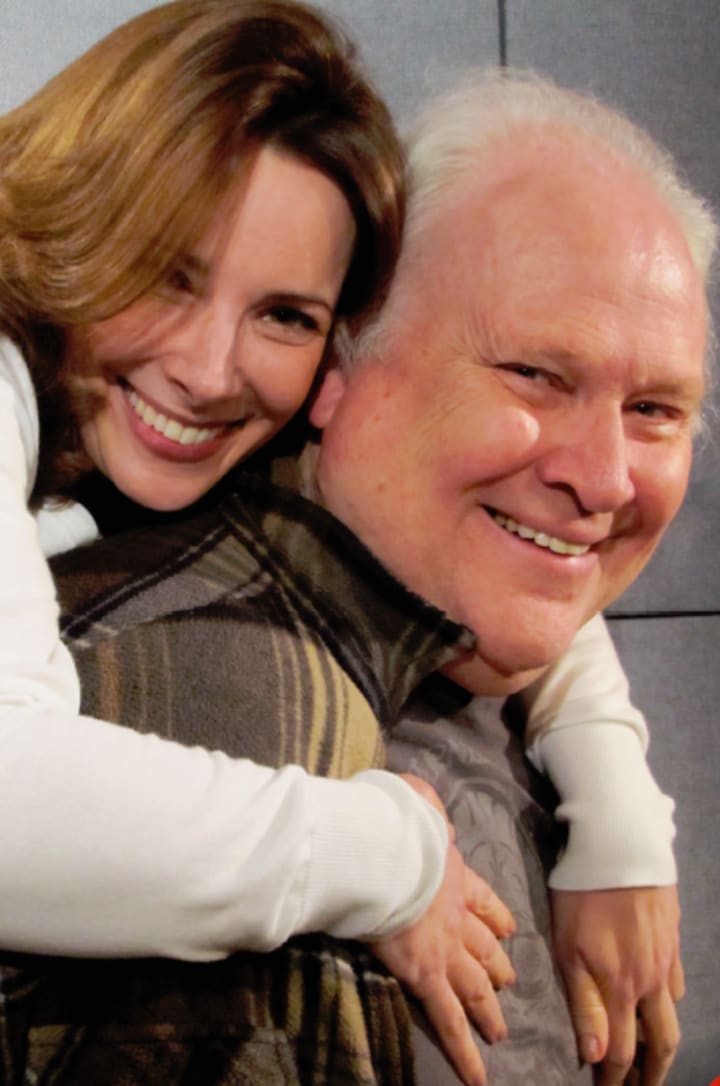 Taking in a number of various settings and times, we go from the court of Henry VII to a dead planet in the future, and from a fantasy landscape of 18th century literature to a underground base deep beneath a magma planet. The title story, "Recorded Time" sees Peri attract the unwanted attentions of King Henry VIII, just as he is about to have Anne Boleyn executed. It's a good opener, that busts wide a few myths about this period of history, and offers an examination of one of Henry's most unfairly maligned wives. While the sci-fi aspects of the plot are more window dressings than anything else, they allow the story to expand its scope a little more than a pure historical could. Writer Catherine Harvey does some splendid work with the characters: while Peri gets the attention she deserves with this story, her work with the Doctor is perhaps even more outstanding. The pair of them are put through the emotional wringer, and, despite this episode's short length, it covers a lot of ground in a short space of time. The second episode, "Paradoxicide", takes the TARDIS to a dead planet where Peri's voice is broadcasting a message about a fabled armoury of deadly weapons. Despite its 25 minute running time, this story, like "Recorded Time", covers a lot of ground, involving multiple trips in time and numerous paradoxes throughout the course of the story. If you aren't listening too closely to this one, it's easy to get lost, but writer Richard Dinnick does try to keep the story fairly straightforward with regards to the temporal paradoxes going on. The main meat of the story perhaps isn't the most original, and the Volschi aren't really the most developed villains, but there's still some fun stuff going on here. "A Most Excellent Match" by future script editor Matt Fitton is probably the funniest story in the set, though it isn't without its fair share of darker moments. Miss Peri Brown has a choice of two suitors - Mr Darcy or Doctor John Smith. But not everything is as it seems... The mixing of the works of Austin, Bronte and Hardy may not seem a natural fit for Doctor Who, but "A Most Excellent Match" makes the concept fun by including a load of jokes relating to the Doctor and Peri's place in the scenario. However, while the majority of the story is a broad farce, the ending does have a fair bite to it, and the fate of the story's villain does invite the listener to feel some sympathy for them. And, finally, we come to "Question Marks". Five people wake up with no memories in a place they don't recognise: can they work out what is going on before it is too late, all the while relying on people they don't know if they can trust? As premises go, there is little finer. While unable to work as well in a longer form (I would argue the three prior stories could be extended to an hour-long episode), I think this works to the story's advantage. While we never find out what the characters would be like with their memories, it is a fascinating psychological experiment, especially for the Doctor. Writer Philip Lawrence understands that, no matter what the Doctor's condition, he will always be the Doctor - even without his memories. It's a fascinating look at our central hero, and stands as the highlight of the collection.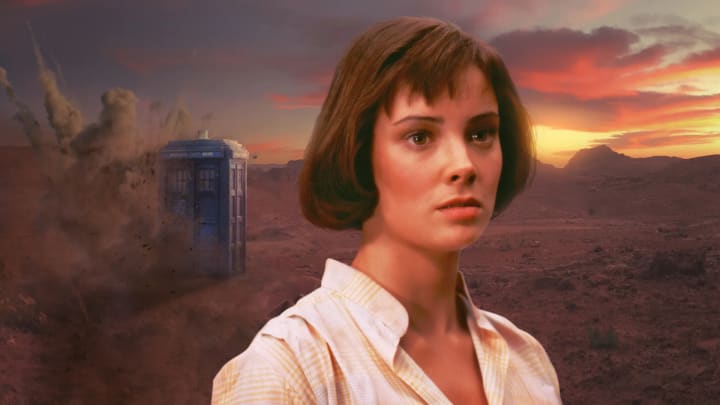 While the stories are all vastly different, the production across the collection remains at the same high standard Big Finish always produce. The guest cast are wonderful: special plaudits must go to Laura Molyneux as Anne Boleyn, Philip Bretherton in the triple role of Darcy, D'Urberville and Heathcliff, and Raquel Cassidy as Destiny Gray, who all bring something very special to their roles, beyond what is on the page. They really add a lot of depth to the characters, and bring them to life in many unexpected ways. Leading the show is, of course, Colin Baker and Nicola Bryant, who return to their roles and their relationship like no time has passed. Like most of the Big Finish releases to feature the Sixth Doctor and Peri, their relationship has been softened from the abrasive bickering of the TV series into a more lighter and much more friendlier relationship, and the pair of them play off against each other wonderfully. The stories ground the Doctor and Peri front and centre, and it gives us a chance to see just how deep that relationship between the pair of them runs. Both Colin and Nicola are wonderful: they embrace the humorous moments and tug at the heartstrings in the emotional moments, and it makes for wonderful listening. Ken Bentley's direction is superb: he really brings all the actors' performances together, and understands the material he is working with really well. All this is topped off by Richard Fox and Lauren Yason's wonderful post-production, which it what makes these releases such an enjoyable listen, quite honestly. They really build up the world, and you feel planted in the adventure. Like pretty much every Big Finish release, the production on this collection is simply superb, and stands testament to the hard work of everyone at Big Finish.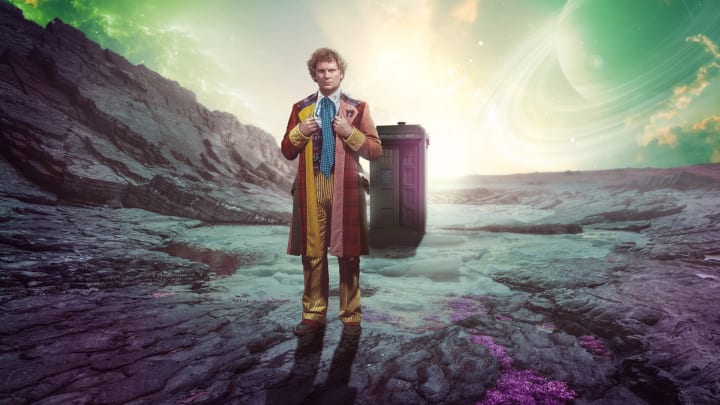 Overall, "Recorded Time and Other Stories" is one of the strongest anthology releases Big Finish put out during the lifetime of the Monthly Adventures. While one could argue there's no stone cold-classics in here (although "Question Marks" does come close), each of the stories in this set are all really good, enjoyable adventures, that show just how versatile the format of Doctor Who is, and how many different stories can be told by this show. With a popular Doctor/companion paring, and four stories that have great ideas, plots and characters, it is hard to argue with something this winning. While "Question Marks" is the obvious highlight of the set, the other three are enjoyable stories in their own right, and are well worth checking out. A delight from beginning to end, this is a superb collection, and makes for fine listening for any fan. I can wholeheartedly recommend this.
You can purchase "Recorded Time and Other Stories" as a digital download from the Big Finish website (see below). Just type 'Recorded' into the search bar at the top of the page.
All pictures copyright to Big Finish Productions/the BBC. Thank you very much for reading.
pop culture
About the author
25. Fan of Doctor Who, Blake's 7, The Prisoner and more old-fashioned TV. Reviewer, wannabe writer and general twit.
Reader insights
Be the first to share your insights about this piece.
Add your insights