Doctor Who: 100 Review
The Doctor and Evelyn take four trips in the TARDIS to celebrate 100 Big Finish Monthly Adventures!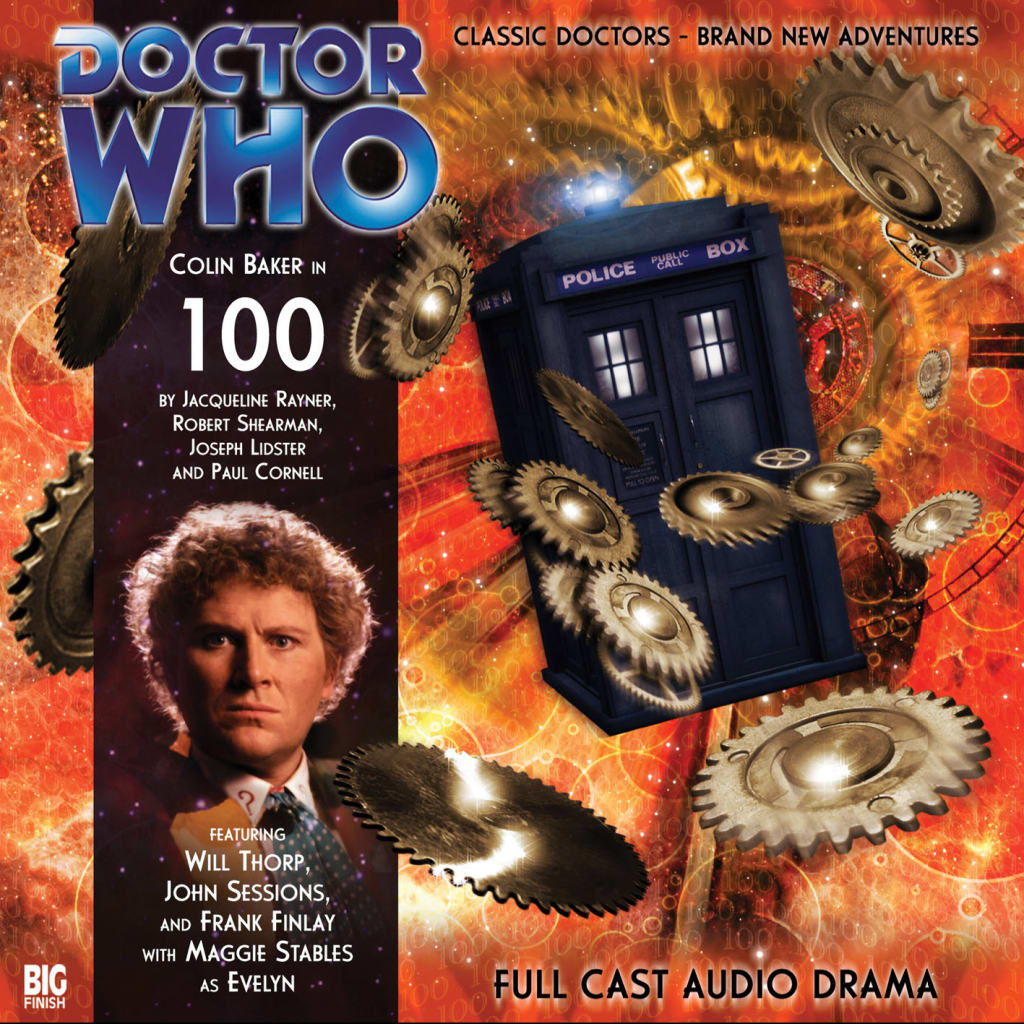 The CD cover for "100", designed by Barry Piggott.
To mark the 100th Doctor Who release (barring specials) from Big Finish, we got "100": an appropriately titled collection featuring four stories for the Sixth Doctor, all linked by the theme of 100. While a pretty meta concept for an anthology release, this set of stories was backed up with a strong hook: the writers were four of the best ever to put their name to Doctor Who. And, while there are some niggles with some of the tales, this collection is another example of experimental and ground-breaking Doctor Who, the likes of which hasn't been seen for some time. Taking in temporal meddling in Ancient Rome, meeting legendary composer Mozart, a gruesome curse on a seemingly innocuous family and a trip up and down the Doctor's timeline, this collections runs the gamut of Doctor Who stories and really does offer something for everyone.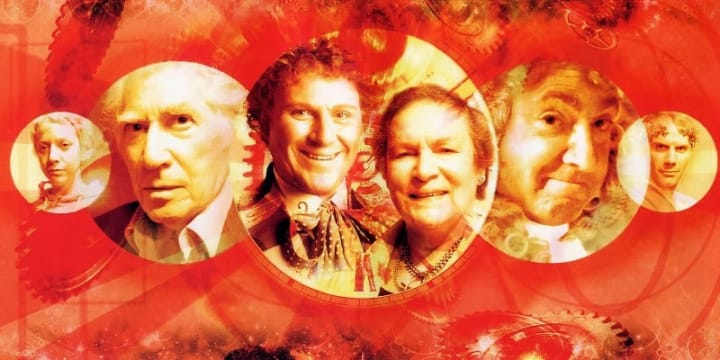 Opening up the collection is "100 BC" by long-time Big Finish scribe, and Evelyn co-creator, Jacqueline Rayner. Playing out as a comedy of errors, the Doctor and Evelyn find themselves caught up in the conception of Julius Caesar, with Evelyn trying to change the outcome. But maybe they've got the timing wrong... This is a story that has come in for a lot of flack down the years, partly due to the portrayal of Evelyn, and I can see why some people might not find much to like here. I, however, found it to be a funny and charming little tale, that actually does make a lot of sense, when you remember that Evelyn has always had an admiration for strong female historical figures. Sure, it might seem to fly in the face a little of all of the things that she has learnt on her travels thus far, but it's all taken in good humour, and I think anyone trying to read something serious into this might be missing the point a little. It's basically a farce, and the ending revelation as to what is going on is brilliantly hilarious. The second story, meanwhile, is funny in a very different way. "My Own Private Wolfgang" sees the Doctor and Evelyn arriving at Wolfgang Amadeus Mozart's 100th birthday party. Only something is very wrong, and soon the two travellers find themselves faced with the possibility of changing history... Now, to do a satirical piece on the nature of fame with someone like Mozart is brilliant. This story, written by the great Rob Sherman poses the question - what if Mozart had died young? - to great effect, and, despite Mozart's slightly haggard reputation (let's be honest, his score for "The Italian Job" remake wasn't great, and the less said about his "Batman vs. Superman" score, the better!), it's a great idea to look at someone, and wonder what might have happened if they had died young. And, certainly if you look at his earlier work, that's the impression you get. You appreciate what you have a lot more, rather than what they ended up producing, which will never match your expectations. The comedy is hilarious, it's a little lighter than Sherman usual work, and the ending is simply- "Bedtime Story", the third in the collection, is easily the darkest and the most grounded of the four. When the Doctor and Evelyn pay a visit to one of her former students on the day of his father's funeral, the pair soon become embroiled in a horrifying plot stretching back hundreds of years... Joseph Lidster, writer of this story, may have been the most recent acquisition to Big Finish at the time of this story's release, but he quickly marked himself out as a strong writer of domestic drama, and he plays to his strengths here, with a story rooted in a very domestic tragedy. The nature of the alien threat is much less prosaic than in the other stories, and there's a Tales of the Unexpected feel about the whole piece. Sure, to some, this may seem a little too much like a soap opera, but I think it works well at telling a chilling story with a formidable villain, and Lister gives Maggie Stables something very different to do. Oh, and the ending will send shivers up your spine. The final story, on the other hand, is pure fan service. "The 100 Days of the Doctor" sees the Time Lord targeted by an assassin. The trouble is - he's already been killed. And now he has 100 days to find out how... To be honest, it's hard to review this story, as, really, it is little more than a glorified advertisement for the various Big Finish ranges. However, it is sweetly told, and it offers a nice chance to partner the Sixth Doctor with Evelyn for the whole runtime. Paul Cornell, Who legend, gets the chance to celebrate the whole legacy of Doctor Who at Big Finish with this story, and, while the ending is a bit rushed, it works as the celebratory part of this very special release, as well as telling a multi-Doctor story with only one Doctor and companion.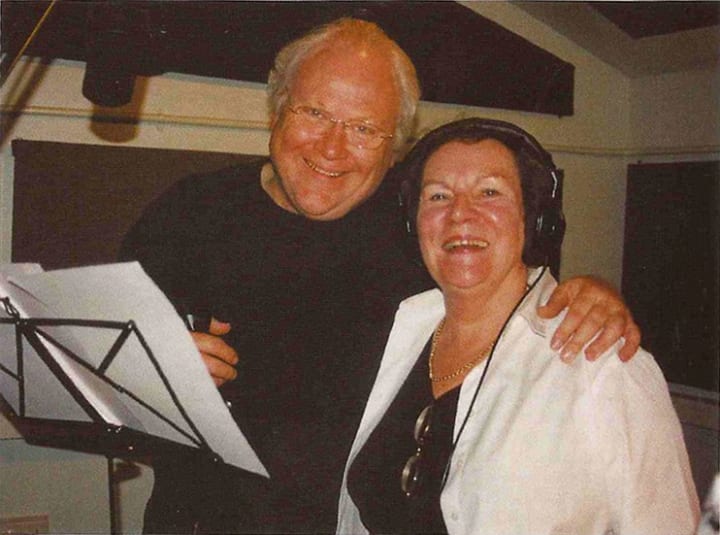 Despite only having 25 minutes in which to tell their story, each of the four stories is still able to feature developed, rounded characters, and gives the actors some really juicy material to play around with. Highlights include Will Thorp (Toby Zed in "The Impossible Planet/The Satan Pit") as both Julius Caesar's father and Jacob, the man at the centre of the terrible curse on his family in "Bedtime Story", Susan Brown in a pre-Torchwood role as the battle-axe mother Mary, and John Sessions as... well, everyone in "My Own Private Wolfgang". Sessions, in particular, manages to make everyone sound the same, while making everyone sound completely different, and it helps make the story work so well. Of course, it's the same Doctor and companion that run through the collection, and Colin Baker and Maggie Stables remain on top form throughout. The pair of them have such a fantastic chemistry, and the four tales in this set remain a perfect example of this in action. They were the perfect selection for a release celebrating 100 Doctor Who audio adventures, as they were the team that really helped define those earliest Big Finish audios, and, as such, deserve to be centre stage to celebrate reaching such an auspicious milestone. Another element that is worthy of congratulation is the production team, who pour so much love into this release, and produce some absolutely top-quality work throughout. Director Nicholas Briggs brings the right performances out of his cast, and maintains an appropriate tone for each story. The post-production team is slightly wider for this release: David Darlington, Simon Robinson and Gareth Jenkins tackle the four episodes between them, and all three build up vivid worlds and soundscapes, both recognisable and unrecognisable, for the various episodes. Together with Andy Hardwick's wonderful musical score, it showcases the strengths of a Big Finish production in this special release, and reminds the audience, if any reminder be needed, of just how much work and effort are put into these stories, on every level.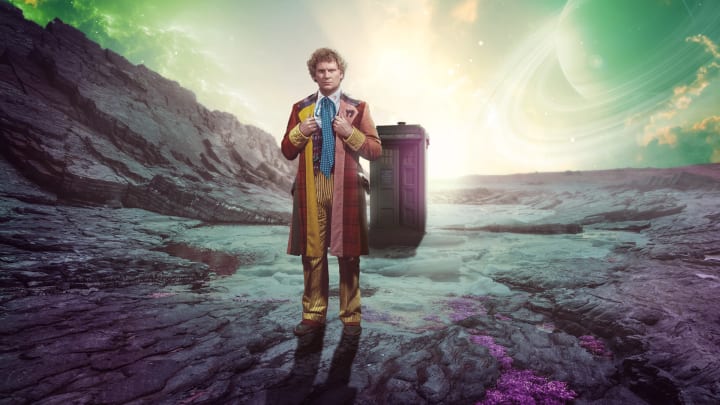 Overall, then, "100" is a fantastic collection of four excellent tales. Each one expands and showcases the versatility of the Doctor Who format, in a half-hour form that gives you a complete story while letting the imagination of the listener run riot. Not all of them are perfect: both "100 BC" and "The 100 Days of the Doctor" suffer from issues. However, there has been an attempt to make each one as exciting as possible, and "My Own Private Wolfgang" might be one of the best half-hour stories Big Finish have ever told in this range. A simply wonderful quartet of tales, this really does have something for everyone.
You can purchase "100" as a digital download from the Big Finish website (see below). Just type "100" into the search bar at the top of the page.
All pictures copyright to Big Finish Productions/the BBC. Thank you very much for reading.
About the Creator
25. Fan of Doctor Who, Blake's 7, The Prisoner and more old-fashioned TV. Reviewer, wannabe writer and general twit.
Reader insights
Be the first to share your insights about this piece.
Add your insights