Disney Live-Action Remakes
Not always a bad thing...
I'll say this for Disney Live-Action Remakes: They're good on taking on feedback about what their target audiences liked and didn't like about the originals.
That's not to say those changes always come off quite as planned, but I think we can safely dispense with the idea that Disney is chasing after some vague idea of being "Woke with the Times". Some of their efforts do lean in the direction of Pandering, but those are mostly Disney Channel products, played on Saturday morning and having to compete with Bluey, Dora, Video Games and the lure of actually sleeping in for attention.
(Disney's Descendants may have been a confused mess by the end of things, but at least it was an entertaining confused mess that inspired a lot or really good fanfiction. I'm also fairly sure you can't mention it in Florida, because NO-ONE thought ANY of those characters were straight for more than a few seconds.)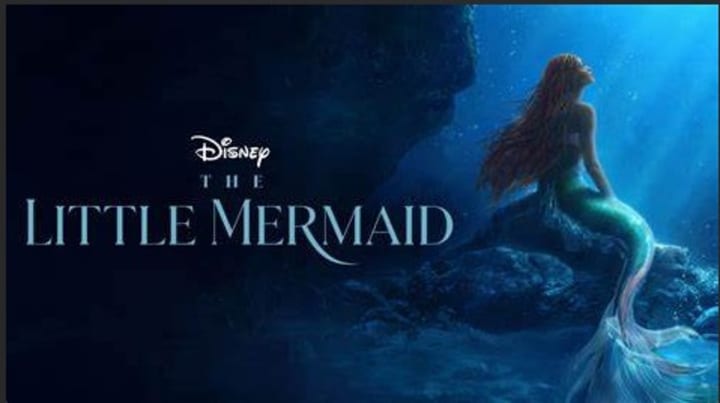 I started this piece out as a review of the new Little Mermaid remake, but found myself going on a tangent of background information around remakes in general, so I switched focus. Keep an eye out for that later in the week.
For now, I'll just say that I very much enjoyed it, most of the changes were good, and while I have questions in a few places, those questions only made me more invested in the story.
I think Live Action Remakes are always going to fall a little short, purely for the fact that you can simply do more in terms of scale, expression and background with pen and pencil than you can with CGI.
Real Life animals are simply not that expressive in ways that humans recognize as emotional responses (Lion King). An animated piece of furniture can have more range of motion than one where every twitch and frown has to be computer generated (Beauty and the Beast). Buildings have to be kept in realistic scale, rather than dominating the entire horizon (Cinderella, Aladdin).
The whole point of remakes is that there's a new way to tell the story, a new audience to get invested in an old love, or sometimes just that special effects have improved to the point that they can tangibly improve on the old version (Pirates of the Carribean - did anyone even remember that a movie existed before the Depp/Bloom/Knightley revival?)
Growing up at roughly the same time as the Disney Rennaisance, it's safe to say that the original animated movies have a firm place in my heart.
Fantasia was weekend watching at my Godparents' house while they played Bridge with my parents. Playground wars were waged over the 'best' disney princess. (Yeah, we were doing that before Epic Rap Battles made it cool...) I was the most popular girl in school when my Dad brough a VHS of The Lion King back from a business trip to the USA, weeks before it was available in Australia.
As an adult, with the rose-tinted glasses of childhood stripped away and a desire of more nuanced storytelling, I'm finding the remakes to be a good accompaniment.
Maleficent is a movie that I treat more as a retelling than a remake, because it completely flippe. same with Cruella. Alice in Wonderland and Through the Looking Glass were continuations. I admit to never having seen either version of Pete's Dragon.
I enjoy the Animated Aladdin more than the Live Action, because so much of Genie's magic just doesn't fully translate in CGI and Robin Williams is incomparable. Similar with The Lion King, though that holds a place in my heart as my First Date with my Beloved.
I will hear nothing against the Live-Action Beauty and the Beast, and while I admit that I never got as into The Jungle Book as some of the other films, I enjoyed some of the explanation of the animals apathy toward Mowgli (and maintain that the version with Jet Li and Cary Elwes from the 90s is still the best)
I also encourage everyone to go watch the "Old Vs New: Cinderella" comparison on YouTube. I don't really have a favourite between the two, but it's a very good analysis.
If noting else, Disney Live-Action Remakes gives me new songs to sing along to on long car rides, and I knock the socks off any Disney Theme Trivia Night.
If you liked this story, leave a heart, a comment or a tip and share it around, and check out my other work on Medium and Amazon.
About the Creator
I've been writing since I learned how, but those have been lost and will never see daylight (I hope).
I'm an Indie Author, with 30+ books published.
I live in Sydney, Australia
Reader insights
Nice work
Very well written. Keep up the good work!
Top insights
Easy to read and follow

Well-structured & engaging content

Eye opening

Niche topic & fresh perspectives

Heartfelt and relatable

The story invoked strong personal emotions
On-point and relevant

Writing reflected the title & theme
Add your insights