'Dina' Graphic Novel Review
New Must Read Comic Book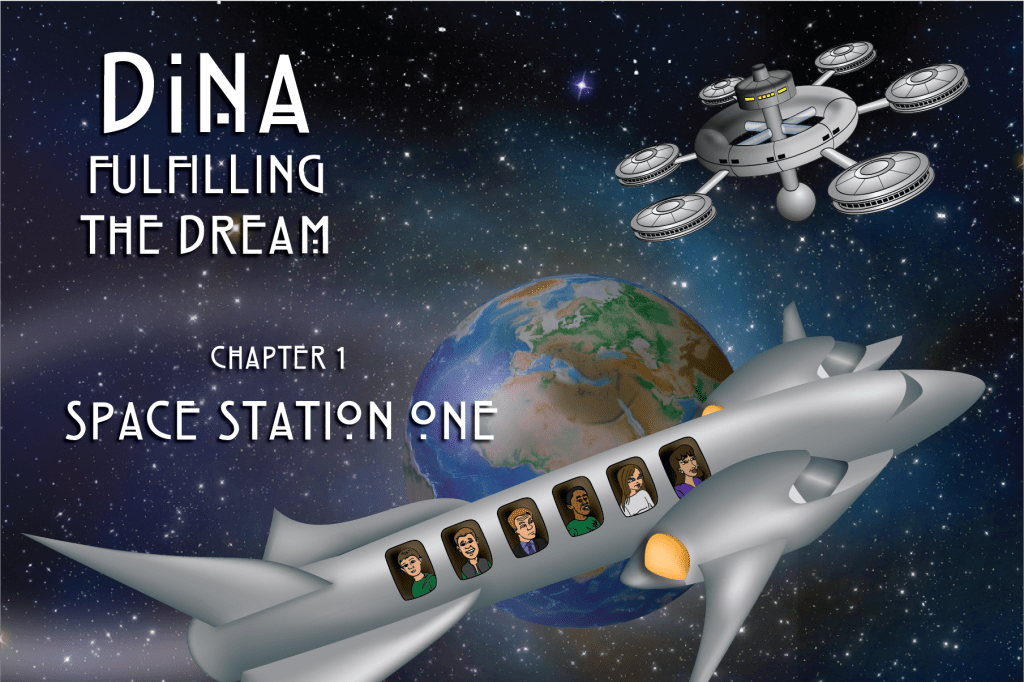 DINA: Fulfilling the Dream started off as a personal project over 10 years ago. I had just read an illustrated version of The Hobbit, and loved the idea of making illustrations for a book, so started making drawings for one of my favorite sci-fi novels. Once I had started creating characters and settings, etc. I decided I didn't want to just illustrate someone else's story, I wanted to illustrate my own story. I didn't consider myself a writer back then, but I started getting ideas for a story. One scene led to another, then another etc. Much of my inspiration came from my own personal experiences, along with Star Trek, Star Wars, Stargate, Darkover, X-Men, and many other iconic sci-fi series, movies, and books. I wanted to create a new world, and I wanted it to be original. Not only did I want the story to be an interpretation of one possible future, but I also wanted readers to feel what some of the characters were experiencing.
Here is a review of the book by Donna-Lyn Washington that was posted on ReviewFix.com:
"Dina Graphic Novel Review: Indie Darling
Perhaps you may remember the short-lived television series Earth 2. It starred Debrah Farentino as the leader of a group of colonists who crash land on the wrong planet. They spend most of the time fighting a myriad of threats as they try to make their way to their original destination. It was a show that was ahead of its time and would play better today. After all the possibility of colonizing other planets is closer to reality than the mid 90s, science fiction serial had been. Now is the time to explore the possibility of what it takes to make your way off this blue ball before it's completely destroyed.
Human beings have nearly decimated the planet to the extent where it is no longer capable of sustaining life. It all feels dystopian and hopeless. However, in the graphic novel Dina: Fulfilling the Dream there is a glimpse of hope as people find a way to do what they do best—survive.
This story is first seen through the lens of Judy Mendelsohn. Being a curious teenager, she hopes to join the space program to help colonize other planets. Earth is getting hotter and extremely crowded. But Judy has an altruistic spirit that's infectious. From her sexuality to her love for new adventures, Judy is someone who you want to see experience life. As both writer and artist, Kerri Schiff has paced the narrative to show a natural progression of what happens in an intelligent, young woman's life. Judy falls in love hard, unapologetically wears her love for science on her sleeve and has a good relationship with her family. Essentially, as a reader you're engulfed in a world where you can logically feel a part of.
Moreover, this work will remind you of what William Shatner's Captain Kirk said in Star Trek 4: The Voyage Home to the effect of he works in space, but he's from Iowa. And that's just how this book will resonate with you. Space becomes a real alternative and not just a precept of a science fiction plot line. What's more, you want to see how Judy's life will unfold as she becomes a space explorer. Still, as with life things are not completely idyllic for Judy. Her being female goes from not being a big deal to becoming a possible problem. Sexual jealousy, animosity, and a mass of insecurities start brimming to the surface. Maybe Judy won't make it. But as a reader you can't help but root for her. She's that little sister you want to protect from all the big baddies out there.
Overall, realistically drawn characters centered in a real life setting make for a narrative that you can quickly connect to and stay with. For the most part, Schiff has created a graphic novel for the 21st century—which essentially tackles how we choose to live in our individual truths, with as little compromise as possible.
For more information on the comic, head to its Kickstarter page."
Here are a few pages for your review: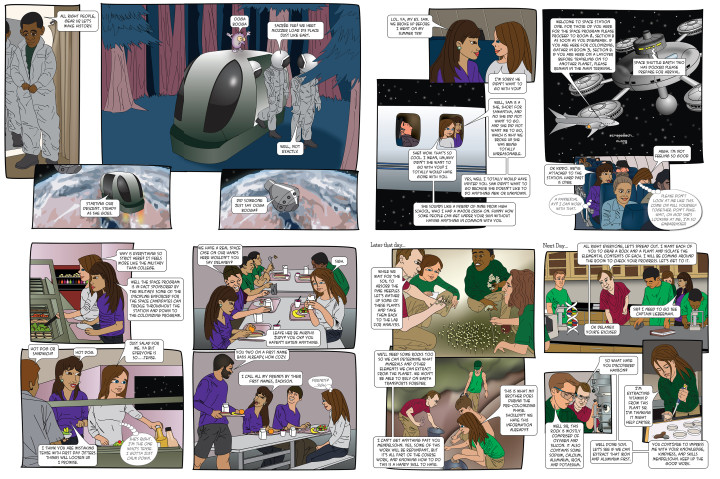 If you'd like to help support this project, go to Kickstarter and make a pledge. Also, keep an eye out for the next issue which will hopefully be coming out sometime later this year.