Days of Our Lives: Greg Vaughan returns as Eric Brady
A video preview shows the priest is ready to battle the devil in Marlena.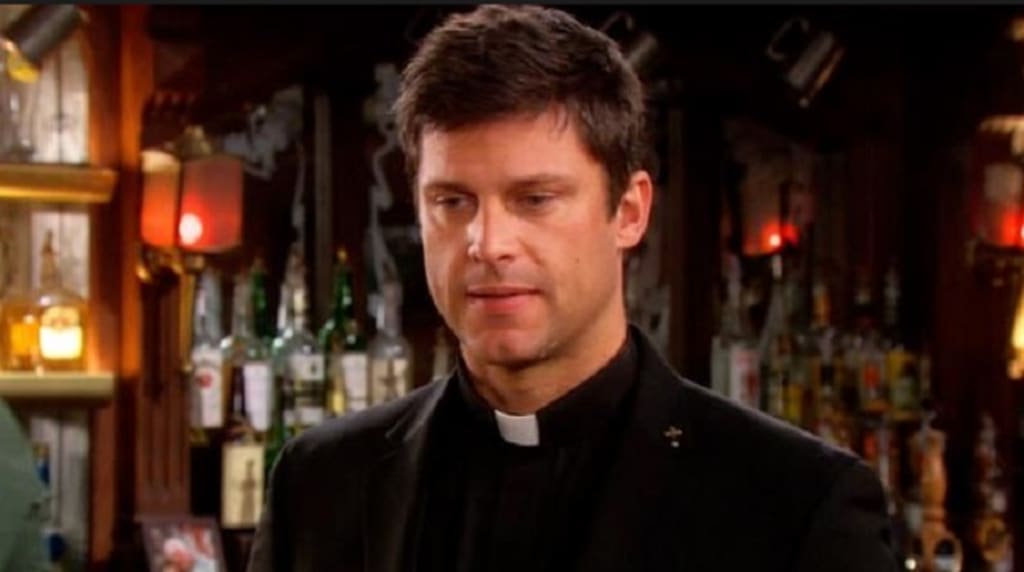 Greg Vaughan returns to DOOL
Days of Our Lives Winter Preview
A new video shows some amazing scenes that are coming up this winter on Days of Our Lives. One shocker is that Father Eric Brady (Greg Vaughan) will return to do battle with the devil that has taken over his mother. There will be a lot of additional drama such as Brady Black being arrested for the alleged murder of Phillip Kiriakas (Jay Kenneth North) and Victor Kiriakas actually saying that his son is dead.
No one in Salem is safe as long as a possessed Marlena Evans continues to run free. The good news is that based on the video Doug Williams (Bill Hayes) and John Black (Drake Hogestyn) are released from their respective prisons and ready to confront Satan head on. Doug finally gets the opportunity to look Marflnea in the face and say "You're the devil" which is something that fans have eagerly been waiting to see.
John is going to be thinking about the first time that Marlena was possessed and pray for help. Some Days of Our Lives fans had thought that perhaps John would be the one to set his wife free 25 years after the first time she was possessed. It looks like the answer to hsi prayer is coming in the form of his stepson Eric who is a priest. Greg Vaughan left DOOL when his character was sent to Africa to do mission work.
Days of Our Lives: The evolution of Eric Brady
The character of Eric was introduced on October 16, 1984, along with his twin sister, Sami Brady(Now Allison Sweeny). Eric was portrayed by a series of child actors, and Jensen Ackles was cast in the role in July 1997 when the character was rapidly aged from a pre-teen to a young adult. Ackles left the role in August of 2000.
For a while, it was as if Sami's twin did not exist as he was rarely mentioned on Days of Our Lives. Greg Vaughan began playing Eric in 2012 and remained in the role for 9 years until early in 2021; Vaughan earned a Daytime Emmy Award for Outstanding Supporting Actor in a Drama Series in 2018. Eric and Sammy are the children of Roman Brady (Josh Taylor) and Marlena but were basically raised by John who at one point believed he was Roman.
Greg Vaughan is a soap vet
Greg Vaughan is a long-time soap vet having had prominent roles in two daytime dramas in addition to Days of Our Lives. He portrayed Diego Guittierez, on the CBS soap The Young and the Restless and was a recast for Lucky Spencer on Abc's General Hospital. The actor has held the role of Eric Brady longer than anyone before him. NBC has not announced the return of Greg as Eric but the video speaks for itself and has fans talking about it all over social media.
Days of Our Lives Winter preview is wowing fans
In the Winter preview, a startled Marlena says "Wow" when she sees that Father Eric is back in town. This may indicate that she knows he has the power to defeat her. In another scene, Eileen Davidson is back as Kristen DiMera. This is either an illusion or the devil turns Susan Banks or some other unsuspecting female into the image of Kristen.
Days fans will recall that Kristen once drugged and seduced Eric and taped it. This is why in the preview she asks if the Father wants to do a sequel. This is all hopefully leading to Marlena being set free from the evil as Days spoilers have promised a Christmas miracle. Be on the lookout for additional information related to Greg Vaughan's return to Days of Our Lives as Eric Brady.
celebrities
Cheryl is a poet, freelance writer, published author and former Newspaper columnist. She has degrees in Psycology and Biblical studies. She enjoys sharing natural cures, and Nostalgia related info. Tips are greatly appreciated.
Receive stories by Cheryl E Preston in

your feed