'Dancing With the Stars' New Host Tyra Banks Receives Criticisms
Some fans want new host Tyra Banks to be the first one voted off the show.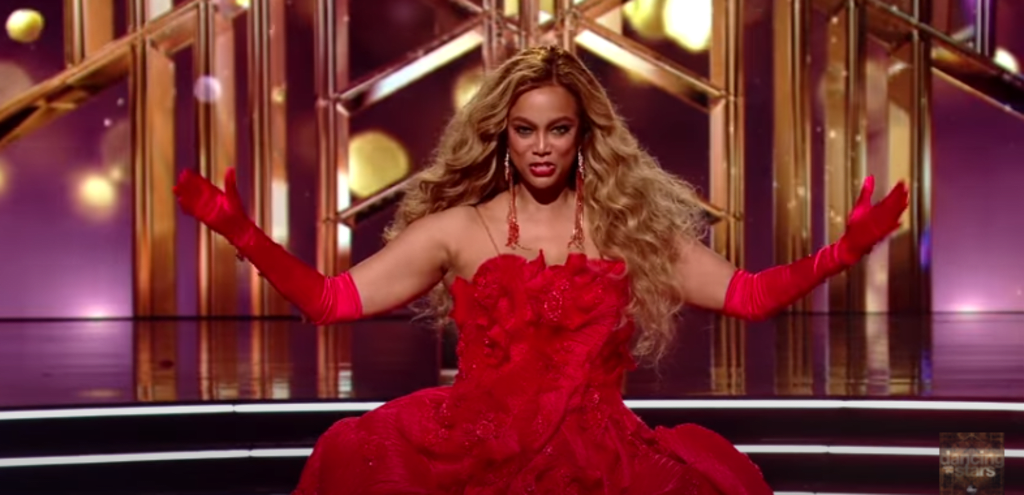 Season 29 of Dancing With the Stars premiered with 8.12 million viewers on Monday, September 14, 2020. Things were different from the previous 28 seasons. There was a new host, a new judge, a new set, and 15 new celebrities.
It was the first time ABC's dance competition show premiered without Tom Bergeron who has hosted the series since its debut on July 1, 2005. Erin Andrew had hosted the series since 2014.
It was announced in July that hosts Tom Bergeron and Erin Andrews had not been invited back to host Dancing With the Stars. The news surprised Tom and Erin just as much as it surprised millions of fans who have watched the series over the years. Tom, Erin, and the public were only told that ABC had decided to take the show in "a different direction."
New Host
A few days after Tom and Erin found out they were being replaced, it was officially announced that Tyra Banks, former America's Next Top Model and America's Got Talent host, would be at the helm of Season 29 and executive producer of Dancing With the Stars.
Reality TeaVee said, "Tyra Banks received some of the worst reviews of her career for DWTS debut." Cosmopolitan said the premiere was "a delightful Monday-night mess." At the top of the show, in Tyra Bank's style, she came down the stairs in a red gown that she said was very heavy. Then she changed into a suit for the rest of the night.
Many people are still upset over the ousting of longtime hosts Tom Bergeron and Erin Andrews, and they are speaking out about it. According to social media, many viewers were disappointed in Tyra's first hosting episode. They didn't hesitate to take to Twitter to criticize the 46- year-old host. Some people said her hosting style is "boring." Perhaps it was because she stood in the same spot for two hours.
Banks has previously admitted that her predecessors leave behind big shoes to fill. Many longtime fans are divided about the new direction the show has taken without Tom Bergeron and Erin Andrews. In fact, one person suggested that Tyra Banks should be the first person voted off the show. A fan tweeted, "The problem with Tyra Banks as the host is that you have replaced the heart of the show. Nothing against her, but it just sounds so off when you hear her voice instead of Tom Bergeron's. In a year when people want the comfort of the familiar, it's just a really poor decision."
Another person commented that Tyra Banks has ruined Dancing With the Stars. Another Twitter user said the former model tried to be funny, but she kept falling flat. The person added, "Bring Tom back." Yet another person posted she was over the show two minutes after it premiered. A number of people concluded that it was ridiculous and unnecessary to replace Tom and Erin with Tyra. An even greater number of people said they won't watch Dancing With the Stars this season.
Banks co-hosted the talk show FABLife for only two months. She hosted America's Got Talent for only two seasons. Some viewers are hoping that will also be her pattern for hosting Dancing With the Stars.
New Judge
Judges Carrie Ann Inaba and Bruno Tonioli are back, but head judge Len Goodman hasn't returned yet because the pandemic prevented him from traveling to the United States from England. Viewers don't know when Len will return. In a surprise virtual appearance, he caused Tyra to tear up when he told her that he thought she earned a "10" for her hosting.
In the meantime, six-time Mirror Ball champion Derek Hough is a new judge for the entire season. Bruno Tonioli looks like a new judge because he now has silver hair. The judges are using social distancing and sitting far apart at the judges' table.
Controversy Over Celebrity Dancer
Other than using the new host Tyra Banks as a reason not to watch Dancing With the Stars, some longtime fans said they won't watch because Carol Baskin is a contestant. They think the Tiger King star killed her husband even though it never has been proven that she had anything to do with his disappearance and death.
Those who use the excuse not to watch the show because of Baskin might reconsider because she might be eliminated first. She and her partner Pasha Pashkov performed the last dance which was the paso doble to Eye of the Tiger. They received the lowest score of the night. Bruno brought out his "3" paddle, and the combined judges' score was only 11 out of 30.