Cosplay Mashups
Why It's So Much Better Than Being One Character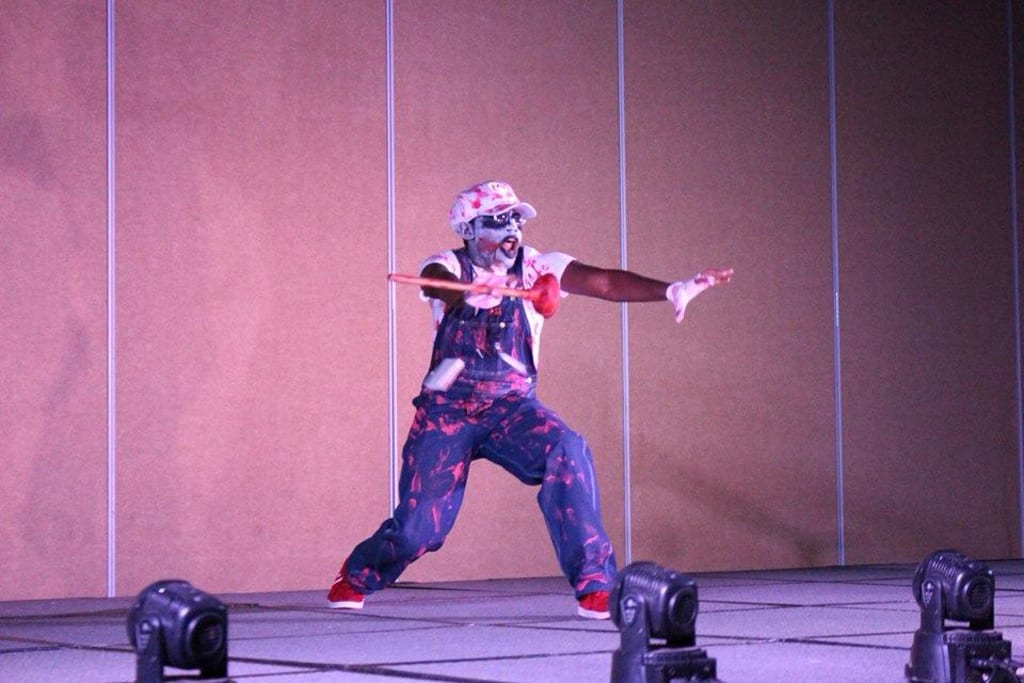 Whenever I'm on Facebook or Instagram, I love it when cosplayers have creative minds. In the almost four years that I've been doing cosplay, I've only done two cosplay mashups. I'll get to that shortly, but you must be wondering why cosplay mashups are popular. I'll give you one reason: they're a way to display your creativity to everyone. Most cosplayers spend hundreds of dollars and months to create the perfect cosplay. With that said, I'll now be sharing both of my cosplay mashups. I have written stories about DIYs and step-by-step instructions of both Zombie Mario and Punk Rock Superman, which you can check out right now.
Zombie Mario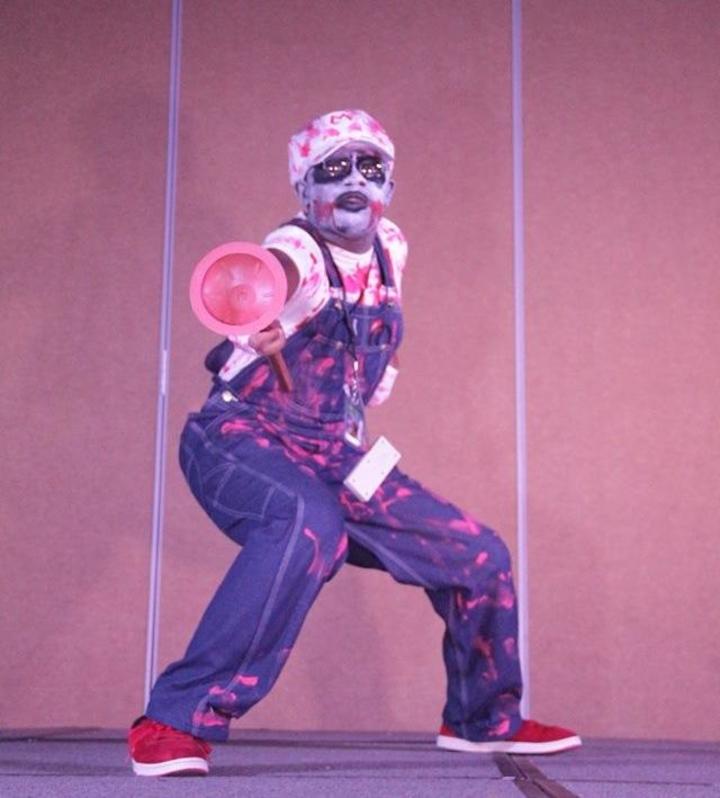 In July 2015, I was preparing for GlitchCon, which was weeks away. After making my cosplayer debut at the con the year before, I wanted to up my cosplay game. One afternoon, I was browsing online and searching for cosplay ideas. Suddenly, I came up with a spectacular idea: a zombified version of Mario. So I began purchasing the items needed to create this scary cosplay. I already had a pair of overalls, a white t-shirt, a Fire Mario hat, makeup kit to decorate my face, white costume gloves, plunger, red shoes, and an NES controller (I'll explain why momentarily). Just a reminder that not all conventions allow fake vampire blood, so be sure to ask the people in charge of the convention before buying some. A couple of weeks later, I started working on my project and had a good time doing it. I had lots of newspapers to lay my overalls and other items on them. I applied and smeared red paint on my overalls, hat, and t-shirt. Then I spread fake vampire blood on the handle of my plunger, gloves, and NES controller. I chose the NES controller as an accessory worn around my neck, because the Nintendo Entertainment System (NES) was the very first game system I grew up playing almost 30 years ago. Also, it was and will always be my first love. So having a bloody controller, in my opinion, stood out well. This cosplay project was messy, but it was worth it. I let all of my stuff dry overnight. The next day, I was eager to try on my bloodied outfit. Once I have done that, I was pleased with my creation. By the way, I completed this project in one night. So GlitchCon had finally arrived. Fast forward to the second day of the con: I got up early that morning to get ready. I applied fake vampire blood on my hat, gloves, NES controller, and plunger. Finally, I decorated my face and I transformed into Zombie Mario. I arrived at the con around nine that morning to prepare for pre-judging for the cosplay contest. Two hours later, I was in line for pre-judging for the cosplay contest with other cosplayers. Once I got done with that, I began practicing my poses for the cosplay contest and felt great. Around five that evening, the cosplay contest was about to start. I was in line and felt nervous. Once I got on stage, I did my thing and when I got through, I received a standing ovation from the audience. Even though I didn't win, I got over my fear of performing in front of people that was my cosplay contest debut. I never get tired of telling that story about taking part in my first cosplay contest, because I wasn't afraid to stand out and had the courage to show everyone what I can do. At the end of the day, I had a fantastic time and people left me positive comments on my Facebook page. It felt so good reading them and gained so many friends in the process.
Punk Rock Superman
April 2017: I was eager to get started on my second cosplay mashup in almost two years, which was Punk Rock Superman. However, it wasn't going to be completed in one night like my Zombie Mario cosplay. I had a denim vest from when I went as Billy, the Blue Ranger at the Arkansas Anime Festival a year and a half ago. I also had a cape from my Superman costume that was going to be attached to the vest. There were many items I needed to purchase to customize my vest and make it stand out. eBay is where I buy a majority of my stuff whenever I work on a project for an upcoming convention. Here are the list of items that I bought on the site:
Superman, Supergirl, and Superman related iron-on patches
Justice League iron-on patches
DC Comics character buttons
Red and black studded belt
Silver punk chain for pants
Black wig
Black and white Superman necklace
Red and black fingerless gloves
*I bought more Superman iron-on patches from Hobby Lobby, studs from Etsy, and spikes from studsandspikes.com.
I've never attached spikes or studs onto an article of clothing before, nor have I ever ironed on patches to anything. So this project was going to be a challenge for me and got started on it the first Saturday of April. As the weeks went on, I got the hang of attaching studs, spikes, and ironing on patches to my vest. One of my friends helped me with sewing on the cape onto the back of my vest and we both created the Superman logo to be sewn on the back. I ended up doing everything else on my own. Nonetheless, I didn't finish customizing my vest until late June. I have been posting pictures of my progress as well as the finished result on social media. For the second day of GlitchCon, I was ready to rock the con and participated in the cosplay contest.
Ready for Day 2 of GlitchCon 2017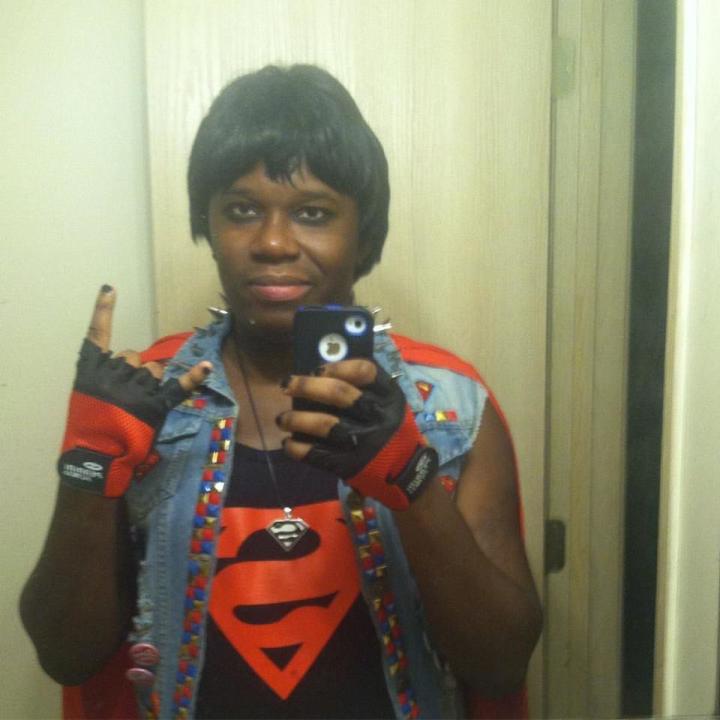 My next punk rock cosplay will either be The Riddler or Batman.
I do plan on doing more cosplay mashups in the future, because I love to let my imagination run wild. I'm always on social media, complementing other cosplayer's work and creativity. Cosplay mashups and combining two characters from two franchises and merging into one, epic cosplay.
My advice to everyone who is interested in doing cosplay mashups: figure out which two of your favorite characters and franchises would be a great fit for you. You can also sketch your ideas, if needed. If you have a cosplay mashup that you have recently done or years ago, feel free to share them on my social media pages. Also, if you have a cosplay page, I'll like it. Happy cosplaying, my nerdy friends.