Cosplay Is Not Consent
Ways that being a cosplayer can be frightening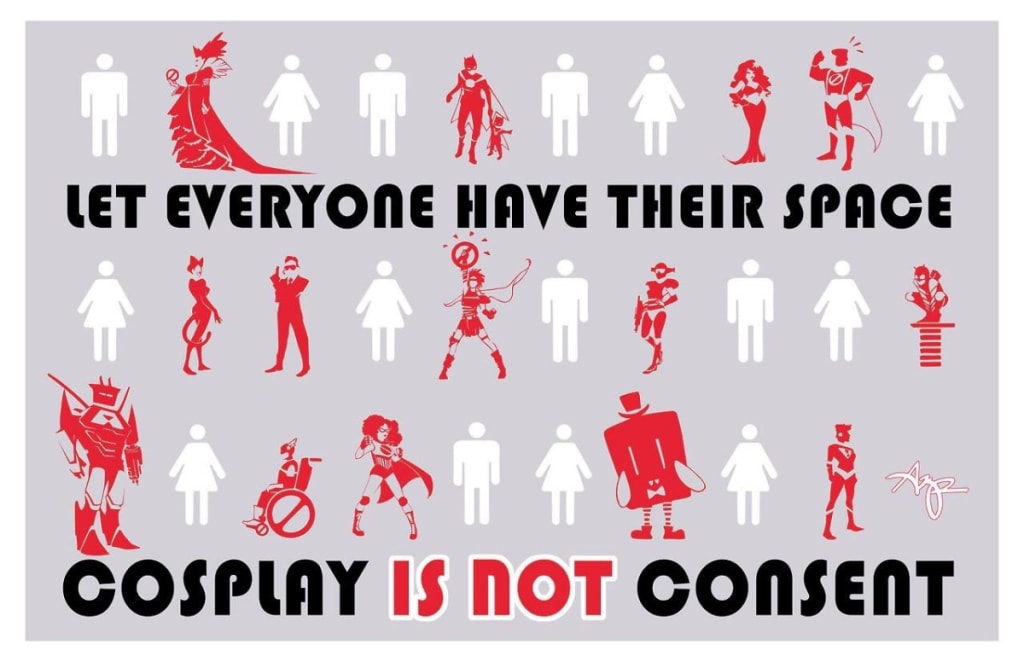 Next year, I'll be celebrating 10 years as a cosplayer. I've participated in many cosplay contests and have done over three dozen cosplays. On top of that, I've met and made friends: online and at cons. Let's also not forget the numerous celebrities I had the pleasure of meeting at conventions over the years. Oh and I'm an award-winning cosplayer, winning two cosplay contests at two different cons (2019 and 2020 respectively). As a gay, autistic black cosplayer, cosplay is part of my life and has been since the beginning. Also, going to conventions allow me to meet different people and cherish a lot of memories. To me, whenever I attend a con and post pictures and videos online, there's always stories behind them. Cosplayers like myself have built our own followings on social media. People love our cosplays and our posts. However, over the last several years, cosplayers have been sharing their horrifying experiences online about being sexually and/or verbally harassed at cons by creeps. Yes, I use the term creeps very loosely, because those people actually exist at cons. There might be a chance that a creep might stalk you online, so always be on alert. I've personally never been sexually, verbally, or physically harassed in cosplay at a con, but have been verbally harrassed on numerous dating sites, which I'll share in a bit.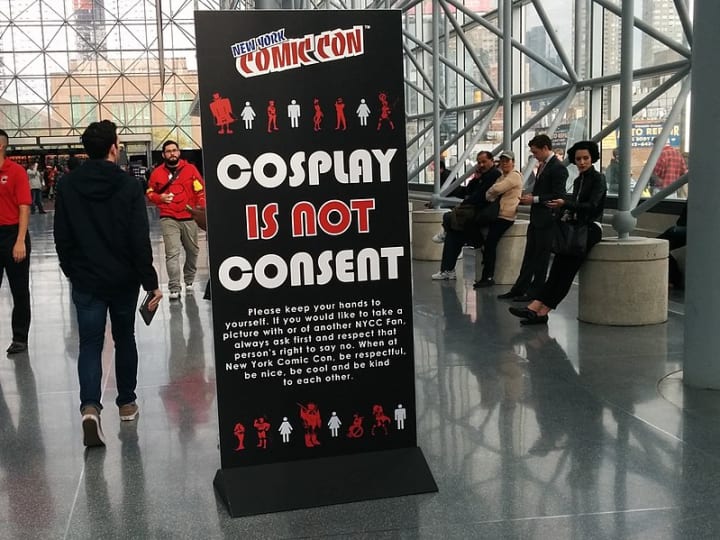 If you aren't aware of what Cosplay Is Not Consent is, it's a way to spread awareness against unwanted physical or verbal sexual advances towards cosplayers at conventions. It emerged back in 2012, but the phrase went mainstream at New York Comic Con (NYCC) back in 2014. It can happen to any cosplayer, regardless of gender. If you have attended at least one convention since 2014, then you have at least seen a sign like the one seen above or signs similar to it, stating the do and don'ts of how to apporach cosplayers and other attendees. In all honesty, Cosplay Is Not Consent is our own version of the #MeToo movement. As cosplayers, we love to enjoy ourselves at a con and spend time with our friends, but I want all cosplayers to always be aware of their surroundings. If you feel something or someone is suspicious, it's okay to walk away from the situation. The same goes with you being interviewed by someone and they ask you very inappropriate or deeply personal questions. Cons are supposed to be an exciting and safe place for everyone to let loose for a weekend. Cosplayers should be free from harrassment at conventions. Us cosplayers using #cosplayisnotconsent on social media gives us a platform to share our stories so that others don't experience the awful things we've experienced or are currently experiencing.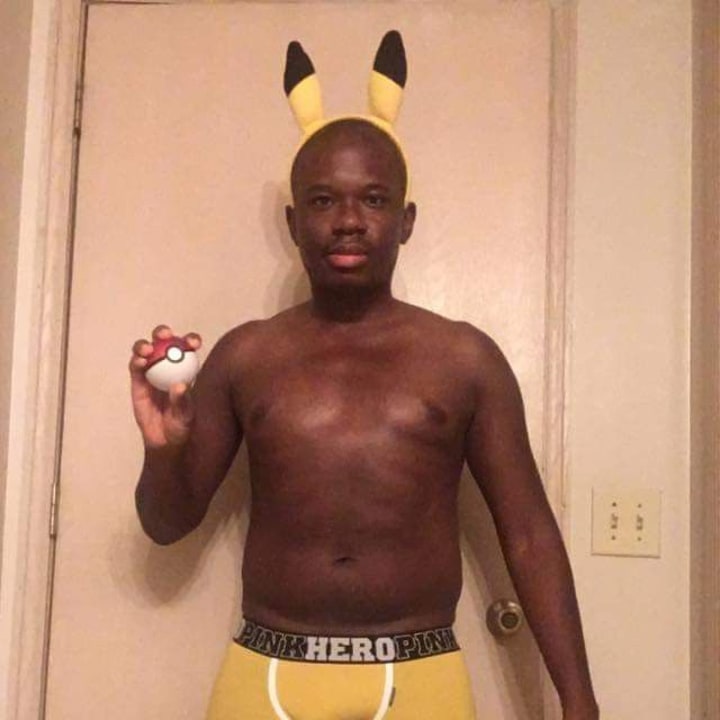 As I've stated, I never experienced any form of harrassment at a con, but on dating sites, it's a different story. For example, this is my sexy Pikachu cosplay that I did on Halloween of 2021. I did a live stream on TikTok that night in this costume. You can't see it, but I had a furry Pikachu tail attached to my yellow briefs that was securely fastened with a safety pin. I've done very sexy cosplays and I still do them here and there, but rarely. Online dating as a cosplayer has been a challenge for me for years. Many men on dating sites would objectify me instead of conversing with me respectfully like a human. One of the main questions I get from them is whether I would have sex in my costumes and I would reply that I don't do things like that. I have much younger followers who follow me online and want to be as much of a positive example for them as possible. I'm not saying that I'm a perfect person or a saint, but to me, being asked that question is not only uncomfortable and annoying, but disrespectful. I decided one day to finally put my foot down and tell these men to stop treating my cosplays like sexual objects.
Now that you've heard a bit about my ominous experience, here are some ways on how you should approach and talk to a cosplayer with respect:
If you want a picture with a cosplayer, please ask for permisson first. Don't be that person who takes a photo or photos without their knowledge. If a cosplayer declines a photo with you for any reason, respect their decision and thank them for their time. If a cosplayer is sitting down or eating, but still want a picture, it's a sign that it's not the right time to disturb them and you would have to come back later.
Many cosplayers make their own props and it could take more or less than six months to complete. If you want to hold a prop of theirs that you admire, please ask and hold them carefully. It would be a travesty if someone broke one's prop that they spent countless hours and money on.
We as cosplayers love it when others compliment our cosplayers, but please do it in a respectful manner.
Whether someone is cosplaying is male or female, if the characters that they decide to do are sexually provocative or want to put a sexy twist of their favorite characters, it's not an invitation for you to degrade and sexualize any cosplayer in any way. Actions like that will get you kicked out of a convention. I don't mind compliments about my cosplays, but as long as they're not disrespectful, I'll allow them. I'd like and reply to respectful comments on social media.
Underneath our costumes and all that armor, us cosplayers are human beings with real feelings. Just because we're in costume, it doesn't mean we want to sleep with you. If you're a cosplayer at a con and feel uncomfortable wtih someone wanting to have their way of you, never hesitate to see a staff member. They're here to help you and keep everyone safe. Lastly, as the photo at the beginning states, respect a cosplayer's personal space.
About the Creator
Award-winning cosplayer, cosplay model, influencer, retro gaming fanatic, die-hard Texas Rangers fan, and nostalgic freak. Need I say more?
Threads: @thecosplayerfromtexas
Instagram: @thecosplayerfromtexas
TikTok: @thecosplayerfromtexas
Reader insights
Be the first to share your insights about this piece.
Add your insights