Comic Book Review Round-Up – June Week 3, 2019
This week we look at 'Superman', 'Batman, Nightwing', 'Uncanny X-Men,' and a Samurai hero from IDW.
Heroes from DC, Marvel and IDW feature in this week's round-up
It's the penultimate week of June, and this week's round-up includes Superman: Year One #1, Batman #73, Nightwing #61, Uncanny X-Men #20 and a new entry from IDW Publishing, Usagi Yojimbo #1.
'Superman: Year One #1'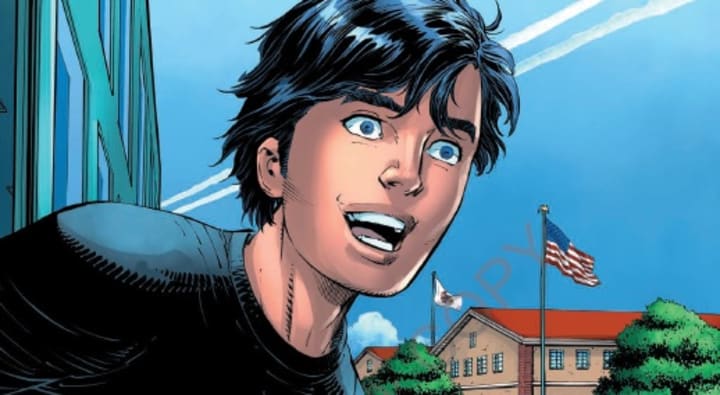 Nobody asked for a Year One story about Superman, and we definitely didn't ask for one from Frank Miller. This story is awful from the get-go. The art is inconsistent and disturbing, unable to decide between characters and caricatures. In fact, all the characters are caricatures—especially the Kents. This story is written with such a medieval bent of mind, I can't believe I'm reading this in 2019.
Martha Kent is a simpleton house-wife who has no personality and is ignored throughout the book. Lana Lang is a cheerleader, who is almost assaulted by a gang of bullies. The ideologies about women are from a bygone era that doesn't belong here. There's so much navel-gazing from Clark, regarding how he should treat the bullies, when in fact he just ends up doing what he pleases anyway.
I hated every panel of this issue, and that's really saying something. It's like the story is dumbed down for a backyard hick, with language and sensibilities matching their IQ. Women are not plot devices, and comic readers don't deserve to be treated with contempt. This series shouldn't exist.
'Batman #73'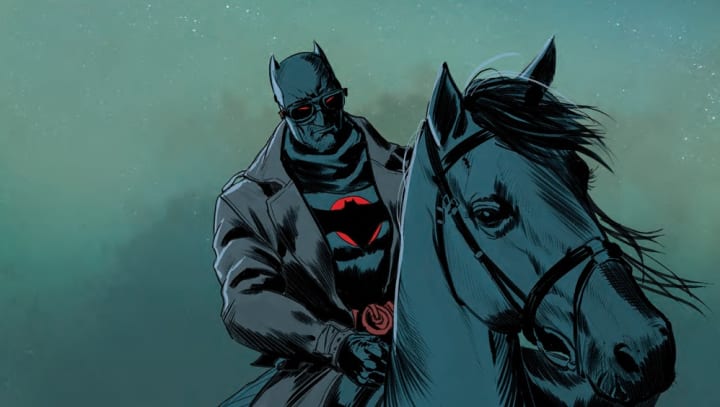 Bat-Dad, Thomas Wayne, has been in cahoots with Bane, but has he also had an ulterior motive for his actions? In the latest issue of the series, Thomas carries a prone Bruce Wayne across the desert—their destination unknown, 'til the final panels reveal what Thomas' agenda is. But I don't trust this man, not one bit. He appeared out of nowhere, and has only been looking out for number one all this while. He has done too much, and been such a thorn in the side, that I worry Thomas is just playing on Bruce's emotions at this point. Bruce is vulnerable and now is the worst time for him to make an accurate judgement call, especially with regards to his father.
I love the art and colours in this issue. Aside from a few panels, where startled Bruce looked almost comical, the art captures the surreal atmosphere that Bruce is enveloped in. It also adds to the notion that the reader can't rely on everything they read and see. I just know things aren't looking up for Bruce; I only wish he knew that.
Nightwing #61
The true identity of Burnback, who is inexplicably called Backburn in this issue, is revealed in the conclusion of this arc. I'm in two minds, whether the reveal was a cop out or not, but one thing is for sure, the identity was too convenient. The reveal felt like an opportune way to wrap up an emotional arc; a way to close a chapter for Team Nightwing, but it has no heft, which is really disappointing.
Hopefully, now we can move on from Ric's prolonged musings about how he was a hero, but now he isn't one. He's a de facto member of Team Nightwing, he's good at that, just roll with it. This series has skydived into being repetitive and boring, but perhaps the 'Year of the Villain' storyline will somehow work in its favour. I'm not holding my breath though. As much as I love Nightwing as a character, his books never seem to do him much justice.
'Uncanny X-Men #20'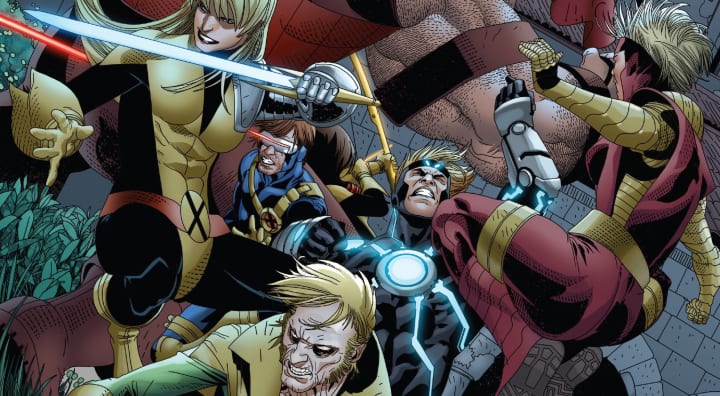 We're back with the X-Men, after taking an issue to focus on Emma Frost. The team is baited into an attack, which they easily win, but then they find all their leads have gone cold. Just when they're worried that they're just going to have to twiddle their thumbs for eternity, Dark Beast comes bearing good news—he found a way to fix the effects of the mutant cure that Emma helped ONE get hold of. Except, trusting Dark Beast is always a bad idea, and now the X-Men are in a bigger soup than before.
I like the return to the main story, and there's a lot of action in this issue, but now Marvel is retroactively connecting all the dots together and the story is beginning to make less sense with every issue. Non-issues are being made into big deals, while the emotional core of the story has just disappeared. I don't know if Marvel had a plan for this series at all, because now it's just a mess. I'm counting down the end in the hopes that a new beginning will do these characters justice, but I fear that may not come to pass.
'Usagi Yojimbo #1'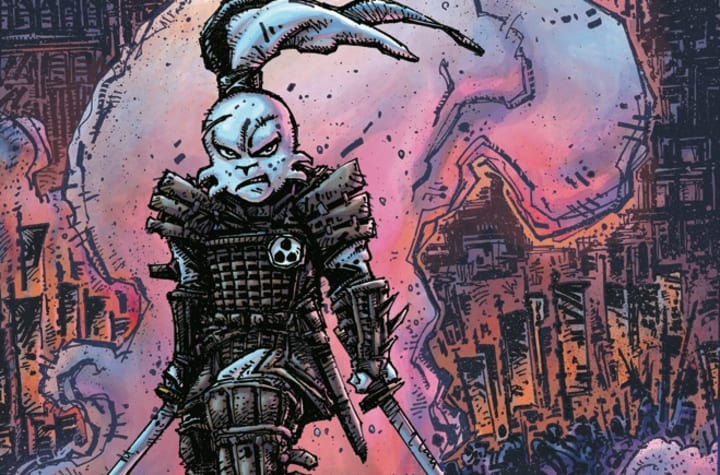 Usagi Yojimbo has been an ongoing series for decades, and now IDW has released new material from Stan Sakai. This three-part 'Bunraku' series follows samurai protagonist Miyamoto Usagi as he attends a play. Bunraku is a particular kind of puppet theatre in Japan, and Usagi is mesmerised by the puppetry. How do the operators make these inanimate objects appear so life-like? While Usagi is given a crash course in the mechanics of this art, something sinister is at play, and readers will need to wait 'til the next issue to find out more about it.
Structurally, the book was confusing because it starts off with Sasuke fighting off demon hordes, and then there's a demon storyline, which is actually the play Usagi is watching. But this was a whimsical, yet informative issue about a specific Japanese art and that's what I love about it. The prologue sets up what is probably the central premise of this arc, and honestly, I'm hooked!
One week left in June to check out more comics reviews!