Colonial Chorus Players 'Annie' Was a Fantastic, Energetic Show!
I had the delightful opportunity to catch the Colonial Chorus Players splendid and energetic rendition of the timeless classic, 'Annie.'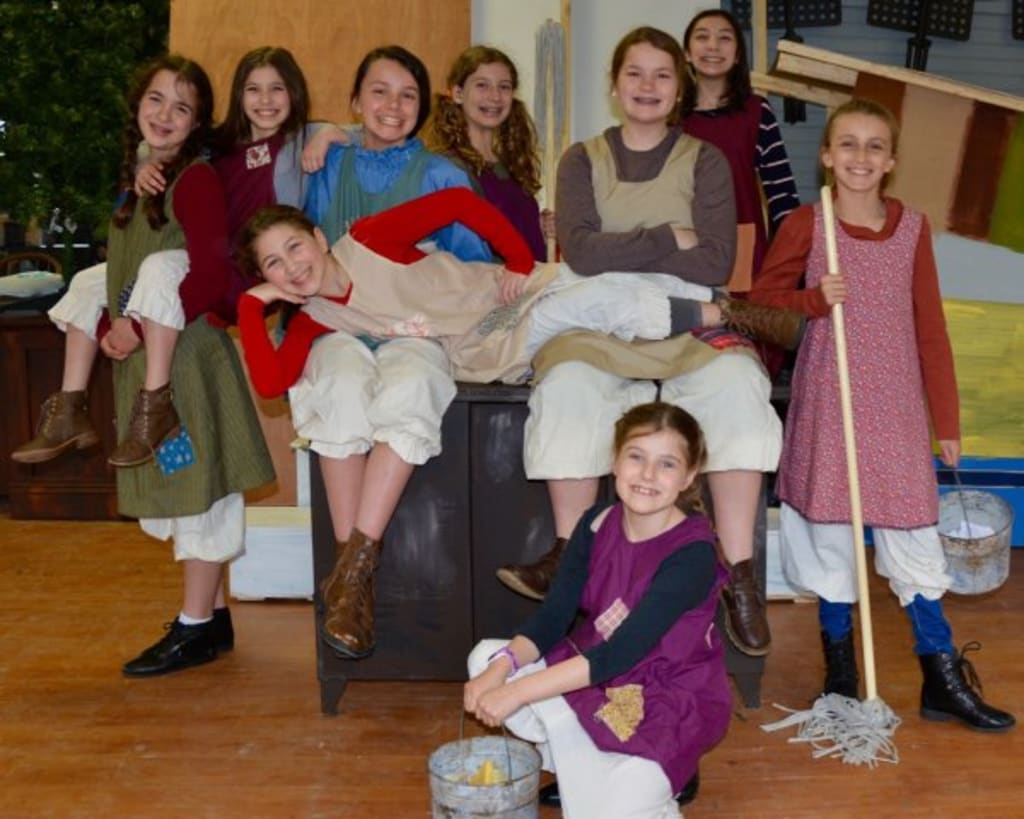 The Orphans getting ready for the signature song, "It's a Hard Knock Life." From left to right: Piper Martin, Maddie Penafiel, Astrid Puff, Ruby Giunta, Lucy Weld, Julia Penafiel, Sophie Karlskind, Elliana Calo, and Meghan Petrin. (Photo by Jennifer Estabrooks)
No matter what, a dreary day, a blizzard, or even a hurricane, the sun will always come out if you think positive.
For those who have not yet seen a show of Annie, a young orphan is on a mission to find her long-lost parents. During her journey, the gruff Mr. Oliver Warbucks discovers a love he never expected after adopting the little girl. Warbucks vows to find Annie's real parents while Miss Hannigan, the director or the orphanage, plans a devious scandal.
I have seen many versions of Annie, whether a play or the movie. I had the delightful opportunity to catch the Colonial Chorus Players splendid and energetic rendition of the timeless classic, Annie. The cast's bright smiles, beautiful voices, and creativity made Annie a delightful show for all. A cast of kids and adults worked together to create the realistic New York City in the 1930s.
Elliana Calo's high energy and spunk never drifted as she sang her heart out as the red-headed orphan, Annie. As Calo stated, and I agree with, she truly captured the magic and essence of Annie. Since the 1970s, there have been over hundreds of actresses to perform as Annie. Calo added a unique touch and did a terrific job on the powerful and most popular song, "Tomorrow."
You can't go wrong without Miss Hannigan. Susan Wentworth Austin was hilarious in her dramatic delivery. Her voice powerfully carried out in all her songs, especially "Little Girls." From having just witnessed Austin as Donna in a recent showing of Mamma Mia, Austin is amazing when it comes to characterization.
While he is gruff, Oliver Warbucks has a soft spot for the beloved orphan. David Scannell had a beautifully rich singing voice. He and Emily Lospennato (Grace Farrell) were wonderful to watch as they grew to love Annie.
Danny Ferro (Rooster) and Caitlin Beckman (Lily St. Regis) were the ultimate villains! I enjoyed their banter as they sang about the life they want in "Easy Street."
All the orphans were portrayed by a team of talented young actresses. An ensemble of individuals all did a beautiful job portraying an assortment of characters. I especially have to give a mention to RMHS freshman Ryan Cain who played Drake and Harold Ickes. He was easily the ham in his scenes, jumping about, creating accents, and funny delivery of his lines.
The theater is all about taking risks. Especially in learning new dances. Rehearsals can be a tedious process, but they are worth giving a dance number the powerful energy. "It's A Hard Knock Life" was my favorite dance number of the evening. Well done to all the young actresses! Especially Daisy Giunta and Hailey Cook, the choreographers for the show.
Speaking of which, a show can't be put on its feet without a wonderful crew. Beautiful wigs, dazzling costumes, a musically talented orchestra, and a stage crew helped bring the show to its feet.
I really liked the set. Nine beautifully hand-drawn colorful drawings hung around the stage to tell the story of Annie. I thought that was a creative touch. The theater is all about testing your imagination. What do you want the audience to see?
I can't forget about Sandy, the four-legged canine who tags along on Annie's journey. Although Molly (Sandy) was not there for the entire performance, she made a memorable performance. Sometimes we just need to see a dog for a needed smile.
Colonial Chorus Players succeeded in their rendition of Annie. Well done to cast and crew for a phenomenal show. I am looking forward to more shows in the future. Remember, smile and think of the good knowing tomorrow is coming.