Cinderella and the Four Knights
A lovely k-drama you can find on Netflix, Viki and Kissasian. I hope you enjoy!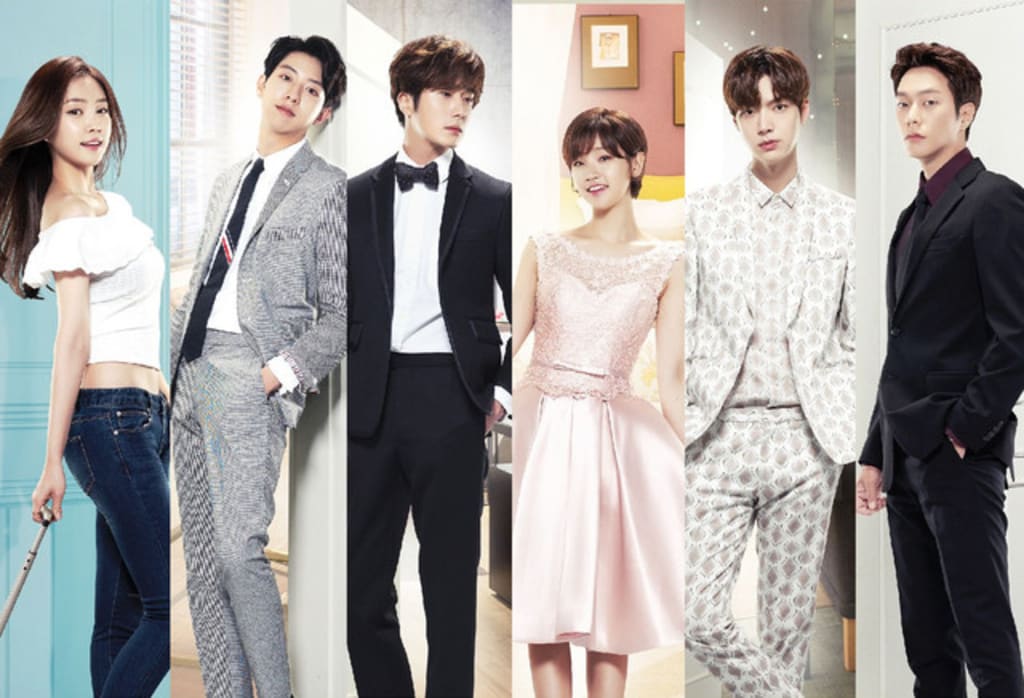 Protagonist is the one in pink
Cinderella, the unconscious muse for all romance novels. Almost every love story nowadays likes to push the narrative that all a girl has to do is dress nice and she'll snag a guy who's rich, tall, handsome, and essentially perfect.
That is, assuming that she herself is pretty.
Cinderella and the Four Knights is a South Korean drama made in the year 2016. It wastes no time coming down hard on the original. Exhibit A, the protagonist herself, Eun Ha Won, a girl with a cute but average appearance. Ha Won is a tomboy that works multiple part-time jobs so she can pay her college tuition once she graduates high school. She says something in the first episode that I think speaks enough about what sort of person she is. "Cinderellas nowadays don't have time to meet princes because of their damned part-time jobs!"
Albeit, the irony here is that she does end up meeting a prince because of her part-time job.
Just like every typical Cinderella, her mother, a former martial arts instructor is deceased, her Father, who is a truck driver is rarely ever home, giving her wicked step-mother and step-sister free reign to isolate and enslave Ha Won. Their family has enough money to send only one child to college, so it should be clear who lost out there.
The financial struggle is as real as it gets. I was drawn to this drama when I had first started college. When I graduated high school, I still aspired to be an author, but the process of finishing books takes time, and getting people to buy your book once published was a separate issue altogether. It didn't help that I also came from a poor household and had to work part-time while attending college and generally had no idea what to do or when I would be financially free to do the things that I wanted to do, it felt like a dead end. But because Cinderella and the Four Knights had such realistically refreshing commentary, I became less depressed and began to look at things with a more optimistic lens.
On one of her delivery runs at night, Ha Won gets noticed by the first Prince of this story, or the first "Knight" if you will. Kang Hyun Min, a notorious player who betted with his friends that the first girl that entered the club would be his date to his Grandfather's wedding.
True to his word, Prince Hyun Min mustered up the courage and asked her to be his date, only to get flat-out rejected. Interest sparked from his first rejection ever, he tracks her down later and offers to pay her. This offer eventually sparks her interest... when she's desperate enough.
In a way, it could be said that the fairy God Mother of this story is Hyun Min. If he never gave her the opportunity, along with the make-over, she would have never been noticed by his Grandfather at his wedding.
After getting dolled up and accompanying Hyun Min, Ha Won had no idea Hyun Min's intention was to crash his Grandfather's wedding by introducing her as his fake fiancee in front of the media. As soon as she realizes it, she tries to stop him but he refuses to listen and she ends up restraining him. This impresses Hyun Min's grandfather so immensely he tracks her down to make a life-changing offer to her.
She learns he's a super-rich real estate mogul and Hyun Min is only one of his three problematic grandsons. He offers to hire her as a live-in-house keeper to tame them and essentially stop their problematic behavior. So, although this Cinderella is met with a life-changing alternative, she still has to work for it. The notion that success or fortune will just fall into your lap just for looking pretty didn't exist here, and I loved the honesty.
What sets this Cinderella apart from the rest, is that throughout the show it shows Ha Won struggling and dealing with her problems. She takes matters into her own hands and does what she thinks is right throughout the whole show, even when she reaches a point where she starts feeling "girly" emotions like love, and she starts to become a little feminine she doesn't forget herself.
In Cinderella and the Four Knights all the knights/princes in this story get their screentime. Unlike the original Cinderella's prince who seems perfect, somewhat handsome but barely has any lines and no character. They are all far from perfect, which is perfect because the character themselves feel real. But what's the best element implemented in this Cinderella story is that Cinderella has options to chose from and time to get to know the characters.
There's Hyun Min, the playboy/genius who believes money can solve all his problems, Ji Woon, a commoner mechanic, with a love for cars, motorbikes and figurines, I like to think of him as the pumpkin carriage...because he likes... vehicles... alright it's a stretch, I admit.
Anyway one would think he'd be the most down-to-earth person but he has the most abrasive personality out of all the grandsons and is a simp for Hyun Min's first love and ex-girlfriend, Park He-ji, a beautiful girl who feels more Cinderella-esque at times more-so for her beauty than her suffering. Sadly for Ji-Woon she still pines after Hyun Min and sees Ji-Woon as a friend/minion(?). If you want you can imagine He-Ji as the second step-sister, you may end up hating her either way just for breathing and friend-zoning Ji-Woon which she pays for dearly later.
The last grandson, is the idol heart-throb, Seo-woo. He's the easiest to get along with, thanks to his chill and friendly personality but he doesn't get along with either of his cousins due to their hostile nature and also has a busy schedule.
And last but not least, the fourth and final knight. The Grandfather's young secretary, Lee Yoon-sung who seems to recognize his boss's new wife. But... from where?
There are many unexpected twists in this drama that I don't want to spoil by saying too much. I recommend you watch it for yourself. K-dramas are perfect to binge when you have plenty of free time, I'm warning you in advance, one episode is usually an hour-long but it's so addictive, it doesn't even feel like it. You can watch Cinderella and the Four Knights on Viki, Netflix, Kissasian and even some episodes on Youtube.