BSCC Hires Child Molester
Boston South Coast Comic Con has hired Daniel Silverman a convicted Sexual Predator to do photo ops.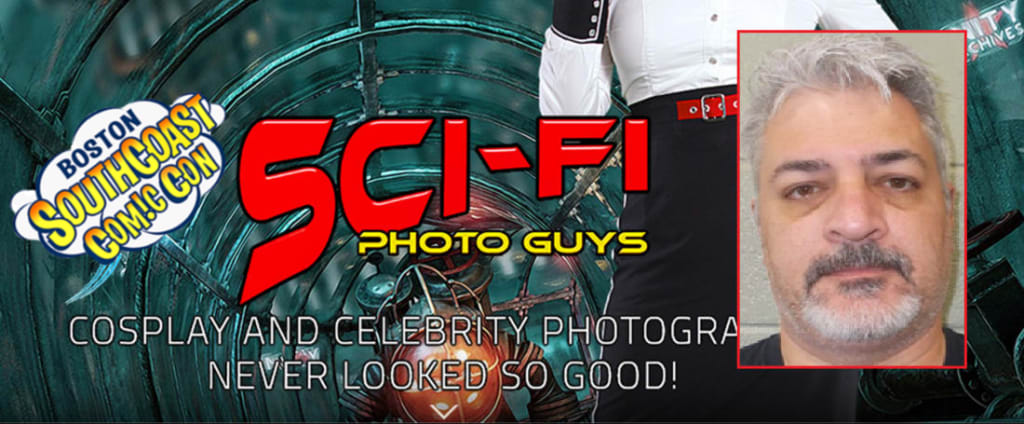 No you did not read that title wrong. IMAGE LLC event Boston South Coast Comic Con has hired Sci-Fi Photo Guys which is owned and operated by Sexual Predator Daniel Silverman. For those of you that are unaware Sci-Fi Photo Guys provides a unique service to cosplayers. If a cosplayer wants a photo done they simply get in front of a green screen and they choose a background of their choice. While its a service not done often for conventions this doesn't excuse IMAGE LLC or the coordinators of Boston South Coast Comic Con from hiring them and choosing to keep them on thus far.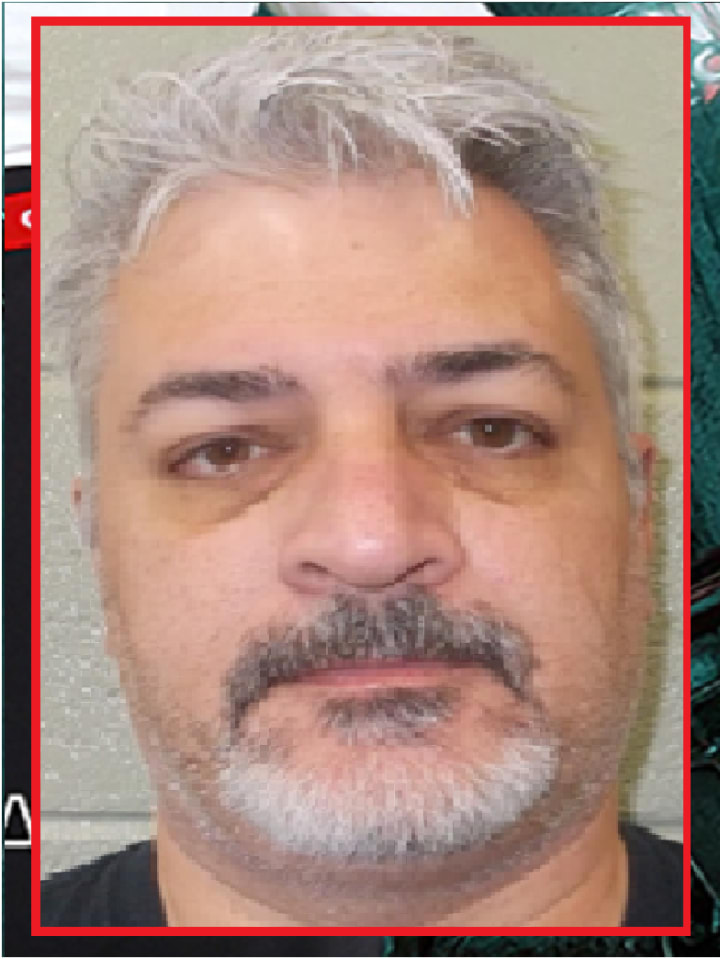 Daniel Silverman was Convicted of sexual assault and battery of a 12 year old girl on July 06, 2009 sentenced to 18 months in prison and was added to the sex offender Registry of Virginia on Jul 07, 2009 after leaving his position at Heritage Baptist Church. During this trial Silverman's story changed multiple times first admitting to the abuse than later claimed that the young girl had fabricated the allegation, this came after another Deacon at the church had been convicted of twelve counts involving three young girls.
Daniel Silverman has since deleted his previous facebook page and opened a new one in an attempt to escape his offender status. He has also effectively removed his name, for the most part, from Sci-Fi Photo Guys. They have provided services to GnomeCon, Lexington Comic & Toy Con, and CT Gamer Con. So if these conventions want to keep attendees safe then why are predators allowed to operate there?
Speaking Out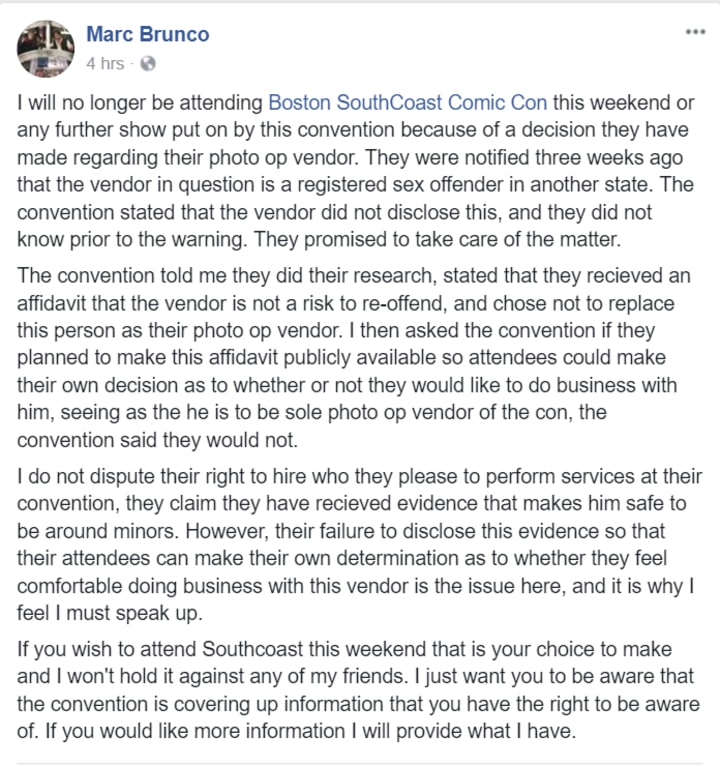 A number of attendees have decided to take a stand and state they are not going to be attending the convention following the news that went public earlier this Tuesday when Marc Brunco announced he would not be attending the Comic Convention due to Silverman's involvement in it and the conventions unwillingness to make the information public. Brunco said "I will no longer be attending Boston SouthCoast Comic Con this weekend or any further show put on by this convention because of a decision they have made regarding their photo op vendor. They were notified three weeks ago that the vendor in question is a registered sex offender in another state. The convention stated that the vendor did not disclose this, and they did not know prior to the warning." .
Brunco Continued saying, "The convention told me they did their research, stated that they received an affidavit that the vendor is not a risk to re-offend, and chose not to replace this person as their photo op vendor. I then asked the convention if they planned to make this affidavit publicly available so attendees could make their own decision as to whether or not they would like to do business with him, seeing as the he is to be sole photo op vendor of the con, the convention said they would not." For a convention or show at any scale not to release this sort of information is horrible and absolutely dangerous. If you would like to read Mr.Brunco's full statement you can Click Here.
Emails
As it would happen what lead to Mr.Brunco's post was a series of emails between him and South Boston Comic Con and Collectibles Extravaganza Staff. When initially informed Dumas of the issue, making she aware the Silverman intentionally leaves his sex offender status out of vendor applications, she responded "Thank you VERY MUCH Marc. I was informed of this information just this morning. Am working with Gary to have him dismissed, properly." unfortunately his termination was not the end result. When followed up on earlier this week the response would leave anyone with a sour taste in their mouth, "We had him researched, and got an affidavit from the VA system. This was a family court matter and doesn't concern us. He is fit for this job according to MIT hiring standards. We are not chancing anything, he will be in public at all times. He served his sentence, has completed all required court ordered council and is considered non repeat. That's the best that can be done," but there was to be no posting or notification sent out to the public of his status as a sex offender.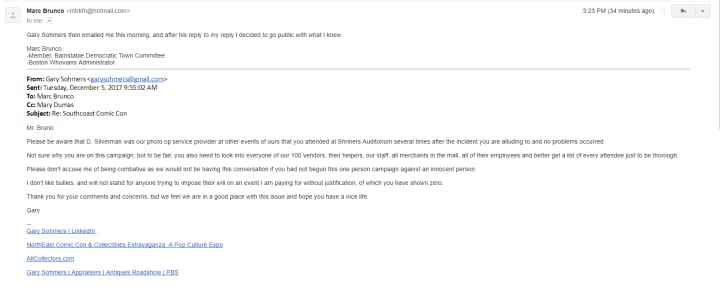 Things only got worse as Gary Sohmers, Mr "Aloha" on all of his unprofessional posts, himself got involved. No combative statements were made until these emails were received early Tuesday morning, for him to be sending such unprofessional content in a means to otherwise intimidate an attendee for their concerns is wrong.
Sohmers said "Please be aware that D. Silverman was our photo op service provider at other events of ours that you attended at Shriners Auditorium several times after the incident you are alluding to and no problems occurred. Not sure why you are on this campaign, but to be fair, you also need to look into everyone of our 100 vendors, their helpers, our staff, all merchants in the mall, all of their employees and better get a list of every attendee just to be thorough. Please don't accuse me of being combative as we would not be having this conversation if you had not begun this one person campaign against an innocent person. I don't like bullies, and will not stand for anyone trying to impose their will on an event I am paying for without justification, of which you have shown zero. Thank you for your comments and concerns, but we feel we are in a good place with this issue and hope you have a nice life."
It only progresses from there, when informed that Mr.Brunco would not be attending the convention and that he felt it was wrong of them to avoid sharing information with attendees that is considered public knowledge Sohmers responded rather unprofessionally again, "Please do not come to my event if you intend to start any trouble about D. Silverman. If you were involved in the actual situation, or have knowledge to share with Police in the jurisdiction of the crime, than please deal with it appropriately in the courts and not at our show. We will not be chastising anyone at our event for a past they have made up for ... Or should we start looking into your past and telling everyone just because someone has an issue with you. Decide to stay out of other people's business or put on your own events your own way.". Is no wonder Fantastic Gatherings and IMAGE are in so much hot water as of late.
A History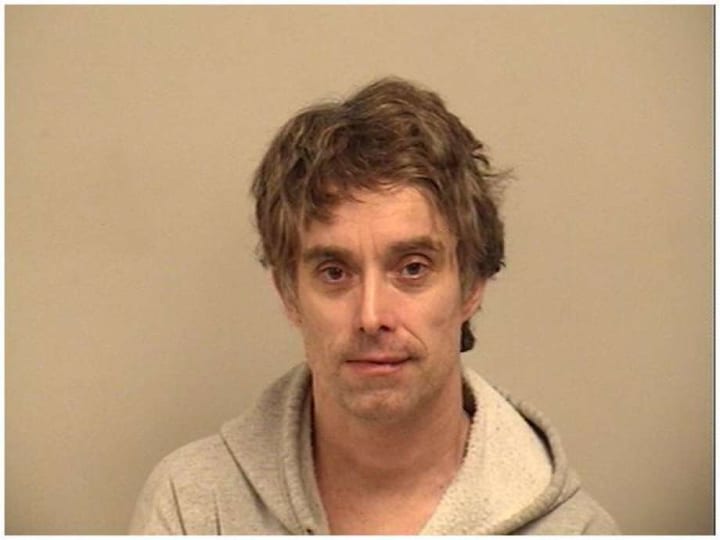 As mentioned in a previous article Dumas has had a long and rather wrath incurring history with the community. At Arisia 2012 in Boston she failed to ensure that the Anime Room she was in charge of was not able to be seen from the outside before showing hentai, a type of Animated Japanese Pornography causing a disturbance.
According to sources, Dumas has worked closely with the Nauticon convention before being its chair and with one Paul Jude ( PJ ) LeterSky who is currently serving time in prison and may still have connections as a silent party in Nauticon. It is possible that Fantastic Gatherings and IMAGE are aware of this.
The former Actor and Con Chair Letersky was charged on Jan 4th, 2017 on counts of possession of child pornography, first degree, enticing a minor and risk of injury to a child. He is currently serving his time in prison as he is a danger to others.
Silverman, as mentioned above, is the second person to have similar charges that is at all involved with IMAGE or Fantastic Gatherings. The companies have made no statements regarding either case because they have made it clear that they do not want this to be public knowledge. There are now attendees and most likely performers that are now questioning attending this weekend's Comic Convention run by Image and Fantastic Gatherings.
I implore you, the geek community, to fight against child abuse and sexual assault by writing the convention staff as to why this is wrong. Why they should not hire or affiliate with those filed in the national Sex Offender Registry and do their best to distance themselves from those that would prey on children. It is our job to ensure that conventions are a safe place for the young and old to express themselves, rather than allow them to become the hunting grounds of Predators.
Update 12/6/17:
SBCC has finally asked the owner of Scifi Photo Guys, Daniel Silverman, to step down after spending the majority of the day defending him in several posts and defaming the name of Mr. Brunco for reporting the disturbing information to the convention and then going public. The issued apology was written professionally, despite some saying it came all too late. The apology is written as follows:
" Friends, family, and attendees (past, present, and future),As many of you know, there has been negative attention regarding one of the vendors for the December show. We asked this vendor to step down, and he has done so. In the past, he has attended many other shows and cons - not just produced by us - and there has never been an issue.We'd like to formally apologize for any hurt feelings or misunderstanding based on our previous posts. Our attendees' safety and comfort is of the utmost importance to us, and because of that we now have Fun Time Events as our photo op provider.We appreciate all of you and hope to have a fantastic time with you at the show! Thank you."
We at Cosplay Chronicle are happy to have broken the story and brought attention to the issue so the appropriate action would be taken within the last 48 hours. We would like to thank the community for its support and love for one another as well as the safety of others.
Update 12/7/17:
UPDATE:
Fun Time Events (Link: https://www.facebook.com/funtimeevents/), who was set replace Scifi Photo Guys at BSCC has dropped out for unknown reasons the day before the con. They announced this on their like page earlier this morning