A Comprehensive Look Into the Anime Boston Lawsuit
A Comprehensive Look Into the Trade Mark Law Suit Between NEAS, IMAGE, and Fantastic Gatherings and a Brief Look Into the Defendants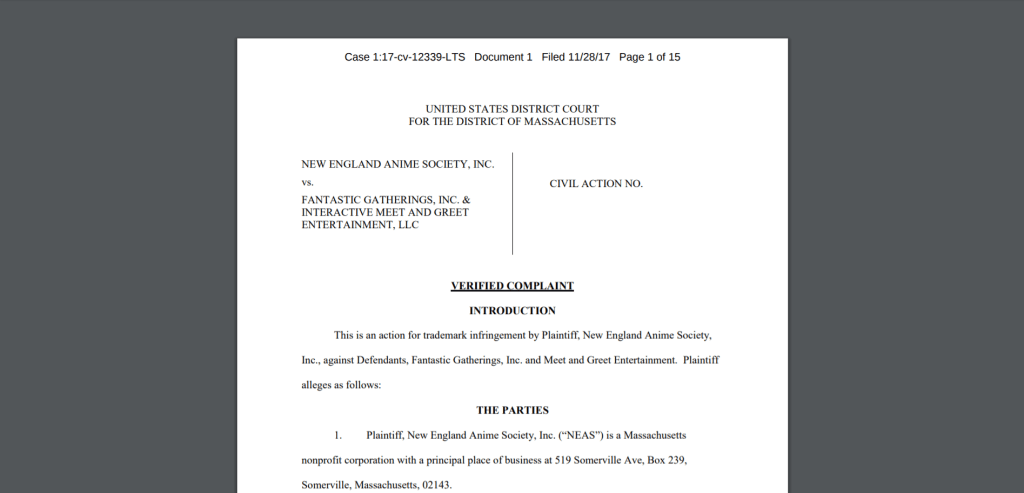 This week has been a roller-coaster ride for those representing NEAS, IMAGE, and Fantastic Gathering Inc in court. Throughout social media I see many fans taking sides without a complete understanding of what the complaints consist of being over zealous and rather pointed in their decision to support the side they feel should win. This needs to be clear; a legal suit is not a competition of who runs a better show or is just more supportive. Both conventions have good and bad aspects, every show has its own flaws, by no means does this mean the one you think is better should win, this is a clear cut and dry issue of infringement and should not be taken so lightly.
This article will be updated as the trial continues.
The Initial Complaint
The New England Anime Society filed a complaint against IMAGE and Fantastic Gatherings on Tuesday Nov. 28th, 2017 at 3;32pm with six different counts on the initial filing of the suit. While some of you may find this excessive I will cover each section fully in this article.
The NEAS stated and gave evidence that they were a well known and established event taking place in the city of Boston, they sited articles written by various trusted local news sources about their involvement in the Boston Community including Boston's First night Celebrations as well as their international affairs in section A. of the complaint. They also went on to explain "NEAS's events have often been referred to as "Anime Boston" and "BostonAnime" interchangeably by consumers. NEAS always makes an effort to correct usage of its Mark to refer to "Anime Boston" as registered with the USPTO." which is completely accurate based on the sheer numbers of people that can get confused or type something into a search bar.
The complaint then continued to point out some major information that many are not fully aware of regarding two of the organizers"Fantastic Gatherings, Inc. was formed in October 2011. Its president, treasurer and secretary, Mary McConnell Dumas, and its director, Pamela Ann Larson, previously worked as volunteers for NEAS in connection with prior Anime Boston events. Dumas and Larson were familiar with NEAS, Anime Boston, and the popularity and notoriety of the Mark." this only makes the potential for infringement look deliberate.
This isn't the first time Dumas's name has showed up regarding the convention scene either. According to various sources, back in 2012 Dumas was in charge of Arisia's anime room. During that time she failed to ensure that the area she was showing anime in was completely closed off and not visible from the outside before showing hentai. Hentai, for those of that do not know, is pornographic material. Dumas also created the trend of naming different sections of an even to make it appear as though there was more than event going on at any particular time. This can be and often is, very confusing to consumers.
There is also a history with Fantastic Gatherings' event "Boston South Coast Comic Con and Collectible Extravaganza" regarding the volunteers they bring on. Those of you that are big into the con scee and do work for conventions will often hop from con to con doing volunteer work as either staff or even cosplay guests. The head coordinator of Fantastic Gathering's event made it clear to volunteers that they were not allowed to offer their volunteer services to Massive Comic Con which does not directly compete with the show. Massive Comic Con is a large Comic Expo that takes place in June at the Worcester DCU center.
NEAS went on to say in their complaint that the "Defendants' Facebook page tagged and contained direct links to NEAS's Anime Boston Facebook page, thereby creating an association between the two unrelated events and companies without authorization of NEAS" upon looking at the post during the research for this article the tag is in fact there and it does lead directly to Anime Boston's like page as well as a fan based group used by attendees of the large Boston Based convention Called Anime Boston Social. IMAGE and Fantastic Gatherings have not removed either tag from this particularly hard piece of evidence noted in the complaint.
The complaint does mention that a Cease and Desist order was mailed out to Image and Fantastic Gatherings and it appears to have happened after the company had asked them twice to change the name of the corn of the convention named "Boston Anime Festival". IMAGE responded to the NEAS saying " [W]e humbly disagree with your interpretation and use of the terms. In the case of the terms, both "Boston" and "Anime," fall into fair use as generic when used together in either order. Boston is a locale[.] Anime is a type of Animation originating in Japan[.] Because the design of your event can also be considered "generic," and although you may feel that ours may appear to be similar, this does not give you legal ability to impede ours, or other businesses, in an attempt to create an unfair monopoly by the use of the generic terms to restrict competition. Your argument also falls short when our new word "AnimeFest" is introduced and added to our [l]ocale. " to add to this claiming to make or add a new word doesn't necessarily follow regulations for not infringing a trade mark, you need more than a 30% change to no longer be infringing upon a federally obtained trademark.
There are six counts referenced in this complaint. Trade Mark Infringement is not the only one but its the one everyone is focusing on at current. These are the following six counts,
Trademark Infringement 15 U.S.C. §1125(a)
False Designation 15 U.S.C. §1125(c)
Cybersquatting 15 U.S.C. §1125 (d)
Recovery of Profits, Damages and Costs and Attorneys' Fees 15 U.S.C. §1117 and §1114
Common Law Trademark Infringement
Unfair Competition Under Gen. Laws C. 93A
If you wish to read the complaint in total
click here
.
Current Motions in Court
After a post on Wednesday November 29th,2017 the representative added in the comments, on December 1st, a poorly worded telling of what had happened in court, "Aloha ... Just got out of court ... after I submitted defense documents showing their "service mark" included a design and was not just the words "Anime" and "Boston" as they indicated and ours looked nothing like theirs, and since there was nothing that would negatively impact NEAS by our already placed marketing due to the short time until the event, Judge Burroughs denied their Temporary Restraining Order and postponed other decisions on infringement until next week when Judge Sorokin returns ... we were only asked to no longer "tag" animeboston in any posts on facebook ... anyone else supposedly is allowed to tag them according to facebook terms of service ... but until the Judge rules next week I will not tag animeboston in any posts ... Thanks for your support ... come to the show ... guaranteed not boring and Free Parking" This should have come as not surprise to them however this does raise a few questions. Why are they allowing this person to go in this much depth and go so far as to complain about not being able to afford a lawyer? A consultation fee is significantly less, there are also trademark firms that will even do a free consultation to give you advice. A lawyer would tell you not to do this exact thing.
Burroughs did not deny the NEAS's request for a temporary restraining order. Quite the opposite as the motion to expedite the hearing for the order had already been requested. There was no postponement that was decided on the 1st the date was already set as made clear in the dockets to be heard on 12/7/17 the notice was given to him on that day "ELECTRONIC NOTICE Setting Hearing on Motion: Motion hearing on 3 MOTION for Temporary Restraining Order MOTION for Preliminary Injunction MOTION to Expedite is set for 12/7/2017 at 03:00 PM in Courtroom 13 before District Judge Leo T. Sorokin. (Montes, Mariliz)". At no point was any decision made in favor or against the Plaintiff or the Defendants on 12/1/2017 according to public court records.
The docket shows the following "Letter/request (non-motion) from Defendant in response to 11/17/2017 letter from plaintiff.(Montes, Mariliz)" and its the submission of evidence to combat the suit from the NEAS which only contains one exhibit of evidence. Which, according to various sources, they attempted to use Anime Boston Social as evidence against the NEAS implying that they allow people to use their trade mark or don't defend it. The owners at IMAGE and Fantastic Gatherings fail to realize that a group page built for fans of Anime Boston are running events with " Anime Boston" or "Boston Anime Festival" in it, plus many of the Events AB has taken part in are advertised, for free, in that group so it benefits the convention rather than causing brand confusion.
Anime Boston Social has been around for some time now with over 5,000 people being members that attend the convention every year. The founder of the fan group Sonya Chen keeps a pinned post explaining that the group is not affiliated with the Event itself nor is it monitored by staff, " We are an unaffiliated Anime Boston Facebook group. That means Anime Boston staff members do NOT monitor this group." of course this post also contains a generalization of the group rules but also goes on to further clarify that they are not operated or owned by Anime Boston "Please note this is NOT an official Anime Boston group.". Anime Boston Social is not a viable argument when it comes down to the use of the name or its rights.
The ongoing battle has only continued on from this point, on 12,4,2017 the NEAS Motion to expedite the motion of injunction to obtain a temporary restraining order was GRANTED bumping the hearing from the 7th to the 5th (Today) at 2:30 PM Case #CV-17:12339 . So now that we sit here before the injunction hearing you might be asking yourself what an injunction is. An Injunction, as specified by the legal Dictionary, is "A court order by which an individual is required to perform, or is restrained from performing, a particular act. A writ framed according to the circumstances of the individual case." The idea is to bar IMAGE and Fantastic Gatherings from using the name "Boston Anime Fest" in their advertising and stop them from tagging the company's event " Anime Boston" as well.
Check this article frequently for updates!!!
Sources: