Boston Strangler - A Hulu Movie Review
'Boston Strangler' documents the hard work of two professional women.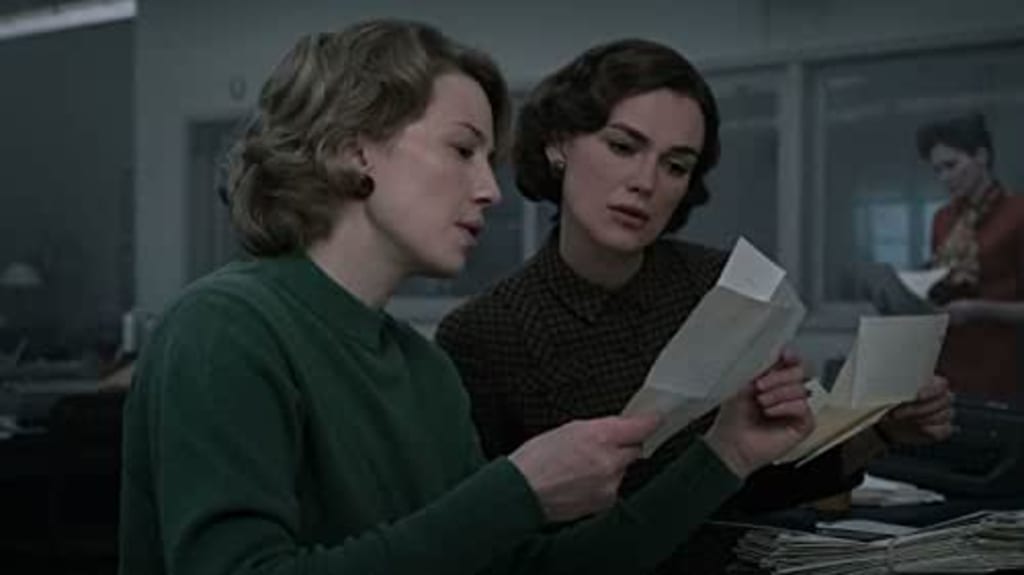 We better start this news story.
Boston Stranger is a 2023 Hulu film. Based on the brutal 1965 serial killer attacks in Boston, Loretta McLaughlin and Jean Cole document the murders in the newspaper. Ignoring sexist remarks, they connect the pieces of Boston's most notorious serial killer.
Movies about journalism stories have gained more ground recently. I appreciate these types of movies. Stories need recognition for a reason. Boston Strangler is your average newspaper story that documents the hard work of two professional women. Other than that, the story doesn't occupy much excitement.
Loretta McLaughlin is a role I'd never expect from Keira Knightley. She was terrific, carrying the film as an excellent leading force. Loretta McLaughlin is someone who deserved credit, especially in a time when women's recognition was ignored. Nervous at first, Loretta finds her ground, ready for action. She evolves into a more confident person.
Knightley and Carrie Coon were spectacular. They worked well together, showcasing a positive example of women's leadership, especially in the 60s. Although she is more professional, Jean never upstages Loretta. She gives her advice on how to improve.
Most of the roles in Boston Strangler are the typical characters you'd see in a journalism film; the boss, the husband, and the evil serial killer. Acting is delivered well by Alessandro Nivola, Chris Cooper, David Dasmalchian, Morgan Spector, and Bill Camp.
The main direction for Dastmalchian's portrayal of the serial killer was to be intimidating. That's about it. Boston Strangler is about the two reporters but the assassin needed more development. The film's history about the serial killer was still fuzzy based on the actual events. The perpetrator still felt like an enigma.
Other storylines were included to take a break from the serial killer features. Loretta's time at home decreases each day. Tolerant at first, Loretta's husband (Spector) grows impatient and disappointed.
The setup for Boston Strangler is similar to Spotlight, Zodiac, and She Said. That's not a problem. These stories share similar elements. Dialogue is written sharply and with personality. Rambling on in one case study, interview, and conversation after the next, the story was flat. Boston Strangler is an informative movie but where's the excitement?
Matt Ruskin didn't portray enough excitement or a sense of urgency. Characters lack emotion. I lost focus in some parts, like with Loretta's home life. I wanted to understand Loretta and James' relationship before Loretta's career took off. More tension was needed in the third act like how it was built up in the beginning.
No need to adjust your screen if it appears gritty. Matching the film's tone, the cinematography was tinted dark. Ben Kutchins mixed shadows in with the gloomy atmosphere, intervening in any bright areas. Boston Strangler resembled a film from the 60s. Hairstyles, clothes, and cars accomplished the 60s period.
Violence was kept to a minimum. There were a few suspenseful scenes involving the strangler. Murders transpire offscreen. It is still unsettling listening to the attacks. Cameras would close up on objects, like a leaking faucet as victims cried out for help in the background. The assaults are then described in great detail in the papers.
Boston Strangler was filmed during the pandemic. During filming, actors and crew members took high precautions. Everyone involved got vaccinated. Most of the film was shot in Belmont, Massachusetts like Loretta's house and the police department. The Winn Brook Elementary School was decoyed as the police station.
Boston Strangler is still an engaging film to check out on Hulu. It's fantastic that more stories like these have garnered focus.
About the Creator
Writing has been my passion since I was 11 years old. I love creating stories from fiction, poetry, fanfiction. I enjoy writing movie reviews. I would love to become a creative writing teacher and leave the world inspiring minds.
Reader insights
Be the first to share your insights about this piece.
Add your insights