Books About TV Shows by Pop Culture Critics
Embedded in the small screen are a lot of big ideas; luckily, pop culture critics hash them out in books about our favorite TV shows.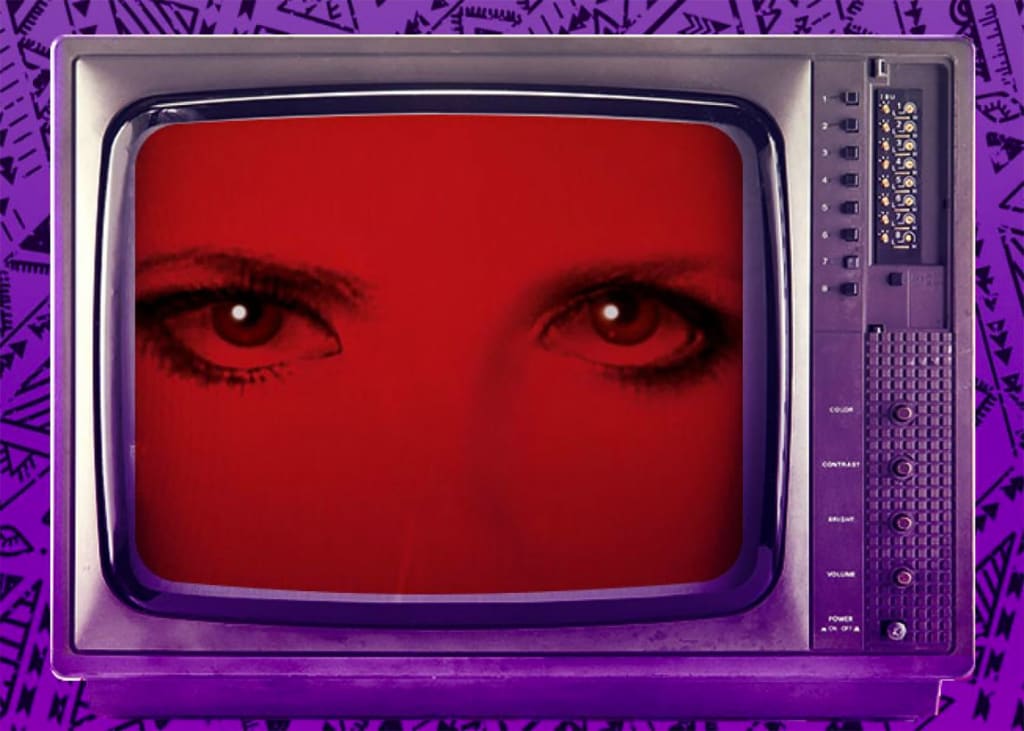 Image courtesy of Slate
There has never been such a saturated television landscape as there is now, and the variety of TV shows that exist only continues to grow exponentially. If you're anything like me, you appreciate the episode post-mortem almost as much as the TV show itself (slight exaggeration, but I digress...).
So whether you're mourning the end of the run of your favorite television show, or you're curious to understand its cultural implications, there are plenty of books about TV shows written by bona-fide pop culture critics who give an encyclopedic handbook of insider information, or take a 'big picture' approach to the small screen and offer insight as to what a show says about the world we live in.
Seinfeldia by Jennifer Armstrong
For a show about nothing, Seinfeld certainly has incredible staying power. If the sitcom's nine-season run (1989-1998) weren't enough of a testament to its cultural significance, simply consider the fact that 20 years later it's arguably just as popular as it always has been. TV historian and critic Jennifer Keishin Armstrong does the small screen phenomenon the justice it deserves in Seinfeldia: The Secret World of the Show About Nothing that Changed Everything. The book satisfies all threads of fans' curiosity, bringing readers behind-the-scenes to the show's filming and production, and documents the history and evolution of the series from Jerry Seinfeld and Larry David's initial concept.
Armstrong covers everything from NBC's initial incredulousness about the idea of a show that consists mostly of friends sitting around talking about trivial nonsense, to how Seinfeld garnered its cult following and (my personal favorite) offers suggestions for episode plotlines if the show were still on TV. If Armstrong's analysis doesn't convince you that Seinfeld deeply impacted the future of television and comedy then, well, "NO SOUP FOR YOU."
Read more by Jennifer Armstrong and follow her @jmkarmstrong
Golden Girls Forever by Jim Colucci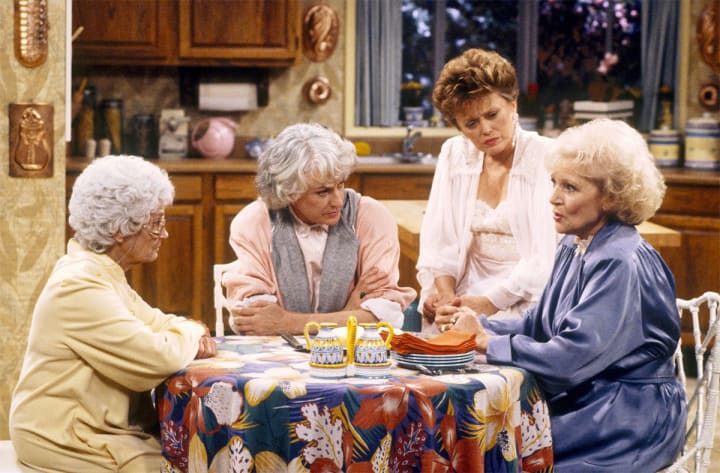 Unless themes like family, friendship and love have become less important over time, there is no reason The Golden Girls should be any less beloved or celebrated than it was during its seven year, 180 episode run (which ended in 1992). It seems pop culture critic Jim Colucci shares our sentiment; Golden Girls Forever: An Unauthorized Look Behind the Lanai is more than a book about TV, it's a reflection on the progress society has made in terms of family values and female empowerment, and the progress it hasn't. What better way to analyze the evolution of femininity in the 20th century than to reflect back on the endless kitchen table banter between four such different, but deeply connected women? How much of their conversations seem starkly outdated, and how much can we imagine still happening today? Forget Carrie, Miranda, Samantha and Charlotte, Colucci lets us to see ourselves in Dorothy, Rose, Blanche and Sophia based on many in-depth interviews with the Girls themselves, as well as the producers, writers, guest stars, and more.
Read more by Jim Colucci and follow him @jimcolucci
Andy & Don by Daniel de Visé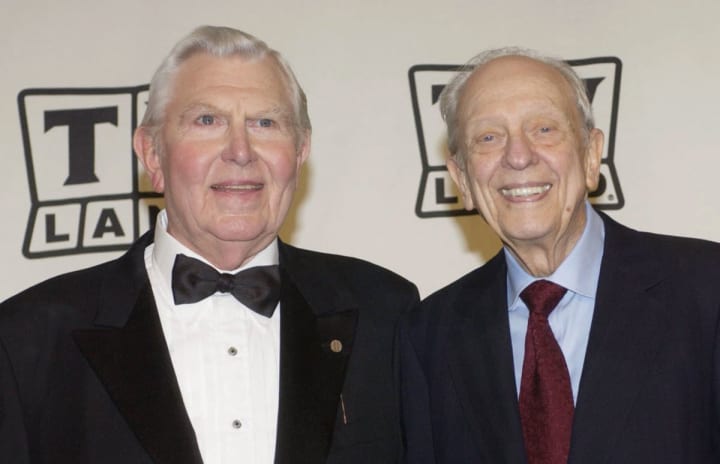 Television shows come and go, but friendship lasts forever; at least, that was the case with Andy Griffith and Don Knotts, the legendary comedy duo whose performance on The Andy Griffith Show brightened living rooms across the nation for eight years, and whose lasting friendship warmed hearts for a half century longer. Andy and Don, by Daniel de Visé,is a book about an iconic TV show and about the personalities, comedy style, and relationship between two men who in many ways epitomize 20th century Hollywood. The author's credibility lies in both his literary experience (he's an investigative journalist at the Washington Post) and his family tree; de Visé was the late Don Knotts's brother-in-law.
Read more of Daniel de Visé and follow him @danieldevise
TV (The Book) By Alan Sepinwall and Matt Zoller Seitz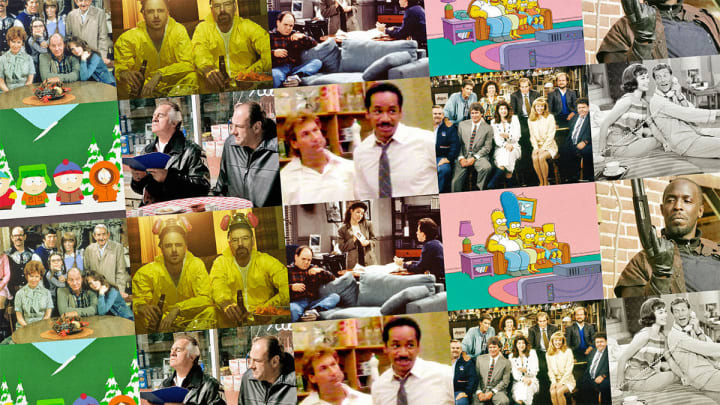 The above image probably makes your head spin, as it should. Die-hard viewers tend to get very touchy when their friends challenge their perception of the Big Question: What is the best television show ever made?
Writers Alan Sepinwall and Matt Zoller Seitz took on the lofty goal of answering this anger-inducing query in TV (The Book), in which they assemble and rank the top 100 scripted television shows throughout the entirety of American TV history. If you question their authority on the subject–don't; Seitz was a finalist for the Pulitzer Prize in film criticism and sits as editor-in-chief of RogerEbert.com (among other accolades). Meanwhile, Sepinwall is a TV critic for HitFix who is hailed as "the acknowledged king" of television criticism for being the first to adopt the episode-by-episode approach that is part and parcel of the way we consume reviews today (also among other accolades). Their book about TV is exactly what you might expect from critics of this caliber, and features a complex scoring system for the shows they cover as well as in-depth essays justifying exactly why these shows deserve such high recognition.
Read more by Alan Sepinwall and follow him @sepinwall
Read more by Matt Zoller Seitz and follow him @mattzollerseitz
Difficult Men by Brett Martin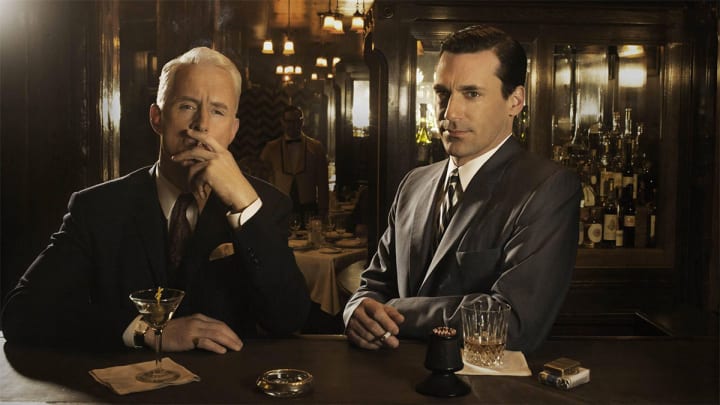 Behind ever complicated protagonist on television is a complicated creator offscreen. As the television landscape evolves, we've seen that the most widely acclaimed series of late are the ones whose main characters are deeply imperfect, flawed and complex; Mad Men's Don Draper, The Sopranos' Tony Soprano, Breaking Bad's Walter White. It follows that these portrayals are based somewhat in reality, and indeed many television creators have noted that the inspiration for their protagonists come from their own lives, perhaps based in part on their own personalities. GQ correspondent Brett Martin unpacks the correlation between character and creator in Difficult Men: Behind the Scenes of a Creative Revolution From The Sopranos and The Wire to Mad Men.
Martin channels his pop culture fanaticism into a book about our favorite TV shows, and in addition to behind-the-scenes information and anecdotes about TV stars, analyzes the trend of toward portraying profoundly human men onscreen through the TV creators (like The Sopranos' David Chase) who conceived of them. He expertly draws a connection between modern television hits that we wouldn't have otherwise made, and his personality analysis is enlightening.
Read more by Brett Martin and follow him @brettmartin
The Science of Game of Thrones by Helen Keen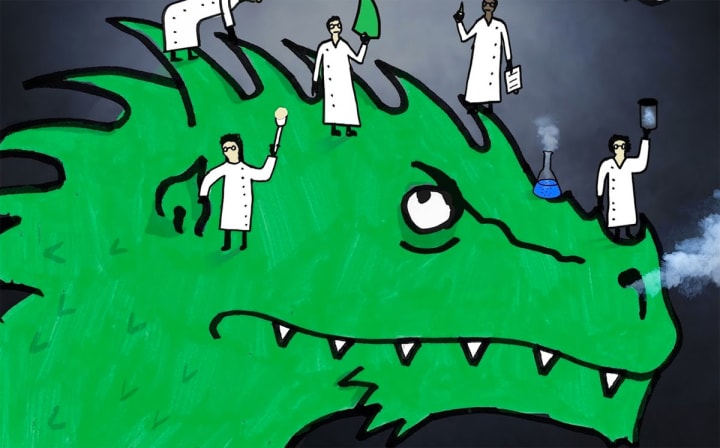 A good barometer for whether or not a plot line is original and interesting is to reflect back on whether or not the episodes inspire you to get online to discover if the events you just saw unfold onscreen are actually possible, if they've happened, or if they could happen. Most people wouldn't think to do the same with Game of Thrones because, well, everything that happens is just so ridiculous, not to mention the fact that it takes place in a fantasy world. Helen Keen is not most people though; as a popular science writer she lives to draw unexpected associations.
As a GOT fan, she puts her expertise to good use and plays pop culture critic in The Science of Game of Thrones, which inspires readers to 'read' (in this case, watch) between the lines and think about their escapist television in a totally new way. To clarify, do not expect to learn that the magic portrayed in the HBO series is realistic, rather to satisfy questions we may not have thought to ask: What really happens when royal families interbreed? Is there actually an engineering calculation to explain how a baby dragon could immolate a grown man? Can you really kill someone with molten gold?
Read more by Helen Keen and follow her @helen_keen
The Wit and Wisdom of Downton Abbey by Jessica Fellowes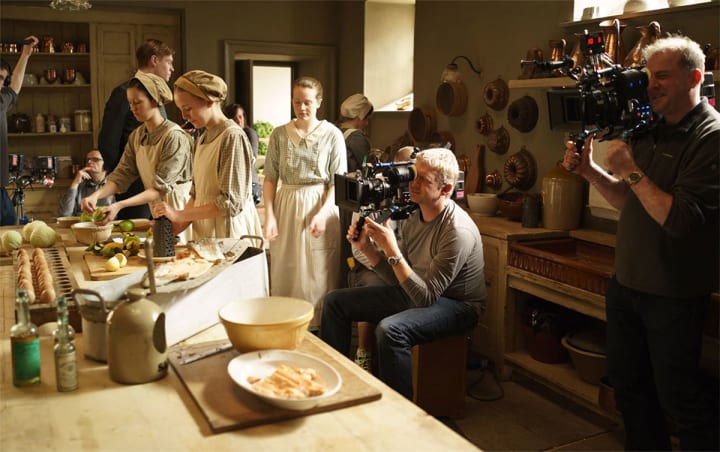 Vulgarity is no substitute for wit.
I am a woman, Mary. I can be as contrary as I choose.
It's easy to be generous when you have nothing to lose.
One of the unfortunate realities of television is that some shows draw you in with their spellbinding aesthetic only to dissappoint viewers with a tired storyline and worse, stale dialogue. When it comes to the now ended period piece Downton Abbey, viewers might have come for the dazzle, but they certainly stayed for the brilliant writing–Oh, what I'd do to watch Dowager Countess deliver one last zinger.
The series' executive producer Julian Fellowes locked the gates of the Crawley estate for good, but lucky for fans, he has a writer in the family who also happens to be a huge Downton fan. The Wit and Wisdom of Downton Abbey is one of two books that journalist and author Jessica Fellowes (the producers' niece) wrote about this historic TV show. Her book canonizes all of the best quotes and conversations as heard over all six seasons, and Fellowes (the author) very smartly organized her content by theme instead of character, giving us fans an incredible handbook should we ever want to reference the most notable things the Crawleys and their staff had to say about concepts such work andplay.
Read more by Jessica Fellowes and follow her @jessicafellowes
The Making of Outlander by Tara Bennett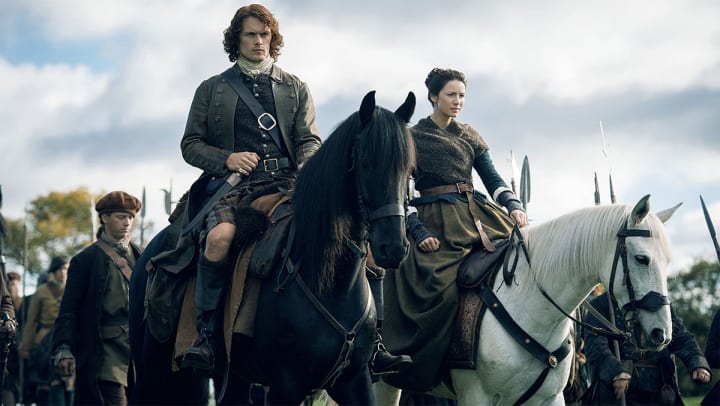 TV shows about books usually pop up toward the end of a show's run on-air, or when its gained significant enough traction for a pop culture critic to write a book about it. That The Making of Outlander came out just two seasons in (Outlander will have seasons 3 and 4, at least) is a testament to the show's ardent fanbase. 'The Official Guide to Seasons One and Two', written by prolific pop culture writer Tara Bennett, contains more than enough material to keep fans happy during a between-season Droughtlander, or for a newbie to play catch up if they haven't watched yet. Bennett's work covers all aspects of the series' production and features unique interviews with members of the Outlander family that dutifully conveys the work that goes into a single episode of this period piece; adapting the book series to the small screen, identifying the perfect overseas filming locations and designing the perfect costume. The book works very well as a coffee table book, too, given the many photos featuring those sweeping landscapes central to the Outlander aesthetic.
Read more by Tara Bennett and follow her @TaraDBennett
Investigating Sherlock: An Unofficial Guide by Nikki Stafford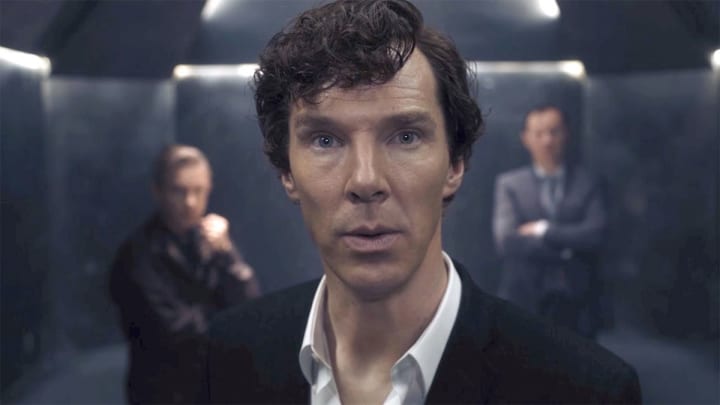 There's no shame in companion books to help enhance your TV experience, least of all for a series as purposefully misleading and subtle as BBC's Sherlock–in fact, the show would be no fun at all did it not perpetually keep its viewers one step behind the enigmatic and downright strange Sherlock Holmes (portrayed brilliantly by Benedict Cumberbatch). Pop culture critic Nikki Stafford turns the table on London's most inscrutable detective in Investigating Sherlock, a companion book that keeps each episode alive long after the credits roll. In addition to character development and fascinating episode analysis, Stafford's guidebook draws a correlation between the TV show and the original book series, in her pointing out subtle references to the original stories and featuring a biography of author Sir Arthur Conan Doyle. Nikki Stafford makes a robust and compelling argument that the brilliance of the TV show, besides the acting in its own right, is that the writers were able to pull off the incredible feat of adapting a 130-year-old book into a 21st century context.
Read more by Nikki Stafford and follow her @nikki_stafford
Reader insights
Be the first to share your insights about this piece.
Add your insights