Book Review: The Assassin's Blade (Throne of Glass series) by Sarah J. Maas
YA Fantasy - prequel to the Throne of Glass series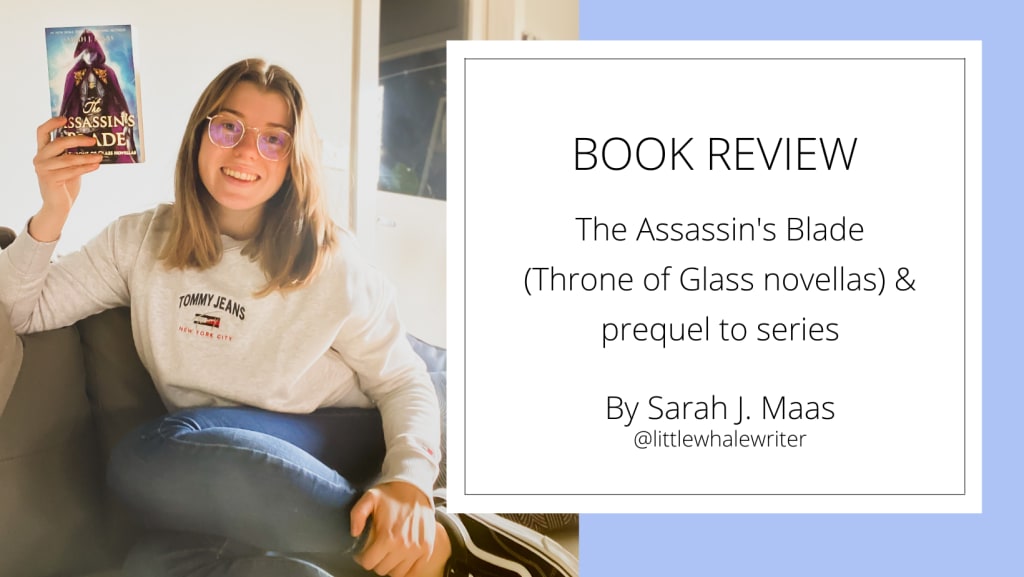 Celaena Sargothien is the most feared assassin in all of Adarlan, and she is only a young girl. Adarlan is a cruel place where magic has been abolished and everyone who practices it tragically wiped out by the King of Adarlan. The Assassin's Blade is a series of five novellas that take place in a range of settings, but predominantly, Rifthold, where Celaena lives in the Assassin's Keep, alongside her archenemy Sam Cortland, and is trained by her master Arobynn Hamel.
I was recommended this series by a friend because I enjoyed Sarah J. Maas' other series ACOTAR. The Throne of Glass series is also all over my bookstagram feed (Instagram for books - you can follow me @littlewhalewriter). I'm sure most of you by now have either heard of or have read one of Maas' books, so I don't need to tell you just how popular they have become.
This is a YA fantasy series. Before we discuss plot, we need to discuss something a little more important.
Rating
4.5/5 stars
What order should I read the Throne of Glass series in?
It's like the popular Star Wars question - should I read Throne of Glass in chronological order or publication order? Let's discuss the pros and cons to both. For those wondering, the orders are structured like this: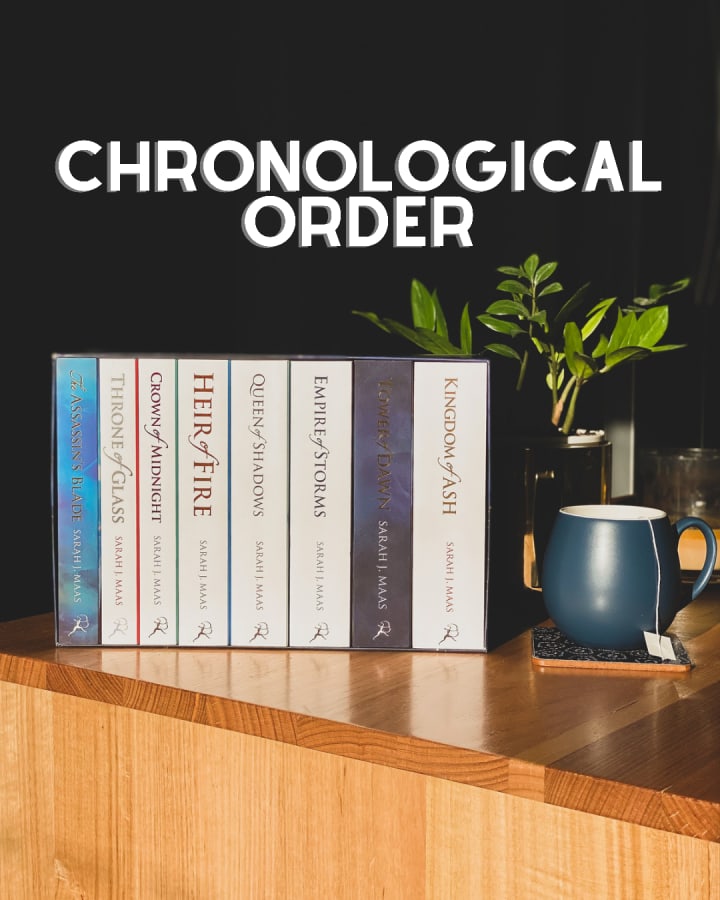 Chronological order:
1. Assassin's Blade
2. Throne of Glass
3. Crown of Midnight
4. Heir of Fire
5. Queen of Shadows
6. Empire of Storms
7. Tower of Dawn
8. Kingdom of Ash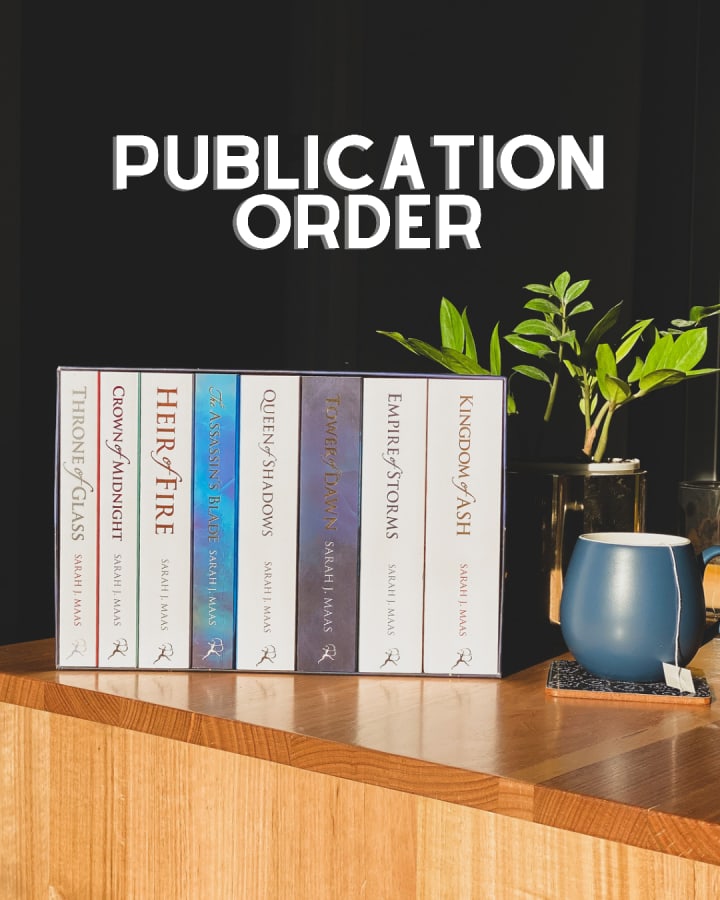 Publication order:
1. Throne of Glass
2. Crown of Midnight
3. Heir of Fire
4. The Assassin's Blade
5. Queen of Shadows
6. Tower of Dawn
7. Empire of Storms
8. Kingdom of Ash
After choosing to read these in chronological order, I'm glad I did, because I think it is going to be a more emotional experience. The reason being that I am saving myself from spoilers and therefore am making it less predictable. When I received the box set in the mail, it also came in chronological order. This tells me that this is the intended order that Maas wants us to read them in.
If you want to be true to the series, then maybe publication order is for you. That way you can experience the series as if you were reading them as they came out. I've also heard that reading it this way keeps you from a major reveal - which I already know about now! It's too late for me to take it back, but I could imagine it appears as a major twist when reading them in publication order.
I will continue to comment on publication vs chronological order in future book reviews for this series to see if my opinion changes as I read them.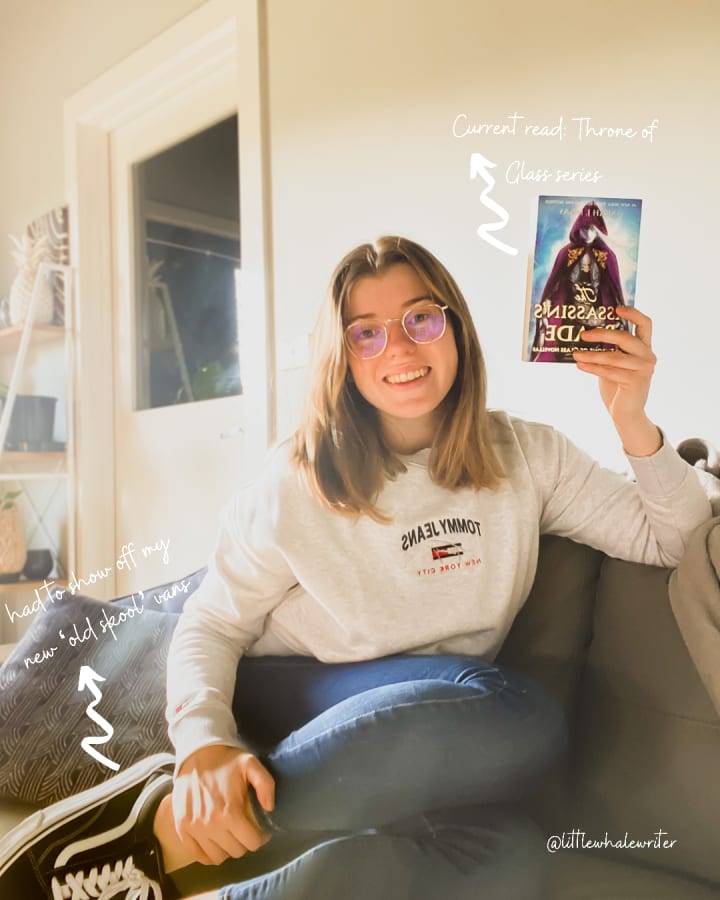 Synopsis (Plot)
Each of the fives novellas tells a story about important moments in Celaena's life that shaped her into the weapon she is. They are broken up into the following:
1. The Assassin and the Pirate Lord: this novella begins at the Assassin's Keep with Arobynn, her master, assigning Celaena and her archenemy Sam Cortland (another Assassin in the Keep) a mission to Skill's Bay to meet with the Pirate Lord. But after meeting with the Pirate Lord and feeling like they have been deceived, Sam and Celaena band together and go against the orders of their master.
2. The Assassin and the Healer: Celaena pays the price for going against Arobynn's orders. This novella sees Celaena travelling to the Red Desert, where Arobynn has ordered her to train with the Mute Master. The journey is long and arduous, but it may be the life changing experience she needed.
3. The Assassin and the Desert: Celaena spends a month in the Red Desert training with the Silent Assassins and the Mute Master, as punishment by Arobynn for her betrayal of his orders. It is hot, sandy and gruelling. But she makes friendships and learns important life lessons that will have her leaving the Red Desert a more skilled assassin and a more untrusting person.
4. The Assassin and the Underworld: returning to Rifthold after a Summer away and a betrayal in the Red Desert, Celaena comes back dirty, untrusting and a more skilled assassin. When she returns to the Assassin's Keep, she plans to tell Arobynn she is leaving, still devastated after his punishment. But when she sees him she finds she is willing to give Arobynn a second chance. Arobynn gives her a mission to complete that will free some slaves, and she partners up with Sam to do it. But she struggles to interact with him as she finds their friendship turning into something deeper.
5. The Assassin and the Empire: Sam and Celaena have left the Assassin's Keep and freed themselves of Arobynn and the Guild, but money is now running out. They haven't had a contract in over a month and Arobynn keeps popping into their lives, so they decide to undertake a risky assignment that will help them earn enough money to leave Rifthold and Arobynn's clutches for good. But at what cost?
I am Celaena Sardothien. I will not be afraid - The Assassin's Blade
The Ending
The ending of each novella was gripping and at times heartbreaking. The ending of the final novella was satisfying and also the perfect segue into Throne of Glass. It's also the reason I started reading Throne of Glass straight away. Usually I have a break in between books in a series.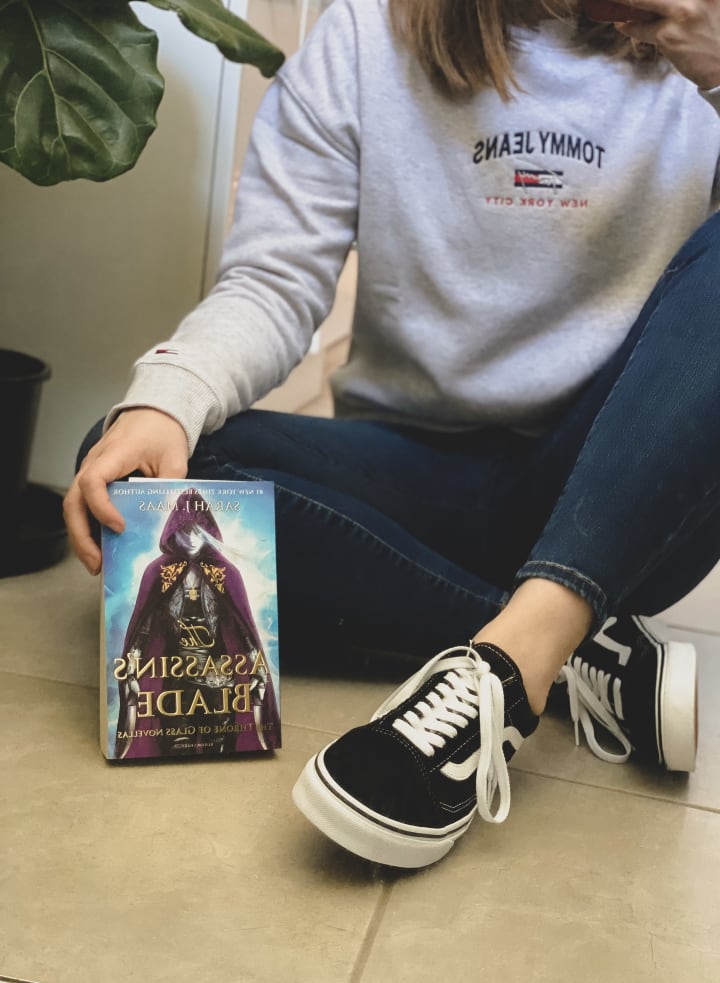 My Final Thoughts
This is Sarah J. Maas' first ever series and it is so well done. The world building in this book is incredible and it feels like you are reading about real places. The descriptions are delightful. The characters are bad ass. The plot is exciting, there is always something interesting happening. Each of the five novellas are so wonderfully written and interwoven that I thought it was one novel.
At times it was hard to remember that Celaena is just a 15-17 year old girl, because she is such a vicious weapon and undergoes some majorly traumatic events.
One thing that frustrated me is that Celaena had no idea who was betraying her and who was untrustworthy in each novella, although I found it quite obvious. I don't know if it's the fact that I'm just an awesome detective or a major cynic or that I've had enough life experience to make it obvious to me, but for Celaena I am putting it down to her age that she was not able to pick up on who was dodgy.
If you liked the Throne of Glass series, try reading...
A Court of Thorns and Roses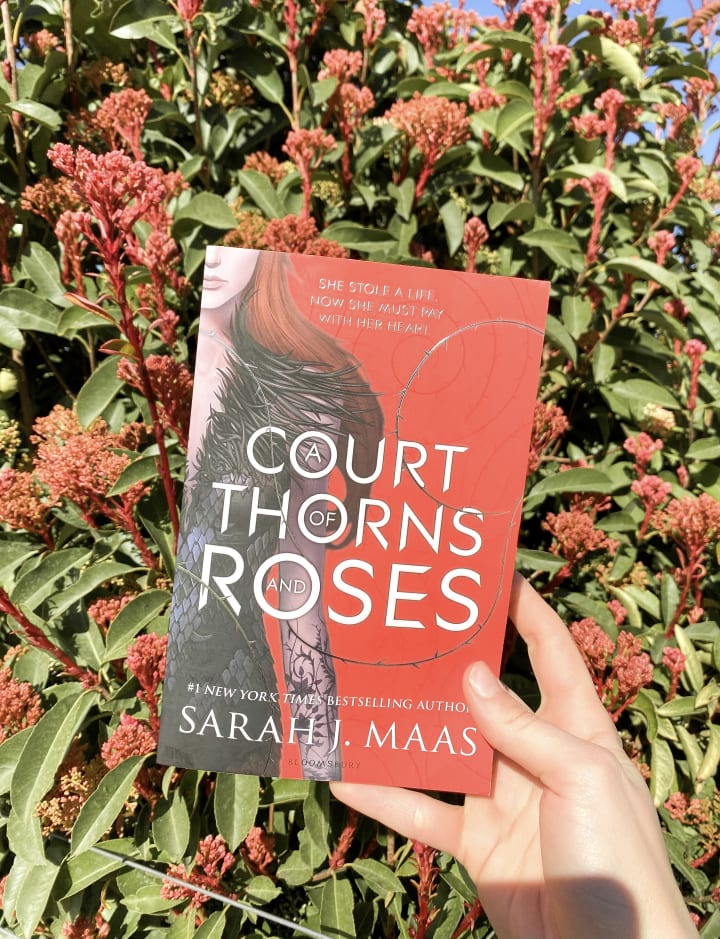 Read this article for more suggestions - 15 Fantasy Books Like Throne of Glass
If you liked this review, make sure to follow me on Instagram @littlewhalewriter to find out when I post another