Book Review: So Long, Chester Wheeler
One man's battle with hate...and himself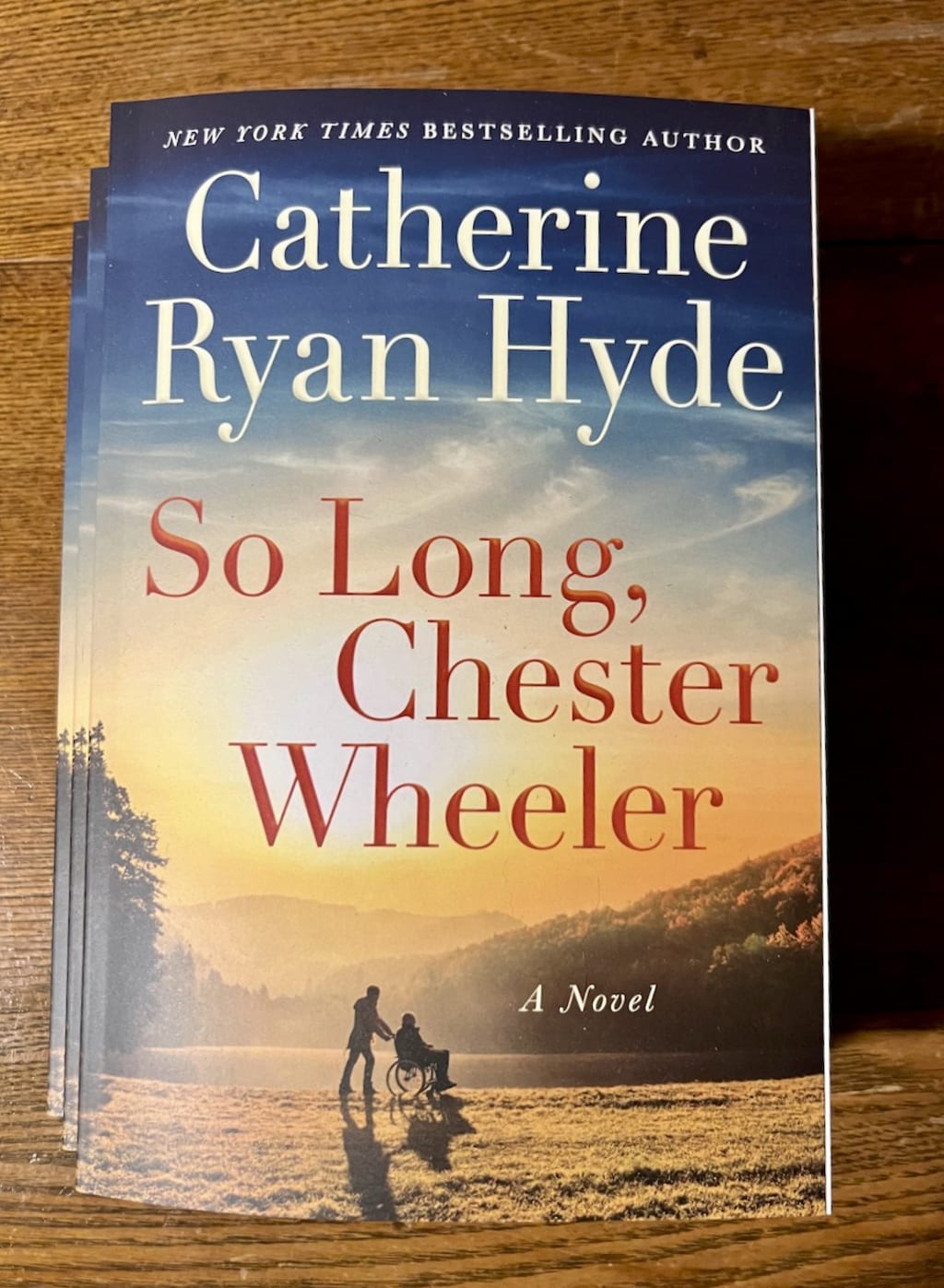 Author: Catherine Ryan Hyde
Rating: Four out of Four "Positive Attitude" buttons
Ease Of Reading: 296 pages. Flows nicely. Narrative excellence and and ear for dialogue.
When To read: After accidentally being at your grandparents' house when they have Fox News on the TV 24/7.
You can't make a living being an author of uplifting novels without experiencing pain, regret, anguish, and sadness. So, a successful writer like Catherine Ryan Hyde doesn't offer her readers a Pollyanna version of life, nor any toxic optimism. No, Hyde understands that life is too often like walking through mud with snowshoes on. Her novels reflect the sharp needles that surround us in life, and the secret map to avoid those cuts and slashes, and discover redemption in the most unlikely of ways.
So Long, Chester Wheeler, published in December 2022, is a novel torn from the maelstrom we call the news cycle and carefully caressed by the author to release revelations about the spiteful virulence life can inflict, and how we deal with them.
Here is an excellent summary from What's Better Than Books? book review and recommendations website. It's one of the best out there.
"Lewis Madigan is young, gay, out of work, and getting antsy when he's roped into providing end-of-life care for his insufferable homophobic neighbor, Chester Wheeler. Lewis doesn't need the aggravation, just the money. The only requirements: run errands, be on call, and put up with a miserable old churl no one else in Buffalo can bear. After exchanging barbs, bickering, baiting, and pushing buttons, Chester hits Lewis with the big ask.
"Lewis can't say no to a dying wish: drive Chester to Arizona in his rust bucket of a Winnebago to see his ex-wife for the first time in thirty-two years — for the last time. One week, two thousand miles. To Lewis, it becomes an illuminating journey into the life and secrets of a vulnerable man he's finally beginning to understand. A neighbor, a stranger, and a surprising new friend whose closure on a conflicted past is also just beginning."
Fox News and conservative radio and podcasts add daily to their enemies list — LGBTQ, minorities, immigrants, teachers, progressives, pro-choice advocates, gun control supporters, and mask wearers. That's the world of Chester Wheeler. When Lewis agrees to drive Wheeler to Arizona to confront his life demons, we, the readers, are confronted with an ugly yet inescapable reality. Hate always needs a fall guy.
Chester Wheeler has lived simmering in this slow cooker of grievance until the death in the form of terminal cancer forces him to rip off the bandage that has protected him all these years from his own life miscues. The wound is raw. A failed marriage. Feelings for another man he felt were shameful, and a loss of his children. For Wheeler, and people like him, life is hard, perhaps too hard. Blame must be assigned and weakness must never be displayed. The enemies surround him, and he fights back with angry words, hateful bumper stickers, and a cruel streak sharpened by his decades of disappointment.
But the title character, Chester Wheeler, is really the stage decoration for the main act, which is the reclamation of Lewis's psyche. After all, when we first meet Lewis, he doesn't exactly have life figured out yet. He's broke, out of a job, out of a bad relationship, and without a goal other than just survival.
Of course, when Lewis first works as the home health aide for Chester Wheeler, hate burns red-hot in his mind. It's late in the novel that we find that Lewis has a realization about Chester Wheeler, people like him and people like himself.
"…that I started to understand him. Because somewhere along the line . . . somewhere down the road in this process I got something. All the way down to my gut, I got something I'd never gotten before. I got that when a person is rude and abusive to me, it's not about me at all. They can say something terrible to me or about me, but they're revealing themselves, not me. It has nothing to do with me. They're just showing me the landscape on the inside of themselves as they project it out onto somebody else. Does that make sense? It's the first time I've tried to put it into words."
It's this revelation by Lewis that brings the sun streaming into his cloudy life. It's why Jackie Robinson was handpicked to be the first black player in baseball's Major Leagues. Robinson didn't back down from racism, but he survived and thrived in an institution with a long heritage of hating and abusing people of his race.
Ultimately, So Long, Chester Wheeler is an uplifting novel. The author does not sugarcoat or downplay the animus that grips Chester Wheeler or Estelle, his next patient. Catherine Ryan Hyde doesn't slide into cheesy aphorisms about love triumphing over hate. Instead, she wants us to understand that sometimes the last people in the world we'd expect to connect with are those who need that our help the most.
The author expects that "haters gonna hate" but wants to know what we're going to do about it. Like any good novel, So Long, Chester Wheeler asks more questions than it offers pat answers or simplistic solutions. After, good books are about getting us to think, not telling us what to think.
You can purchase So Long, Chester Wheeler at bookshop.org, which supports your local bookstore instead of Amazon.
About the Creator
I am a South Jersey-based author who is a writer for the Pod-Alization podcast blog on Substack, Ear Worthy on Medium, Podcast Reports on Blogger, Auditorily on Vocal and The Listening Post on Tealfeed.
Reader insights
Be the first to share your insights about this piece.
Add your insights