Book Review: 'Heartless' by Marissa Meyer
Alert: May Contain Spoilers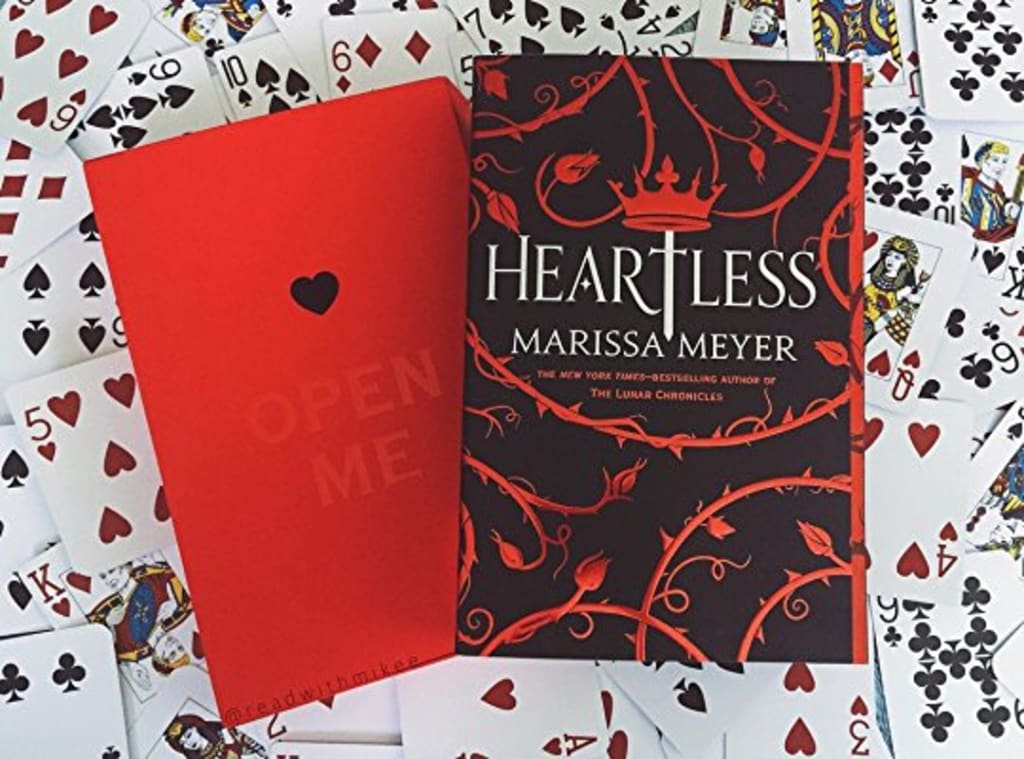 (Image found with Google)
As a little intro before getting to the actual review, I had heard of Marissa Meyer, seeing her very interesting covers for The Lunar Chronicles, but had not actually read any of her books yet. My husband one day came home with a trunk load of books that our landlord cleared out of a home he used for someone's storage. Among the 100 some books I received that day was Heartless—its beautiful cover instantly intrigued me and the author sounded familiar. A quick Google search of her name reminded me who it was, and I was instantly excited to start reading this book, even setting aside another book I was currently reading.
For starters, I'm just going to say I loved this book so much. I read it twice, back to back in three days; I give it five stars. It is for me today as an adult as Alice in Wonderland was for me as a child, which for those who don't know what I mean, down the rabbit hole was always better than being in the world around me. It was important enough for me to buy a Nook copy so I could travel with it, which is what we do with my husband's job, because I never wanted to be without this book, which is normal, but also important for me.
Heartless is set before Alice was probably even born, which of course is depending on the time difference with our world and Wonderland. We follow Catherine, a young girl, dreaming of a bakery while her mother dreams of a royal marriage. Her father doesn't seem to mind too much. We see many familiar faces and it really helps you move through the story while watching through different eyes. You meet Hatter and Cheshire, as well as new mysterious faces, including Joker, a handsome and mystery-filled Joker that recently came to work in the king's court and meets Cath, making her heart flutter. A strange farmer is also hanging around with his sickly wife, and all of the gossip in the kingdom makes you want to turn your head away. The way she describes food makes it make your mouth practically water and you'll find yourself wishing you had some for yourself. You also learn where Treakle comes from, which vegetables are safe to eat, what really is a Mock Turtle, does the Jabberwocky have feelings or just fire struck rage and of course the age old question: Why is a Raven like a Writing Desk? Maybe you'll find the answers, maybe you'll have more questions. Either way, you'll enjoy the ride! Honestly, it is very hard to keep from falling in love with everything about this book. While you're reading, it really does feel like a new take on such a familiar story, but while also going on a brand new fun adventure and it is so brilliant.
This story is obviously written in reverence to keep Lewis Carrol's spirit between the pages, his world and characters protected within the new words wrapped around them. And even including a section after the tale written about him, which was also an interesting read with interesting information that isn't too complicated.
As you are traveling through this fun, thrilling, and Wonderful adventure, keep an eye out for old friends, new friends, and of course, the infamous words: "OFF WITH THEIR HEADS!"
literature
Irish Gypsy Wife. I write, sing, dance. My family loves different books, shows, movies, video games, and music. We love life and do our best to live it to the fullest every day.
Instagram @mamapanda.13
Twitter MamaPanda.13 @AshleyWentz1