Book Review
Lafayette in the Somewhat United States by Sarah Vowell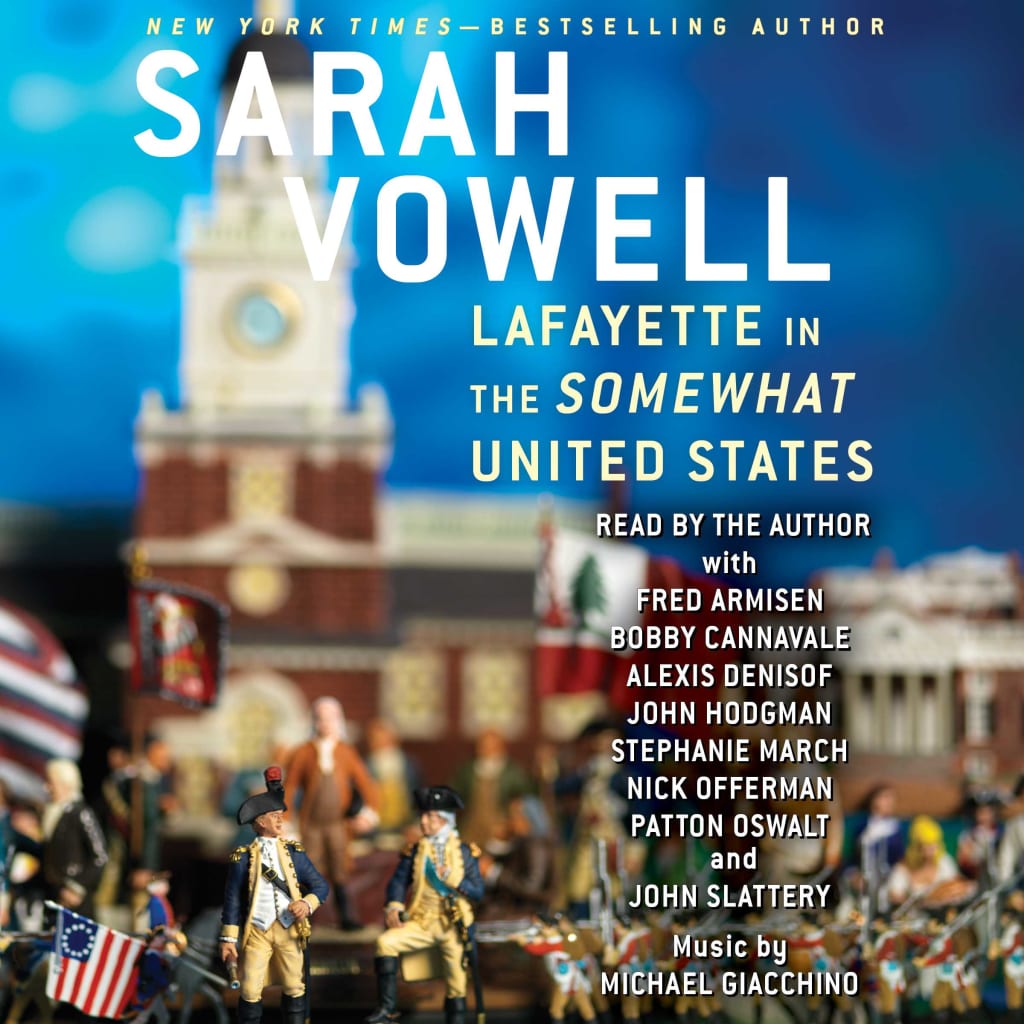 Sarah Vowell is an American historian and author known for her snarky and irreverent writing style and unconventional way of handling non-fiction prose. My father is an admirer of her and her work and that is how I am aware of it. When I decided to write my term paper on the Marquis de Lafayette and the beginnings of America's relationship with France, I was reminded of this book and chose to use it as one of my sources. Vowell's writing is unique among history books in that they have a much less formal and pedantic tone than is typically associated with the genre. Her books read more like Jack Kerouac's On The Road than the history texts students are made to read in school. The structure of Lafayette in the Somewhat United States is based around Vowell's trips to sites associated with her subjects and she often goes into descriptions of the people and places she encounters on her excursions. As someone with a penchant for history related vacations, I find this format enjoyable.
Vowell begins the book with the question "How did the Marquis de Lafayette win over the stingiest, crankiest tax protestors in the history of the world?" The most fascinating question to ponder about this unlikeliest of founding fathers is why and how did a teenage French aristocrat end up becoming an important figure in the cause of American independence and wholeheartedly embraced, and was embraced by, a country so different from his own. Vowell's central theme is what Lafayette, as one of America's first national celebrities, was one of the few unifying figures in American history, which is riddled with social and political division.
During the research period for this book, Vowell visited a number of Lafayette related sites such as the Chateau de Chavaniac in the Auvergne region of France, Lafayette's childhood home and the Brandywine Battle Site, where Lafayette fought his first battle as a general in the Continental Congress, and the sites of other battles where Lafayette fought such as Monmouth and Yorktown. Because Lafayette in the Somewhat United States is as much a travel narrative as a historical one, Vowell finds ways of incorporating these experiences into the narrative she is telling. Vowell describes her approach to history as thus "Having studied art history, as opposed to political history, I tend to incorporate found objects into my books," she writes. "Just as Pablo Picasso glued a fragment of furniture onto the canvas of 'Still Life With Chair Caning,' I like to use whatever's lying around to paint pictures of the past—traditional pigment like archival documents but also the added texture of whatever bibs and bobs I learn from looking out bus windows or chatting up the people I bump into on the road." The final product is a hodgepodge of historical fact and amusing anecdote.
Vowell explores Lafayette as both a person and as a symbol for both the Americans and the French of a relationship that was tense and complex from the beginning. Lafayette managed to form an alliance between two vastly different countries (the curmudgeonly and puritanical Americans and the haughty and effete French) which lasted over the centuries. He tried to use his revolutionary credentials to cool the worst excesses of the French Revolution but barely managed to get out of it with his head intact. In 1824, the 67-year-old Lafayette visited the now United States and was met with a superstar's welcome. The 1824 American tour elicited the equivalent of a modern day media frenzy with crowds of thousands appearing to see the elderly Lafayette wherever he went. Entrepreneurs profited from the Lafayette mania through the very American phenomenon of commemorative souvenirs.
The title Vowell chose for her book Lafayette in the Somewhat United States refers to the main theme of the text, that Americans have been traditionally a divided people, broken up into a number of social, political, religious, and racial factions, and unwilling to cooperate and agree amongst themselves and other countries but Lafayette was one of the few things that united the American people and united them with France. Lafayette embraced America wholeheartedly and the feelings were mutual as the Lafayette mania of 1824 shows.
Almost as soon as the first Europeans arrived on North American soil, they began to squabble pettily with one another and their relationship with the outside world was marred by misunderstanding and outright xenophobia. The decision to break away from Europe and form their own society was much easier than coming to a consensus as to who should run that society and how it should be run. In today's socio-political climate, the growing pains of the New United States feel familiar, relevant, and perhaps comforting. Viciousness, pettiness, and conflict are far from anything new in American political life and the country has gone through some nasty periods of strife but always come through it. One of the few things that can bring its diverse peoples with their diverse values together is a shared reverence for its founding fathers.
One of the things I find fascinating about studying the founding fathers, and I get the impression that Sarah Vowell does too, is that once you get past the image of wise and infallible sages that posterity created for them, you find that they are relatably flawed. Vowell enjoys affectionately taking her subjects down a peg. Washington and Lafayette were great men but even they had their shortcomings. Lafayette's disobedience to the orders of the French government and departure for the Americas was the ultimate act of teenage petulance and rebellion and Washington was saddled with a position that no mere mortal could possibly handle without a lot of strain. We find stories of their outbursts and petty infighting interesting and amusing because such behavior is understandable and relatable. Who has not talked smack about someone they do not like.
As much as I love history, I struggle with reading history books as do many people. The genre has a not totally undeserved reputation for being dry, intimidating, and unapproachable. This is why Sarah Vowell's books come as a breath of fresh air. Her snarky, rambling prose filled with slang and pop culture references is the exact opposite of the textbooks I had to slog through for my history classes. I am also reading W.E Woodward's biography of Lafayette as research for the term paper I am writing and saying that getting through the book is a chore to get through is putting it mildly. Lafayette in the Somewhat United States is an ideal book for people with an interest in history but struggle with five hundred page biographies filled with footnotes, annotations, and other appendices.
Vowell's informal and irreverent writing style makes the book more accessible than those of her peers but does not feel dumbed down. Her prose has the feeling of a casual conversation with an intelligent, interesting, and eccentric person. The road trip format of Lafayette in the Somewhat United States I find enjoyable as someone who loves to travel and whose childhood family trips were to historic sites such as Gettysburg and Colonial Williamsburg. The text is cobbled together from both the highbrow discourse of historians and conversations with the random people one encounters during a road trip. This style is effective because it shows how history relates to the world outside of academia. Vowell enjoys taking digs at America's intertwined reverence and ignorance of its own history. She is tackling a well known but not understood subject. Most people have a vague knowledge of the American Revolution or the Civil War but have little interest in studying deeper into the subjects. Yet we trot out our god-like adoration of the founding generation each Fourth of July and the Civil War still evokes violent feelings even today. Historic sites are popular and lucrative tourist destinations yet no one seems to want to pay tax money for their upkeep.
I would recommend Lafayette in the Somewhat United States especially if you are interested in the Revolutionary War Era and or Franco-American relations.
literature
New England Native; lover of traveling, history, fashion, and culture. Student at Salem State University and an aspiring historical fiction writer.