Black Panther: Wakanda Forever
Review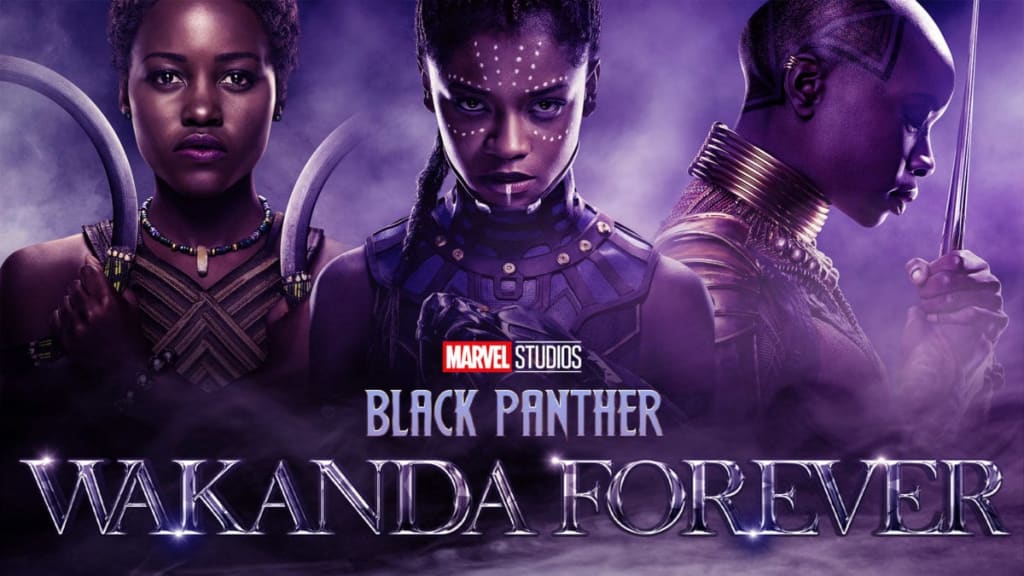 I got the pleasure of seeing Black Panther: Wakanda Forever on opening night and I did in fact cry like a little bitch baby within the first 30 seconds. It was an incredibly emotional, heartfelt and touching tribute to Chadwick Boseman and it was genuinely the most incredible Marvel movie for one simple reason, it didn't feel like a Marvel movie.
Let's start with the technical aspects; visually it was a beautiful and stunning film. The color composition was incredible, and the way Namor was introduced was absolutely perfect for his character. The underwater shots, specifically the ones involving the whales, were so beautifully shot.
At its heart it was a grieving movie, grieving Chadwick with the cast was such a heavy, emotional experience. He was so present in the film, you could truly feel the weight of Chadwick and the loss of him throughout the entire movie. I was so lost in the story that sometimes I would think that it would be really cool for Shuri to see T'Challa or hear his voice from the ancestral plane before then getting sucked back into real life and re-realizing that he's gone. The way they integrated Chadwick into the story was beautiful and gentle and not overused. They only used his image at the beginning and then again at the very end and I think that was the perfect way to say goodbye to him. The entire story was centered around Shuri grieving the loss of her brother and Letitia's performance reflected that. The cast did such an incredible job, the tears were very clearly real, there were so many emotions in this movie and watching the cast hopefully use this as a healing experience was amazing. Their personal loss definitely informed their on screen performances.
It felt a little weird to watch a Black Panther movie without him and it truly felt like he should have been there but the film was wonderful. I think the transition from having to lose T'Challa on screen to ushering a very reluctant Shuri into a leadership role was wonderfully written. I think the strongest part of the story was that there wasn't truly a villain. Namor was an incredible antagonist but he was in no way a villain. It was really incredible to watch the leaders of Talokan and Wakanda find some common ground. It was a really interesting spin on the very tired trope of two sides having a common goal with two different executions. The way that they handled Namor was incredible, they are both just nations that are desperately trying to escape colonization. And the realization scene at the end between Namor and Shuri, remembering their mothers and what they would want for our heroes was really powerful and was handled brilliantly.
My only critique, which is really not a critique, is that killing Ramonda was an uncalled for gut punch. We were all grieving a real life loss and I really didn't need to add a fictional one, it made a lot of narrative sense but honestly it just made me cry…again.
The biggest criticism of Shuri becoming Black Panther was that she hasn't shown us she can fight (which isn't true but lets roll with it), but we watched her earn it. She got her ass soundly handed to her by Namor and she had to do some internal work in order to overcome the ass-kicking. I look forward to seeing her continue with the mantle of Black Panther, I think she's going to let M'Baku take the throne while she acts solely as Wakanda's protector.
Now I have criticism for every Marvel movie, there is no perfect Marvel movie. Marvel movies are inherently flawed as they are formulaic, I'm a huge fan and that doesn't make them bad movies it just makes them repetitive. Wakanda Forever does not follow the Marvel formula, it only vaguely feels like a Marvel movie, it was a beautiful and touching tribute to a powerful actor that the world lost too soon and it's as close to perfect as a movie gets. Its re-watchability may have gone down because of how truly emotional it is but the quality of the film is as high as it gets. If you've followed my other movie reviews you know how hard it is for me to give out high ratings, this film is a 10/10
Reader insights
Be the first to share your insights about this piece.
Add your insights