Big Hero 6: Movie Review
*Balalala laa*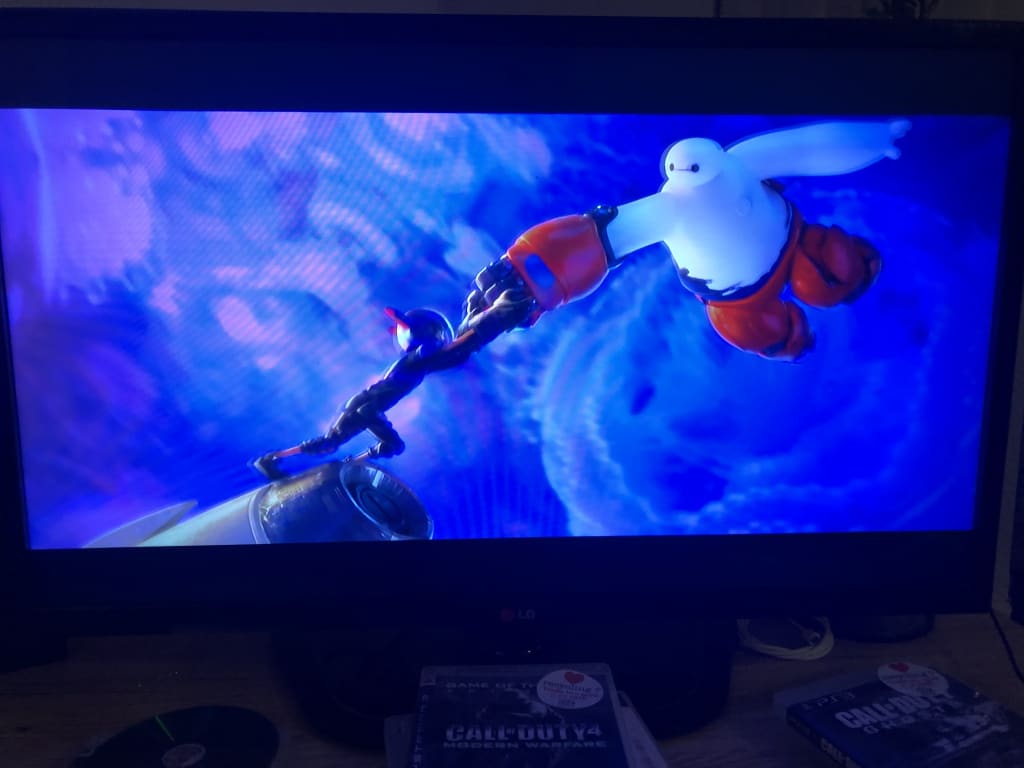 One of the lesser known Disney movies; Big Hero 6 follows Hiro Hamada a young genius who, with the help of a hilarious and cuddly healthcare robot, Baymax, as they attempt to save the world from an imposing threat.
The main reason that I love this movie is that its so much fun, there is enough action to keep you hooked based around a fantastic story that can really pull at the ol' heartstrings at times. Of course there are more reasons (otherwise this review wouldn't exist) and here they are...
BAYMAX!
Sorry for the unneeded caps lock and exclamation mark, there just seemed no other way to show my love for this character. Baymax is the loveable healthcare robot created by Hiro's older brother, he is also the reason a lot of people enjoyed this movie, or he may be the only thing people liked about the movie.
For me, its how inately innocent the character is. Unlike most robot characters, Baymax is never really given a specific personality outside of how he is "programmed". However, his character is never dull, his inability to get out of the healthcare robot persona makes him very funny. He'll do anything to ensure Hiro and his friends or anyone are ok and healthy.
If you've watched the movie... my favourite Baymax moment is the low power scene when they come home (I won't spoil it if people haven't seen but I'm hoping people know what I mean).
Entertaining yet heart-wrenching plot...
Like I mentioned above, the usual Disney comedy and lightheartedness is built around a very real storyline. (I'll be careful with this paragraph to avoid spoilers).
At the end of the day, the movie can be very funny but equally it can be just as sad, what motivates Hiro comes from a devastating opening; I mean who is surprised with Disney at this point (Up for example). But, thats what drives the movie forward, watching Hiro deal, learn and eventually grow from beginning to end is very relatable to most people in the world.
Yeah, I'll even admit, depending on how emotional I'm feeling I end up crying or at least tearing up during multiple parts of this movie.
Hilarious and diverse characters...
Whenever I'm watching a movie I'm always looking at the characters outside of the protagonist and their plucky side-kick. Mainly becuase I hope that there is as much attention paid to every other character as there is to the main.
With Big Hero 6 there are a multitude of characters that all embody their own personalities that don't need any explanation or adjustment in the movie. They are able to co-exist without needed to change themselves or learn that they shouldn't be acting how they do to prove anything, they just are who they are. Now, I do love a good redemption arc and character growth, but sometimes its just nice to see characters treated as normal; that their personalities are just valid representations of who they are.
Hiro's friends also represent different races within American culture and showcase "Geeks" in a fairly positive light. His friends are smart in various ways without ever being seen as the but of a joke (other than Fred). Its their quirks and outlook on life that make this movie relatable and boosts the humour to a much smarter level.
At the end of the day...
From the moment I watched this movie years ago I fell in love with it. The movie was quickly added to my top movies list and I've watched it many more times since. One of these times being last night (thank god for Disney+).
review
A lover of writing with a tonne of thoughts and opinions stuck in his head. Lets see what comes out!