Bhuvan Bam Rafta Rafta Web Series Review
Rafta Rafta Web Series Review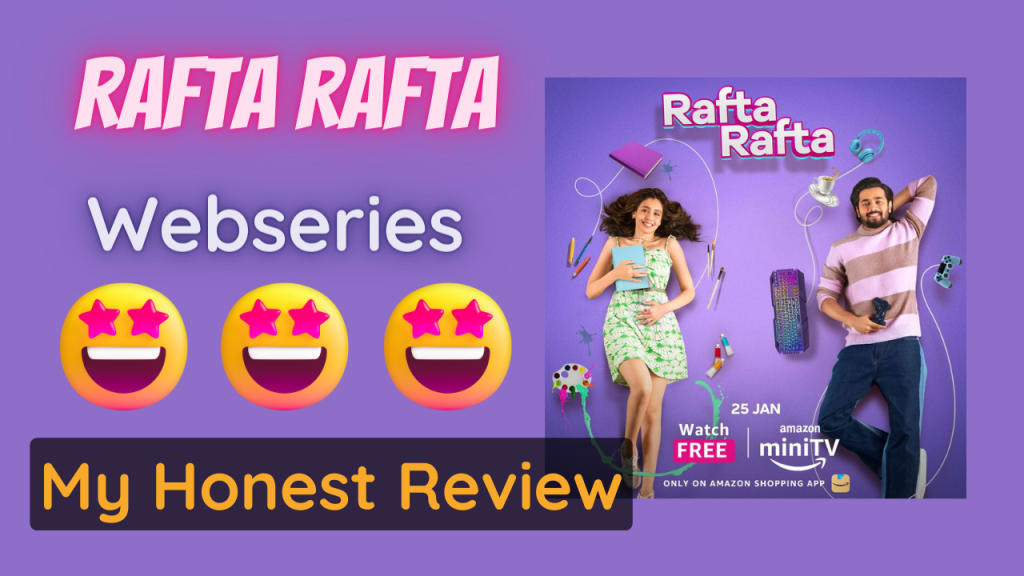 Bhuvan Bam Rafta Rafta Web Series Review
Eight days ago, Bhuvan Bam's webseries came on Amazon Mini TV called Rafta Rafta, so I am going to tell you how good this series is and, most importantly, should you spend your time on it or not?
These days, seeing Bhuvan Bam in series, etc., it can be clearly noticed that he is a very good actor.
Srishti Rindani, who plays the female lead, also does excellent work in addition to this.
Along with this, the supporting actors present have also given 100 percent of themselves.
Overall, I would like to give 10 out of 10 to the action department of the Rafta Rafta Web series; everyone has left their mark and everyone has given as much effort as they could.
Direction
Unfortunately, the direction of the series is not up to par. I am a big fan of Bhuvan Bam, and I am pretty sure you will be too. We all enjoy BB Ki Vines, and Bhuvan Bam has a cult following.
People always remember him, but in this series, I felt disappointed about its direction.
Although this is a miniseries of seven episodes and each episode is 15 minutes, some episodes look like they are drawn.
When his Taaza Khabar web series was released, every single scene in it was very engaging; every episode kept the audience engaged with him. That thing is completely missing in his Rafta Rafta web series.
Story
I am not going to reveal its story for you, but let me tell you that Bhuvan Bam and Srishti Rindani try to show themselves as a couple in front of people.
The comedy angle is also there, and it can be called a lightheartedly funny minishow, but the punchlines seem too repetitive somewhere or other.
After a point, I started getting annoyed with the same punches over and over again.
The comedy level of this series is 10-15 years old, and it doesn't look like today's time at all.
Overall, the story is good, but the presentation is poor, the direction is weak, and the acting performances and background music are excellent.
The initial episodes feel good, but in the middle portion, this series becomes boring.
Rafta Rafta Cast
Bhuvan Bam as Karan
Shrishti Ganguly Rindani as Nithya
Rakesh Bedi as Mr. Sharma
Hanish Kaushal as Vidyasagar
Atul Srivastava as Mangal Chacha
Meena Naithani as Shani Chachi
Enab Khizra as Laxmi
Secondary Cast
Kamini Khanna as Mrs Sharma
Tarosh Rao as Pandey
Vijay Dogra as Inspector Khan
Saurabh Mishra as Jaggu
Richa Ambar as Geeta
Mahesh Gehlot as Pandey's father
Jaineeraj Rajpurohit as Atul Mama
Vijayant Kholi as Gautam Malhotra
Shorba Bhattarcharya as Prakesh Nair
Madhu Sachdeva as Shalini Malhotra
Vijay Meenu as Vidya Nair
RJ Kisna as Michael D' costa
Ashish Singh as Interviewer on VIDEO CALL
Jatin Sharma as Security Guard
Tushar Rungta as Delivery Guy
Ritikia Arora as Tanya
Priyansh Nandwani as Employee
Ankur Rastogi as Office Peon
Ranbir Aryan as Ironing Guy
Anuradha Gautam as Ironing Guy's wife
Om Dagar as Office Security
Bhuvan Bam Rafta Rafta Web Series: Should You Watch It?
Yes, it is one-time watchable, and you can watch this series with family as well. The best thing is that this series is available on Amazon Mini for free, and this was done by Bhuvan Bam for the sake of his fans. He wants their content to reach his fans, for which they did not have to pay.
I'd like to give Bhuvan Bam a 10 out of 10 for his efforts.
So, if you, like me, have seen Bhuvan Bam's Rafta Rafta webseries, please let me know in the comments.
That's all for today.
Thanks for reading.
Reader insights
Be the first to share your insights about this piece.
Add your insights