Best 'Star Wars' Funko Pop! Figures
Star Wars Funko Pop! figures aren't too short to be stormtroopers.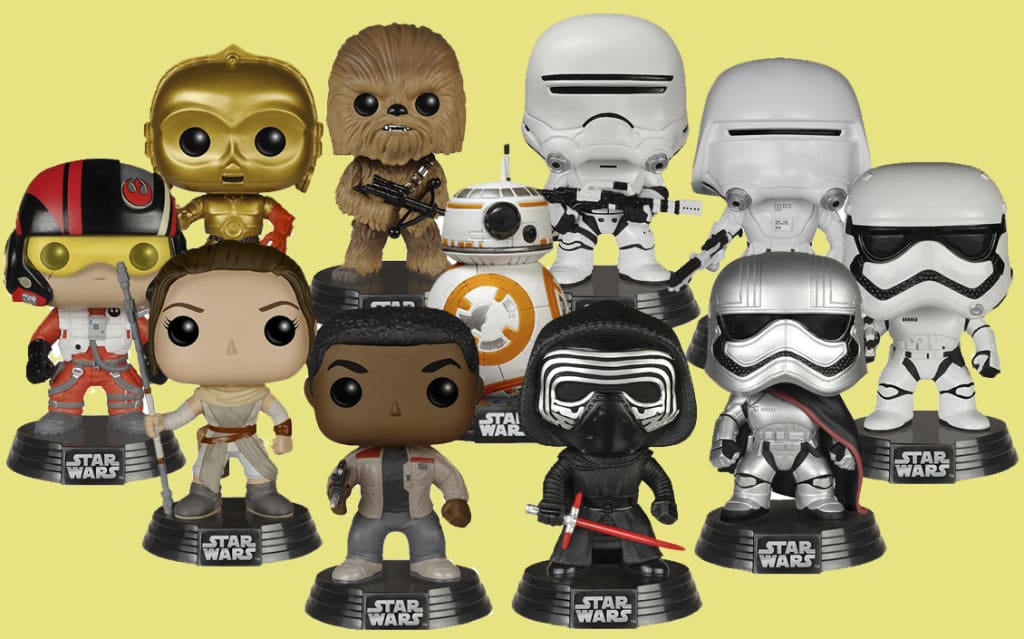 "Whether it's the X-Men or Breaking Bad, we're going to find some pop culture phenomenon to get you into the hobby." Funko CEO Brian Mariotti's statement about collecting Funko Pop! figures is certainly true, and the company's Star Wars collection is no exception. Geeks everywhere are rejoicing at the prospect of a new Star Wars movie every year for the foreseeable future. To prepare for these exciting events, toy lovers and Star Wars fans everywhere are stocking up on the best Star Wars toys and collectibles. One of the more popular brands out there is Funko Pop!-and why wouldn't it be? Funko Pop! figures turn your favorite characters into miniature, desk-sized, adorable playmates. They are perfect for kids and adult alike, and are available in a huge variety of characters. In fact, even the Star Wars collection was large enough that we struggled to narrow down our selection of the best. After much debating and deliberation, Geeks brings you our picks for the best Star Wars Funko Pop! figures to add to your collection. Star Wars has a vast line of products that are as trendy as their movies. There is no doubt that the Star Wars craze will continue to grow its audience as they continue to offer a handful of exclusive items to their fans. The Star Wars Funko Pop! figures are a limited line of vinyl figures that started off small in size standing a little over 3" tall and some have now doubled in size. These collectible items will only increase in value over time since production is limited, so if you're a Star Wars collector make sure you know how many creatures should be on your checklist.
Life's too short to look for the wrong droids. Funko did it again with this C-3PO, who's ready and eager to assist you with all your translation needs. Standing at 4" tall this stylized and fun droid looks so cute with his large black eyes and golden body. This is the perfect gift any Star Wars loving child, and even the child in you. Empower your ultimate Star Wars collection with this little guy and his friends Obi-Wan Kenobi, Luke Skywalker, and Yoda. Two's a crowd but five's a Star Wars themed party, am I right? But if you're more of a subtle person looking to settle down with the right one, this Funko C-3PO is the droid you're looking for.
What better way to show off your inner dark side and devious nature at the office or in your dorm room than with the Holographic Emperor Palpatine Funko. What's even better is that you'll be the life of the party during a power outage, because he glows in the dark. To clarify, this isn't just a figure of Emperor Palpatine. It's a figure of Emperor Palpatine's hologram. This figure is the perfect addition to any Star Wars or Funko Pop! collection.
Every Star Wars fan knows that Jedi Luke is one of the most bad-ass characters in the series, and that's why this Luke Skywalker Jedi Funko Pop! is a truly necessary addition to any collection. Complete with lightsaber and glove, Luke comes on his own Star Wars removable base. This figure was retired but re-released, and all reviews show that this was a much-appreciated action. However, the re-release is only for The Force Awakens, so who knows how long he'll stick around. Better snag him while you can!
If your storm trooper collectibles are slacking off, you may just have to bring their boss in to motivate them with this Darth Vader Funko Pop! Not only does his head bobble like a traditional Star Wars Funko Pop! but his head also turns. His uniform is incredibly detailed, and he comes with his own Star Wars base and lightsaber, making him the perfect commander of your desk. Furthermore, this is just about the only way anyone will ever refer to Darth Vader as cute. Despite his evil nature, his Funko Pop! is absolutely adorable. Even his menacing stance can't change his bobblehead cuteness.
Replicating the Metal Bikini look of Princess Leia when she was held captive in Jabba the Hutt's palace at the beginning of Return of the Jedi, the stylized Star Wars Slave Leia Funko Pop! stands at 3 3/4" tall. This unique Princess Leia piece makes a great gift for Star Wars fan and collector alike! The Star Wars Slave Leia Funko Pop! comes in a displayable window box, so she'll look great sitting next to the rest of your collection!
What's better than an R2-D2 figure? An R2-D2 Funko Pop! figure that bobbles! Now you can keep your favorite droid with you at all times. R2-D2 comes with a handy Star Wars stand, but he can also detach from it if you want him to be able to roam your desk. His detailed paint job is artfully copied from the movie character, making him a real collector's item. However, as adorable as he may be, this guy is not for children. His small pieces make him a choking hazard, so keep him away from the kids. And if you plan to keep him on your desk, try to keep him from feuding too much with C-3PO, or you'll never get much accomplished.
This adorable Funko collectible figure of Chewbacca comes packaged in a colorful window box, making it a must for your collection. This Chewbacca's head turns and looks amazing. Stylized and fun this collectible is a great take on the heroes and villains of the Star Wars universe. What's not to love about Funko? The attention to detail on Chewbacca is astounding, especially his hair the best part about him besides his unforgettable war cry. Funkos, like this one, are always sturdy and made of solid materials that make it durable and long-lasting. The unique design brings Funko's house style into the world of bobble heads, and we just know that Chewbacca is going to look great on your desk. Order yours today.
Boba Fett is on the lookout for Han Solo once again as this Boba Fett Funko Pop! roams office desks and dorm rooms throughout the country. Complete your dark side collection with Boba Fett, who comes complete with his carbine rifle, jet pack, and colorful armor. His head bobbles and he comes on a removable Star Wars base, matching perfectly with the rest of the Star Wars collectible Funko Pop! figures. Put him alongside Funko Pop! Gamorrean Guard, Darth Maul, and Darth Vader to have a complete Dark Side at your daily disposal.
Best Funko Pop!, Yoda is. Yoda is one of the most essential characters in any Star Wars collection. If you thought Yoda was cute in the movies, just wait until you see this guy. His big green eyes are absolutely adorable, and he's even more miniature than before. The little green figure comes with his green lightsaber, and his head turns as well as bobbles. With him at your side, you will easily be able to use the force to complete your daily tasks.
The Force Awakens is the 2015 rendition of the Star Wars franchise and as the battle between good and evil continues decades after Return of the Jedi, so does the list of heroes. The new generation of characters will team up with the Rebel Alliance and free the galaxy from evil. Funko brought together the old and the new starting with the First Order Stormtrooper, a limited bobblehead figurine who is loyal and known to eliminate traitors of the First Order. So if you have traitors circling your life, this is the guy who's going to take them out for you!
Since the Star Wars Funkos started hitting stores around the time The Force Awakens was released, people couldn't keep their hands off this dark warrior. Kylo Ren leads First Order mission with a temper that lets you know he is a force to be reckoned with. This fiery character is as strong-willed as his original lightsaber, making him one of the most sought-out bobbleheads.
You don't know cute droids until you've seen the most attractive of them all! This adorbs droid is more than ready to make his debut in the galaxy after first making an appearance in The Force Awakens. This bobblehead has a spherical free-moving domed head that wins people over and allows him to get away with just about anything. BB-8 is orange and white with silver accents. He has a black optical lens right on his head which attracts collectors along with his infectious personality. Once upon a time, BB-8 appeared to be a female and then transitioned into being a male, but that's all a part of the evolution.
Your collection won't be complete unless you've grabbed a Rey, the resilient survivor. This scavenger was forced to toughen up after a lifetime of dealing with suspicious types who displayed their cutthroat ways in the harsh desert world of Jakku. Rey is one of the newest additions to the galaxy, but has earned her place along the rest of your collection of epic characters.
Funko recreated our favorite and beloved Jabba the Hutt crime lord. Standing a little over 3" inches tall, Jabba the Hutt has a modern urban look with inspirational detail. He looks very cool (and hungry) with his tiny tongue sticking out and saliva dripping on the sides of his mouth. You can't coin yourself as a collector unless you have this classic figure in your possession. Stand him up on your desk and don't worry because this very cute villain won't slime up your furniture!
There's no better way to adorn your desk than with this figurine who has been trained as a warrior and is now seeking to escape his tumultuous past. Now having a new choice, he is plunged into a nonstop adventure while his inner voice sends him on a hazardous yet heroic mission. As a new addition from the faraway galaxy to your collector's shelf, this Funko Pop! will help you display what a hardcore Star Wars fan you really are.
As much as you'd like to conceal your fandom, you absolutely can't with this Unmasked Vader! Go ahead, reveal your inner Star Wars crazies with this bobblehead version of Anakin Skywalker. The figurine is a ways from scary and instead looks absolutely adorable which is quite appealing to the younger group of collectors.
Admiral Gial Ackbar may have looked like a repulsive creature on the big screen when watching the Star Wars saga but as a Funko Pop!, he is not as gross looking. The amphibian creature looks huggable on the collector's stand he rests on. You can't miss out on our salmon-colored friend whose "it's a trap!" line stuck to fans way after the movie debuted. The figurine measures 3 3/4" tall which is just perfect so that you can fit him in with the rest of the gang.
Who knew you can decorate your desktops with a No Helmet Poe Dameron? FunKo did! There's only one great X-Wing pilot in the galaxy far, far away as we learned when the character joined the Star Wars franchise in 2015. The Resistance has never seen a pilot who brings it like Poe does, and his win over the First Order earned him a spot as a Funko Pop!
Dressed in distinguishing metallic armor, this Star Wars leader commands The First Order's platoon of troops. Now, Captain Phasma is yet another new character from the galaxy far, far away turned figurine that Funko designed. This Star Wars Captain Phasma Pop! is handsomely displayed on a decorative Star Wars stand, so he can be placed next to the other cool characters ready for you to show him off to your fellow fans at your next Star Wars club meeting.