Best Movie Musical Adaptations
in no particular order.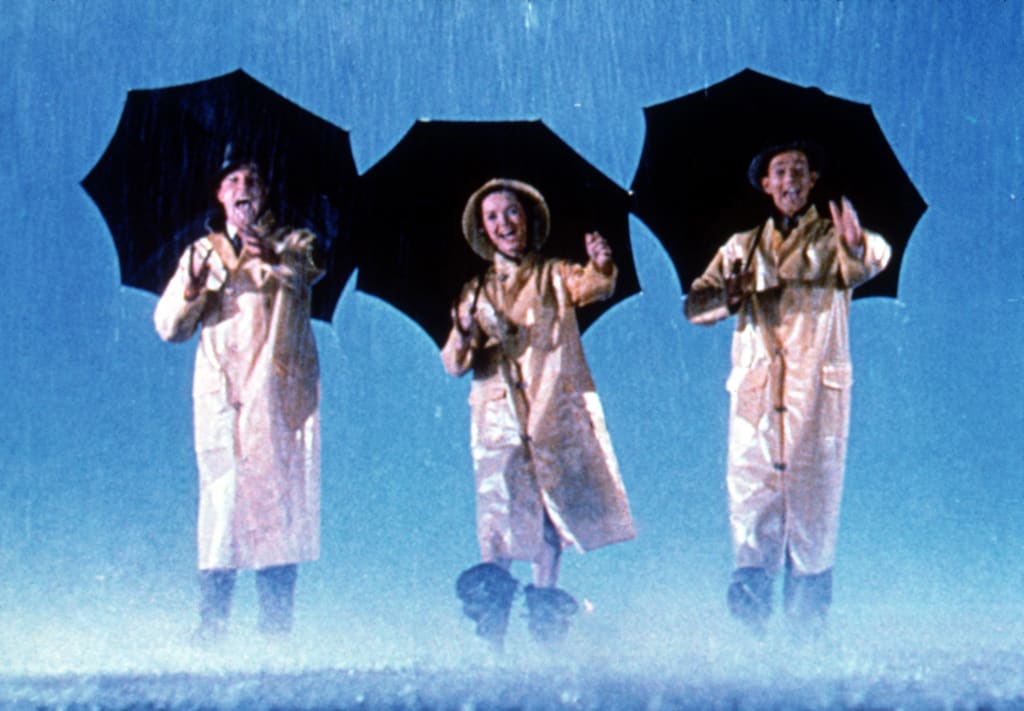 Courtesy of Loew's Inc
I've argued many times that movie musicals stand the test of time, and also are the greatest form of escapism. Where else would upwards of 100 people know every choreographed move to a dance sequence (outside of the theater, of course)? And it's hard not to sing along to the happy tunes that uplift characters, and gape at the talents of Gene Kelly, Barbra Streisand, and Robert Preston.
As a former theater kid in high school and someone who longs for classic over new content, you can't go wrong with musicals.
Here, in no particular order, are movie musicals you should watch over any of the "Live" productions NBC keeps churning out. These classics should not be overlooked, and have that certain charm about them as older films.
"Singin' in the Rain"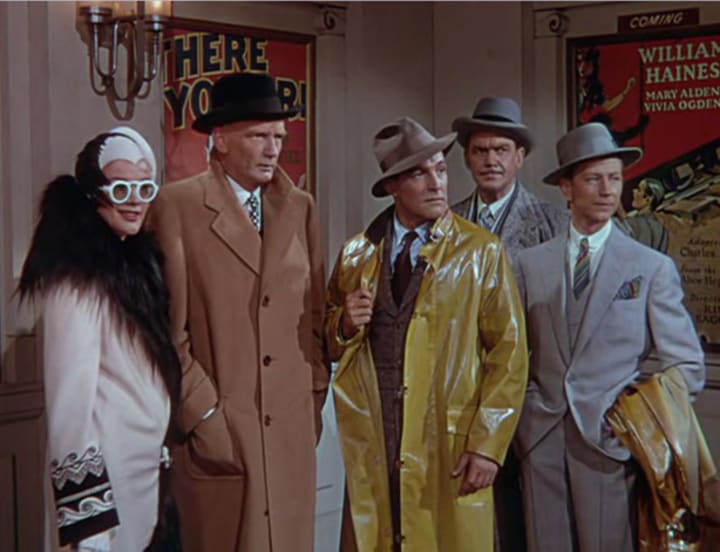 Basically the quintessential movie musical, and super meta for being a movie musical about movie musicals. Gene Kelly, Donald O'Connor and Debbie Reynolds star in this classic film, and they are Hollywood stars adapting to the shift from silent film to talkies in the later 1920's. Tunes like "Good Morning" and "All I Do is Dream of You" will follow you for the rest of the day, and you won't be complaining, as it is contagious the moment it plays from the movie. The upbeat vibe given off from this film makes it stand the test of time. It's bright, colorful, and If you don't feel happy after watching Gene Kelly sing and dance to the titular song (which he filmed under the stresses of a fever!), then there really isn't much to bring happiness your way.
"The Music Man"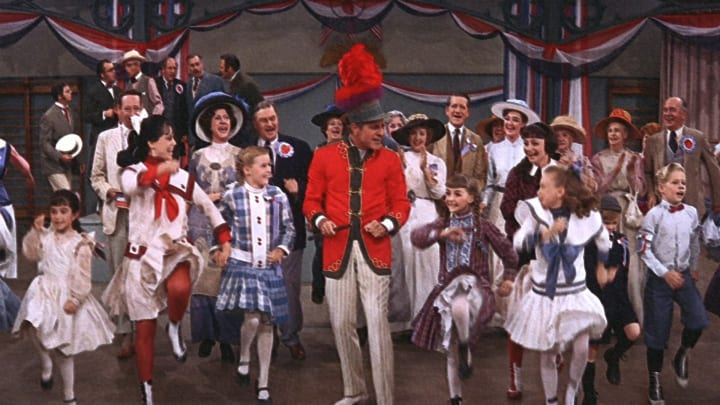 Insert Fourth of July Fireworks nostalgia. Robert Preston plays the leading man, Harold Hill in the film, along with on Broadway. It is probably one of the most difficult roles to play onstage, and onscreen. The lyrics are quick and smart, and weave themselves into extensive and complicated dance sequences. Fast-talking conman Harold Hill (Preston) charades around as a music professor and tries to convince River City, Iowa, that he can turn the local kids into a marching band extraordinaire. While making some money and wooing the librarian, Marian (Shirley Jones). "Trouble" and "Madame Librarian" are two examples of ensemble numbers with Preston at the forefront that were very detailed as to choreography and incorporating the set effectively.
"An American in Paris"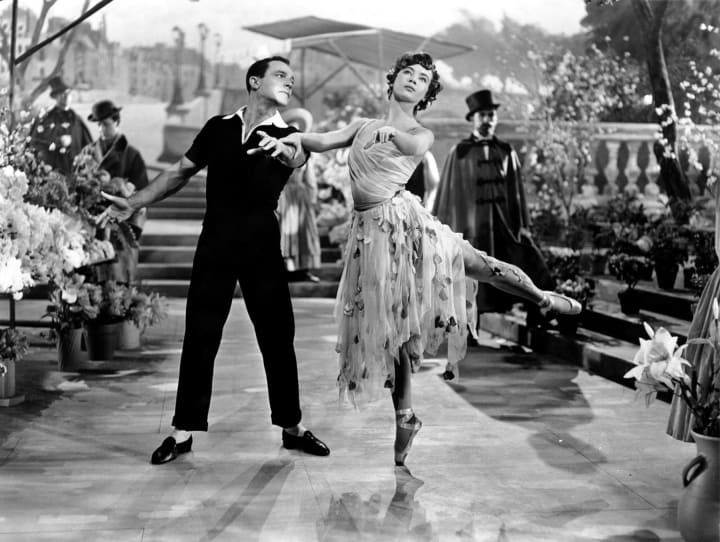 In Paris, naturally, three friends (Gene Kelly, Oscar Levant, and Georges Guetary) struggle to find work. As though things weren't complicated enough already, two of them fall for a dancer (Leslie Caron). "'S Wonderful" and "I Got Rhythm" are two well-known songs from this film, and the tunes Gershwin composed are wonderful, and the film won six Oscars, including Best Picture. Showcasing music, dance (especially in the final scene between Kelly and Caron) and the beautiful French landscape makes "An American in Paris" a classic.
"West Side Story"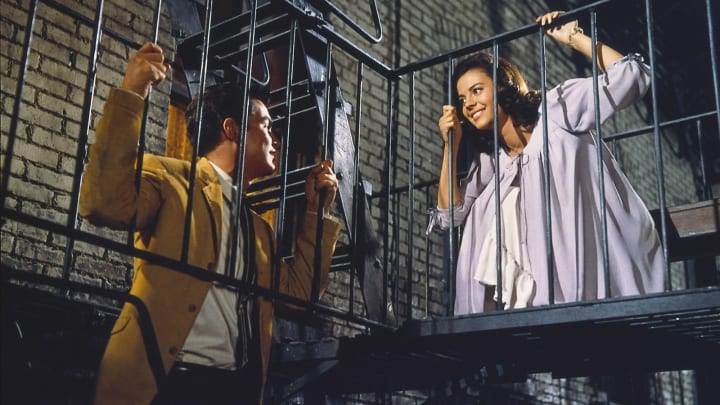 The musical adaptation of William Shakespeare follows the Jets and the Sharks and takes place in New York City instead of fair Verona. Tony (Richard Beymer) and Maria (Natalie Wood) are both parts of constantly feuding clans, and their love for each other becomes self destructive, and negatively impacts the people around them as well. "The Jet Song" will keep you snapping your fingers, and anyone who falls in love will replace their lover's name with Maria's whilst singing "Maria." Though the story of forbidden love is cliched, Ernest Lehman's screenplay is the best musical adaptation (and shall remain so). If the ten Oscars it garnered doesn't support the previous statement, very little will.
"The Sound of Music"
Based on the real-life Von Trapp family singers, The Sound of Music is warm and touches the heart. A nun, Maria (Julie Andrews) is assigned to become a governess to a Naval captain (Christopher Plummer) with seven children. Although the children are notorious for tormenting their governess, they give Maria a chance and form a close bond with her, as her contagious optimism infects them. Shot in Austria, the backdrop is breathtaking, as the film opens with aerial shots of the vast landscape. The Rodgers and Hammerstein score is wonderful. Some quality tunes from the film include "Do Re Mi" and "16 Going on 17." Although Carrie Underwood's live performance was delightful and had high ratings last November, Andrews Plummer are simply irresistible.
"My Fair Lady"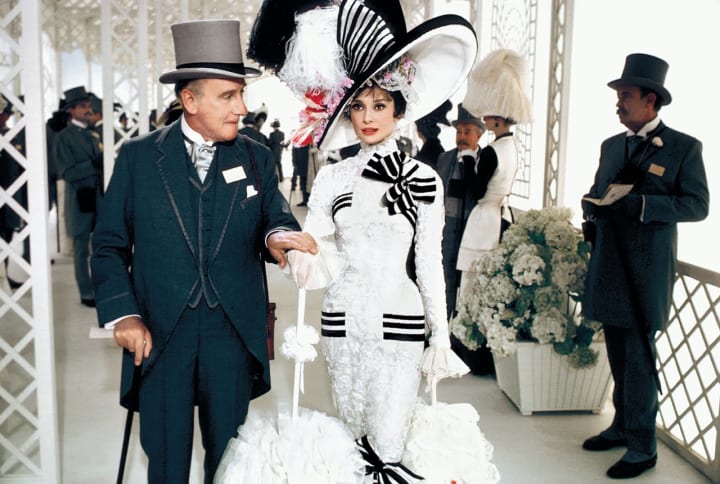 The film adaptation of the musical made Americans think now more than ever that anyone from England had the exaggerated cockney inflection that Audrey Hepburn has at the film's start. Eliza (Hepburn) is chosen by an arrogant Professor Harold Higgins (Rex Harrison) to transform her into a woman of high society. Marni Nixon was behind most of the songs that Hepburn's character sang in the film, but we won't hold it against Hepburn. Famous songs from the "Wouldn't it Be Lovely" and "On The Street Where You Live." It had captured the attention of the Academy by winning eight of the twelve Oscars it was nominated for, including Best Picture.
"The Wizard of Oz"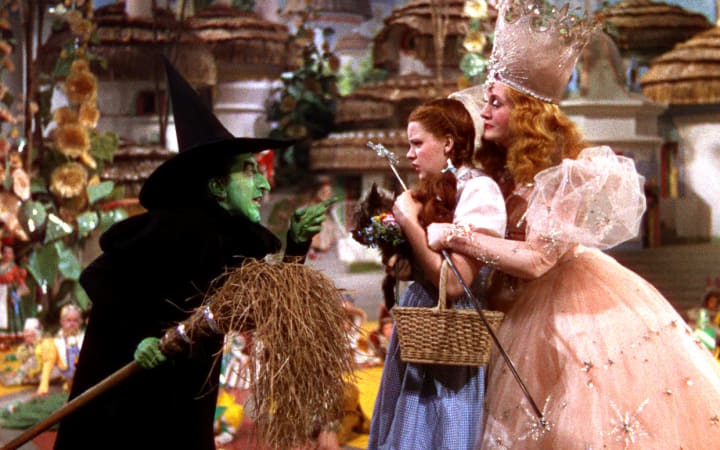 The musical adaptation of Frank L. Baum's children book put Judy Garland on the map as Dorothy Gale, immortalized by her iconic ruby slippers. The film transitions from a black and white filter into a magical technicolor wonderland, as a tornado takes Dorothy and her dog Toto to the Land of Oz. On her journey to find the Wizard (Frank Morgan) to get her home, a Scarecrow (Ray Bolger), Tin Man (Jack Haley) and Cowardly Lion (Bert Lahr) accompany her on her musical adventure. It's perfect in a storybook-comes-to-life sense, as it has talking animals, witches and fairies. "Wizard of Oz" won two Oscars for Best Music (Original Score and Original Song), and we all will keep dreaming of the utopia located "Somewhere Over the Rainbow."
"Grease"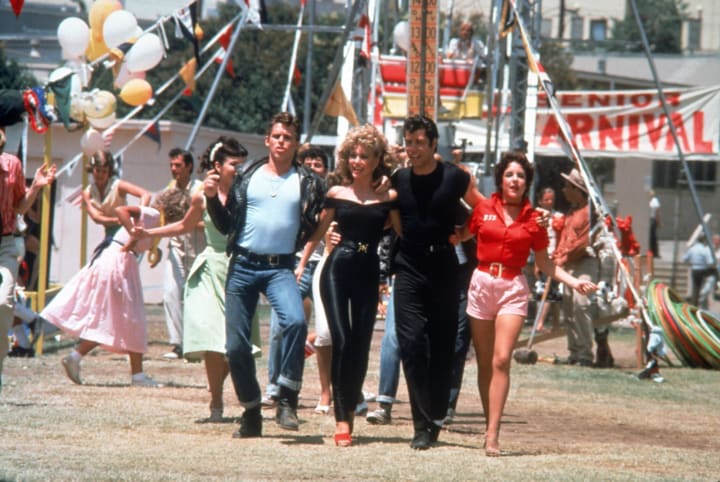 The true "High School Musical" takes you to the 1950s in the midst of poodle skirts, hot rods and leather jackets. Badass greaser Danny Zuko (John Travolta) and goody-two-shoes Sandra Dee (Olivia Newton-John) meet over summer, and reunite at Rydell High School to find that they are part of different social groups. They struggle to make a relationship work, and suffer from the pressures of fitting in. Well-known songs deriving from the film are "Greased Lightning," "Summer Nights" and "We Go Together." Filled with high school hijinks, awesome dancing and an abundance of cars, "Grease" is a classic high school love story for the ages. "High School Musical" will never be nearly as refreshing as "Grease."
"Hello, Dolly!"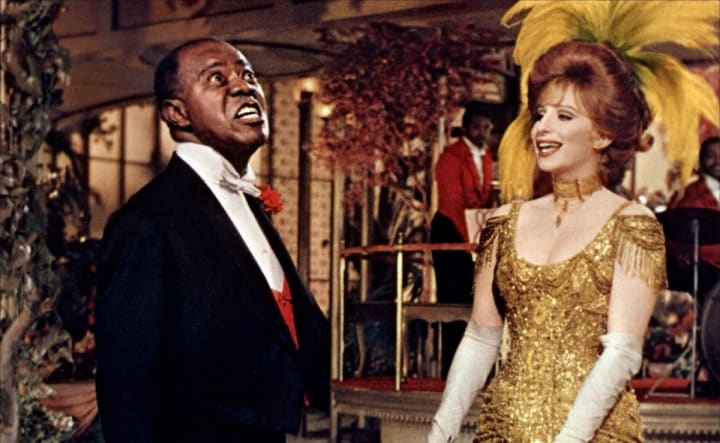 Barbra Streisand shines as Dolly, a woman infamous for her involvement in everyone's personal lives. She plays matchmaker more than anything,and she makes her latest endeavor wooing the "half-a-millionaire" Horace Vandergelder (Walter Matthau). Dolly ventures to New York City to find him, along with two store clerks and Vandergelder's niece and her beau. The film is delightful, and Streisand shines. "Put on Your Sunday Clothes" and "Leave Everything to Me" are great songs from the film, and "Hello, Dolly!" is the true hallmark of the film, as it has become such a common phrase.
"Mary Poppins"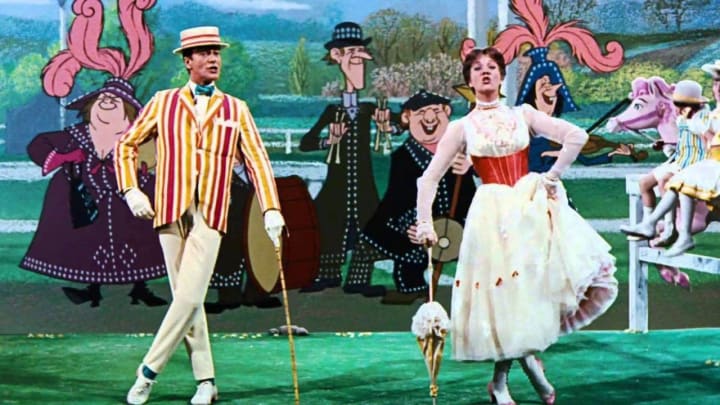 The arduous process of adapting P. L. Travers' childrens' book into a fun Disney movie musical was well worth it. The Banks family is in search of a nanny, and Mary Poppins (Julie Andrews) flies to their London house with her umbrella and suitcase equipped with infinite space. She brings warmth back to the Banks house, and with the help of her chimney sweep Bert (Dick van Dyke), it is indeed a jolly holiday with Mary. "Chim Chim-er-ee" and "Spoonful of Sugar" are part of the award-winning music in the film. Andrews collected the Oscar for Best Actress that year, and "Poppins" also received Oscars for Best Music (Original Song and Score).
About the Creator
Marina loves Frank Sinatra and hates decaf coffee. The native New Yorker and Cornell grad knows every word to "Ferris Bueller's Day Off" and thinks Shakespeare is cool. If you need her, she's waiting for Godot. Twitter: @marina_caitlin
Reader insights
Be the first to share your insights about this piece.
Add your insights