Best Mice for PVP Gaming
Having the best mice for PVP gaming can help you excel and defeat your opponents.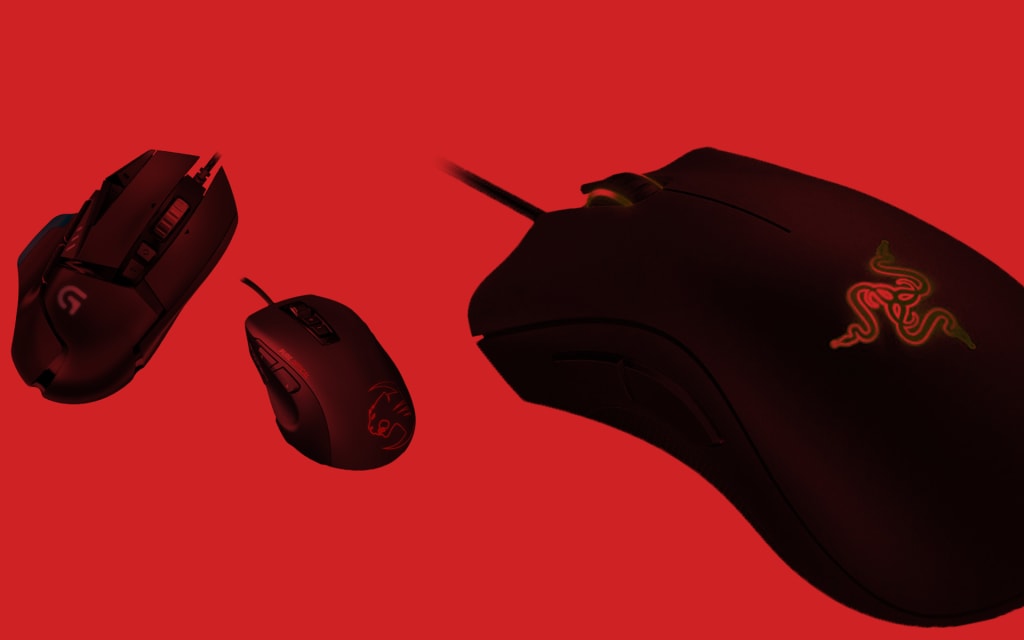 As a player vs. player gamer, you know that sometimes the difference between winning and losing your mouse. By having the best mouse, you will excel and defeat your opponents when you face them in any PVP game. In this article, we'll discuss the top mice a player could have access to and at the end you, the reader will be able to make an informed decision.
Our first mouse is one that I personally use. It is the Red-dragon M601. There is potential to make this the best mouse for PVP gaming but this is only my personal opinion on it. This mouse has adjustments for DPI, FPS, and G acceleration. Its max adjustments go to 2000 (DPI), 4000 (FPS), and 15(G), in that respective order. On this mouse, there are about six buttons and depending on your game you have six at hand options for defeating your enemies. The buttons I find most useful are the two that run along the left side of the mouse. These are right by your thumb and it is easy to quickly swap between a weapon or hit different abilities during a fight. Depending upon the surface you play on, whether it is a mouse pad or a desk this mouse comes equipped with Teflon feet so you'll never slip or accidentally drag your courser to the edge of the map. It is an on-point precision machine. During the night, because that is when us gamers come alive, the mouse has a red light which emulates from it, and it is a wondrous sight to behold. Some final points to mention before we move on to the list. This mouse's cable runs for about 6'. It is a high strength braided fiber, so even your dog won't be able to chew through it. The mouse is equipped with an anti-skid scroll wheel and it has a comfortable feeling to it when you grasp it and begin to play.
The second mouse is the Razer Death-Adder, which is great for you left handed PVP gamers. For you lefties out there this is potentially the best mouse for PVP gaming. Now, the design is slick. It has the Razor symbol, all black, and this mouse has blue decals. This mouse goes up to 3500 dpi and is equipped with a precise 3.5 G infrared sensor. The Razer is four times more precise then the standard 800 dpi mouse which gives you a distinct edge. When you buy this mouse, you are using a mouse which is favored by eSports athletes all over the world and therefore you know you are buying a quality product from a reputable company. This mouse design allows you to have a variety of colors and you don't have to stick with just blue. If you have a blue keyboard, for example, a person could match everything to that, or have a varied of colors representing their favorite football team. The possibilities are endless when buying from Razer.
Next up is the Logitech G502 Proteus Spectrum. This mouse has an advanced optical gaming sensor, which is currently Logitech's most responsive and accurate sensor, and this is seen with the onscreen responses. This could be the best mouse for PVP gaming due to its on point specifications and design. The mouse has tunable weights and balances so that it can fit into your hand. On the mouse, there are repositionable 3.6G weights which aid in making it feel like a superior fit for a person's hand. There is a customizable RGB color model, which allows the user to adjust the color scheme to their liking and you aren't stuck with just one base color. In addition, this mouse has a comfortable shape to it, and has textured grips and conveniently placed buttons for simple use during fights. On this mouse, there are 11 programmable buttons and the scroll wheel is adjustable so you can have hyper but accurate maneuvers. When you are in the midst of a tough battle against other PVP players you have the ability to make on the fly dpi switching so you don't have to log out, make changes, and then log back in realizing that you are already dead. To make this a possibility a person has to download the required software from Logitech gaming software, which is available from their online website.
This mouse has access to several buttons on the side, so if you remember what buttons go where for certain abilities you'll be fine. This could be the best mouse for PVP gaming depending upon the specific game you are playing. For instance, this could be a good edition for you Skyrim players, because you have access to buttons which are near your thumb. Granted you'll have to be precise in your pressing of the buttons but instead of trying to remember what button is sneak you can simply set the number one button as sneak. That being said, if you play a variety of games like I do, then it may be hard to remember what button does what when you do not consistently play the same game over and over. The design of this mouse allows an all new one size fits all so that if your hand is the size of a basketball, it'll still feel comfortable. An interesting feature of this mouse, when compared with the mice talked about, is that the scroll wheel goes left and right, and up and down. As you surf a web page or navigate a map on your game this mouse could be the best mouse for your PVP gaming.
In fifth place is the Razer Naga Hex Red Expert. Like a hot red Chevrolet SS (late seventies model) this mouse looks sleek, and depending on if you are more of a looks person this could be the best mouse for your PVP gaming. Now, this mouse is not all looks, for it has some neat specifications to it. This high performing mouse can reach up to 250 clicks a minute. There are 11 total hyper response programmable buttons on it. There are six buttons in a wheel formation on the left side of the mouse. It is spaced so that you can hit one with precision and are guaranteed the result you want. Overall, this mouse has a life cycle that goes up to 10 million clicks. That is a lot of won battles in your PVP gaming. This mouse is equipped with 5600 dpi and has a 3.5G laser sensor. The ultra-polling on the mouse goes up to 1000 Hz and there is a 1 ms response time when moving through a certain map or clicking your way to victory. Compared to other mice talked about this one is by far the sleekest looking.
A mouse that may be cheaper than other mice we've talked about is the Elecok wired gaming mouse. This could be the best mouse for PVP gaming if you are on a budget. Right out of the box this mouse has no software that has to be installed first in order for it to work. Just plug and play. The cable length on it is about a meter and a half long and it plugs into your USB. There is an adjustable dpi switch and it ranges from 1,000 all the way to 3,500. This is an ergonomically designed mouse so it is made for long term play without wearing your muscles in the hand. It is compatible with the most recent version of Windows. That being said, if you are on a budget, like myself, this could be the next best mouse for your PVP gaming.
If you are a big spender, then the Mad Cat R.A.T.7 could be your next best mouse for PVP gaming. The mouse itself is a lightweight metal chassis which allows a person to move without much difficulty. It has a custom weight system. Looking at the pictures on Amazon, it seems to be that you can adjust the dimensions of the mouse to fit into your hand, and you can add or remove weight to make it easier or harder to move. It has a precise aim mode, so using the software that comes with it will allow you to set your mouse sensitivity. When setting it all you have to do is hold down the Precision Aim button and it slows it until it is a workable level for the person playing. There are interchangeable pinkie grips and palm rests. It comes in three different sets, so there is a lot of customization to be had if you were to acquire it. The design of the mouse allows a person to grip the mouse however they choose but the mouse adjusts to their grip. It is a moldable platform and even as it moves your thumb buttons are always in reach. On this mouse, there are six programmable buttons. Overall this mouse is great if you like being able to tinker with something down to the bare bones. It allows versatility, comfort, and allows you to customize everything to your heart's content. I'm not sure about you, reader, but I do believe once my mouse quits on me I'll be picking this up. This may be the next best mouse for PVP gaming.
The next best mouse for PVP gaming could be the Twisted Gamer – Sinister Arch. If you are a conscientious gamer, you'll realize that your wrist suffers the longer you play or depending on how old you are it'd be best to start recognizing you need support when you play. I know I do. I've been searching for the best ergonomic set up. That being said, I don't play as often as I used too, but if you game for more than an hour this could be your next best purchase. Let's get onto the specifics of the mouse. There are three modes of dpi that you can adjust in-game. The ratings go from 1,000 to 1,600 and 2,000. This is all done in the game so it is simple and easy for either new timers or veterans for the gaming community to adjust too. There are two weights that come with this mouse. They fit into grooves at the bottom of the mouse. On the side of the mouse, there are red LED panels, with a pulsing multicolored LED logo at the bottom part of the mouse which rests under the palm of your hand. This is a right handed mouse which is ergonomically designed for righties specifically. I'm sorry left handed folks. There are other options for y'all so don't fret. There are six programmable buttons on the mouse with one of them being the DPI switch. The only possible downside of this, if you don't have access to the internet, is that the mouse installation driver can't be downloaded onto your computer, and then you wouldn't be able to play.
Our final best mouse for PVP gaming is the Enhance GX-M1 Gaming mouse. This mouse right off the bat has a max of 3500 dpi, an optical sensor, and color-changing LED lights. Looking at the pictures it looks pretty sleek with cyber computer designs on it. The mouse is ergonomic in design like many of the other mice that we've talked about. This has an adjustable dpi setting to the max of 3,500, and the minimum being 1,200. There are six programmable buttons on this on for mapping specific hotkeys and macros. Unlike the previous mice, this is plug-and-play with no prerequisite software needed. The LED light switch can go on or off depending on your mood, and if you like bright happy colors. It is compatible with the most recent version of the software and unlike the other mice discussed this comes with a three-year manufacturer's warranty. In this list, this would then make it the most, possibility, the best mouse for PVP gaming.
In regards to finding the best mouse for your PVP gaming needs it is up to you at the end. Each mouse has differences and some share similarities. That being said, what you want is what you will get. As an informed viewed you have to make the choice of what you require. Each analysis of the top mice is purely a personal opinion from what I've seen on Amazon and personal experiences. Your PVP gaming needs may vary, for not everyone is the same. A lot of people may like the buttons on the side where they can quickly swap different spells or weapons. If your hands are big then you don't want buttons on the side of your mouse and need a simpler design compared to others on the list. I hope this list has made sense and you can successfully purchase your next best mouse for your PVP gaming needs.