Best Comics of 2017 for Fans of Every Genre
Looking to get into comics, but don't know what your favorite genre is? You don't have to pick a genre to read any of these best comics of 2017!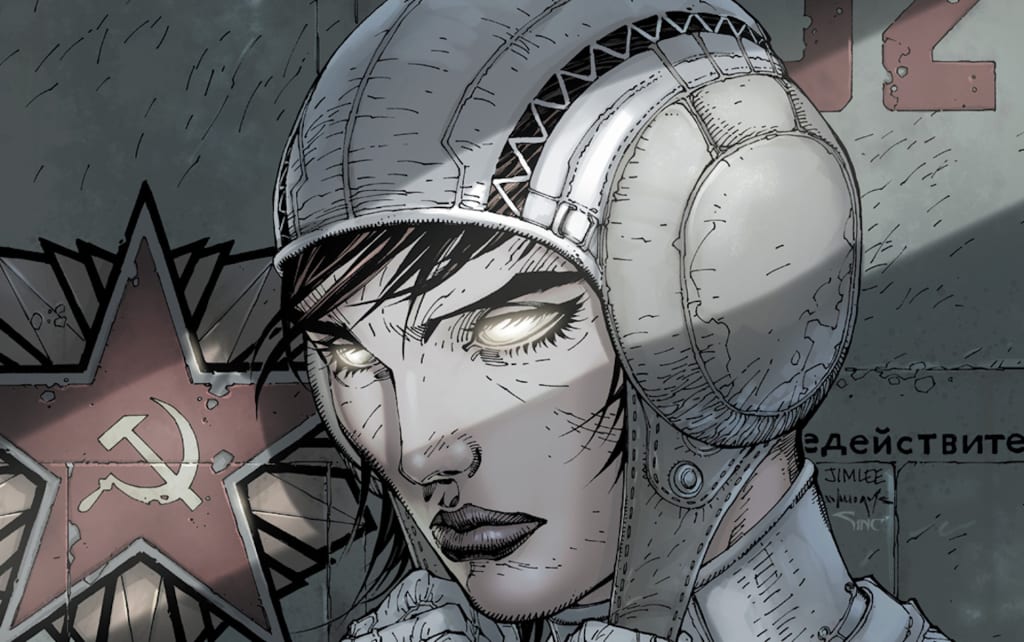 Comics books aren't just about superheroes and space, there's much more than just those two worlds. In fact, there's an amazing array of comic books that can be enjoyed by almost anyone. Many comics tell stories that can be taken as life lessons. They're like novels, but told through illustrations. And if you want to start getting into comics but can't settle on a genre, you don't have to with any of these great comics.
Did I mention that a bunch of great comics have been released throughout the year 2017? Every year, writers and illustrators produce amazing content and drawings, but this year was a huge hit in the comic book world. To make your search less of a struggle, I've listed only the best comics of 2017 for you to read. I guarantee you'll consider taking a look at a couple of these comics on your own time. Heads up, these comics only tell the most captivating stories — stories that you can't put down.
From New York Times bestselling author Jeff Lemire, go on a journey with Derek Ouelette, a former hockey player, who ended his career from a violent occurrence during a game. All he's been doing since is drinking, fighting with anyone who gets in his way, and living off his reputation in a community he grew up in. But what startles him the most is his long-lost sister, Beth, suddenly appearing out of no where after running away from her abusive boyfriend.
The two decide to hide together in a secluded hunting camp somewhere deep in the nearby woods, as a way to reconnect and speak of their harsh past. But once Beth's ex becomes a threat, the two must try their best to get away from it all.
Generations is seen to be one of the best comics of 2017 to get into. The story revolves around Matteo, who returns home after spending three years in Milan. He was born in a traditional country town where he intended on fleeing from the beginning. But now that he's come out as a gay man, horrific incidents happen within the town and with his conservative father.
Rather than facing his father in fear, he chooses to stay with his extended family and share a house with his grandmother, three aunts, and pregnant cousin. Here, he attempts to reconnect with life, with the women in his family, and find himself, which includes a lot of confrontations and commitment.
Writer Cecil Castellucci and artist Marley Zarcone have created a comic series that's among the best comics of 2017. Follow Loma Shade, who showed up from a different planet, and is starting to become very bored with her life — something most people in their early 20s feel. So, she decides to drop out of school, leave her boyfriend, and leave her hometown for something more adventurous.
Then, she ends up possessing the body of Megan Boyer, an Earth girl who's seen to be the perfect girl. But, there's just one thing that's not perfect about Megan: everyone hates her. Megan was a bully who ruined her enemies' lives and her friends, too. Now Loma must face all of the consequences.
This is probably my favorite from the best comics of 2017 to read: Hostage. Not only are the illustrations appealing, but the storyline overall is pure genius. Award-winning cartoonist Guy Delisle made it all happen.
The comic takes place in 1997 when Christophe André is kidnapped in the middle of the night by a few armed men and was dragged away to an unknown destination somewhere in the Caucasus region. And, for three months André is handcuffed in solitary confinement with little to no hope of ever surviving. The story shows André's determination and how he handles a situation where there is no hope at all.
The Best We Could Do gained a lot of recognition once it was released and readers are absolutely loving the story. Debut author Thi Bui brings us a captivating memoir about how her and her family escaped the war in South Vietnam in the 1970s, and the struggles that her family faced in order to buid a new life for themselves.
Through stunning illustrations and poetic writing, the comic tells an emotional story where readers see the strength of one helpless family grow, and understand the importance of identity and home.
Murder mysteries and crime solving can be loved by almost anyone. No one has to be into the genre to enjoy reading this debut. Since it's considered one of the best comics of 2017 to get right into, I highly advise you jot this one down on your list, it's looked at as a great crime comic book.
It's about a 10-year-old girl trying to solve a murder that takes place during the late 60s in Chicago. However, the murder she wants to solve is the murder of her enigmatic upstairs neighbor, holocaust survivor Anka Silverberg. The story is chock-full of B-movie horror and pulp monster magazines iconography. And while she's attempting to solve the mystery, she digs deeper into Anka's life in Nazi Germany.
Thor is among the strongest Marvel superheroes in history, which makes this comic a major hit in the best comics of 2017. Even if you don't know much about Thor, you can easily be lured into one of the best gender-swapped comic book characters of all time.
The story is based on Dr. Jane Foster who's known as the 'Goddess of Thunder' and she's constantly battling enemies in Asgard, almost unable to rest from the amount of threats she's getting. However, there's one enemy that she's having trouble beating, and it's cancer. Dr. Foster is diagnosed with cancer which is killing her mortal form. When Loki comes back into Thor's life, will he ease her problems or will he add to her pain? In the midst of her battling enemies, she's also focused on battling the cancer.
The Wild Storm tells the story of legendary heroes, Grifter, Voodoo, Jenny Sparks, Zealot, and The Engineer, and how they changed the way superhero stories are told. It begins with Angela Spica, who's an engineer that's driven to the edge of death by the transhuman that was implanted in her body.
While she saves another's life, she brings down the storm upon her as the world's most lethal assassin into its most expanding secret agency to soldiers in ancient war. What are the mysteries behind these individuals and what forces threaten to rip them apart? One way to find out is to read this engrossing comic.
From the best comics of 2017, this collection of amazingly written and illustrated short stories tells the story of Jenny becoming obsessed over the strange "mirror Facebook" that shows an alternate version of herself — or possibly better. Helen then discovers her clothes becoming baggy, her shoes bigger, and she shrinks away into nothingness. The world around her disappears, too.
While the animals of the city open their minds, we discover how they see the world. A mysterious music file shows up on the internet and becomes the basis of an idealistic society… or is it something terrifying? Through beautiful imagery and realistic written, Boundless shows the culture of oneself, relationship, and identity.
While The Art of Over the Garden Wall is last among the best comics of 2017, it's certainly not the least! Go on an odd, but jolly adventure with Wirt, Greg, and Beatrice through beautifully hand-drawn pieces of art and sketches — a breathtaking production of art in a whole new way.
From the original Tome of the Unknown: Harvest Melody pilot, each episode of this comic follows the journey of the three adventurers. Not only are the illustrations aesthetically pleasing, but the art pieces tell the story through these stunning drawings.
comics