Becstar #2
Mad Cave Studios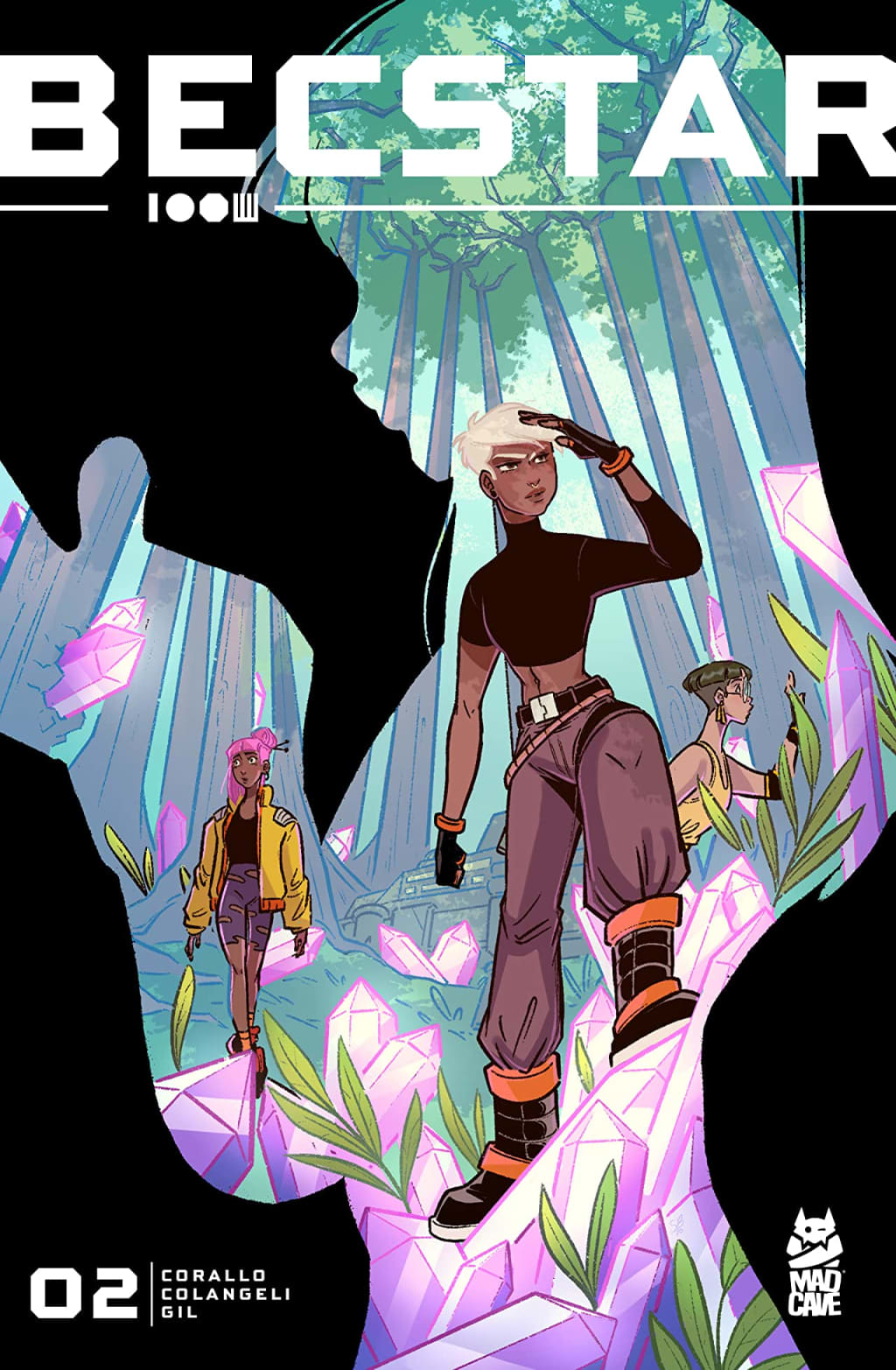 Becstar #02
Mad Cave Studios 2021
Written by Joe Corallo
Illustrated by Lorenzo Colangeli
Lettered by Joamette Gil
Oblivious to the fact that they are being tracked by Ozgar and his Shadow Syndicate goons, Becstar and the Restal-08 crew make their way to the living crystal planet of Nephrite. There, they hope to discover Anyssa's location and find the missing piece to this intergalactic puzzle.
I like this for a myriad of reasons and that's something of a galactic treasure hunt is among those reasons. I love how this issue opens up with a flashback to Bec and Anyssa's last time spent alone together. This is the clue to finding Anyssa and the creations gauntlet and the girls must head there if they are going to discover Anyssa's location. With a tracker on their ship the girls don't have much of a head start on Ozgar but what lead they do have is the Luck Dagger, the Clairvoyance Rod and the knowledge of where they need to look for the beacon to Anyssa. With Paprika joining Bec and Sally the dynamic has changed but in all honestly I think that Pap reminds Bec of herself and that's why she's harder on her than she really needs to be.
I am in love with the way that this is being told. The story & plot development that we see through how the sequence of events unfold as well as how the reader learns information is presented exceptionally well. The character development is phenomenal thanks to the dialogue, the character interaction as well as how they act and react tot he situations and circumstances that they encounter. The pacing here is superb and as it takes us through the pages revealing more and more the story, past and present, we find ourselves caught up this adventure like we were a part of Bec's crew.
I am enjoying the way that this is being structured and how we see the layers within the story continuing to grow, strengthen and emerge depending on what avenues in the story are explored or open up. These bits with the past and present really give us a greater understanding of Bec and why she's so dang cranky. These bits also work to add such depth and complexity to the story. How we see everything working together to create the story's ebb & flow as well as how it moves the story forward is achieved extremely well.
The interiors here are cute. Yes they have a certain amount of charm and charisma and yes they have a more all-ages kind of underground feel to them. The crazy expressions faces evoke feelings of anime and I'm not sure how much of this I like but overall it all seems to fit seamlessly into the story. I do wish we'd see more backgrounds, i think there are too many blank ones throughout the book because when we do see them they really enhance the moments and as they work within the composition of the panels bringing us depth perception, sense of scale and the overall sense of size and scope to the book is marvellous to see. The utilisation of the page layouts and how we see the angles and perspective in the panels show a very talented eye for storytelling. The colour work is beautifully rendered as well. How we see the various hues and tones within the colours being utilised to create the shading, highlights and shadow work is extremely nice to see.
​
I do like that this is more of an all-ages title than you'd originally expect it to be. That Bec is a young woman who despite her actions is a very complicated and smart individual who knows that these relics need to be destroyed or her old pal Mordecai will use them to rule the known universe. This is fun, and fun is what we don't see enough of in comics right now so this holds a very unique spot on stands and it screams out to be read by everyone. With strong writing, diverse and interesting characters and some truly unique interiors this is what is going to brighten up your day time and time again.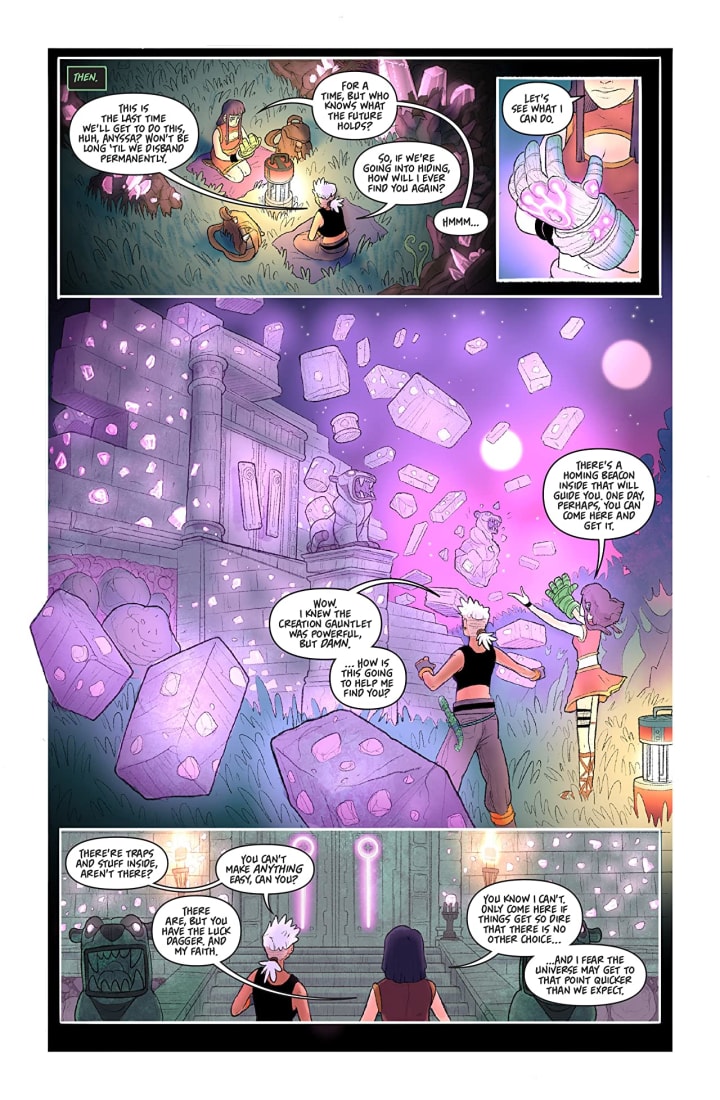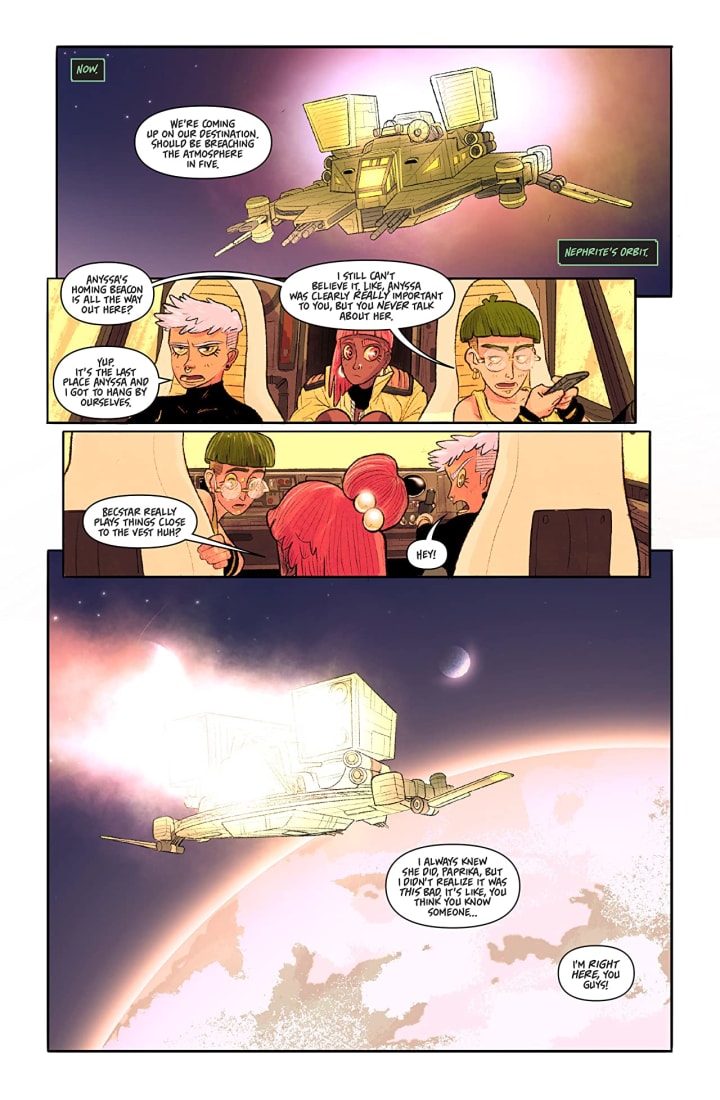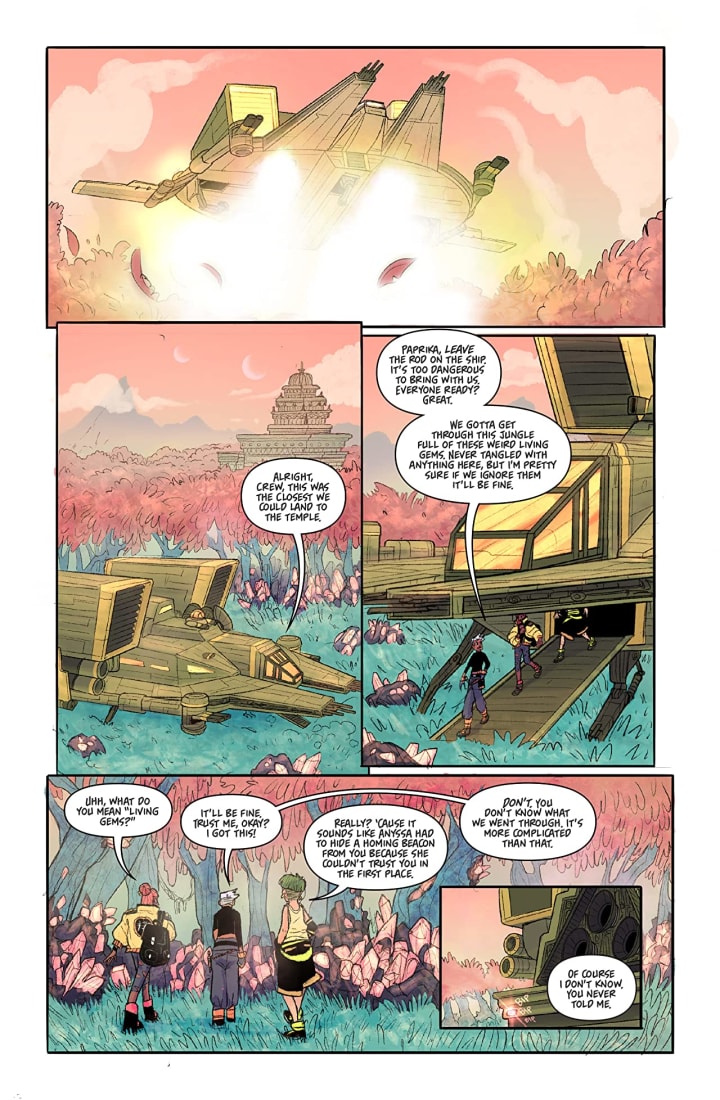 comics
Just me talking about the comics I enjoy reading, ones that you might not know exist and spotlighting the indie creators that excite me.
Receive stories by Steven Leitman in

your feed