Barry Season 3 Episode 3 'Ben Mendelsohn' Review
All around, episode 3 had great performances, continuing to keep viewers on the edge of their seats.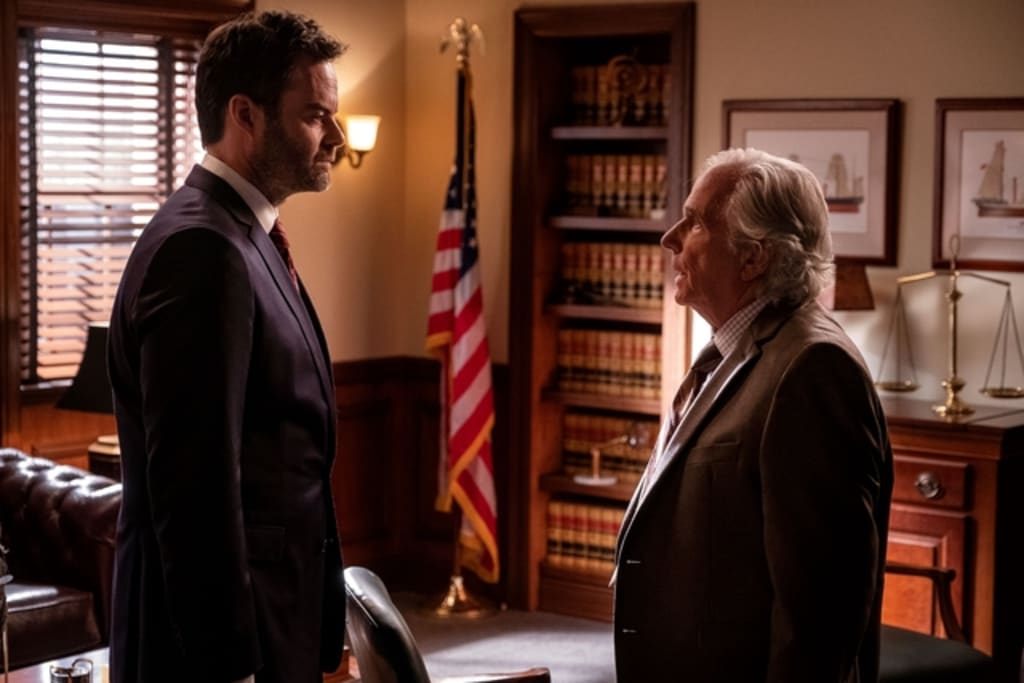 We need to get our plan into action now.
Ben Mendelsohn is the third episode of season 3's Barry. Barry and Gene take on new parts in the show, Law and Order. Gene is not happy to learn a piece of information that is the cause of what happened in the past. Meanwhile, Sally is preparing for her first press junket as her series prepares to air.
These episodes need to be longer. Ben Mendelsohn ends on a cliffhanger though. Not much happens in the third episode other than building up stories to happen in future episodes. All around, the episode had great performances, continuing to keep viewers on the edge of their seats.
The cast standouts in this episode are Henry Winkler, Stephen Root, and Elsie Fisher. Having to follow through with Barry's threats, Gene is afraid for his life. Winkler was incredible in several moments of this episode, but mostly with facial and body language. He is superb at connecting with his emotions.
Finally, there's an interaction between Barry and Fuches. Their relationship is the core of the show. I hope that we get more of their dynamic throughout this season. Bill Hader and Stephen Root always do a tremendous job in their scenes, even when they are in different locations. Their phone conversation was my favorite part of this episode.
Fuches manifests pure evil, inclined to hunt down Barry. Root is always so fun to watch continuing to make Fuches all the more unlikable. He is so good in this role, finding the right bits of comedy and a ruthless attitude.
I have seen Elsie Fisher in other media, like her voice work as Agnes in Despicable Me and in the critically acclaimed film, Eighth Grade. I'm not sure why she has been getting criticism among viewers. Fisher is a strong young actress. Still, I am not sure where the writers are going with her character, but I hope everything ends well for her character.
Having witnessed Barry screaming at Sally in the episode prior, I know that Katie is going to get Barry in trouble in some way. And I have another prediction for Barry and Sally's relationship which may not end up in the right light that Sally wanted.
As for Sally's side story, she experiences what a press junket is. Getting asked random questions, Sally has to be on her toes more than she thinks. Not much happened in her arc in this episode, but more is to come in the future.
Barry has a talented cast of actors. Each episode has a couple of surprises. I enjoyed Marika Dominczyk's storytelling in the climax of the episode.
I don't think I have acknowledged NoHo Hank's band of remaining allies, but they are all very talented, whether comedically or dramatically. JB Blanc did a noteworthy job in the confrontation with Hank.
The writing is sharp in this episode. As I said, the conversation between Fuches and Barry is my favorite. Based on what I learned in screenwriting class, writing dialogue in short and quick sentences is a crafty technique. This series dives into unexpected and subtle details.
Alec Berg did an outstanding job with the editing in this episode. He did a lot of close-ups of characters, concentrating on their reactions. Another technical element that this show does great work with is the lighting.
More is to come. That's what this episode entails. Now to wait and come up with theories about what happens next. Go watch episode 3 of season 3 of Barry on HBO. Don't miss out on this compelling show.
tv
About the author
Writing has been my passion since I was 11 years old. I love creating stories from fiction, poetry, fanfiction. I enjoy writing movie reviews. I would love to become a creative writing teacher and leave the world inspiring minds.
Reader insights
Be the first to share your insights about this piece.
Add your insights